OST files are what email clients, like Microsoft Outlook, use so that you can access your emails offline. This is incredibly useful as you can still access emails and email attachments that were downloaded by the client when you had an internet connection.
Sometimes, there may be issues when you install Outlook. So that you won't be able to view the contents in .ost files. In this case, you'll need one of the OST viewers below.
Top 4 Free OST Viewer Tool
1

Best Free OST Viewer - iMyFone ScanOutlook

The best free OST viewer you can use is iMyFone ScanOutlook. It is undeniably the best program for seeing what an OST file contains and it is incredibly easy to use.

iMyFone ScanOutlook includes every feature you'll need for viewing OST files. This is the solution we recommend and here are the steps to use it.

Step 1. Download iMyFone ScanOutlook and install it on the computer.

Step 2. Launch the program and select the OST file to view.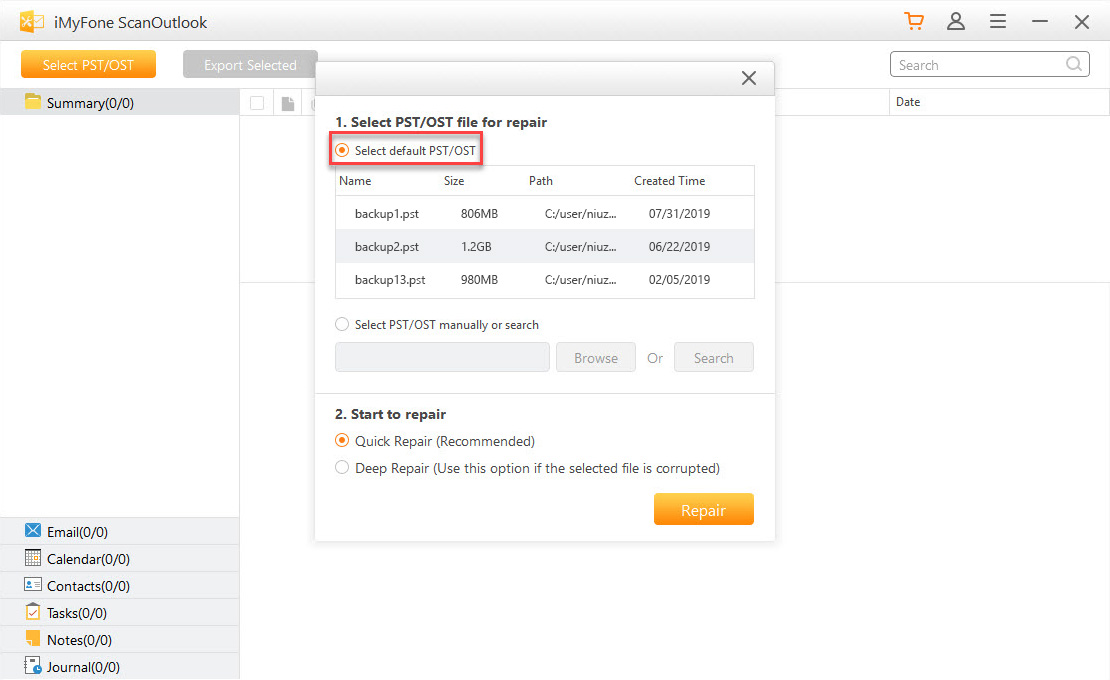 Step 3. Press "Repair" to start viewing it. iMyFone ScanOutlook will then scan your chosen file and after a few minutes, the contents will appear on your screen.
Step 4. You can browse the files freely and there will also be the option to save them.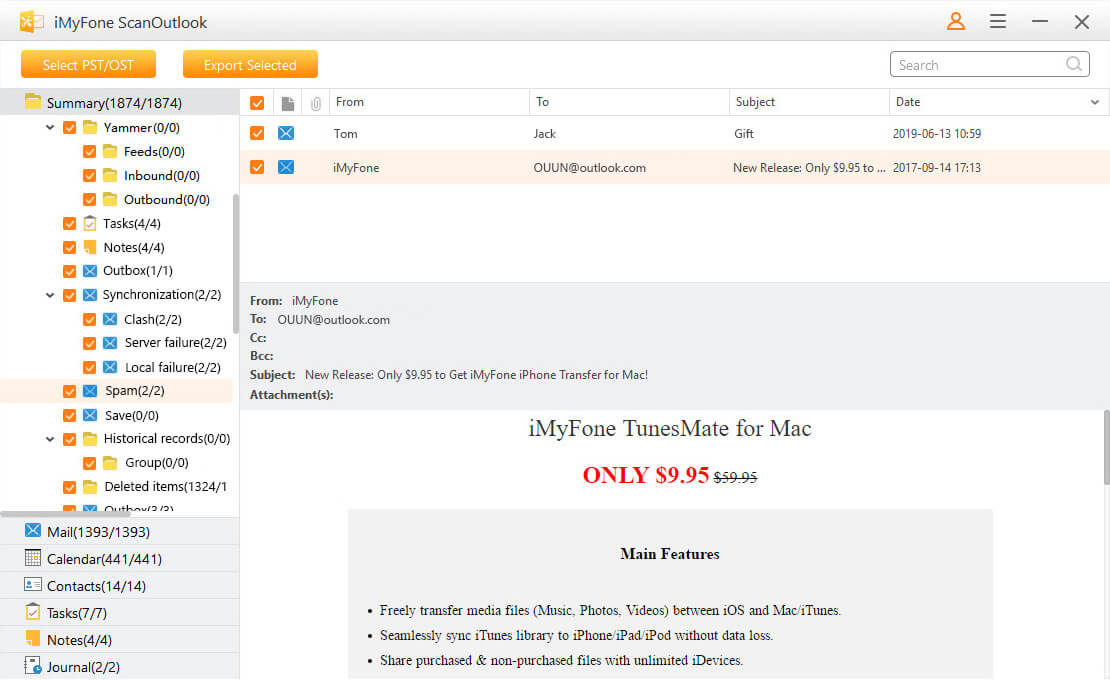 Recovering data from the OST file isn't necessary and if you just want to view the emails stored in the file, all you have to do is exit out of the program afterwards.
On the other hand, if you do want to recover any of the emails though, just select them, click "Export Selected", and follow the rest of the steps shown on your screen. Considering that iMyFone ScanOutlook doubles as a free OST file viewer and OST repair tool, this makes it handy in various situations.
2

Turgs OST File Viewer

Turgs OST File Viewer is another way that you can view OST files and all of their contents. Similar to iMyFone ScanOutlook, all it takes is choosing a file and letting the software take care of the rest. The most notable features are: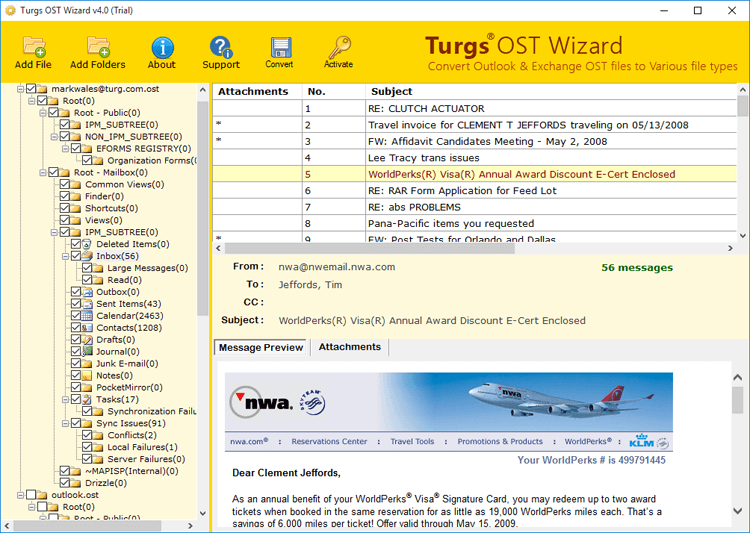 Pros
Recover deleted or corrupt emails from any OST file

View OST files that aren't connected to an email account

Supports OST files from virtually all email clients

Easily locate the files you want to view due to the folder hierarchy feature

Can recover calendar and contact information that is associated with your email account

Free to use!
As you can see, Turgs OST File Reader has plenty to offer too. It's a simple program to use and it isn't limited to OST files either, not to mention you can export OST files in different formats.
3

Aryson OST File Viewer

If you don't want to deal with any fancy features and you'd rather just grab an Outlook OST file viewer that does the job quickly, Aryson OST File Viewer could be exactly what you're looking for. While a premium version can be bought, it isn't necessary for simple tasks like viewing an OST file.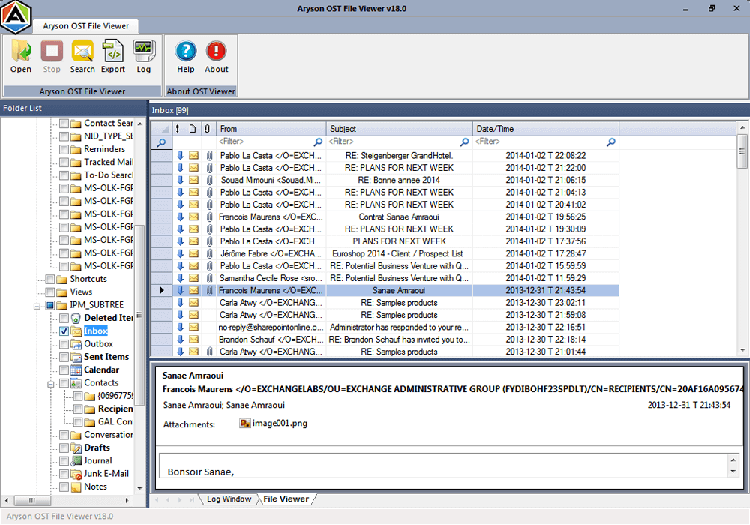 Pros
View OST files without having Outlook installed

View OST data including emails, calendars, contact information, and saved tasks

Preview the data in an OST file before extracting it

Suitable for viewing the data that is in a corrupt OST file

Compatible with OST files from any Outlook version
One peculiar feature is the report generator. This feature allows you to see information about the OST file such as email flow density, contacts, and other in-depth information that enables you to examine the email account's activity. For supervisors who want to make sure their subordinates are being productive, this is a useful feature to have.
4

Softaken OST Viewer

Last on our list is the Softaken OST Viewer, a freeware solution that gives you access to everything stored in an OST file. In a matter of minutes, you can have this program set up, view the OST file, and find whatever you're looking for.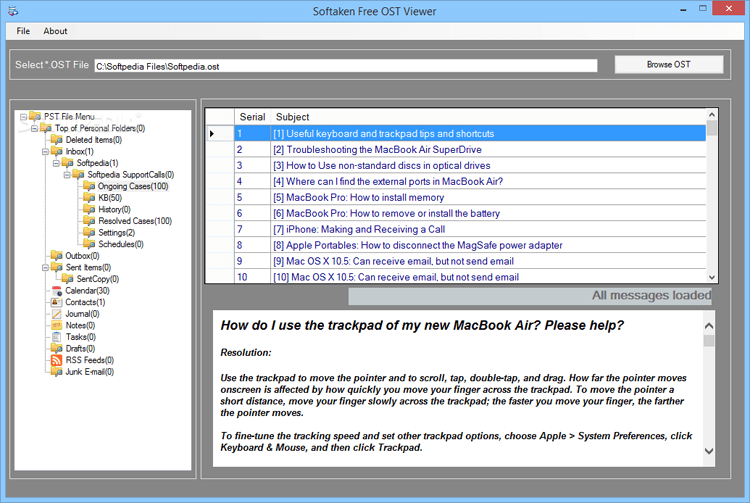 Pros
View everything in an OST file (e.g. emails, attachments, calendar information, etc)

Access and safely recover data in corrupt OST files

Capable of viewing any OST files regardless of the file size

Includes a filtering feature so that you can view specific file types

Doesn't require Outlook to view OST files

Safely access the file without altering the original file's contents
Don't take our word for it - download this free OST viewer for yourself and check out the features it has on offer.
To Conclude...
Hopefully, you've found the best OST viewer in the list above and you're now able to access data you thought wouldn't be accessible ever again. Our recommendation is that you use iMyFone ScanOutlook. Aside from being an OST viewer, it's also capable of repairing different types of email databases (including OST and PST), as well as a dozen other features.