The Safari browser is the app that you use to navigate the Internet, visit your favorite websites, and even do your online shopping.
There is no denying that losing your browsing history can be very inconvenient. When this happens, you might lose some important tabs that you had opened in your previous sessions. That's why being able to recover deleted Safari history iPhone will save you a lot of time and effort.
In this article, we will show you how to find deleted history on iPhone in multiple ways to find the one that best suits your needs.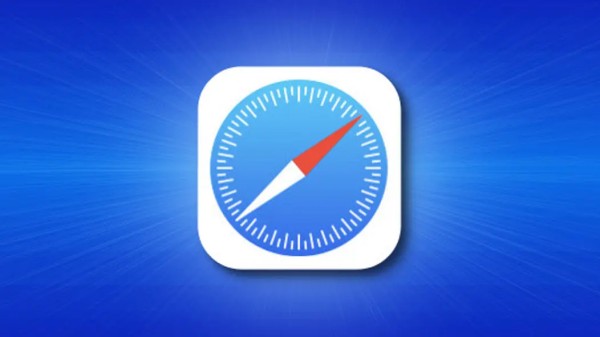 Part 1. Can I recover deleted browsing history on iPhone?
If you accidentally delete your browsing history on your iPhone, you don't need to panic. It is possible to retrieve it and continue using Safari as if nothing has happened.
The truth is that no file is permanently deleted from your iOS device immediately after you press the Delete button. Instead, they are permanently stored in a separate location, where they are retrievable for a little while. However, after some time, the files get permanently deleted.
Part 2. How to Find Deleted History on iPhone
Now that you are aware that you can recover deleted Safari history iPhone, we will go through the most effective ways that you can try right now.
1. Recover Deleted History on iPhone Without Backup
One of the best and most effective ways that you can try is to use a specialized data recovery tool. This app will allow you to find deleted history on iPhone in no time. The most reliable tool that you can use for this task is none other than AnyRecovery Data Recovery (iOS).
Anyrecover is an all-in-one data recovery expert to recover data from iPhone, Windows,and Mac systems. This excellent app is easy-to-use and can restore your lost data with a couple of clicks. Moreover, it boasts a 99.7% success rate, which guarantees that you will find what you are looking for.
It can restore numerous file types, as well as data from the most widely-used messaging apps. In addition to this, the app works in three modes, which are recovery from the iPhone, from iCloud, or from iTunes. Moreover, the app permits selecting downloading so that you only get the files you need.

AnyRecover Key features include:
It intelligently recovers lost contacts directly from iPhone device storage without backup or jailbreak.
It provides a preview of deleted data after scanning.
It can also extract contacts and other data types from iCloud and iTunes backups.
Enables you to recover most of data in various scenarios, such as: Accidental Deletion,System Crash,Water Damage,Forgotten Password,Black Screen,etc;
It provides 100% data security throughout the process.
The steps for using AnyRecovery Data Recovery (iOS) to get your Safari history back are the following:
Step 1. Download AnyRecovery Data Recovery (iOS) to your PC and launch the app. When the home screen loads, select the iPhone Recovery mode. Then, you must connect your iDevice to your PC with a USB cable. The app will detect it and you can click Next to move on to the next step.
Step 2. Select the Safari History option from all the available file types. In addition to this, you can also select other file formats to retrieve even more files you might be missing. Click the Scan button so that AnyRecovery Data Recovery (iOS) proceeds with scanning your iPhone.
Step 3. Take a look at the previews of the retrievable files and select the ones you wish to download. Click Recover to Device/Recover to Computer and select your desired file location.
Video guide on how to find deleted history on iPhone
2. See Deleted History from Settings
The easiest way to see deleted history on iPhone is to do it through the device's settings. This is a very convenient method as you can discover all of the website data on the settings.
You can view your deleted history on your iPhone's settings by following these steps:
Step 1. On your iPhone, go to Settings > Safari.
Step 2. On the new screen, tap the Advanced option.
Step 3. Then, tap the Website data option to view your browsing history.
Note
You can only view the history if you haven't clear the cookies of Safari and you can't restore the data to Safari.
3. Restore from iCloud.com
Another quick and easy method to restore your Safari history is to visit icloud.com. Of course, this option becomes available only after you enable the synchronization of your data to iCloud. Moreover, keep in mind that you can only retrieve your Safari bookmarks through this method.
The steps to complete this method are the following:
Step 1. Use your computer to visit icloud.com from the browser of your choice.
Step 2. Log in to your iCloud account by providing your Apple ID and password.
Step 3. Go to the Advanced section. There, you can locate and click on the Restore bookmarks button.
Step 4. Select which bookmarks you wish to retrieve and click Restore to proceed.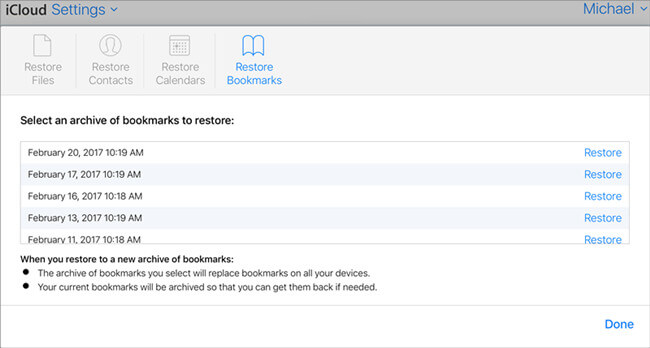 4. Restore from Mac
If you are using the same iCloud account on both your iPhone and your Mac, you might be able to retrieve your browsing history from there. This happens because the device's data gets synced if they are connected to the same account. Therefore, you can utilize the Time Machine feature to find your lost browsing history.
The steps to do that are the following:
Step 1. Open Finder on your Mac. However, make sure that you have shut down Safari before you begin.
Step 2. Click Go > Go to folder and type ~/Library/Safari on the bar. Click the Go button to proceed.
Step 3. Locate the History.db file, which is the database of your browsing history.
Step 4. Click Enter Time Machine to use this feature.
Step 5. Once you have selected the desired files, click Restore.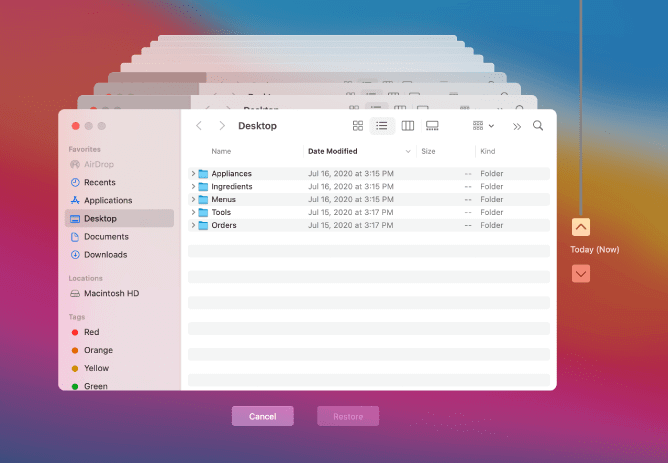 5. Recover from iPhone Backup
Finally, you can recover deleted history on iPhone by restoring it from iCloud/iTunes backup. Before you try this method though, you need to know that this method will overwrite all the latest data that aren't included in the backup. Therefore, you need to make sure that you have kept them safe.
Here is how to recover your browsing history from your iCloud backup:
Step 1. Go to Settings > General > Transfer or Reset iPhone > Erase All Content and Settings. Then tap Erase Now to confirm.
Step 2. After your iPhone restarts, follow the on-screen steps to set up your iPhone. When you at the Apps & Data screen, choose Restore from iCloud Backup option.
Step 3. Choose a backup to restore and wait the process bar to be complete. Then finish the setup procedure.
Here is how to recover your browsing history from your iTunes backup:
Step 1. Launch the iTunes on your PC and plug in your device.
Step 2. Click on your device on the sidebar.
Step 3. Under the General section, you will find the Restore Backup that you must click to proceed.
Step 4. Choose a backup to install and click the Restore button.
Conclusion
These are all ways that show you how to find deleted history on iPhone. Even though most of them work, the surest way to get your browsing history back is to use AnyRecovery Data Recovery. This app can locate your Safari history no matter what. Download the app to try it out for free.