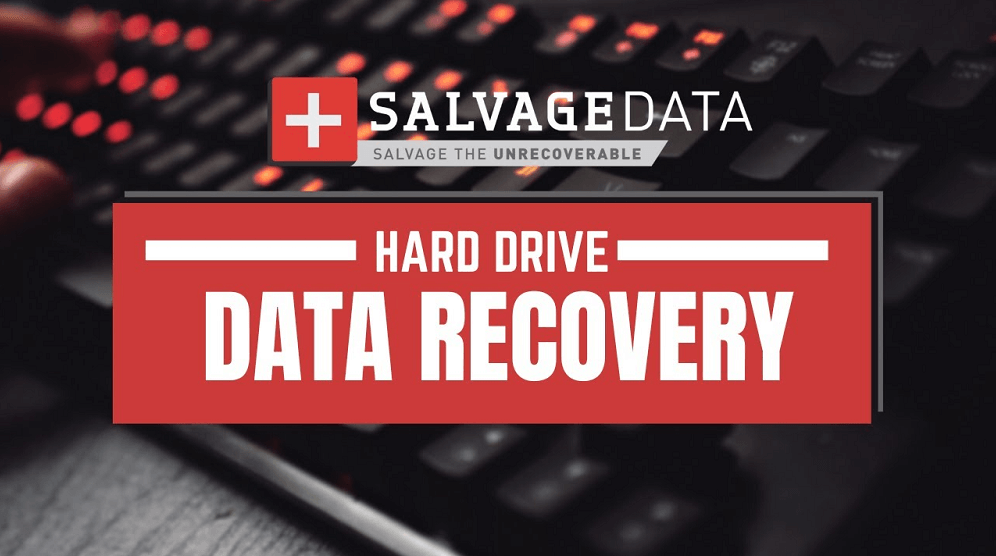 Data loss can be a significant setback, both for individuals and businesses. When it comes to data recovery, SalvageData is a prominent service provider worth considering.
In this blog post, we present real reviews of SalvageData, outlining the pros and cons to help you make an informed decision about entrusting your data recovery needs to them.
How is Salvagedata Recovery Services: Price & Review
SalvageData is a leading data recovery service provider with a strong reputation for retrieving lost, damaged, or inaccessible data from various storage devices. With over a decade of experience in the industry, SalvageData specializes in recovering data from hard drives, SSDs, RAID systems, flash drives, and other media types.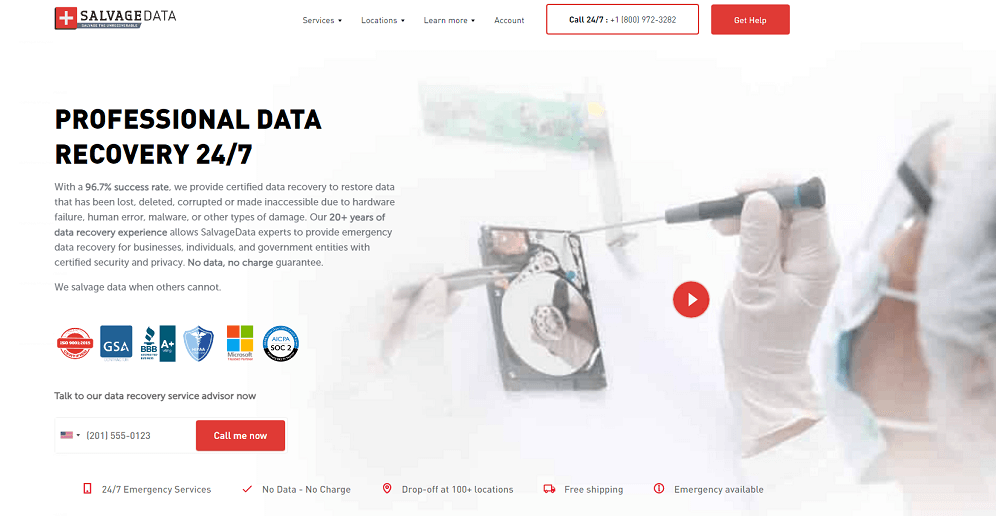 SalvageData Services Offered
Data Recovery: They have expertise in handling data loss situations caused by physical damage, logical errors, accidental deletion, malware attacks, and more.

RAID Recovery: Their engineers have the knowledge and tools to rebuild RAID configurations and recover data from various RAID levels, including RAID 0, RAID 1, RAID 5, RAID 6, and RAID 10.

Hard Drive Recovery: SalvageData has the capability to recover data from damaged or malfunctioning hard drives. They work with all major hard drive brands and models.

SSD Recovery: They help to deal with issues like controller failures, NAND flash degradation, and firmware corruption in SSDs.

Digital Forensics: Their team can extract and analyze data from digital devices, ensuring data integrity and preserving evidence in a forensically sound manner.
Pros of Choosing SalvageData:
Expertise and Specialized Solutions
Trust and Confidentiality
Cons
While SalvageData provides transparent pricing, some reviewers have mentioned that their services can be relatively expensive compared to other data recovery options.
Limited Physical Locations

Tip
If you don't have access to data recovery services nearby or prefer the convenience of recovering data from the comfort of your own home, AnyRecover data recovery software is the solution for you. With a simple click, you can easily recover data from your computer, phone, SD card, social media apps, and more. Furthermore, AnyRecover has recently introduced innovative AI-powered features such as image repair and enhancement. Don't hesitate, to experience it now by downloading it for free!
3 Alternative Choice of Salvagedata
Here are the most effective alternatives of Salvagedata are as following, let's explore them.
1. PITS Global Data Recovery Services
PITS Global Data Recovery Services provides comprehensive support for businesses and individuals, including data recovery and destruction. With a highly-qualified team of experts, they aim to exceed customer expectations and ensure the utmost care for data assets.
Their experienced engineers specialize in recovering data from various storage devices, regardless of difficulty, device condition, or data loss scenario. Trust PITS Global for secure and reliable data recovery solutions.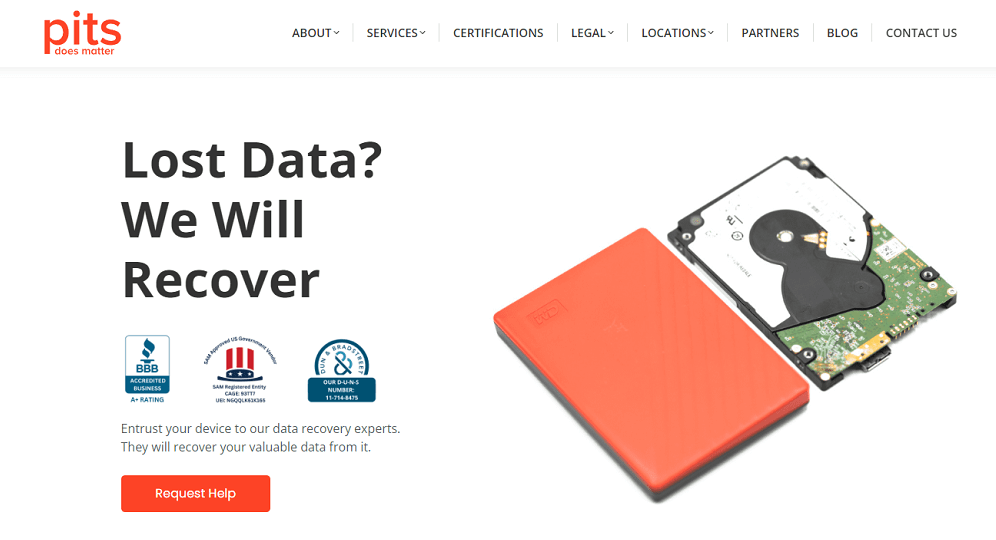 Location os PITS
This data recovery service has numerous offline branches, as shown in the image.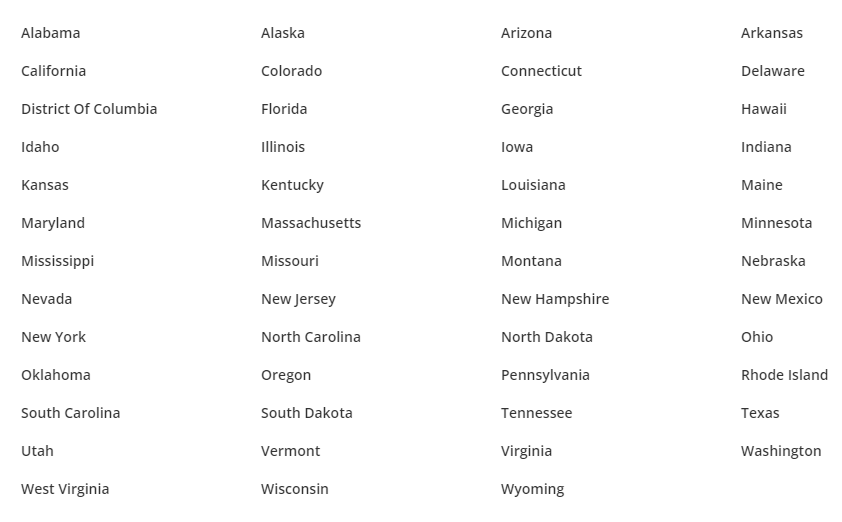 PTIS Services Offered
Hard Drive Recovery
Server Data Recovery
SSD Data Recovery
Database Data Recovery
Laptop Data Recovery
Apple Data Recovery
Pricing
The pricing for their services is determined based on factors such as the extent of damage, necessary parts, and the chosen turnaround time.
Pros
It has more than 50+ locations in the United States and other continents
They never accept the data recovery case if we are not sure that we can fix it. Risk-Free Evaluation
Fast Turnaround Times: They offer the fastest data recovery turnaround times for data recovery services and emergency services for time-sensitive cases.
Cons
There are no guarantees with data recovery services and overwritten files.
2. CBL Data Recovery
CBL Data Recovery is a trusted industry leader with over 25 years of experience in professional data recovery. Their certified engineers and advanced infrastructure, including a Certified ISO Class 5 Cleanroom, enable them to successfully recover data from various storage devices.
Offering different service plans to accommodate different needs, including a 24/7 Priority Service, CBL Data Recovery ensures prompt assistance. With a strong focus on data security and confidentiality, they are the reliable choice for efficient and secure data recovery.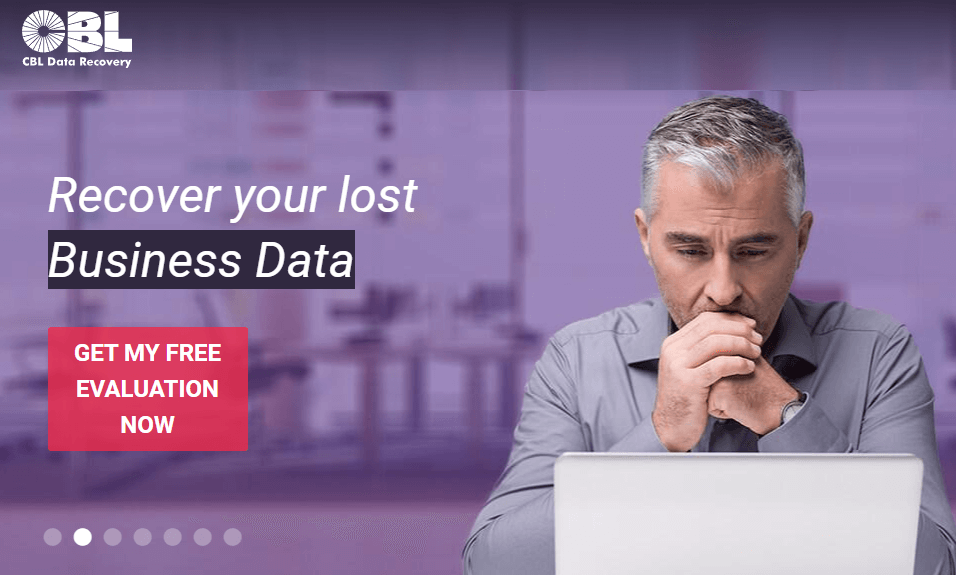 Location of CBL
They only accept shipping service. Need to contact you and then will let you know which of our facilities to ship your device to. Free shipping label with tracking information is supported.
CBL Services Offered
Data Recovery Services
RAIDs and Server
External Hard Drive
Desktop Hard Drives
Emergency Data Recovery Services
SSD Data Recovery
Laptop, Notebook and Tablet
Portable Media
Tape Media
Forensic Data Recovery
Data Destruction
Pricing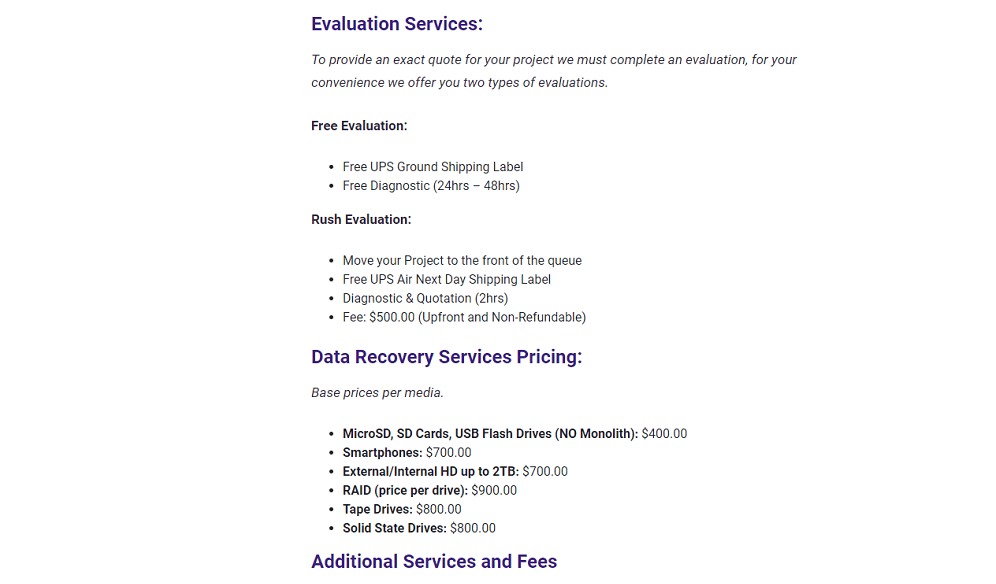 Pros
They offer Free Evaluation with a 24-hour data recovery hotline
Your recovered data is securely packaged and sent back to you on the media of your choice, with comprehensive loading instructions
Once they have successfully recovered your data, our data recovery team uses a strict quality control process to make sure it's usable, and a file list will be provided.
Cons
They only offer shipping service, which means you need to take days to wait.
3. Seagate In-Lab Recovery
Seagate Data Recovery specializes in retrieving data from Seagate storage devices. With expert technicians and advanced techniques, they offer reliable solutions for damaged or malfunctioning Seagate hard drives and SSDs.
Their streamlined process ensures fast turnaround times while maintaining data integrity and security. Trust Seagate Data Recovery to recover your valuable information effectively and efficiently.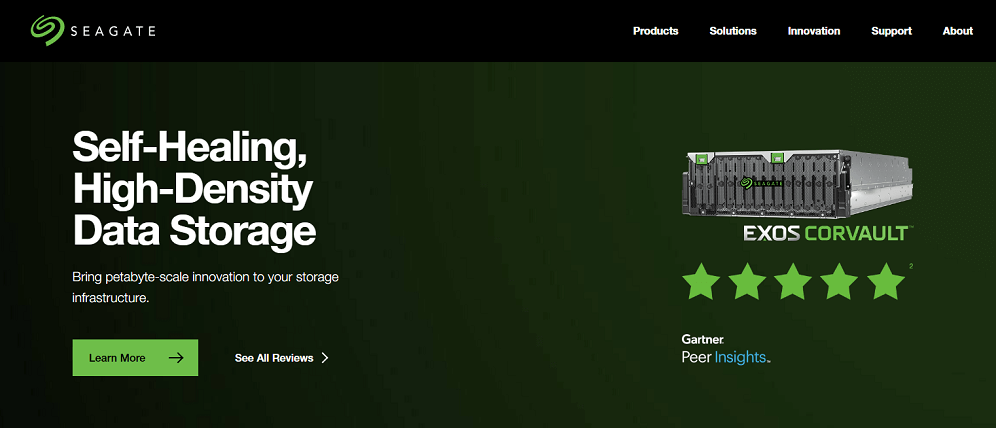 Location os PITS
Data recovery can take anywhere from 2 days to 3 weeks. You can track the progress online. They are good for personal users but businesses need to be careful.
Seagate Services Offered
External Drive Recovery
Laptop Data Recovery
Smartphone Data Recovery
RAID Data Recovery
NAS arrays Data Recovery
Pricing
The cost of in-lab recovery is $49.99 per drive, which is a flat fee to engage in. From there, the recovery fee depends on the type of drive, drive condition, and recovered data.
Pros
Advanced Techniques: They utilize advanced data recovery techniques and tools specifically designed for Seagate devices, increasing the likelihood of retrieving data effectively.
Security and Confidentiality: Seagate Data Recovery Service prioritizes the security and confidentiality of customer data, implementing robust measures to protect sensitive information throughout the recovery process.
Cons
Limited to Seagate Devices: As the name suggests, Seagate Data Recovery Service focuses solely on retrieving data from Seagate storage devices. If you have data loss issues with devices from other manufacturers, you may need to seek alternative data recovery services.
It takes a long time to recover your device.
Recover Data Effortlessly with 1 Click At Home
If you've tried running and waiting for a local data recovery service, we recommend you use a reliable data recovery software like AnyRecover to recover and repair files at home effortlessly.
AnyRecover is a dedicated file recovery tool that recovers any type of corrupted files with a 98% recovery rate and the fastest speed. What's more, it works with the latest Windows 11, Mac, iOS, and 200+ devices, and hard drives.

Features of AnyRecover:
It is a one-stop data recovery for you to recover data from Computers, phones, sd card, hard drive, usb and so on.
It also allows you to restore messages and history from social apps like Line, Kik, Whatsapp, and so on.
Moreover, it comes with AI restoration features for corrupted photos and files.
AI photo enhancement is supported in the meanwhile.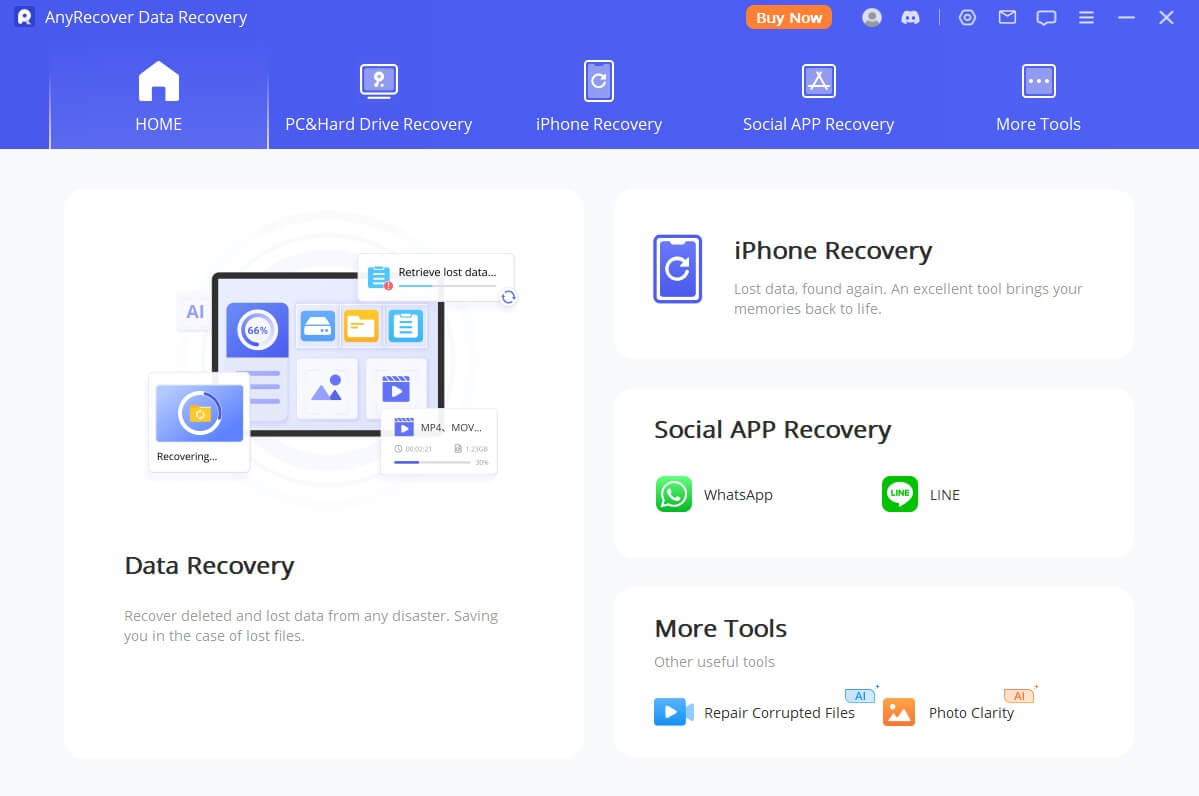 Note
It is the only one-stop data recovery software on the market, you don't need to download tons of software to recover different devices.
Conclusion
SalvageData is a reputable data recovery service provider with positive reviews from satisfied customers. Their expertise and advanced technology make them a reliable choice for professional data recovery.
However, for those who prefer a DIY approach, AnyRecovery software offers a convenient solution to recover data at home. Consider your specific needs and comfort level before choosing between SalvageData and AnyRecover. Both options provide effective solutions for data recovery.