Summary
In this post, you'll learn "what is EFI system partition". And we're going to talk about how to delete and create EFI system partition on Windows 11/10, and will present you the solution to recover lost data from EFI system partition.
What is EFI System Partition?
The EFI System Partition (ESP) is a type of partition on a Windows computer that creates several regions on the PC's hard disk so that information stored on the different partitions can be managed separately by the Windows operating system.
Windows computer uses it because they contain the following four main components:
Boot loaders;
Device drivers;
System utilities;
Data files.
The EFI is most used by systems that adhere to the Unified Extensive Firmware Interface (UEFI). The UEFI firmware works during the process of booting a computer to load files stored on the ESP in order to start installed operating system and system utilities.
It's the function of the boot loaders to ensure that all the necessary files and utilities have been booted before the completion of the booting sequence.The ESP ensures that all errors encountered during system booting phase are resolved. It does this by working with the boot loader to offer users good experiences during system startup.
Part 1. How Do I Know My EFI Partition?
If there's a 100MB system reserved partition, then it means that you don't have an EFI partition. If you have an EFI partition, both Disk Management and dispart will tell you that.
Part 2. How to Delete EFI System Partition (ESP) in Windows
2.1 Is It Safe to Delete EFI System Partition?
Deleting an EFI partition is risky. As we mentioned in the beginning of the post, the EFI partition seems like an interface for the computer to boot Windows off. Your computer won't be able to boot into Windows without the EFI partition. And it will cause the installed system unbootable after deleting the EFI partition. But if you persist in deleting the EFI partition, keep these in mind:
1. Don't do anything to the EFI partition if you want your Windows run smoothly.

2. You can directly reinstall the OS if you want to delete the EFI partition and install a new Windows OS.

3. If you have two OS installed on your PC and want to delete the ESP, follow the steps below in 2.2.
2.2 How to Delete EFI System Partition (ESP) in Windows
EFI system partition is very important in booting the installed OS and system utilities of the hard disk. However, if you're using a hard disk with EFI system partitions created for the macOS, and you now want to install Windows to replace macOS, then you need to delete the old EFI system partition and create a new one for Windows.
Here is how to delete EFI system partition:
First, you need to identify the disk where the EFI partition is located.
Open Disk Management by pressing "Windows key + R". Type "diskmgmt.msc" and press "Enter".

In Disk Management, locate the EFI system partition, and close the disk management.
Then, delete the EFI partition with DISKPART tool:
Open the elevated command prompt by right-clicking on the "Start" menu. From the pop-up menu, choose "Command Prompt (Admin)".

Give each of the following commands and click "Enter": diskpart > list disk > select disk number > clean.
Once the cleaning process is complete, you'll get a notification saying: "DiskPart succeeded in cleaning the disk". Click "exit" to close the DiskPart tool, and then close the command window.
Part 3. How to Create EFI System Partition (ESP)
Step 1. Boot your PC with Windows installation media. Then, press "Shift + f10" on the first screen to launch the Command Prompt.
Step 2. Run the following commands and click enter at the end:
Diskpart

List disk

Select disk

List partition

Create partition efi

Format quick fs=fat32

List partition

List volume (i.e. the volume letter where the Windows OS is installed)

Exit

bcdboot X:/windows (Replace "X" with the Volume letter of the Windows OS partition).
Step 3. Now, you can remove the Windows installation media and restart your PC.
Part 4. How to Recover Lost Data from EFI System Partition
iMyFone AnyRecover is the right tool for recovering data lost in your Windows or Mac PC during EFI system partition. This tool can be of immeasurable assistance in helping you recover files from internal and external hard drives, removable USB flash drives, smartphones, media device players, camcorders, memory cards, and digital cameras.

Key features of AnyRecover
AnyRecover can recover lost file and mistakenly deleted data from Windows (including the latest Windows 11) and macOS computers.
Recover almost all kinds of file types such as audios files, photos&videos, PDF/Word/Excel file, email, etc.
With the recovery rate of 98%, AnyRecover is highly recommended by users.
User friendliness, easy to use, and no expert skills needed.
Preview and selectively recover lost, formatted or deleted data.
Recover data from lost EFI system partitions; recycle bin, formatted disk, external flash drives, etc.
Steps to recover lost data:
Step 1. Download and install AnyRecover. Run it and select a disk under the "I can't find my partitions" tab.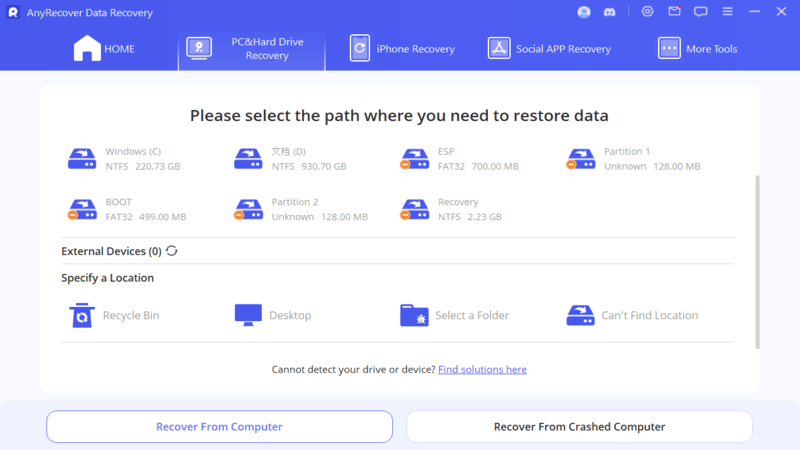 Step 2. Select the partition that you have lost data, and click "Scan".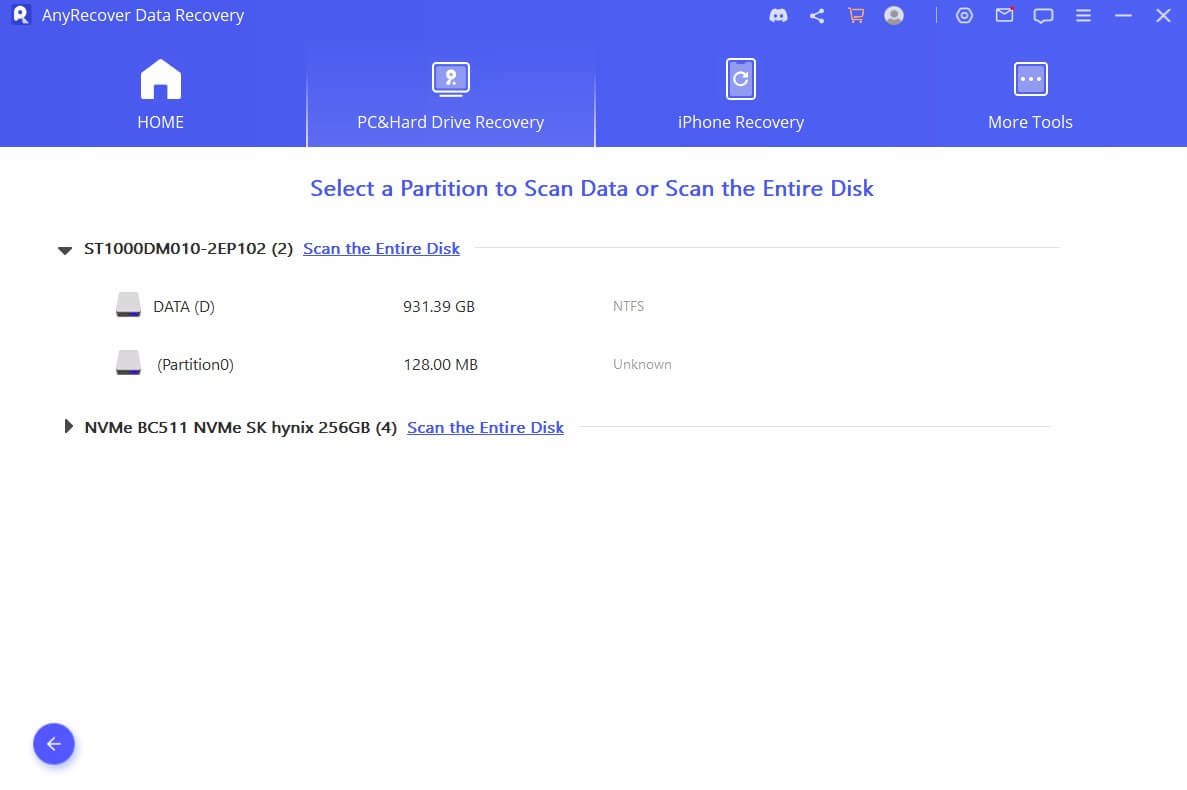 Step 3. It will begin an all-round scanning process. It will take some miniutes for scanning process.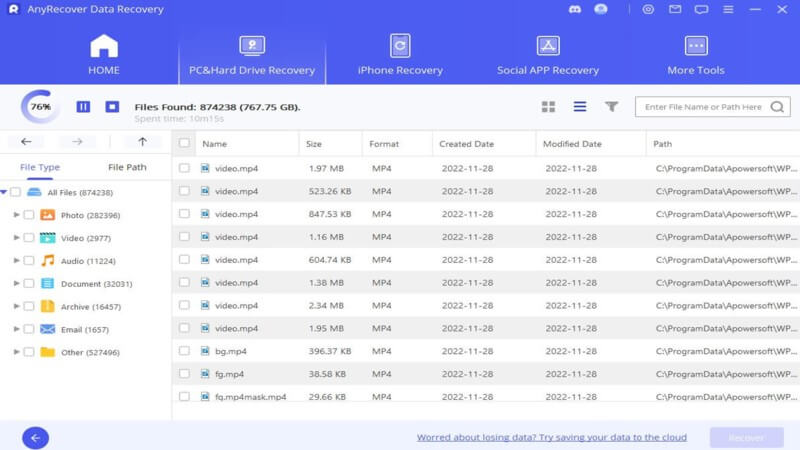 Step 4. When the scanning is completed, all files will be listed out in file types and folders. You can preview lost files. Then select the lost data you want to recover by clicking "Recover" button.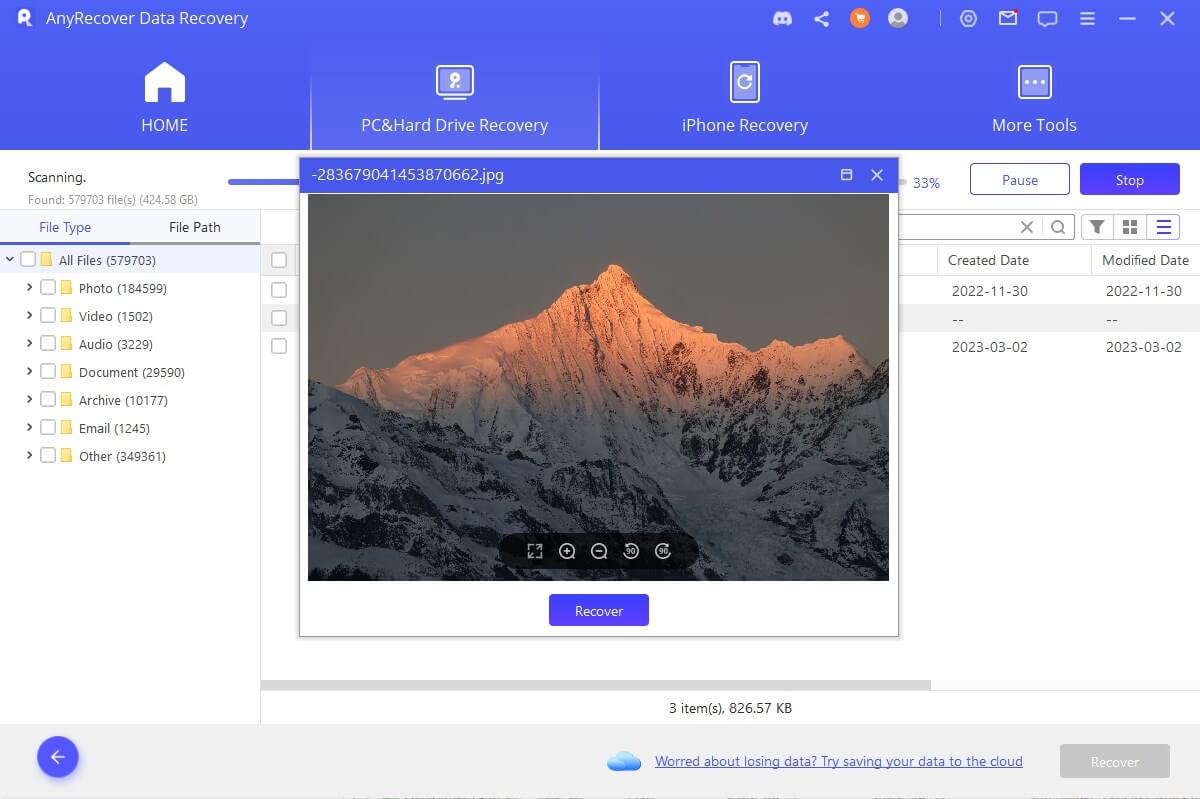 Tip
Do NOT save recovered data to the location where you have lost data.