When I turned on my PS4 I noticed that some of my video games saves had disappeared. How do I recover deleted or lost PS4 game data?
Video games are a great way of relaxing in your downtime. Although many video games nowadays are focused on being multiplayer, there is still a thriving following for games which have campaigns and story modes. If you're someone who enjoys these campaign driven games then you might have turned on your PS4 one day only to find that your save file has disappeared or in some cases, perhaps corrupted. You may want to know if you can get back deleted data on PS4, the answer absolutely is Yes. In this article, we're going to explain how to restore PS4 game files with as little hassle as possible.
Part 1: Reasons for Deleted or Lost PS4 Games
Before game players begin to search for a way to get their lost game files back, they usually wonder why their game files disappeared in the first place. Some reasons for this happening are:
Powering Off PS4 Wrongly: You should always take the time to turn off your PS4 properly. If you unplug it from the power socket, then this will encourage hardware and software problems.
Connection Errors: Since some people have cloud saves enabled, sometimes you might not see your saves. This means that if your PS4 can't connect to the internet for any reason, cloud saves will be inaccessible until the connection is active again.
Hard Drive Failure: Storage failure is more common for older PS4s, but it can happen to any model. Failure or corruption result in local saves being inaccessible.
Part 2: How to Restore Deleted or Lost PS4 Game Saves
So those are three common reasons for PlayStation 4 players needing to recover deleted or lost PS4 video games, but we still need to determine the best way of remedying this unfortunate situation. For your benefit, we've got 4 solutions you should consider trying to retrieve saved games on PS4.
1

Recover Deleted PS4 Games from Cloud Storage

If we reflect on the second reason for losing PS4 games, where we mentioned how games are often saved to cloud storage, that brings us to the first solution. The PS4 system will save your games to cloud storage so they can be accessed on different systems.

The downside is that if your Internet connection is bad, saves will often be inaccessible. How to restore PS4 game files in this case? Here's how to copy those cloud saves to local storage.

Step 1. Turn on your PS4 and go to the Settings menu.
Step 2. Navigate to "Application Saved Data Management> Saved Data in Online Storage" and press "Download to System".
Note
To minimize your cloud storage usage, you'll also be given the option to delete the saved data from your cloud account.
Step 3. All the saved data will be listed. Go through the list and choose the data you want to download, then click "Download".
Step 4. Repeat this with each of the saves you want to download to your local storage.

Once you have the saves stored locally, your Internet connection won't be a problem anymore. If the issue lies elsewhere, try another fix.
2

Re-download & Re-install Lost PS4 Games from PlayStation Store

Another solution you might want to try if it was game data (not save data) that was lost, is re-downloading the game completely. This way about how to restore PS4 game files will take longer for large games but is well worth trying.

Step 1. Uninstall the game from your PS4 before re-downloading.

Step 2. Sign in to the PS4 account which you bought the game with.

Step 3. Open the PlayStation Store app and search for the game.

Step 4. Confirm the download and wait as it is re-downloaded.

Step 5. After the download is complete, the game will automatically install and you can see if your game data is back.

Again, huge games (like the recently released Call of Duty: Modern Warfare) are going to take several hours to re-download. For that reason, a quicker solution would be better.
3

Restore Deleted or Lost PS4 Game Files with USB Drive

In addition to the previous solutions, you can learn how to restore PS4 game files using a USB drive too. For this method, you'll need a USB flash drive with a decent amount of storage, and then simply follow the steps below.

Step 1. Plug in the USB flash drive to the PS4 and make your way to the Trophies menu. In this menu, turn on the setting to "Sync with PlayStation Network".

Step 2. Next, go to the "Settings" menu and go to "Application Saved Data Management".

Step 3. In this screen press "Copy to USB Storage Device".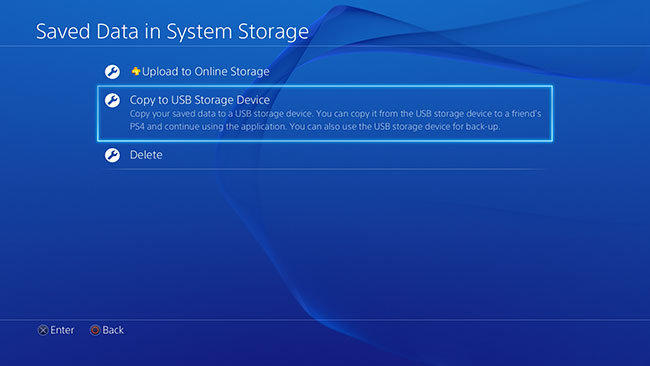 Step 4. After you repair the PS4, replace the broken hard drive, or fix whatever the problem is, connect the USB again.
Step 5. Go to the Settings menu and head to "System > Backup and Restore".
Step 6. Select "Restore PS4" and press "Restore" to choose the suitable game data backup. Confirm this restore by pressing the "Yes" button.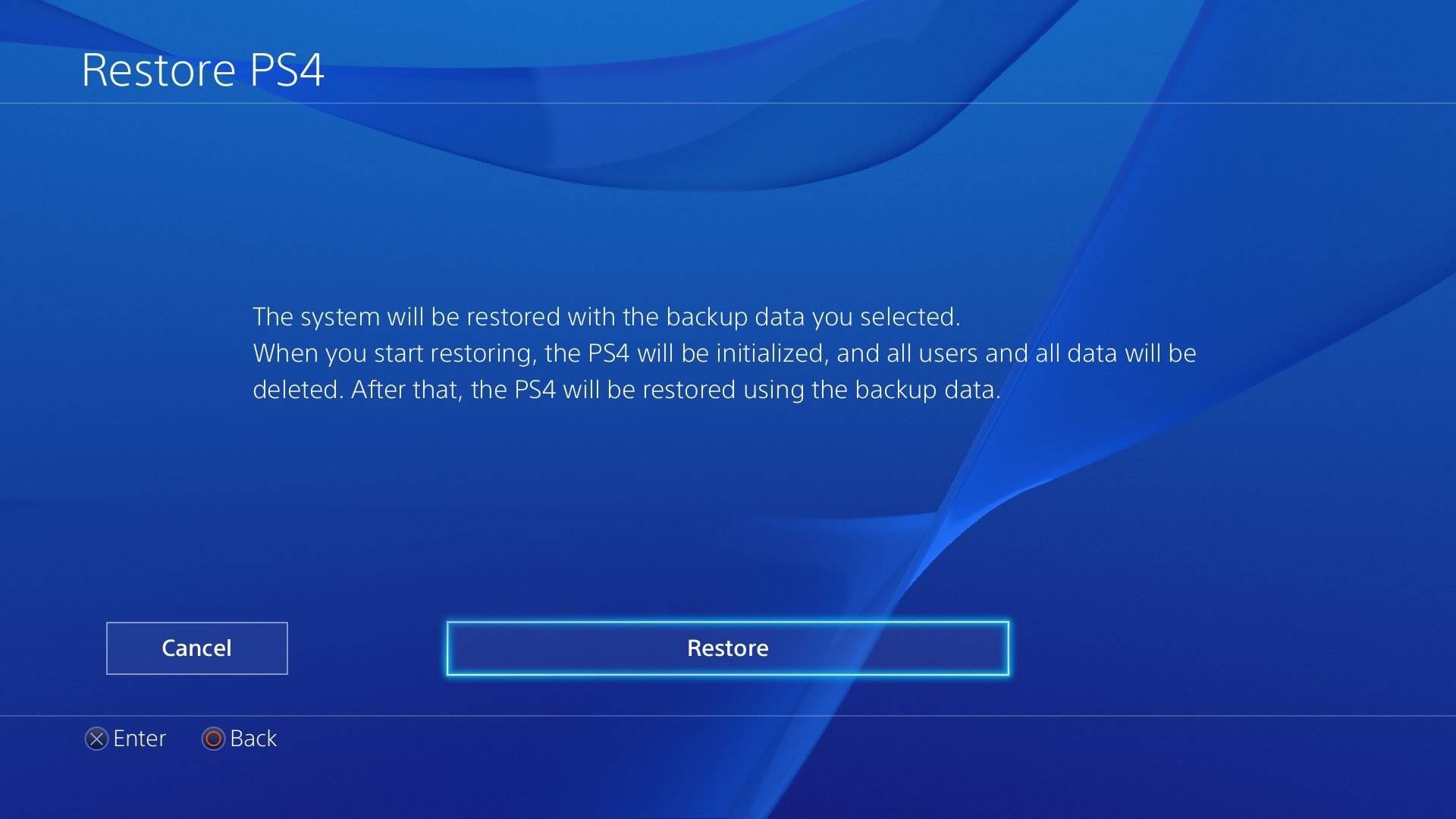 Note
To retrieve saved games on PS4 with this option isn't perfect, since some games have large saves and therefore require USB drives with a lot of storage. But if you've got enough storage capacity, this can be a handy way of restoring PS4 game files.
4

Recover Deleted Games on PS4 with AnyRecover

Finally, if none of the previous three fixes explains how to restore PS4 game files in a way which works for you, a third-party data recovery solution is ideal. Our preferred software is AnyRecover which uses advanced algorithms to recover data from any storage device.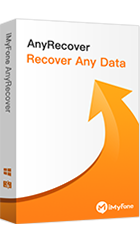 1,000,000 + Downloads
Features of iMyFone AnyRecover:        
Get back the lost saved game files on PS4 within three simple steps.
PS4 data can be recovered to Laptop & PC safely without overwriting original data.
Find the lost PS4 game installation packs, game videos as long as the PS4 hard drive is not encrypted.
Support various video formats, including video game formats: AVI, MOV, MP4, MKV, MPEG, ASF, FLV and others.
AnyRecover can restore data from USB flash drive, memory cards, SD cards, Digital Camera, including PS4 hard drives.
How to use data recovery tool for restoring lost saved game files on PS4:
Step 1. Download, install, and launch iMyFone AnyRecover on your computer, then connect the PS4 hard drive to your computer. On the tool's interface, choose the hard drive and click "Start".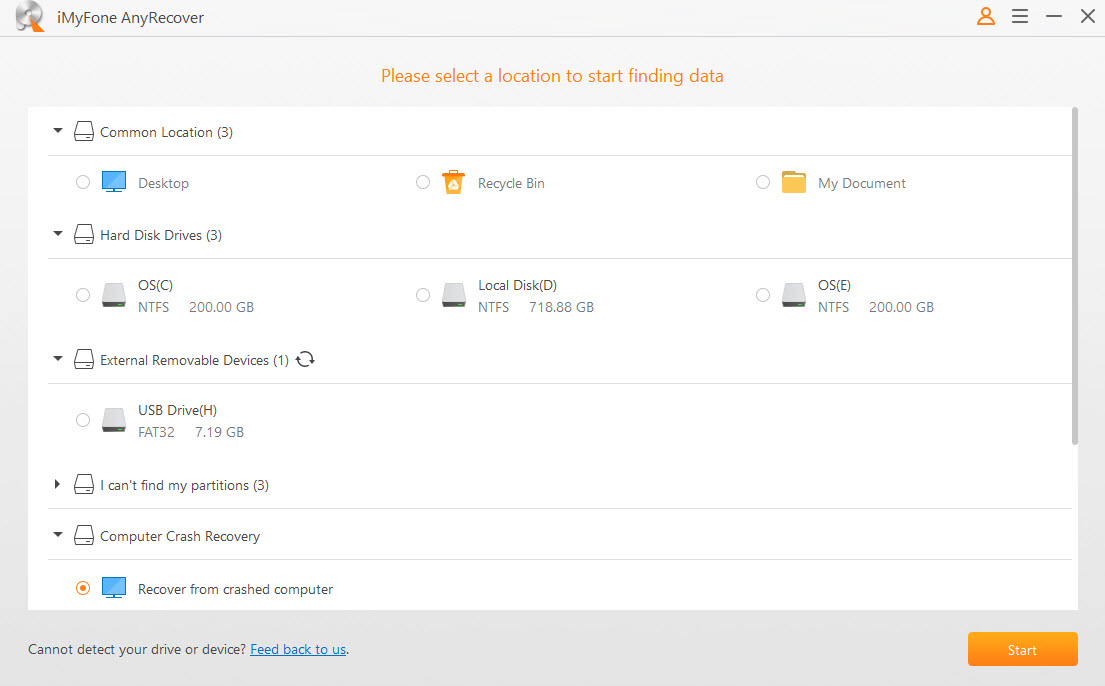 Step 2. AnyRecover will proceed with scanning your selected PS4 hard drive, which will take some time depending on how large the storage size is.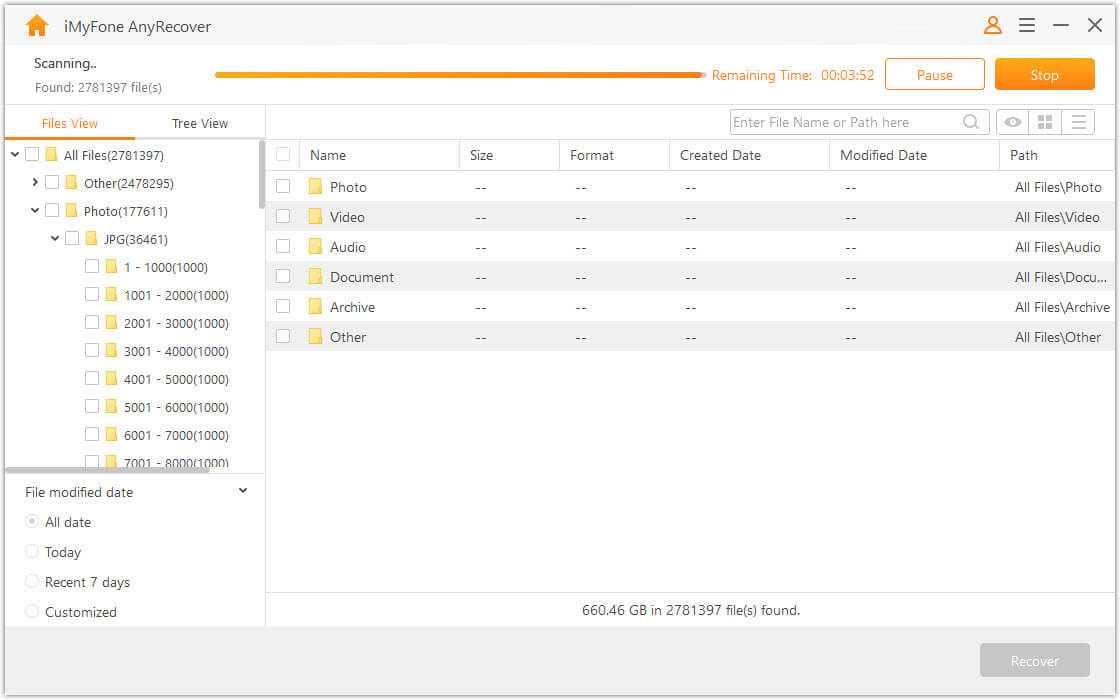 Step 3. After the scanning process  is complete, browse the scanned files on your PS4 hard drive and choose the saved data to recover. Finish this recovery process by clicking "Recover" and saving the files to a new destination folder.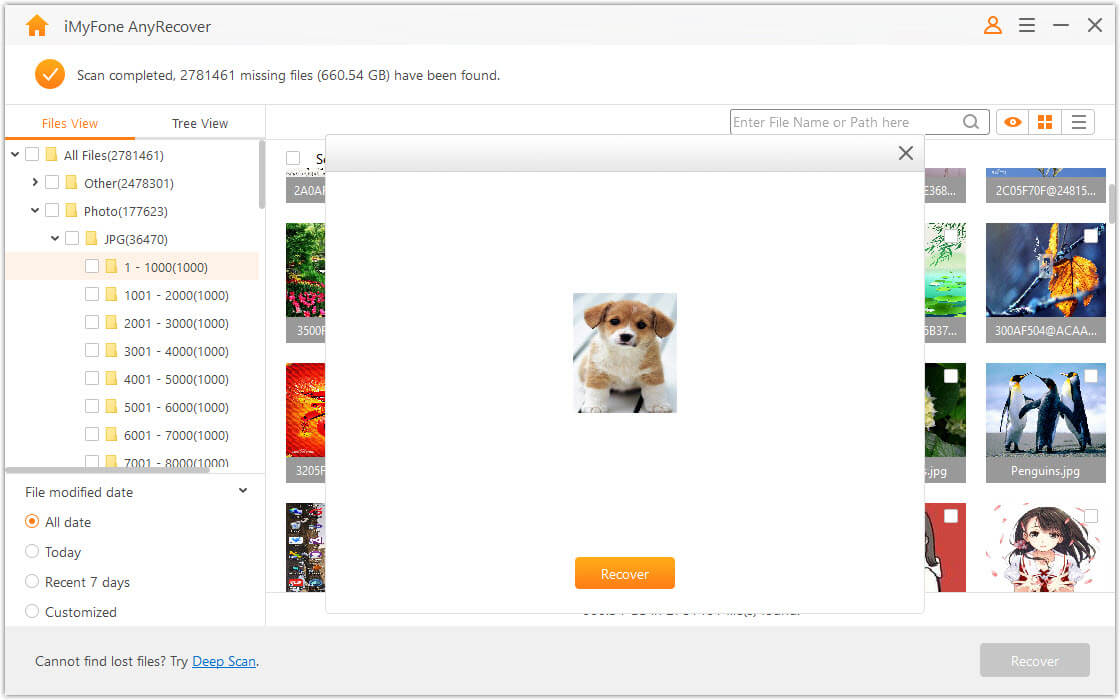 This is a definite solution that makes PS4 game recovery easier than you'd expect. After you follow these steps you'll have access to your game data once again.
Bonus Tip: Protect PS4 Game Files from Being Lost
So after you go through all of this trouble and successfully determine how to recover deleted or lost PS4 video games, the next step is preventing it from happening again. Ultimately, preventing this is achieved by backing up the data.
Backing up can be done either with a USB device, as we described in Solution 3, or by using the PS4 Cloud Storage system.
Additionally, if you do notice data loss in any form, stop using your PlayStation 4 immediately. Continued usage will encourage permanent loss of the data that was lost because it risks overwriting the data. Restricting your usage will ensure the highest chance of recovery.
Conclusion
This wraps up our guide on how to restore PS4 game files, and hopefully, this leads you to fully recover the lost data. It's important that if you don't want a repeat of the data loss, you take backups of the game data. This is especially important for those story mode games where if your progress is lost, you need to start the game again. If your prevention measures don't work, go ahead and try iMyFone AnyRecover for the best PS4 data recovery results.