Just a few days back, one of our clients posted an enquiry on our platform with the title: "How to Fix and Recover Data in Unallocated Hard Disk Drive" and it read thus:
"Hi, I installed the latest update for Windows 10 PC yesterday. After the update, I restarted my PC and found out that I have lost access to my hard disk drive (500GB hard disk drive) and the Disk Management is showing "unallocated space". I have searched for solutions to fix and recover data in unallocated space on Google, but I found no "concrete" solution. Please, can someone from your tech-support guide me on a way of doing this without losing the data in the hard disk drive? Macho1212"
In order to address this issue, we shall first be defining what "Unallocated Disk" means and factors or reasons why they occur, later we shall proffer solutions to fix and recover data in an unallocated external hard disk space.
What is An Unallocated Disk?
The concept of unallocated disk space is best to describe thus: A Windows 10/8/7/Vista computer describes an entire hard disk drive or a partition (a segment of allocated space on a hard drive) of a hard disk drive as "unallocated" if no program can access data on the disk or write data on the disk. A disk or partition of a disk can be described as unallocated if any of the following cases occur:
Virus, Malware or Spyware attack
If your hard disk drive is disconnected or having a partial connection with the PC.
Hardware failure.
Damaged or outdated hard disk drive.
What If Data is Lost in An Unallocated Hard Disk Drive?
If the hard disk drive containing your important files becomes unallocated or shows up as unallocated in Windows 10, 8 or 7 PC, then follow these effective methods to repair and recover data in an unallocated hard disk drive.
1

Use AnyRecover

AnyRecover empowers you to retrieve lost, deleted and formatted data from any device: be it a computer, USB drive, memory card, digital camera, mobile phones, USB flash drive, lost partitions, or computer hard drives. Hence, if your entire PC hard disk or a partition of your PC hard disk become unallocated, and all the data within the is lost, you can employ iMyFone AnyRecover to assist you in retrieving over 98% of the lost data in the unallocated disk. More so, AnyRecover does not only recover files in an Unallocated Disk, but it can also perform deleted file recovery, recycle bin recovery, formatted disk recovery, lost partition recovery and all-around recovery. So, choose AnyRecover now to start retrieving your important files.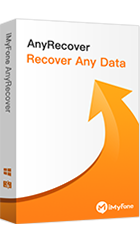 233,000+ Downloads
Pros of iMyFone AnyRecover:
Safe and reliable in recovering files and data from an unallocated external and internal hard disk drive.

Highly efficient in recovering lost, deleted, and formatted files such as photos, videos, audios, emails, and more from any storage device.

AnyRecover supports data recovery from external and internal hard drives, memory cards, USB flash drives, recycle bin, digital camera, smartphones, and camcorders.

All data lost situations such as sudden deletion, formatting, hard disk corruption, virus attack, system crash, etc. can be recovered easily.
Steps to recover data in the unallocated hard disk drive:
Step 1. Download and install AnyRecover on your PC. Launch the program.
Step 2.  Select the disk you want to recover data from. Then, click the "Scan" tab. Once the scan is complete, all your lost files will be displayed at the left panel.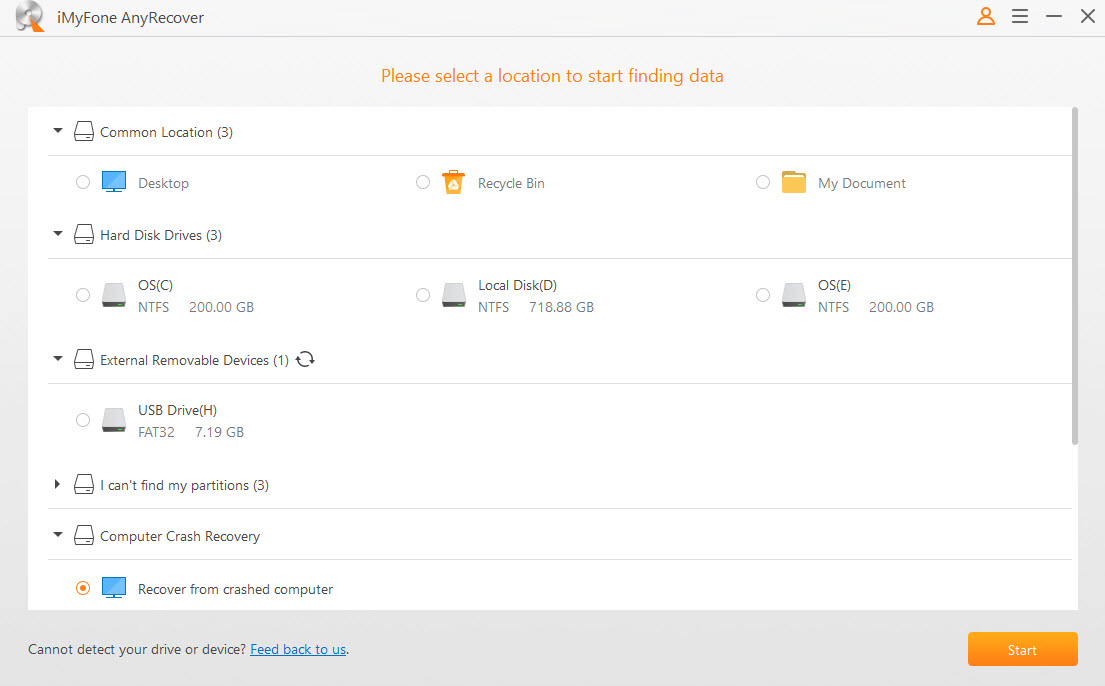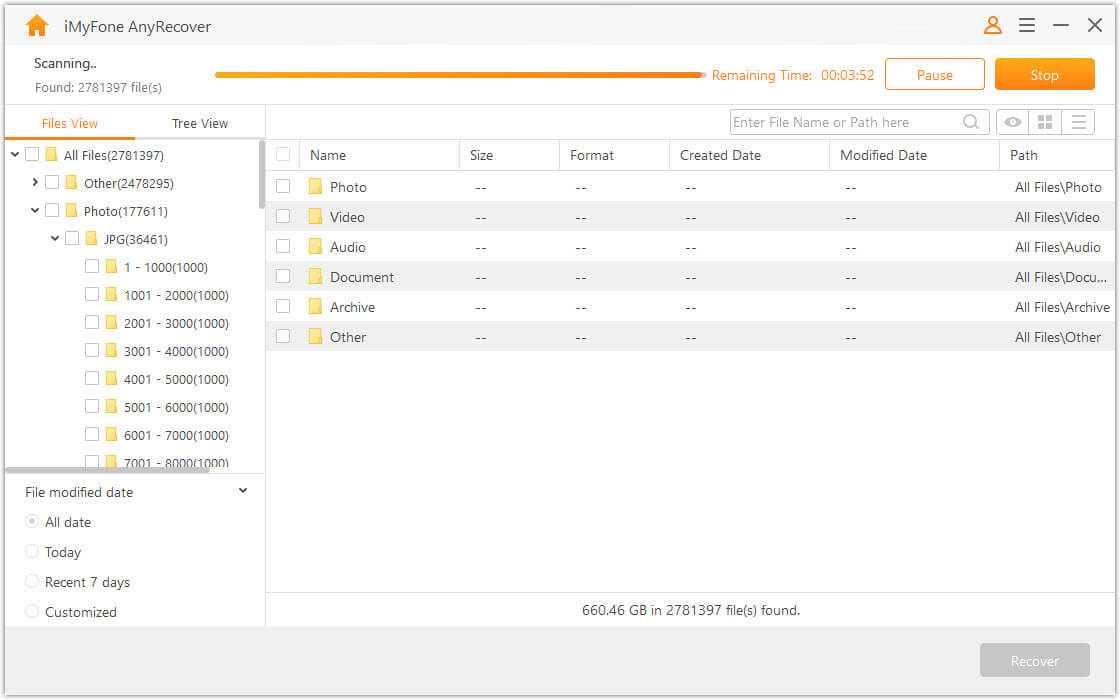 Step 3. Preview through the files and select the ones to recover by clicking the "Recover" tab.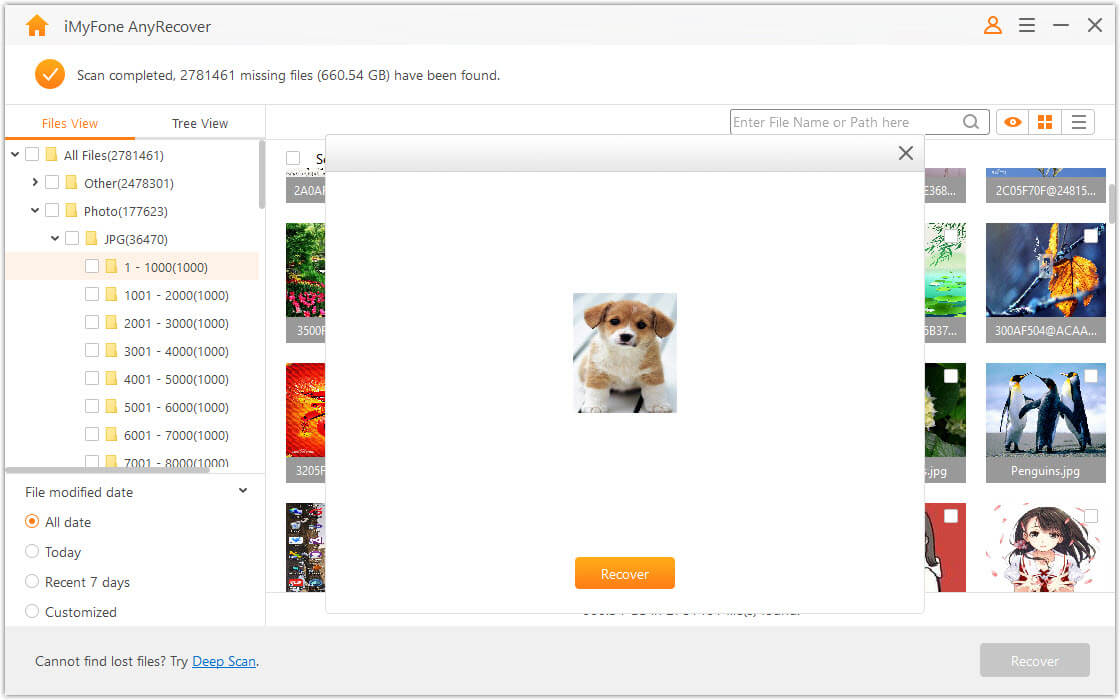 2

The Normal Solution to Fix An Unallocated Disk

Here, we'll describe how to fix unallocated external hard drive with CDM. This method will help you to fix "external hard drive unallocated" issues if you don't have the strength to start browsing for a tool that can help you achieve it. Although this method will not be able to recover your lost files, you'll be able to use your external hard drive to save files again.   

Step 1. Open CDM on your Windows PC by pressing the Windows key + R. Type: CDM and hit enter. 

Step 2. In CDM type: Diskpart and hit Enter.

Step 3. In Diskpart type: volume and hit enter. 

Step 4. Type: select volume X and hit Enter. (Note that Volume X is the drive letter of your unallocated external hard disk drive.) 

Step 5. Type: delete volume and hit Enter.

Step 6. Type: list volume and hit Enter. (Note that even if the Disk Management tool cannot create a new volume on it; continue to the next steps below.)

Step 7. Type: select volume X and hit Enter.

Step 8. Type: delete volume and hit Enter.

Step 9. Type: delete volume override and hit Enter.

Step 10. Navigate to Disk Management and right-click the unallocated disk to create a new volume, and set the file system to fix the unallocated error. 

The steps to repairing an unallocated disk are confusing and cumbersome, and if you don't follow it well, may lead to damaging the disk permanently. Therefore, use AnyRecover is the best choice.