When using the Windows Disk Management Utility, you may have come across an instruction that reads thus, "You must initialize a disk before Logical Disk Manager can access it." This notice sounds urgent but you have no idea of whether it's safe to initialize a disk, and whether initializing a disk would erase data.
This post will help you figure out why Logical Disk Manager insists that you initialize a disk, what happens to your data when you initialize a disk, and most importantly, how to recover lost data during disk initialization or formatting.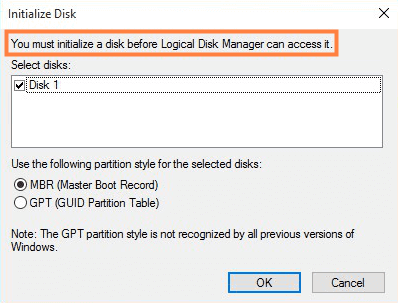 Part 1. Why Disk Manager Insists that You Initialize a Disk
One of these common hard disk issues could have caused Disk Manager to insist that you initialize your hard disk.
The hard drive is new and has never been connected to the computer.

Windows fails to find a valid partitioning table in the hard drive.

Your hard drive is faulty, damaged, or corrupt.

The hard drive has a non-standard partitioning configuration, which causes migration between different storage controllers.

Other issues and errors in the removable hard disk.
Part 2. Does Initializing a Disk Erase Data?
A short answer is NO. Only initializing a disk won't erase data.
The initialization aims to rebuild MBR, involving no data. But to make the disk usable again, you need to further partition and format the drive, which will definitely erase data. Therefore you should distinguish the two actions.
Besides, Windows usually only requests disk initialization on brand new hard drives that haven't been used for data storage purposes yet. However, there are times when Windows requires a used disk (i.e. a hard drive with data) to be initialized - when it is first connected to a computer. If this is the case, you should pay attention to the data and be cautious while formatting, which is necessary to render the drive usable again.
Part 3. How to Safely Initialize a Hard Disk
If your hard disk is displaying the message "Disk 0 (1 or 2) Unknown, Not Initialized" or the disk space is showing unallocated space in Disk Management, then you need to initialize the disk to restore it to normal usage. The steps to initialize a disk are listed below: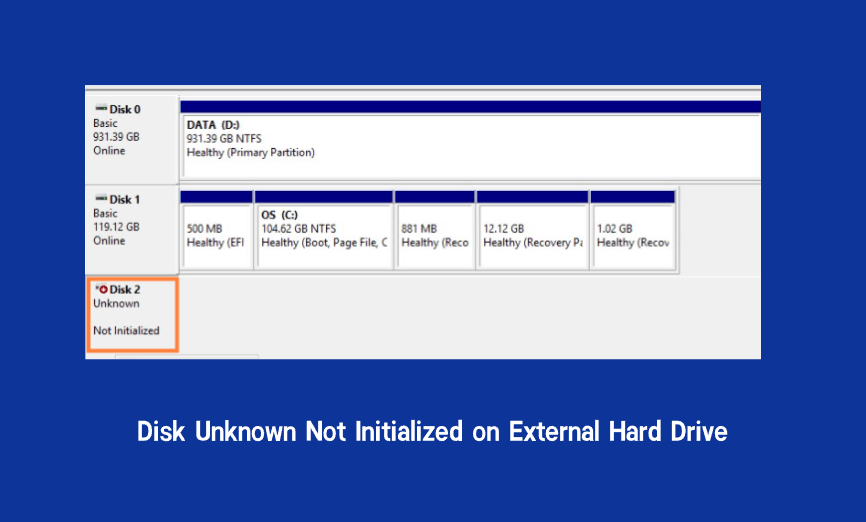 Step 1. Press the Windows key + R, and type "diskmgmt.msc". Then, click the Enter key to open the Windows Disk Management tool.
Step 2. Select the problematic disk and right-click on it.
Step 3. Select "Initialize Disk" and follow the Wizard to complete the process.
Note
For more methods to initialize a disk without losing data, check this guide.
Part 4. How to Recover the Lost Data With AnyRecover
As we have mentioned before, the formatting process after the initialization will wipe out all the original data. Facing this data loss situation, the first thing you may do is looking for a way to recover the lost data. Truly it's hard to achieve manually, but you can make use of a suitable tool.
AnyRecover is an excellent hard drive recovery tool that can recover lost data from any device in any data loss situation - even when a disk has been formatted after the initialization. Besides, it works well on both Windows (including Windows 11) and Mac computer.

2,061,704 Downloads
Recover lost data from an initialized disk with high success rate and fast speed.

Support over 1000 types of data, including photos, videos, documents, and archives.

Provide preview and selective recovery functions; you can recover exactly what you need.

Absolutely safe; posing no risks to the original data.

Take only 3 simple steps to recover lost data; everyone can use it without difficulty.

Free trial is offered for everyone to scan, preview and recover 8 files.
Steps to recover data from an initialized disk using AnyRecover:
Step 1. On your PC, download and install AnyRecover. Launch it and connect the initialized disk to your Windows computer. Then select the disk that you want to recover data from. Hit the "Start" button to begin the scanning.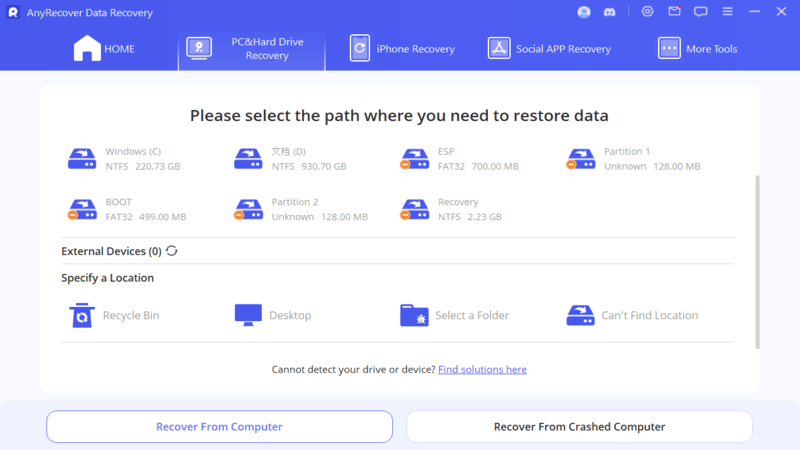 Step 2. Wait for the scanning to complete. You can stop or resume the process anytime you want.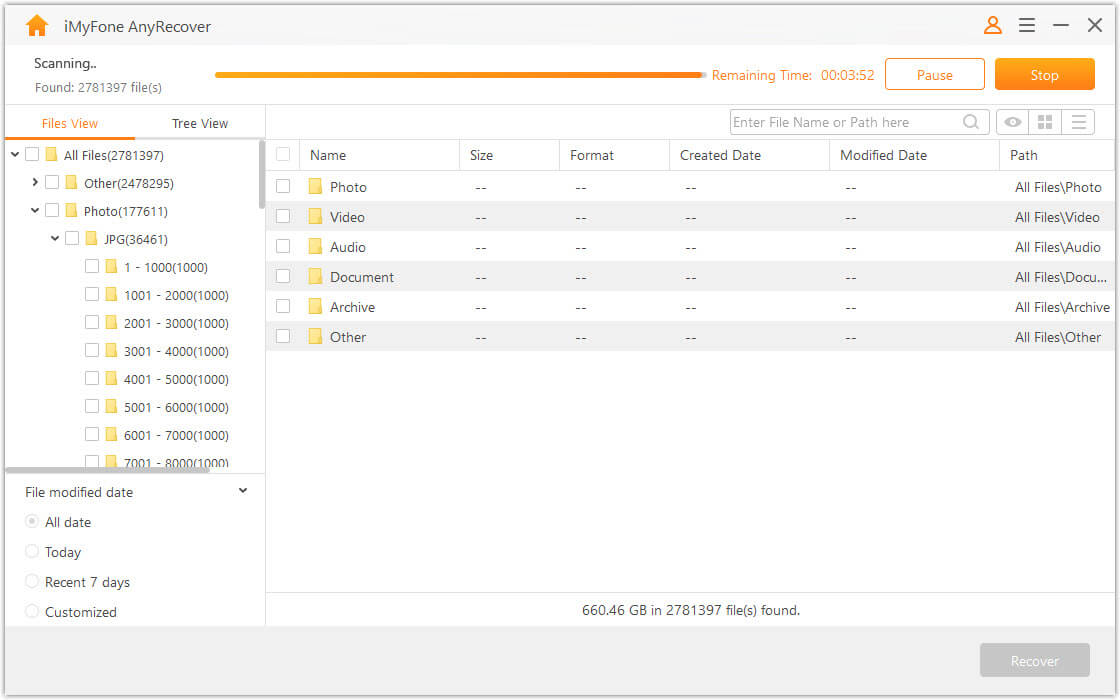 Step 3. When the scanned data is shown, preview and select the files you want to recover. Then click the "Recover" button.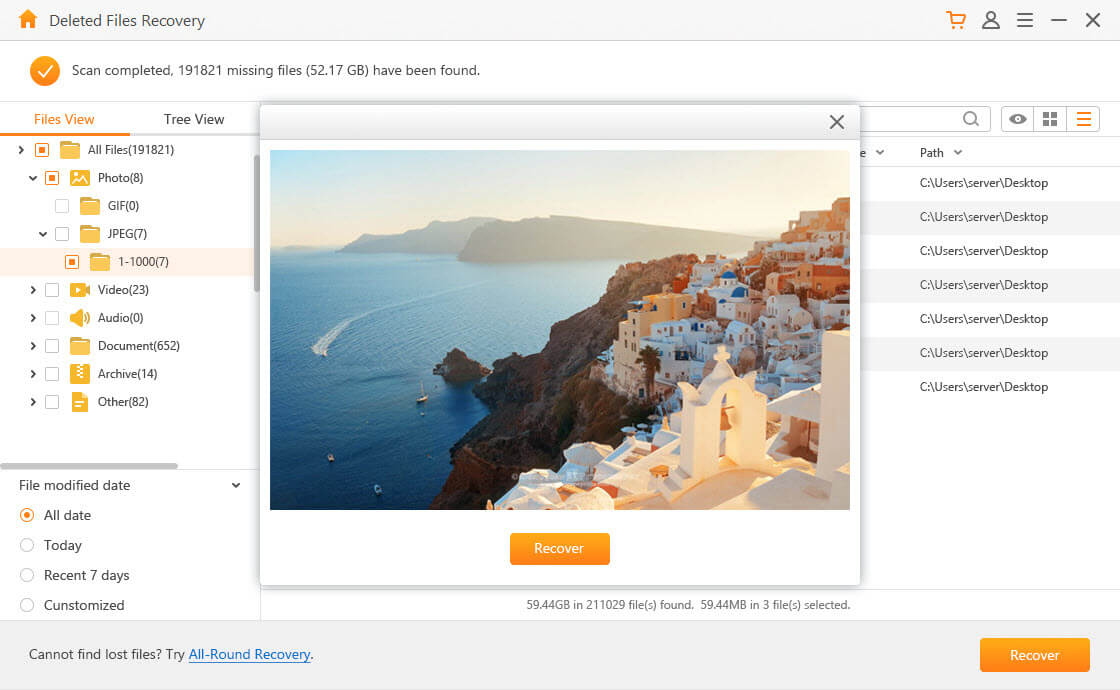 Conclusion
This post has gone into detail about initializing a disk. As for questions like "does initializing a disk erase data", you must have got the answer.
While dealing with lost data, AnyRecover is the most comprehensive solution for recovering it from an initialized hard disk. In fact, in almost any data loss scenarios, AnyRecover is capable of solving the problem. Don't hesitate to try this perfect data recovery helper, and you won't be disappointed.