USB drives are handy tools for storing and moving data, but with most of these memory sticks, without proper care, your sensitive data remains open to everyone. It's a good idea to keep your sensitive data secure using an encrypted USB drive.
What is an encrypted USB Drive? What is the difference between an encrypted drive and a regular one? Which should I go for? These are questions that will be answered in this post. Read to the end to find out our recommended data recovery tool for USB drive and why we recommend it.
Part 1. What is An Encrypted USB Flash Drive?
Encrypted USB drives are similar to the regular ones, but they feature some protective system to secure the data stored in them. They come as hardware, software, or biometrically encrypted drive.
Whenever an encrypted drive gets inserted in a computer, the data stored in it remains inaccessible until the user provides either a password or biometric validation.
Part 2. 3 Best Encrypted USB Flash Drives 2023
We've shortlisted the best 3 encrypted drives in 2023 with their outstanding qualities highlighted. Let's have a quick check.
1. Kingston Digital Traveler Aes Encrypted 3.0 USB Flash Drive
If you are interested in some top-notch protection for your sensitive data, this is definitely a "go to". It is protected with the 256-bit AES-XTS hardware encryption. As an additional security measure, it instantly deletes your data after 10 incorrect password entries.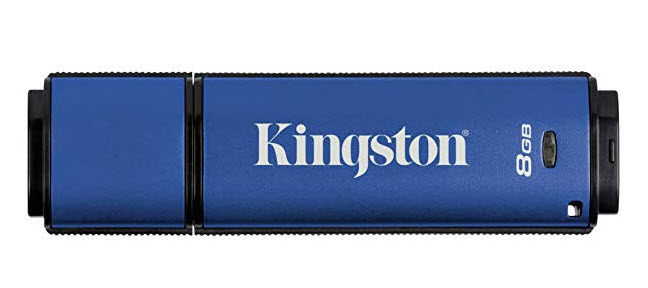 Specifications
Capacity: 64GB, 32GB, 16GB, 8GB, 4GB

Type: USB 3.0 Flash Drive

Data Transfer Rate: 165 MB/s (read speed); 22 MB/s (write speed)

Weight:  0.3 oz

Warranty: 5 years
I wouldn't bother if I accidentally drop this champ in water - It is waterproof at a depth of 1.2 m. This encrypted USB flash drive comes fully protected with ESET anti-virus. Its super speed technology increases the data transfer rate. The only downside is its protective cap which occasionally falls off.
2. Apricorn Aegis Secure Key USB 2.0 AES-CBC Encrypted Flash Drive
This is definitely the top pick for hardware encrypted USB flash drives. It comes equipped with an alphanumeric keypad for unlocking the drive, military grade 256-bit AES CBC hardware encryption. It is compatible with all operating systems.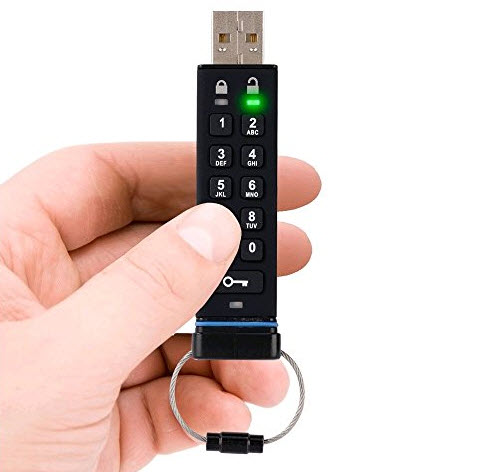 Specifications:
Capacity: 32GB, 16GB, 8GB, 4GB
Interface:  USB 2.0
System Requirements: OS independent: Windows, Mac OS, Linux, Android, Symbian
Dimension and Weight: 4.80mm x 20mm x 10.5mm (w/ sleeve); 78mm x 18mm x 10.5mm (w/o  sleeve); 25 grams
Warranty:  3 years limited
Pros:
Durable and water resistant aluminum protective coating.

It works seamlessly with all operating systems.
3. Corsair Padlock 2 UBS 2.0 Flash Drive
This premium quality encrypted USB flash drive offers more value for your money.  It is fitted with an external keypad to enter its unlocking password, shockproof and water-resistant to secure your data under extreme conditions.
Corsair PadLock 2 is a high-performance flash drive designed to hold confidential and sensitive information. The drive uses AES 256 encryption technology to protect files from theft.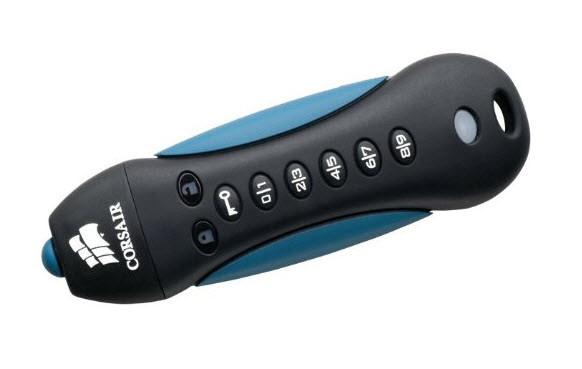 Specification
Capacity: 32GB, 16GB, 8GB

Type:  USB 2.0 Flash Drive

Data Transfer Rate:  13 MB/s (read speed); 9.6 MB/s (write speed)

Weight: 0.3 oz

Warranty: 10 years
Pros
Military grade AES 256-bit CBC hardware encryption.

Shockproof and water-resistant rubber housing.
Part 3. Bonus: The Best Flash Drive Data Recovery Software - AnyRecover
Yes, you can retrieve deleted or lost files from any rewritable storage device. Your files that have been deleted from your data storage device aren't lost forever, it's actually the reference to them in the directory structure that is removed. With the right tech, it is possible to recover any form of deleted files from your storage device. And it is compatible with the latest Windows 11 and Mac 10.14.
AnyRecover is an excellent data recovery software. It restores every type of missing data regardless of how we lose them - improper cloning, deleted, formatted or corrupted files, damage by viruses, operating system crash, and so on.

Key Features of AnyRecover:
Supports over 1000 file types like DOC/DOCX, XLS/XLSX, AVI, MP4, ASF, FLV, SWF, MPEG, JPG/JPEG, PNG, GIF, ZIP, RAR, SIT, ISO, exe, HTML, SITX, etc.
Allow you to recover unlimited data from all data loss scenarios.
This data recovery tool will restore all your lost files from any device like USB flash drive, hard disk, memory card, digital camera, etc. with a guaranteed 98% recovery rate.
Privacy is protected and risk-free.
In case you don't know how to use the software, check the guidance here.
Conclusion
The primary aim of any encrypted USB flash drive is to protect our sensitive data stored in them. Choosing hardware, software, and biometrically encrypted USB flash drive totally depends on you. They all have their edges.
At the moment, we have discussed three of the best encrypted USB flash drives out there and the most effective tool for retrieving lost files from rewritable storage devices - AnyRecover, it works with both Windows and Mac OS, including the newest Windows 11. Let's keep our data secure at all times.