Question
"About 2 days ago, I was thinking of removing files I no longer use from my Windows computer. I got carried away and emptied the user profiles' folder. I later learned that my user profiles have disappeared. I want to know whether it is possible to undelete user profile. I will appreciate your help, guys."
Many of us may easily ignore the existence of user profile on computer in daily work life. Once the user profile gets deleted, you won't be able to log on to your user account, still less access the data on your computer. Then can deleted user profile in Windows 11/10/8/7 be recovered? Luckily the answer is positive.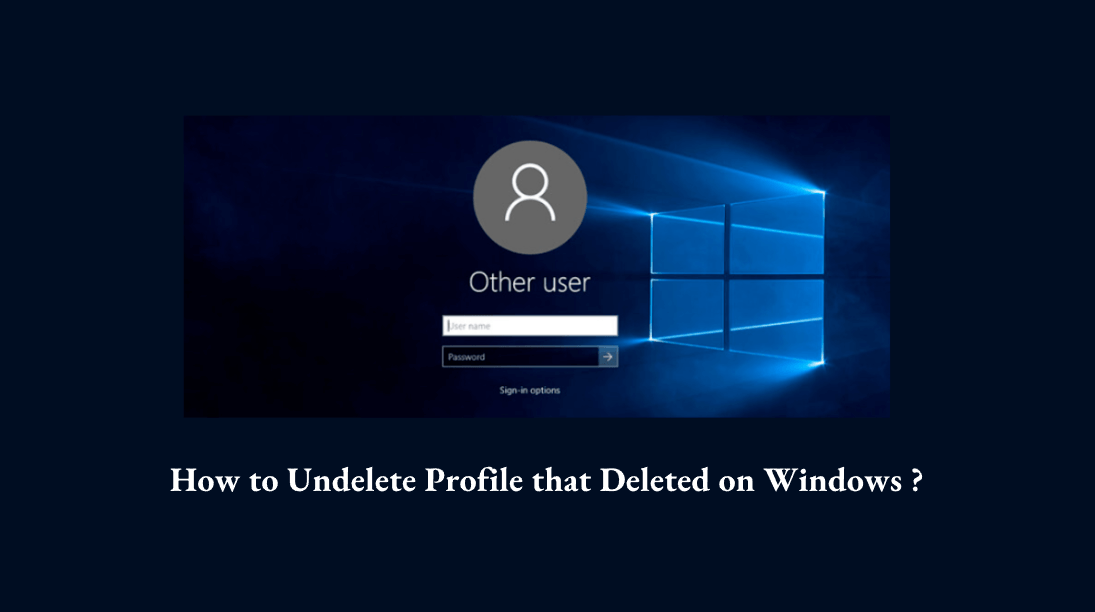 In this article, we will show you 4 different methods you can use to recover Windows 10 deleted user profile. Read on, try and choose the one that suits you the most.
Part 1: Common Situations About Deleting User Profile
There are various reasons why user profile gets lost or deleted. It's best that every user learn about the causes so that precautionary measures can be taken to avoid this disaster in the future. Here are some most common situations where the user profile is deleted:
1. Bugs
The Microsoft update for Windows 10 released in October 2018 had numerous bugs, one of which caused the automatic deletion of users' personal files and the data stored in the user profile folders. If you haven't updated your Windows 10 since the October 2018 feature update, there is a chance that the bugs are the reasons accounting for your profile's disappearance.
2. Accidental Deletion
Some users may delete the files associated with user profile by mistake without realizing the disastrous result, while cleaning up  computer for example.
3. Virus/Malware
User profile can also get corrupted by virus or malware, which is difficult to detect and prevent sometimes. Besides, virus could also delete some data associated with user profile.
Part 2: How to Undelete Profile on Windows 11/10/8/7?
If you have accidentally deleted the user profile in File Explorer, it will be moved into Recyle Bin. If it is not permanently deleted from Recycle Bin, then you can restore the user profile to its original location easily. But the precondition is that you need to log on to the computer with another administrator account or enable safe mode.If on the contrary, you have emptied the Recycle Bin or permanently deleted the user profile  unluckily, you need to turn to a professional data recovery tool or check the other 3 methods below.
Solution 1: Perform System Restore
This method will  offer you ideal results only if you had created a restore point on your computer before the user profile got deleted. The steps below should be followed if you want to have a try:
Step 1. Boot the computer from the Windows 11/10 installation/setup disc. After your computer boots, select your preferred language and then hit the "Next" button.
Step 2. On the next screen, choose "Repair your computer".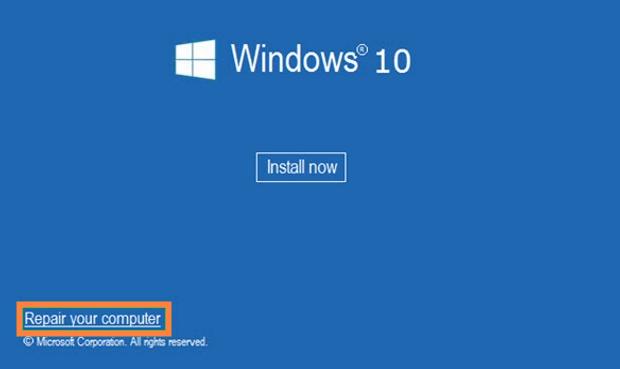 Step 3. Select Troubleshoot > Advanced options > System Restore.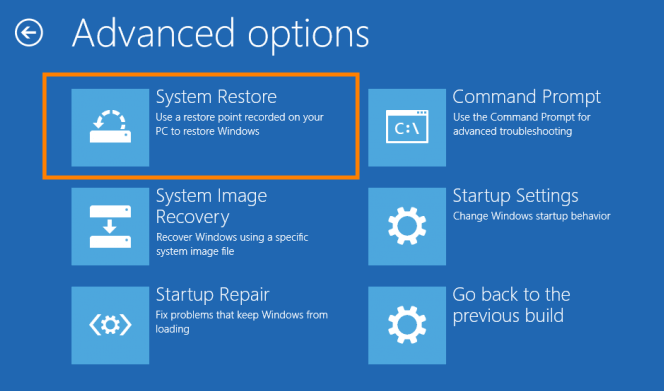 Step 4. Select Windows 10 on the next screen.
Step 5. On the System Restore wizard, hit the "Next" button.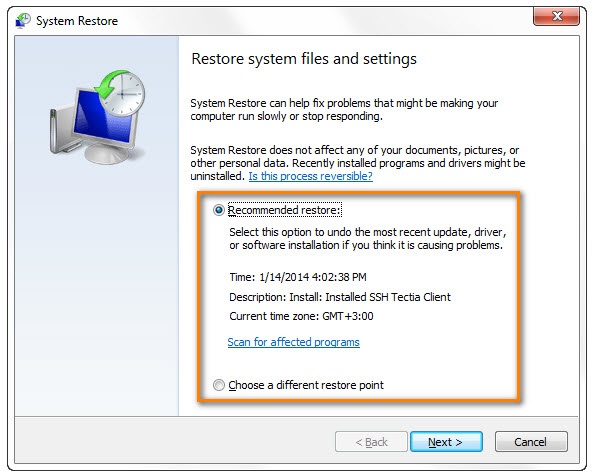 Step 6. Select the point before you deleted the user profile (check the date and time to confirm) and then hit "Next".
Step 7. Confirm the operation and wait for the system restore process to complete. After the process finishes, simply restart the computer. Your missing profile should be available then.

Delete File Recovery
AnyRecover- recover your deleted profile files in 1-click with high recovery rate.
Solution 2: Restore Previous Versions
If you have enabled the built-in backup feature in Windows, you can restore the deleted user profile from its previous versions.
Here is how to do it:
Step 1. Open the Explorer Window and select partition C:
Step 2. Right-click on the Users folder and then choose "Restore previous versions".
Step 3. Choose the Previous Versions tab and check to see if the deleted user profile is available.
Step 4. Select the required profile and then open it. Select "Restore..." to undelete profile.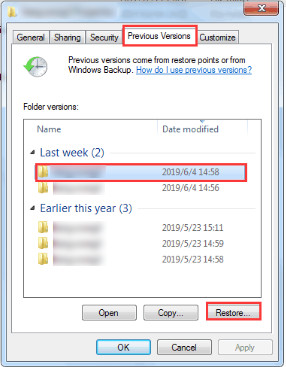 Solution 3: Recover Deleted User Profile Manually
We can also try to recover deleted user profile manually by using the help of Registry Editor. The whole process is rather complicated and requires much patience and care.
Step 1: Right-click on the Windows icon and use the "Search" function to open Command Prompt.
Step 2: Type "whoami /user" and hit Enter. This way we can check the SID of the current account.

Step 3: Type "regedit" in the Search box and hit Enter to load Registry Editor.
Step 4: Click HKEY_LOCAL_MACHINE > SOFTWARE > Microsoft > Windows NT > CurrentVersion > ProfileList. There will be a list of SIDs.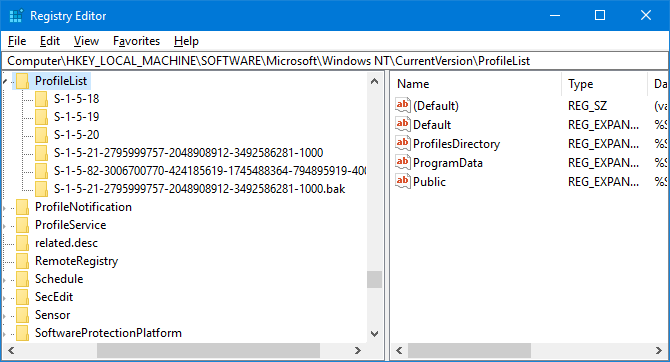 Then continue by choosing one of the 3 options below:
Option 1: If the SID is listed twice, choose to delete the folder without the .bak extension by right-clicking the folder and confirm "Delete".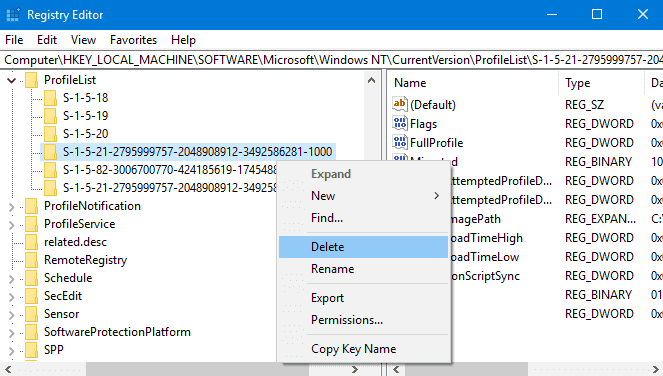 Option 2: Locate the folder matching your SID with the .bak extension, right-click it, choose to "Rename" and remove .bak from it.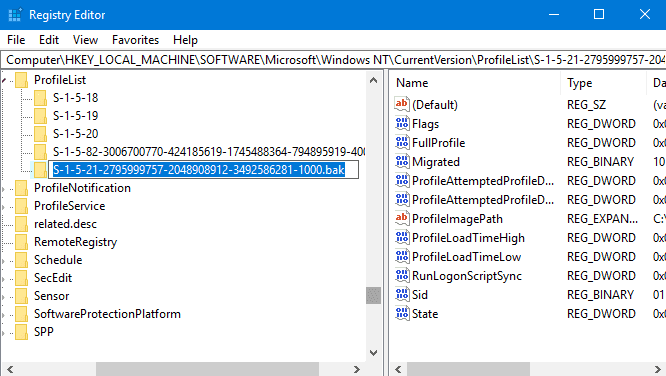 Option 3: From the folder that matches your SID, find and double-click ProfileImagePath. Then  enter the correct path for your user profile in Value Data and click "OK". (To check the right path of your user profile, press Win + R, input: C:\Users and hit Enter.)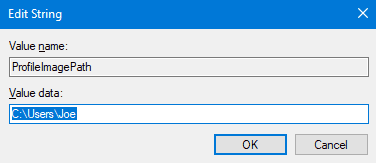 After that, double-click "State" on the right-hand registry pane. Change the "Value data" to "0", and  confirm the change.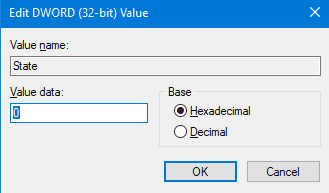 Finally, close the Registry Editor window. Restart your PC, sign again into your user account and everything should have been restored to normal again.
Part 3: The Ultimate Way to Recover User Profile with AnyRecover (Windows 10 11 8 7)
From the specific steps listed above, we can clearly see some obvious limitations of the 3 methods.
First of all, the solutions outlined above will only work if you had created a restore point or enabled the inbuilt backup feature before the profile got deleted. Besides, the success rate cannot be ensured as some Windows users have already complained about the failure to recover deleted user profile. Lastly, the operating steps are too complicated and require some technical knowledge, which is therefore time-consuming and not friendly enough to everyone.
The good news, however, is that we've got a perfect and ultimate way to solve the problem. What you need is a powerful and effective data recovery utility - AnyRecover. It is such a tool that can help you find the permanently deleted user profile and recover it. Has been trusted and recommended by millions of users, AnyRecover never disappoints users while dealing with data recovery issue.

2,949,820 Downloads
All-round  and deep scan  greatly shortens the scanning time and ensures a 98% success rate.

Extracts all the data from computer even if you're unable to login with another account or enable safe mode.

Supports more than 1000 file types, including documents, photos, videos, emails, archives.

The software is 100% secure as it does not overwrite the original data.

Only takes 3 simple steps to recover deleted user profile; scanning and previewing data is really convenient.
Once the old deleted data gets replaced by new data generated during the process of computer running, then it can never be recovered. Therefore download AnyRecover as soon as possible to ensure the safety of your data and gets it back!
How to undelete user profile using AnyRecover:
Step 1. After launching AnyRecover on your computer, select the location where your user profile resided before it got deleted.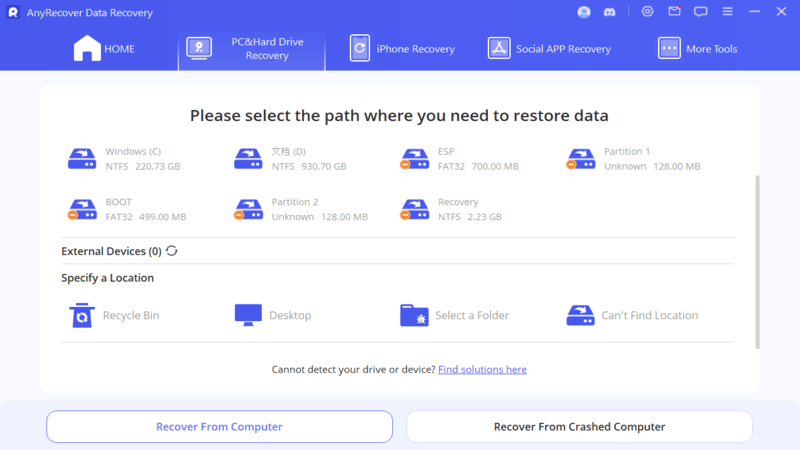 Step 2. After selecting the location, hit the "Start" button to start scanning.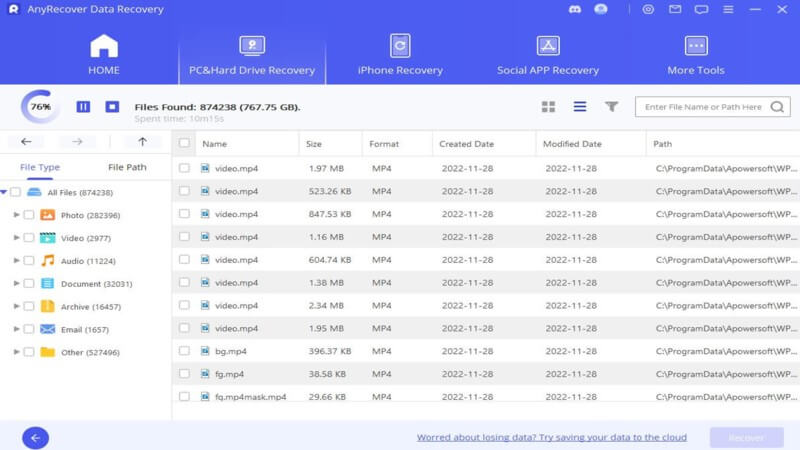 Step 3. After the scan, all the lost files will be displayed. Preview and hit the "Recover" button to get them back.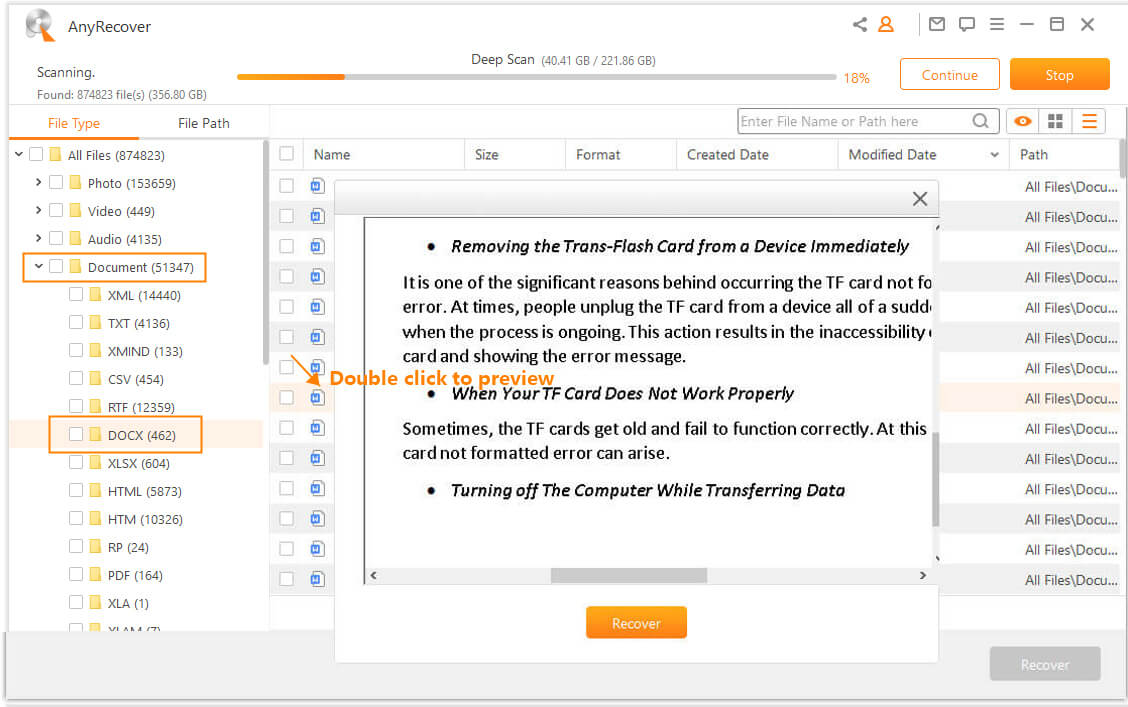 Conclusion
If your Windows user profile has "disappeared" due to some reason, the solutions outlined in this article should come in handy. If the first 3 solutions fail to work, then you should change a way of thinking and try AnyRecover. Without requiring any backup or restore point, AnyRecover is capable of getting back deleted user profile on Windows 11/10/8/7 in an easy and effective way.
Download AnyRecover right now and start your free deep scan, preview and recovery!