In most cases, deleted data can be recovered via a data recovery tool. However, the chances of successful data recovery depend on many factors, including the recovery tool you choose. Pandora Recovery is a popular data recovery tool available on the market. Read on to learn about this tool, its features, cons, as well as whether it is safe to use.
1
Pandora Recovery In-depth Review
1

Is it Safe to Use?

Pandora Recovery is safe to use. We tested the software with popular antivirus tools like Malwarebytes and Avast Antivirus and both of them classified Pandora Recovery as safe to use. No malware or viruses were found in the program. There were no hidden installations or spam as well during the installation process.

Pandora Recovery doesn't require internet connection in order to work, so there is no possibility of your personal files being sent to the internet. Furthermore, there are no ads on the software. You will only see a 'Buy Now' or 'Upgrade Now' prompt if you are using the free version. Apart from this, the software only scans and accesses your deleted files. Other files on the drive stay untouched. All in all, Pandora Recovery is a safe to use data recovery tool.
2

Features & Cons
Features

Disadvantages

Recover lost files quickly and conveniently.

Built-in preview feature that allows you to preview recoverable files. You can preview most popular image formats as well as some text formats e.g. XML, TXT, LOG, CSS, BAT, etc.

Several advanced and powerful modes, such as Quick Scan, Lost Partition Recovery, Deep Scan, and more.

All popular file systems are supported, including FAT32, FAT16, NTFS, exFAT, etc.

User-friendly interface and easy navigation.

Although there are no hidden installations, Pandora Recovery asks you to install a browser toolbar during the installation process, which can be annoying.

There is no portable version of the software. You must install the tool on your computer in order to use it.

The software may not support some certain file systems and drives. For instance, it cannot recovery deleted files from ZIF18 Microdrive.
3

Is it Free?

While Pandora Recovery does have a free version, the software is not entirely free. This is because free version has several limitations such as a limit of drives that can be scanned, limit to how much data you can recover, etc. In order to enjoy all the features of the software, you will need to upgrade to PRO version. PRO version of the software costs about $89. Enterprise is another license that you can purchase. It is available for $499 and it allows the software to be used by up to 10 users as well as also features priority support from developers.
2
Best Alternative to Pandora Recovery
AnyRecover is a powerful data recovery tool that is equipped with latest algorithms and most prominent file recovery features. The software is highly efficient when it comes to recovering deleted files from any storage medium. Thanks to its advanced algorithms, AnyRecover delivers accurate and efficient results, hence providing an enjoyable user experience.
You can use this tool to recover many types of deleted files. The software supports wide variety of storage mediums and file systems. Once the tool scans the data, it gives you full control over which files you can recover and where to store the recovered files.
Why AnyRecover easily recovers data?
Ultra-fast scanning and recovery speed.
AnyRecover supports over 1000 formats of different file formats such as images, videos, audio, documents, etc.
You can recover your lost data from any device ranges from internal to extremal hard disk drive.
It offers a free trial for you to determine whether it work or not.
Step to Recover Lost Files
Step 1. Open the software and choose Deleted Files Recovery mode.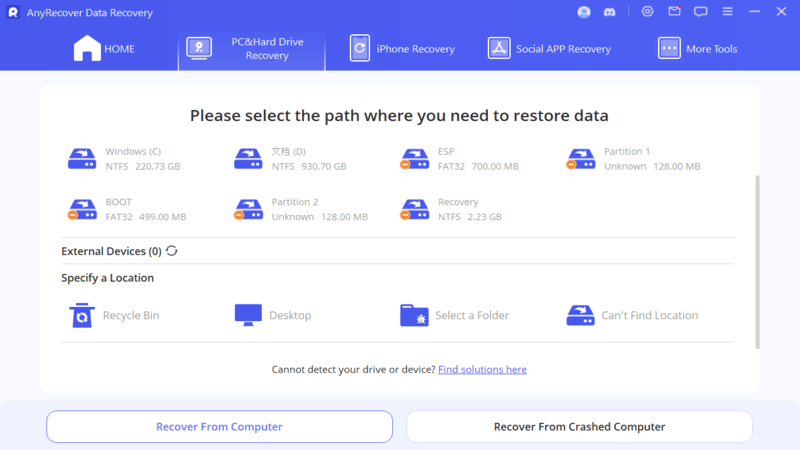 Step 2. Select the location and file type then click on Scan button.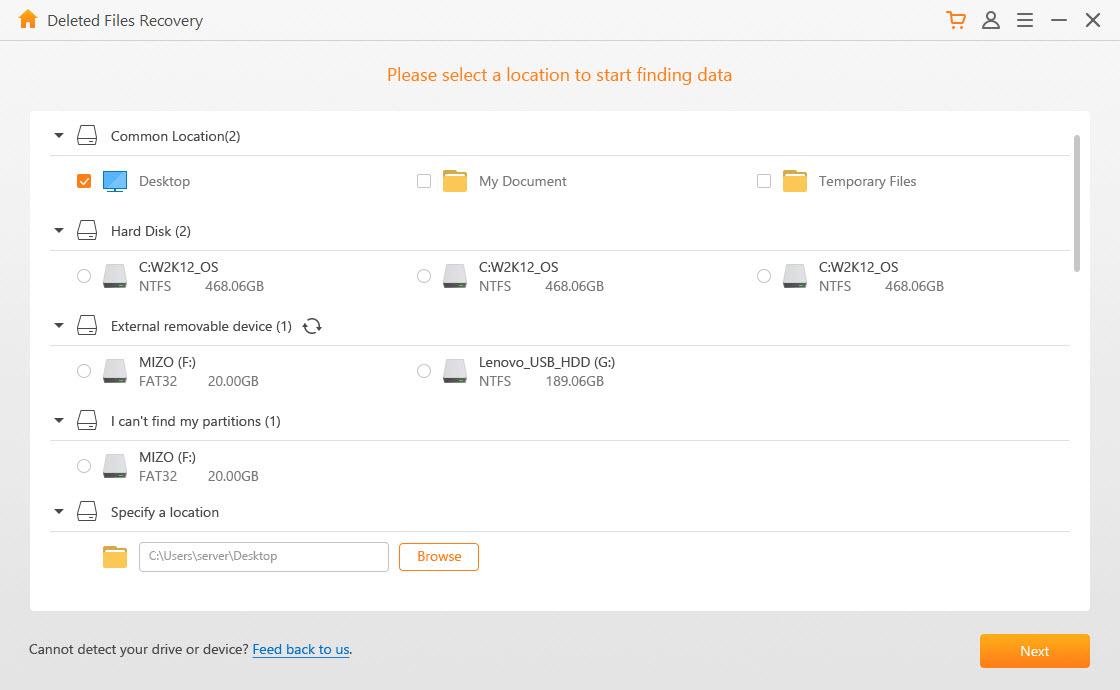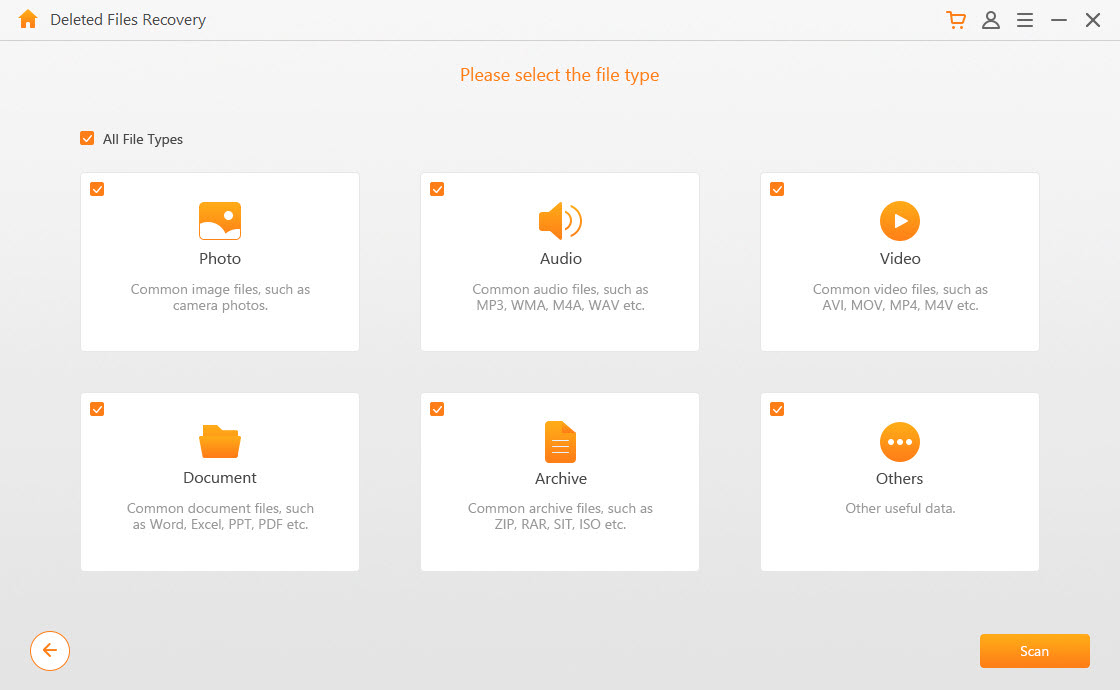 Step 3. Preview the files and select those you want to recover.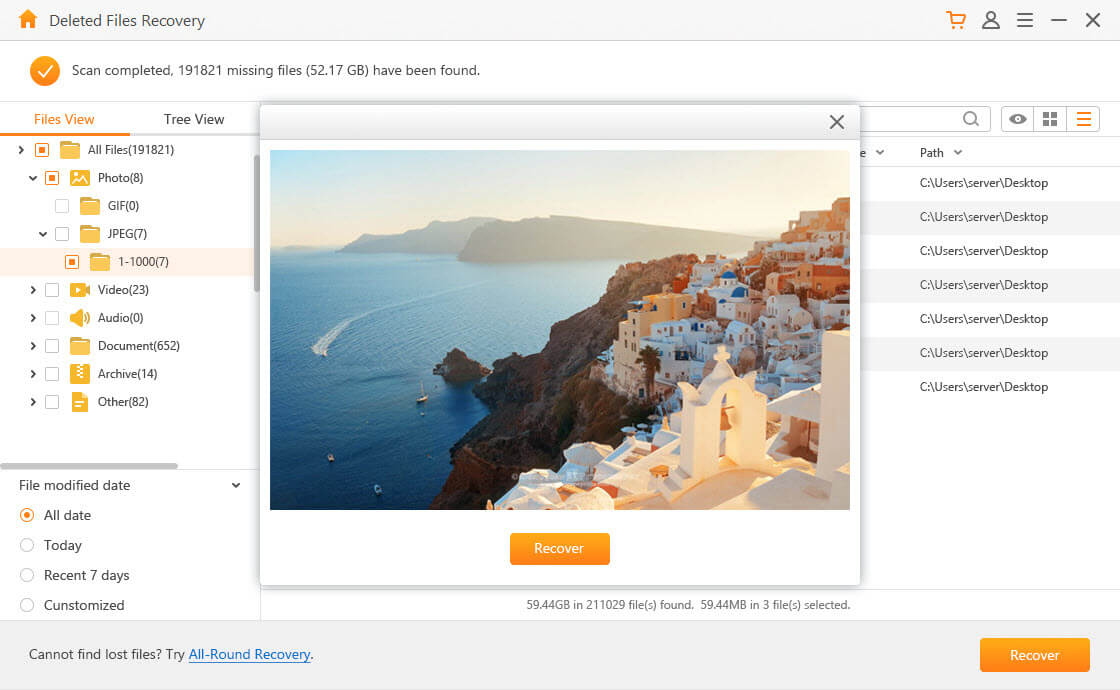 Bonus: Tips to Prevent Data Loss
There are several things you can do to prevent data loss or at least minimize the impact of the data loss if it ever occurs. Following are some tips you should follow:
1

Create Regular Backups

Create regular backups of your valuable data. It is the best way to prevent data loss and avoid costly recovery. When creating backups, it is recommended that you keep the backup files on another hard drive than the one on which the original files are stored.
2

Practice Good Working Habits

Some good working habits can drastically minimize the chances of data loss. These include creating separate partitions for data and operating system/softwares, using NTFS file system instead of FAT32, keeping file directories and names simple and direct, and turning the computer off when you are not going to use it for a while.
3

Use an Antivirus Software and Keep it Up-to-Date

Installing an antivirus can help you minimize the chances of data corruption and data loss. Some viruses can modify or delete your data, so using a reliable antivirus and keeping it up-to-date is highly recommended.
4

Protect Against Power Surges with a UPS

Power failure is another major cause behind data loss. Use a reliable UPS system so you can save your important files and shut down the computer before any damage occurs due to power outage.
5

Practice Disk Maintenance

Performing disk defragmentation once in every few months can minimize the chances of data loss and corruption.
Conclusion
Pandora Recovery is a fairly good data recovery tool. It supports recovery for multiple data types, file previews, selective data recovery, and many nicer features. However, it has a couple of limitations that could be a deal breaker for anyone looking for a reliable data recovery tool.
If you are searching for a tool you can rely on to restore lost data in all situations, Anyrecover is the best alternative.When you take success rate, public rating, user experience, platform and file support into consideration, AnyRecover seems to be a no brainer for anyone who wants to recover data fast and safe.
Start a deep scan for free right now!