When your hard drive fails or crashes without any sign - due to user error or as a result of some nasty virus, what's going on may seem like a total nightmare. Things become even worse if the there are important, precious, or time-sensitive files stored in the drive. Losing your data may be disastrous, but data recovery tools can help you out.
In this post, first we'll talk about a data recovery application named Ontrack EasyRecovery, including its functions, features, pros and cons. Then in view of its obvious shortcomings, we'll recommend a perfect alternative to it.
Part 1. Ontrack EasyRecovery Review: What Is It All About?
Ontrack EasyRecovery provides users with a full solution to a great variety of data loss issues, such as accidental deletion, reformatting and physical damage of devices. Designed to recover lost, corrupted, and damaged data from internal as well as external drives, this tool does come with some useful features for those who want an easy-to-use program at home, while at the same time some drawbacks do exist compared with competitors.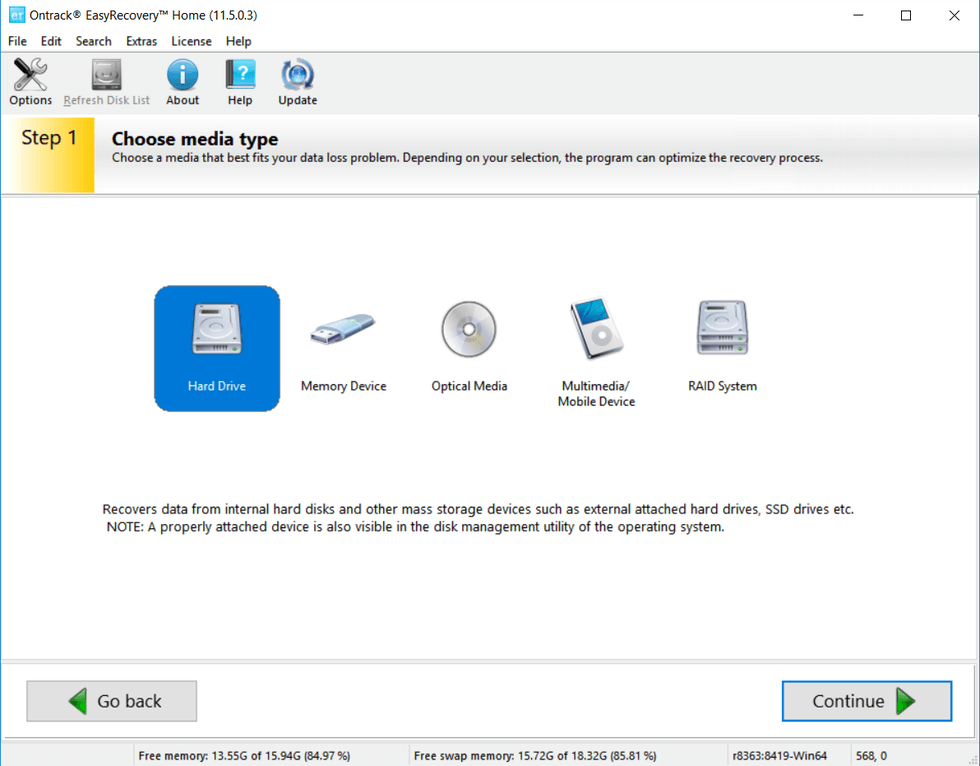 1. What Features Does Ontrack EasyRecovery Have?
Recover data from both internal and external hard drives, including SSD, RAIDS, USB, and memory cards.
Capable of repairing damaged and corrupted media files.
Comprehensive data recovery supports nearly all types of data loss scenarios.
Provide quick and deep scan; work on both Windows and Mac operating system.
Restore FAT, NTFS, and exFAT files on Windows; and HFS, HFS+, and APFS files on Mac.
Save the results of scan for you to resume the process later.
2. Are There Any Shortcomings?
Does not allow users to scan by file type.
No built-in preview area, meaning you cannot preview files you are trying to recover.
Cannot recover files from solid-state drives. It may find them, but they come up as unusable.
Various issues such as Word documents are listed under an "applications" heading when recovered.
The home version and professional version do not support RAID systems.
3. What Type of Pricing and Plans Does Ontrack EasyRecovery Have?
|   | Win | Mac |
| --- | --- | --- |
| Home Version | $79 | $85 |
| Professional Version | $109 | $129 |
| Premium Version | $149 | $159 |
| Technician Version | $299 | $299 |
| Toolkit Version | $499 | / |
4. How Does Ontrack EasyRecovery's Performance Hold Up?
If you need to recover a lot of media files such as images, videos and audio files or are looking to recover files such as Word documents, then Ontrack EasyRecovery works incredibly, with a 85% success rate for deleted files. If you are trying to recover files from a reformatted disk or partition, the success rate sits at a respectable 70% for documents and 75% for video and audio files.
While on the other hand, the software does have slower recovery speed than others on the market. It takes about 4 hours to do a deep scan (500GB), and 6 hours to finish a full hard drive scan (1TB).
Part 2. What Is The Best Alternative to OnTrack EasyRecovery?
From the above all, it's clear that Ontrack EasyRecovery can meet some data recovery needs, but there are lots of drwabacks which cannot be ignored. If you're looking for a better alternative, then AnyRecover will be your best choice. It is an all-inclusive data recovery program that recovers lost, deleted, corrupted, and damaged files from every type of storage medium. And both Windows & Mac versions are available to download. It works with the latest Windows 11.

Features of AnyRecover
Recover data from a full range of devices: hard drives, USB flash drives, SD cards, SSDs, cameras, etc.
Recover over 1000 different formats of photos, videos, documents and emails, etc.
Easy and customized scan: by file types and time.
Extremely high success rate and fast scanning speed.
Users can preview data before recovering it.
No overwriting; 100% safe and simple to use.
Free trial available for every user: Unlimited free scans and previews.
| Features | | |
| --- | --- | --- |
| Recovery Rate | 98% | 85% |
| Scanning Speed | 1TB/hr | 125GB/hr |
| Recycle Bin Recovery | | |
| Preview Files | | |
| External Devices Recovery | | |
| Scan Specific Path | | |
| Scan Specific File Type | | |
| Price | Free Trial/$49.95 | $79 |
Recover Your Lost Files Now!
Step 1. Download, install and launch AnyRecover. Choose a location to recover your files, then hit the "Start" button to start scanning.
Step 2
. An all-round and deep scan will begin. You can pause and resume the process anytime you want.
Step 3. When completed, the scanned files will be displayed on the screen. Preview the files and restore them via the "Recover" button.
Wrapping It Up
In this article, we've provided a short and comprehensive review of Ontrack EasyRecovery. And due to its obvious shortcomings, the best and highly-recommended alternative AnyRecover (Windows 11 supported) is introduced. For any data recovery needs, choose AnyRecover if you want to get twofold results with half the effort.
Enjoy your free trial today and get back your lost data!