Data recovery software is extremely useful which can help you recover deleted data in a quick and efficient way. However, not all data recovery tools are created equal. In order to ensure successful data recovery, you need to use a reliable tool. FonePaw Data Recovery Wizard is a primary choice for many users when it comes to data recovery. Read on to learn about its features, cons, performance, and whether it is safe to use.
Part 1. FonePaw Data Recovery Software Full Review
FonePaw Data Recovery Wizard is a popular data recovery software that can help you recover all types of deleted data within just a few minutes. The software is available for Windows, Mac, Android, as well as iOS platforms and is compatible with numerous devices and hardware. Please note that all these versions are independent and the prices are different.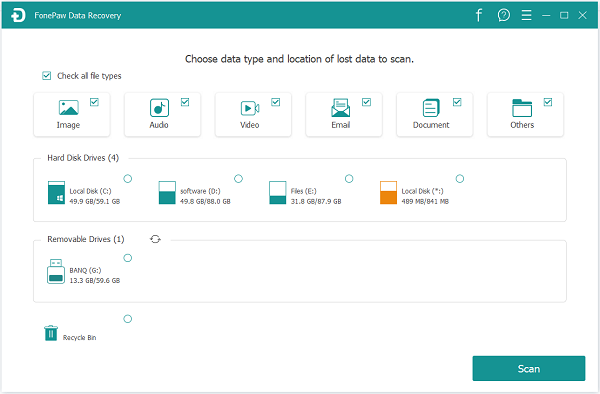 You can recover virtually everything via this tool, from video and audio files to notes, calendars, contacts, archives, documents, and more. There are two intelligent data recovery modes of this tool so the chances of a successful recovery are very high.
1. Pros & Cons of FonePaw Data Recovery
Pros
Recover all types of files, such as videos, images, audio, archives, documents, and more.
2 intelligent data recovery modes.
Quickly scan and recover corrupted/hidden/inaccessible files on your computer as well as recover deleted data from the RAW hard drive.
You can recover deleted data via this tool efficiently regardless of how it got deleted e.g. formatted partition, accidental deletion, virus/malware attack, system crash, hardware failure, etc.
A wide variety of storage mediums are supported, including internal and external hard drives, USB drives, memory cards, smartphones, and more.
Cons
Data recovery doesn't work for larger files, especially those exceeding 2-3 GB.
The software takes a lot of system resources during the data scanning and recovery process which can tremendously slow down the system.
You cannot use this tool to recover specific folders. You need to scan the entire hard drive to find your files which can be time-consuming.
Since the software doesn't keep log data, it is quite difficult to see what you have recovered.
2. Is FonePaw Safe to Use?
FonePaw Data Recovery Wizard is safe to use. We scanned the software via popular antivirus programs and didn't find any viruses or malware in it. The software installed successfully and there were no additional programs or hidden installations included in the process.
FonePaw Data Recovery Wizard only accesses the files that are inaccessible or deleted, so all your other data stored on your drive stays untouched. However, the tool could use the reading and writing speeds of the hard drive and affect the performance of other programs that you run in the background. That's why it is recommended that you close any running programs before using FonePaw Data Recovery Wizard before performing data recovery.
3. Performance: Does FonePaw Really Work?
We performed several tests as well as stacked the tool against the competition in order to measure the performance of FonePaw Data Recovery Wizard. During our tests, we performed basic recovery tests as well as advanced recovery tests. In our basic recovery tests, we ran the software to recover deleted data from a formatted 500 GB partition with NTFS file system. For this testing, we created three test files and then deleted them. These included a video file, a photo, and a Word document. We also tested the software to recover deleted data from a 10 GB partition.
The results were as follows:
Deep Scan of 500 GB partition took about 1 hour, 45 minutes to complete

Full hard drive scan option: Not available

Received files: Images, videos, Word documents

Deleted Partition Recovery: Yes

Success rate of recovery: Unreliable, most of the recoverable images are corrupted. You may turn to part 2 for recovering the corrupted files.
Quick Scan: FonePaw Data Recovery Wizard is quite fast when it comes to performing Quick Scan, as the tool completed the scan within just a few seconds. However, the data recovery results were limited. The tool only seems to look for files that are recently deleted. Most other data recovery tools build out entire directory structures and look for all deleted files, not just the recently deleted ones.
Deep Scan: The Deep Scan, on the other hand, provided good results. First, it completed in under two hours which is quite fast as compared to the Deep Scans of most other data recovery tools. The tool also managed to perform successful recovery of images, videos, and documents.
4. Is FonePaw Data Recovery Free?
No - FonePaw data recovery is paid. It offers 2 different plans of your choice: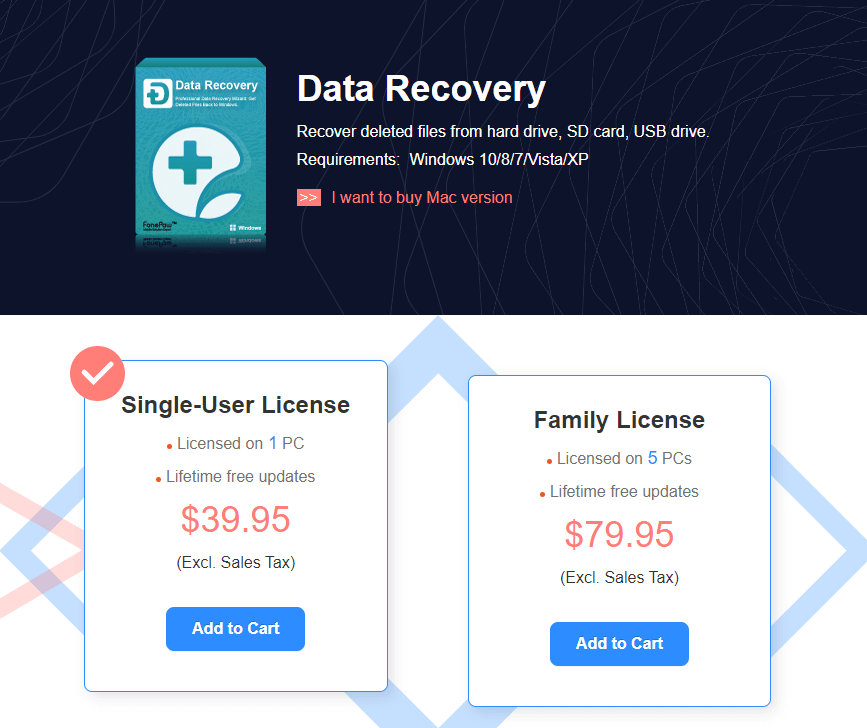 All in all, FonePaw Data Recovery Wizard performs better in terms of data scanning but its data recovery performance pales in comparison to some other popular recovery tools available on the market.
Part 2. What Is the Best Alternative to FonePaw Data Recovery?
Although FonePaw is a reliable data recovery software, it's recommend to try an alternative when you want extra benefits. There are various choices and sometimes it's hard to choose. But nearly all these tools offer a free trial, you can try it first.
And among these data recovery software, AnyRecover has been proved one of the most popular data recovery software for computers, hard drives, external storage mediums, smartphones, and more. It is specially designed to help you get back all your lost data no matter how you lost it. It is capable of recovering corrupted files. And it can be used in all Windows and macOS versions, including the Windows 11. The most important is, AnyRecover offer a free trial that enables user to perform a deep scan, preview and recover!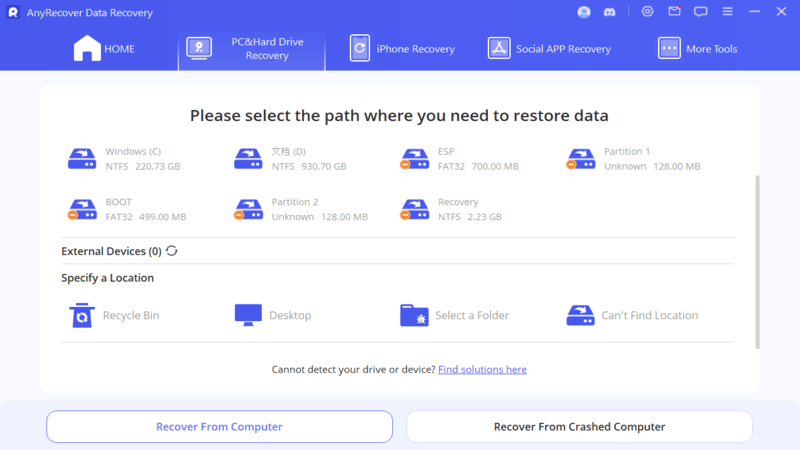 Comparison of FonePaw and AnyRecover
| Features | AnyRecover | FonePaw |
| --- | --- | --- |
| Deep Scan Speed | 1 TB/hr | 285 GB/hr |
| Recovery Modes | 6 Modes | 2 Modes |
| | | |
| Scan Specific Folder | | |
| Recover Corrupted Files | | |
| Recovery Rate | 98% | 78% |
Conclusion
FonePaw Data Recovery Wizard is a popular data recovery tool that can help you recover a wide variety of deleted files. However, there are some areas that need improvement, e.g. recovery of large files, selective file search, and recovery, etc. If you are looking for a FonePaw Data Recovery Wizard alternative, then AnyRecover is a recommended option.
Start a deep scan for free right now!