If you accidentally delete or format files or crucial data in your computer or other data storage devices, you might consider getting a data recovery utility. One such tool is File Scavenger that allows you to restore lost data. This software works on various types of storage medium.
File Scavenger is a paid tool, and before making a purchase, it is important to read the following detailed review that highlights the features and performance of this tool as well as its pros and cons, so you will be able to see whether the tool suits your needs. You should note that File Scavenger is applicable only to Windows system, but you can also find an alternative here to recover deleted files on Mac.
1
File Scavenger Data Recovery Software In-Depth Review
File Scavenger is a data recovery tool for Windows operating system. It can work with Windows 10, 8, 7, Vista, XP, 2000, Server 200, 2008, and 2012. It supports Hard Disk, Flash Drives, Memory Cards, NASes, RAIDs, and other media. Whether it's files or partition that have been accidentally deleted or formatted, damaged disc, or broken RAIDS, the File Scavenger tool will help you recover lost data. This data recovery is capable of recovering all file types, thus being a convenient tool for many.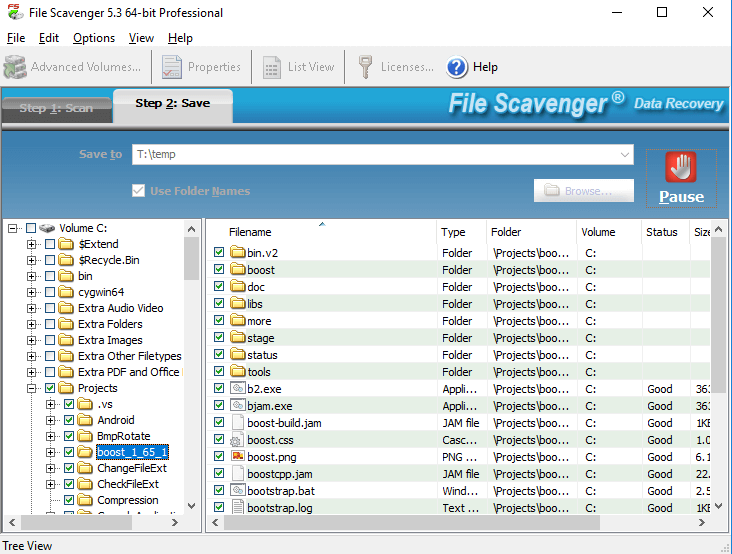 1

Pros and Cons of File Scavenger
Pros

Cons

It is capable of saving recovered data from several volumes in one operation.

File Scavenger displays deleted files in a separate subtree.

File Scavenger retains the file name, folder path and dates of the lost data.

File Scavenger utility is capable of recovering data from trash bin, unbootable computer and corrupted hard drive.

This tool is capable of recovering all file systems such as NTFS, FAT 32/16/12, exFAT, ReFS, and many more.

The premium license supports data recovery from failed RAID, spanned, or NAS volume.

File Scavenger is not available for Mac users.

The cost is relatively high for people who have a tight budget.

This software does not recover huge files.

The user interface is not much friendly and needs improvement.

Generally File Scavenger is a tool for recovering files and cannot retrieve individual emails.
2

Performance

In terms of performance, File Scavenger is safe and easy to use. We've tested it and didn't find any malware or virus attached, and you can install the software without worries. When scanning the files, there is also an option to choose the recently formatted drives and do a quick search. This will help you to recover data very fast because it will not scan all drives.

Through tests and use, we can conclude that File Scavenger is a quick and effective tool to use for day-to-day operations. It has also proven to work flawlessly and with relatively high accuracy and recovery rate.
3

Licensing Price

File Scavenger licensing is available in three options; the Standard, Premium, and Professional licensing. Depending on your specific needs, you can choose the one that suits you the most.

Standard License - This license costs $59, and it allows activation of up to 3 PCs that are owned by one person. This license is suitable for most users with light data recovery needs.

Premium License - This license allows recovering data lost through special causes. This license will be able to recover data from RAID, NAS, and SAN. It cost $99 and activated on three computers owned by one person.

Professional License - This particular license is suitable for a large corporation or data specialists. One license, costing $199, can be used by one person on any computer. This license has advanced features.
2
A Better Alternative to File Scavenger – iMyFone AnyRecover for Mac
File Scavenger, as we have seen, is a helpful tool to recover lost data on your PC but not Mac. To enjoy extra features and benefits of recovery tools, we recommend an alternative tool, which is the iMyFone AnyRecover utility.
Reputable for being a highly functional and specialized data recovery tool, iMyFone AnyRecover for Mac has attracted millions of users. It efficiently recovers lost data from hard drives, external storage mediums, CF cards & SD cards, camera storage, and many more. Another amazing thing about this recovery utility is that it has both Windows and Mac versions.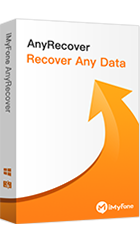 1,000,000 + Downloads
Features of AnyRecover
AnyRecover is a tool that is capable of recovering a variety of files including photos, videos, documents, email, archives, and many more.

AnyRecover does in-depth scanning with advanced algorithms. It scans the drives and storage mediums to recover the lost files with a high success rate.

Regardless of the reasons why data was lost, either the system corruption, accidental formatting/deletion, virus attack, or storage device failure, AnyRecover tool is a sure way to recover all the lost data.

AnyRecover support system file formats such as NTFS, HFS, FAT32, exFAT, and many more.

Currently, AnyRecover is applicable to macOS 10.9 - macOS 10.15, including macOS Catalina, Mojave, High Sierra.
Comparison of File Scavenger and AnyRecover
| Features | | File Scavenger |
| --- | --- | --- |
| Supported Operating System | Windows and Mac | Windows only |
| Scanning Speed | 1TB/hr | 15GB/hr. |
| Supported File Types | All | All |
| Data Preview | | |
| Lost Partition Recovery | | |
| Scan Specific Folder | | |
| Recycle Bin Recovery | | |
| Success Rate | 98% | 78% |
Recover Data with AnyRecover Easily
AnyRecover is a tool that allows fast and easy data recovery on Mac. The following are the simple steps to recover deleted files on Mac using AnyRecover.
Step 1. Free download the AnyRecover tool on your Mac, install and launch it.
Step 2. Select the location where you are going to recover lost data. You can select your computer's hard drive, external storage device, recycle bin, or any other specific folder on your Mac. Once you have selected the location, click on Start to initiate file scanning.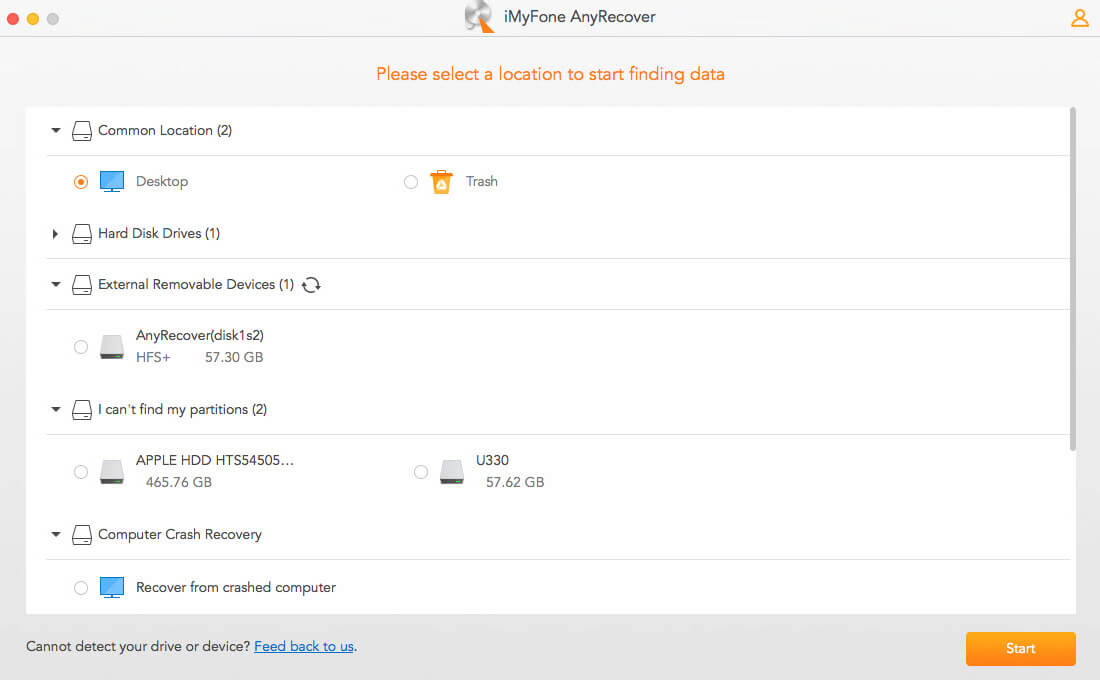 Step 3. Scan and preview files. AnyRecover tool scans the files very fast. Once the scanning is done, you'll be able to preview your files.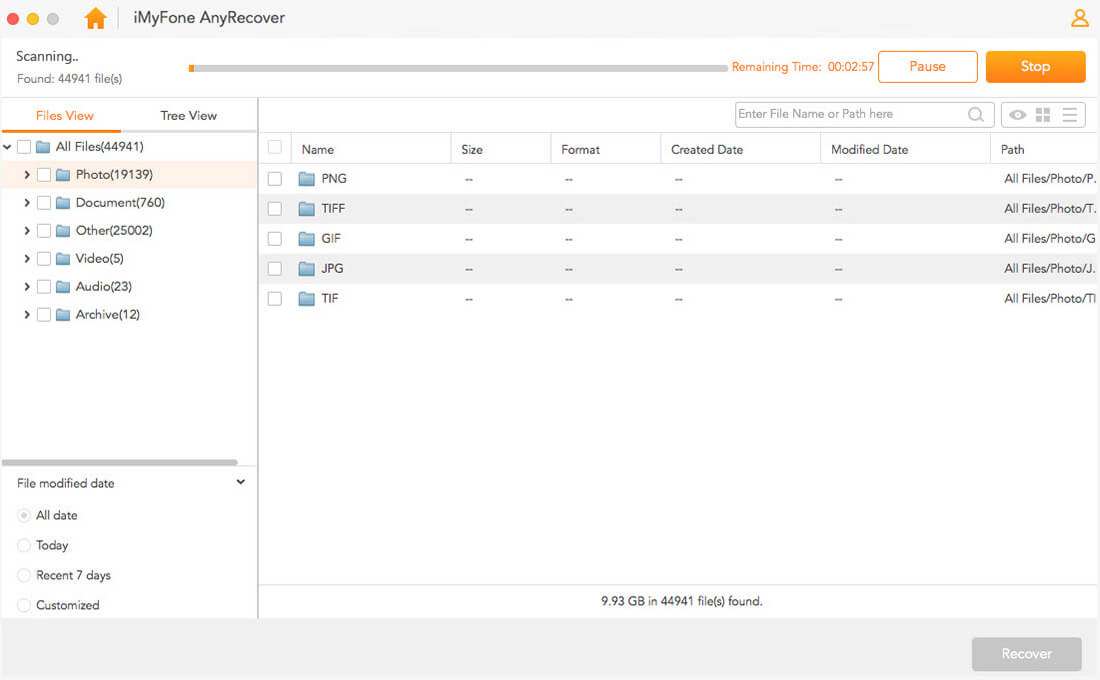 Step 4. Once you find the file you want to recover, select, and click Recover.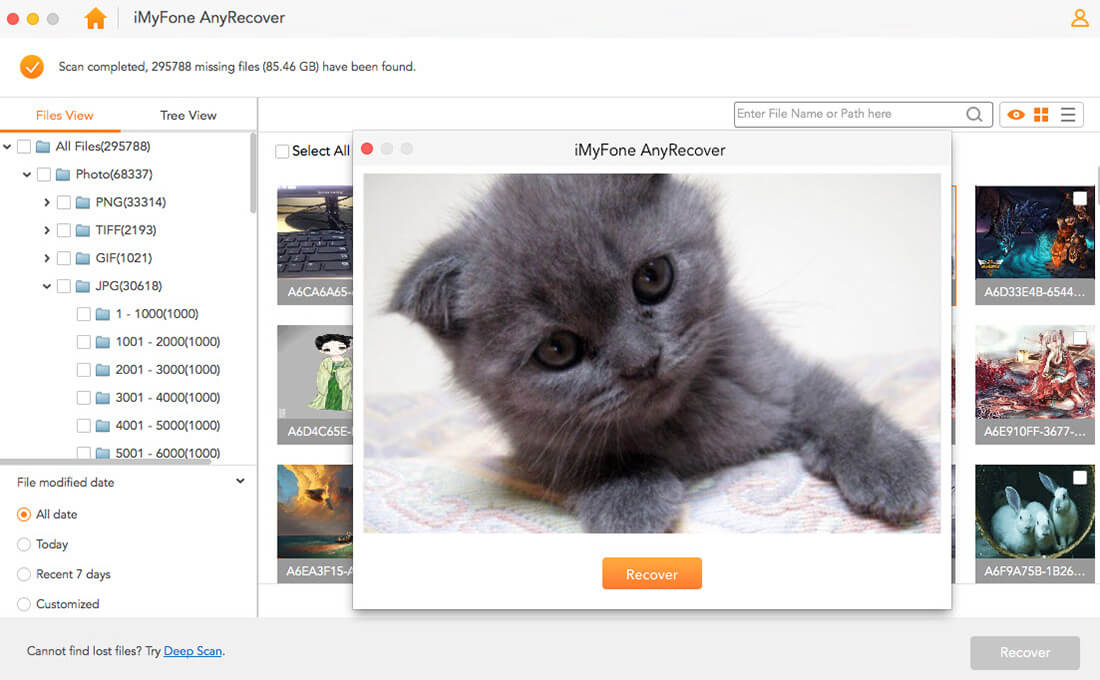 You will be prompted to select a location where the recovered files will be safely stored. That's it!
Although File Scavenger presents itself as an effective data recovery tool, it is only suitable to Windows OS. You might need an alternative to enjoy extra benefits when retrieving deleted files on Mac. Our recommended tool is iMyFone AnyRecover for Mac, and as you have seen, it has powerful features making it to be one of the most effective tools for data recovery on Mac, you can also get a free trial.