Whenever a file is deleted on Windows 11/10/8/7/XP, it goes to the Recycle Bin folder. In common, the Recycle Bin is the first place you would check if Avast deleted your .exe files.
Make sure the files are not in the Recycle Bin. They could be on your normal File Explorer, and perhaps they are hidden. Here, you will learn how to unhide files.
In Windows Explorer, right-click the folder in which the .exe files were contained and hit Properties. Next, click View and check Show hidden files, folders, and drives from the list. Then, apply and save the changes.
Launch Command Prompt and finish the following commands.
Type the following command and press Enter after each line:

/cd

E:

dir/ah

attrib *. -h -s /s /d
NOTE: On the second command ("E:"), replace the drive letter according to your situation.
2. Restore .exe Files Deleted by Avast from Avast Virus Chest
Avast deleted .exe files automatically is a severe issue. If this happens to you, the guide below will show you how to restore the file from Avast Virus Chest.
Step 1. Right-click the Avast icon and click Open Avast user interface.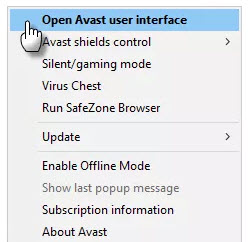 Step 2. Switch to the Maintenance tab and click Virus Chest.
Step 3. On the right-hand side, you will find a table. Select the relevant file and right-click on it.
Step 4. Click Extract from the menu.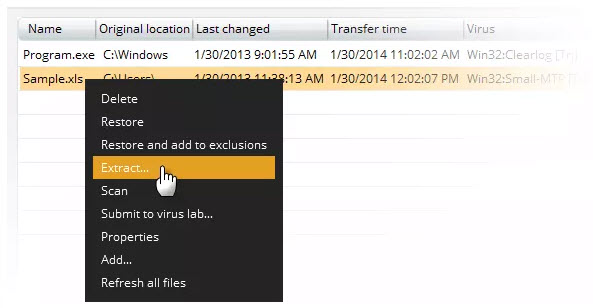 Step 5. A window will pop up. Click on a directory to save the file and click OK.
Step 6. With the above steps, you can close the window. Navigate to the directory you selected in step 5, and you will find the recovered file(s).
3. Recover Deleted Files with Third-Party Recovery Software
Avast Virus Chest cannot recover your files? Don't worry, here is the fix. Even if the executable file seems to be lost permanently, you can still recover it using professional data recovery programs. AnyRecover is one of the best data recovery tools in the market now. Here are some key features that may catch your eyes.

2,061,704 Downloads
Features of AnyRecover
AnyRecover can recover files lost in any scenario, despite where you lost the file or what caused the data loss.

It supports almost any file type you can think of. AnyRecover has been confirmed to restore more than 1000 file types.

Compatible with Windows and macOS, including Windows 11.

No tech skills are needed for the job with a secure recovery process that protects your existing data.

You are offered a free trial to perform a deep scan, preview and recover.

How to Recover Deleted .exe Files with AnyRecover
Step 1. Launch AnyRecover on your PC. The options will appear on the home screen. Choose the location you want to withdraw from and hit Start.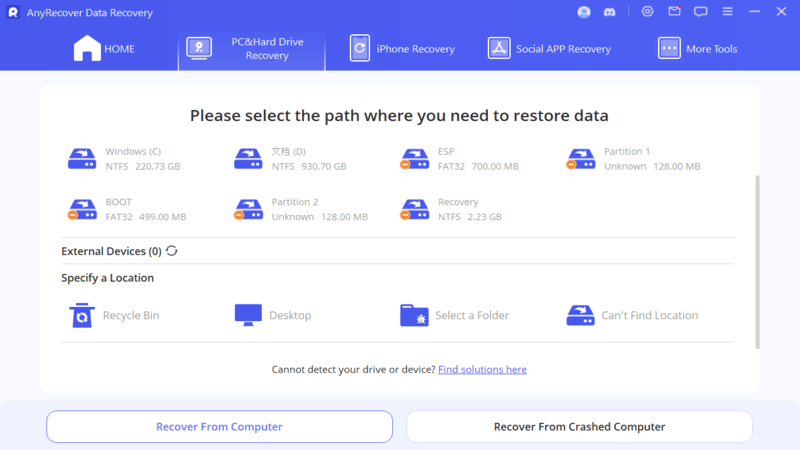 Step 2. As a result of its all-around scanning in the specific location, AnyRecover will present you with a list of deleted files. Files will be sorted into different folders on the left, such as documents, photos, videos, etc.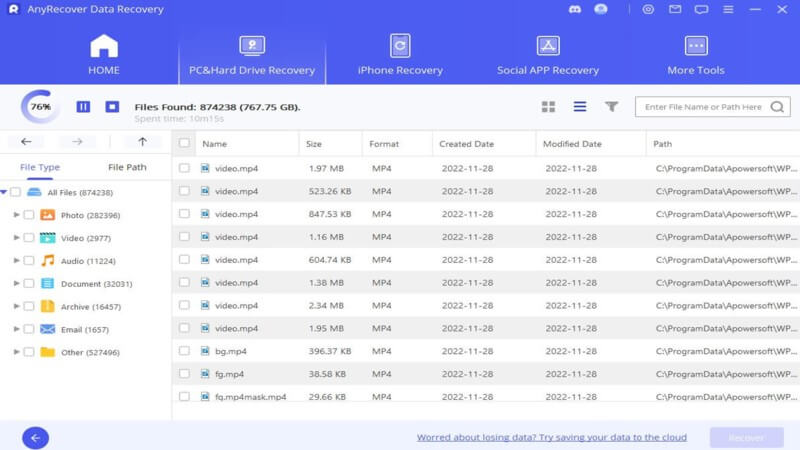 Step 3. Seek out the exact files you want to recover. Doube-click to preview the files, re-confirming they are what you want. Then, click Recover.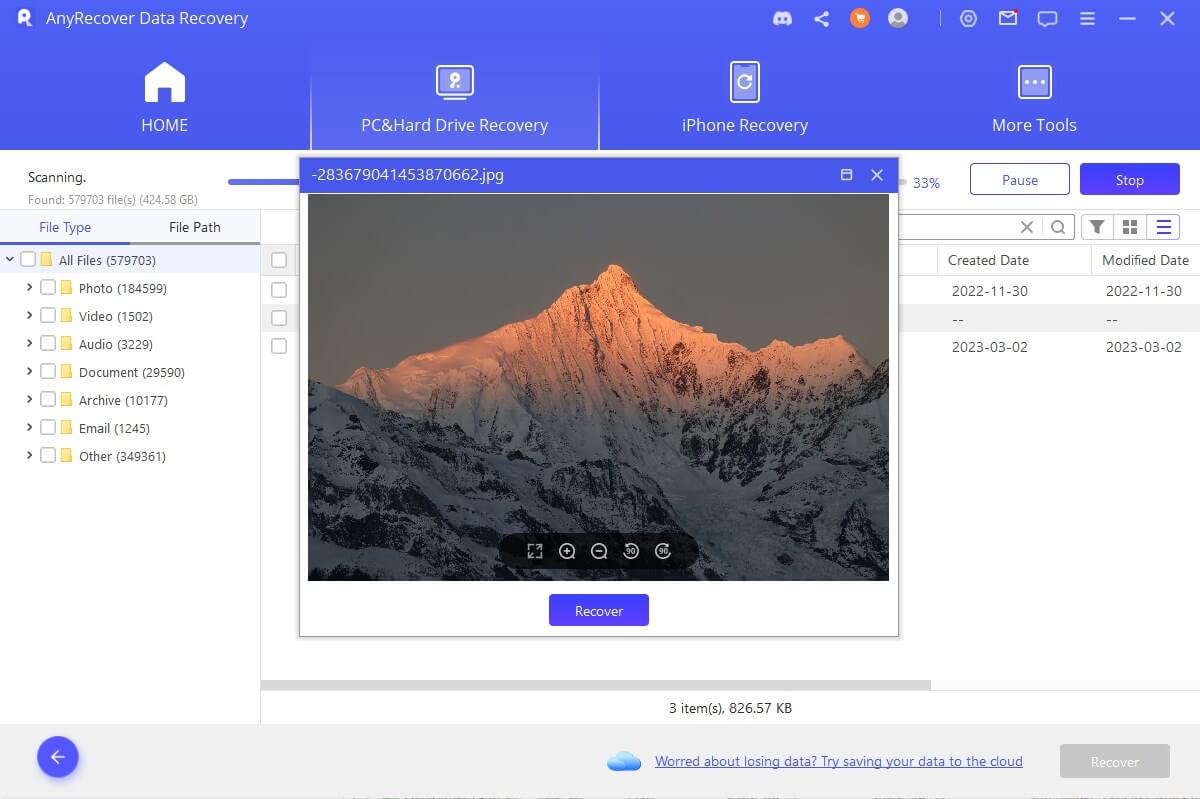 Bonus: How to Stop Avast from Deleting .EXE Files?
Antivirus can mistake your .exe files for malware and end up deleting them. Even if you disable Avast before the installation, the antivirus will still come back to haunt it. A way around this is to whitelist your .exe file from Avast. After doing this, you will no longer have the complaint that Avast deleted my .exe files. Here, I will show you how to block folders and files from Avast.
Note
Whitelisting .exe files create an avenue for malware to get into your machine, so be cautious and do this at your own risk.
Step 1. Disable real-time protection. Install the .exe file.
Step 2. Launch Avast. Select General from Settings.
Step 3. Expand the Exclusion item. Click File Paths and then hit Browse. Browse to the location in which the .exe file is saved.
Step 4. From this point, you can either select the entire folder or the specific .exe file. Double-check your changes and re-enable real-time protection.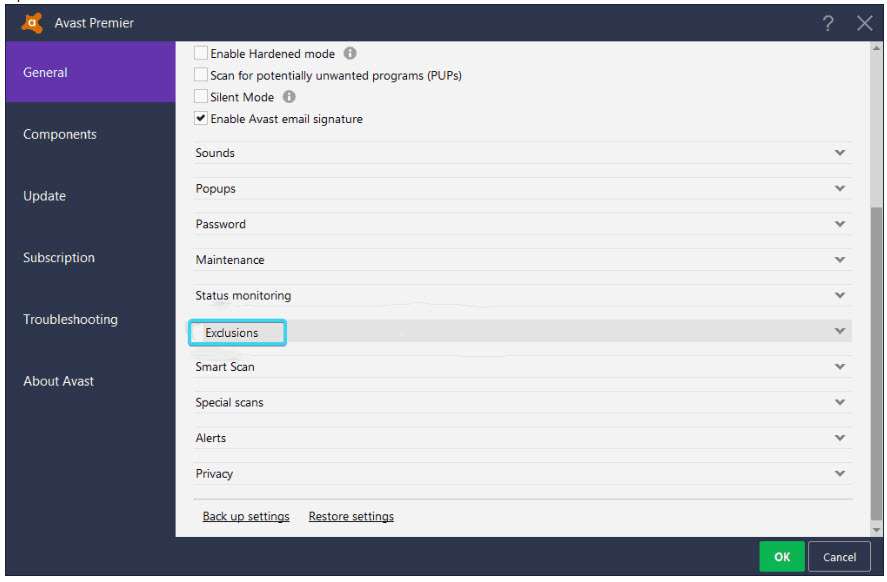 Conclusion
Avast automatically deletes files without permission might cause a great deal of pain to numerous users. Hopefully, the guide here is easy to read and practice. Do follow the given instructions carefully if you need a software solution to restore the files deleted by Avast. AnyRecover is the one effective and easy-to-use, which requires only 3 steps.
Download right now for a free trial!