Hard drive recovery software is so well developed that you've probably seen many tech bloggers reviewing their Top list for the most popular data recovery software available on the Internet, such as Stellar, Disk Drill, Recuva, etc. What makes the best hard drive recovery software stand out?
We've tried out 20+ hard drive recovery software on the Internet so far and found these important factors:
Recover your data quickly and securely
Friendly user-experience
Reasonable pricing plans
As we continued our research, we have also found that there's quite a number of these software programs that actually possess some unique and user-friendly features, but may be less known to the users.
So in this article, we will review 5 best hard drive recovery software you may have missed, but actually works great. We discuss from our point of view what they've done nicely, and also list some of the aspects that we think could be improved in terms of free trial features, subscription plan, and user experience.

Note
We used each of the software to scan the hard drive OS (C:) (Used: 61.99GB / 102.96GB) on our Windows 10/11 computer and compared the results in aspects of their elapsed time and the total files found. Here's what we discovered.
1. ApowerRecover - Scans Fast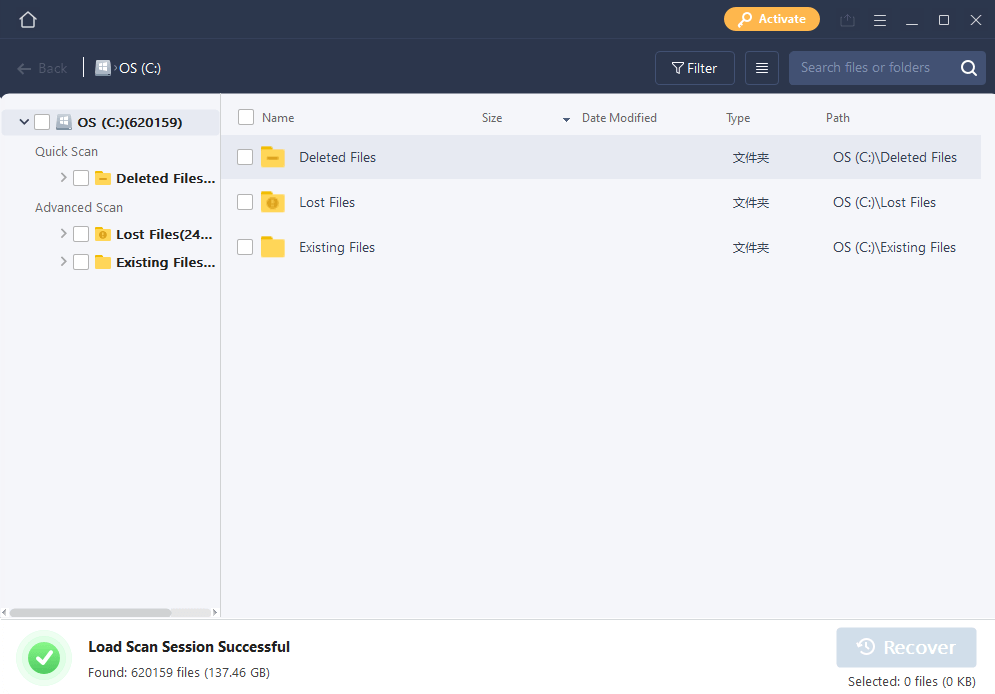 Scan Result:
Quick Scan: 8s
Advanced Scan: 3min30s
Total Files Found: 137.46GB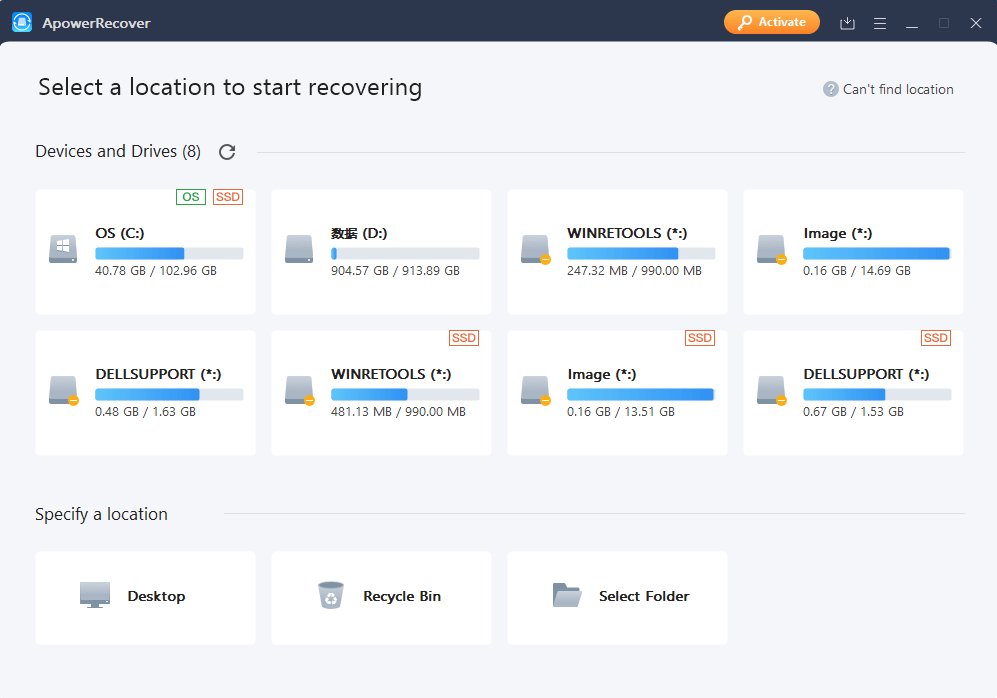 What We Like:
Clear view of memory usage meter for every partition
Browse and select specific folders to scan
Quick and Advanced Scan modes available
Save scan session to avoid rescan next time
20 more language options for users from different regions
What Can Be Improved:
You can only use Scan in free trial. If you'd like to recover files, you have to purchase a subscription first.
Now we wouldn't feel confident to buy something until we've had our hands-on experience with the product first, would we? The same also applies to a hard drive recovery software that's sold online.
We have been shown how fast the recovery software can scan our hard drive and we'd like to know if its recovery performance delivers as well. So it'd probably be a good idea for ApowerRecover to enable users to try out the "Recover" feature in the free trial, just like most of the other data recovery software offers on the Internet.
No additional features in paid edition.
ApowerRecover's official website hasn't stated clearly what additional functions get unlocked in their yearly or lifetime plans, so it's assumed that all plans share the same features.
2. iBoysoft Data Recovery - Advanced Features for IT Professionals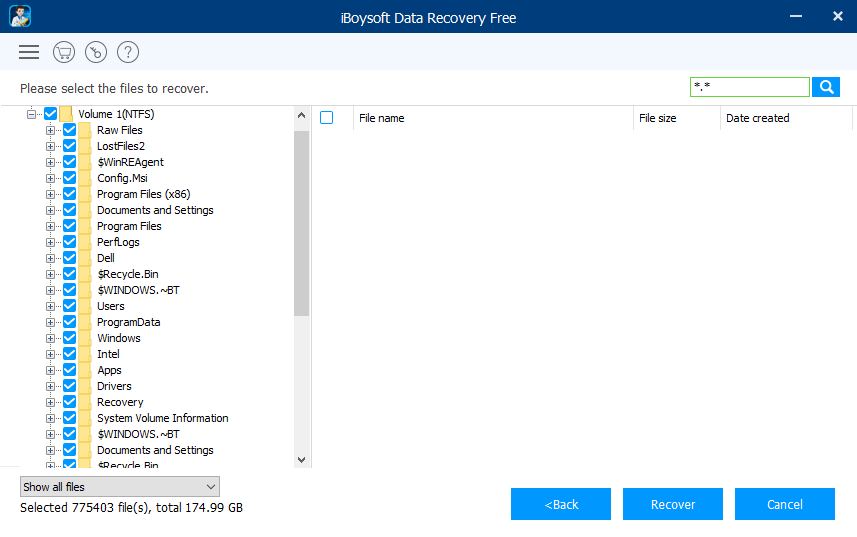 Scan Result:
Quick Scan: 56s
Deep Scan: 8min40s
Total Files Found: 174.99GB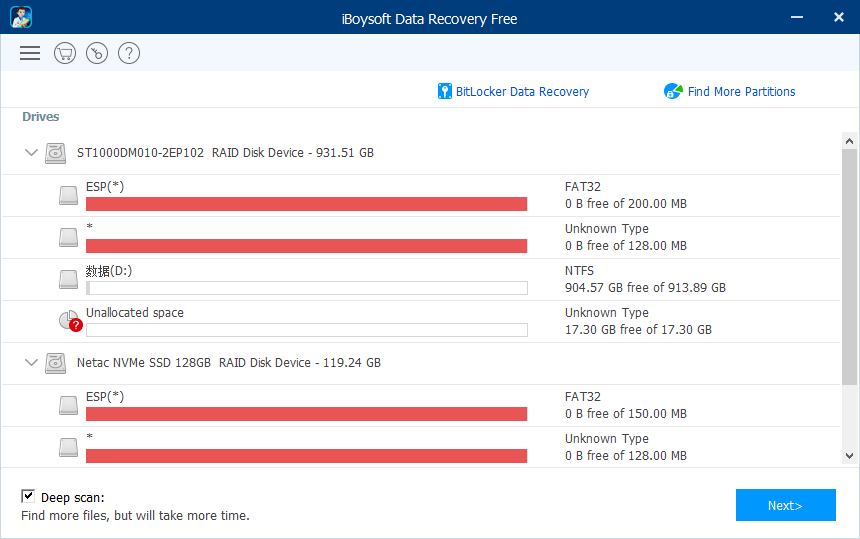 What We Like:
Recover 1GB file with no charge in free trail
Deep scan mode
Save and reload scan session
Useful features for IT professionals in advanced subscription plans (BitLocker encrypted data recover, Windows server supported)
What Can Be Improved:
Cannot find and scan Recycle Bin. Also, it'd save a lot of time if users are allowed to select specific folders to scan rather than just scan the whole disk partition.
Both Quick Scan and Deep Scan take a long time to complete.
For a hard drive recovery software, fast and thorough scanning performance is crucial - - the faster it scans and gets into the recovery process, the better chance it has to for the software to dig out the most files from the hard drive before the data gets overwritten.
No language options. Might not be very convenient for non-English users.
3. Wise Data Recovery – Acts Quick, Usability to Be Improved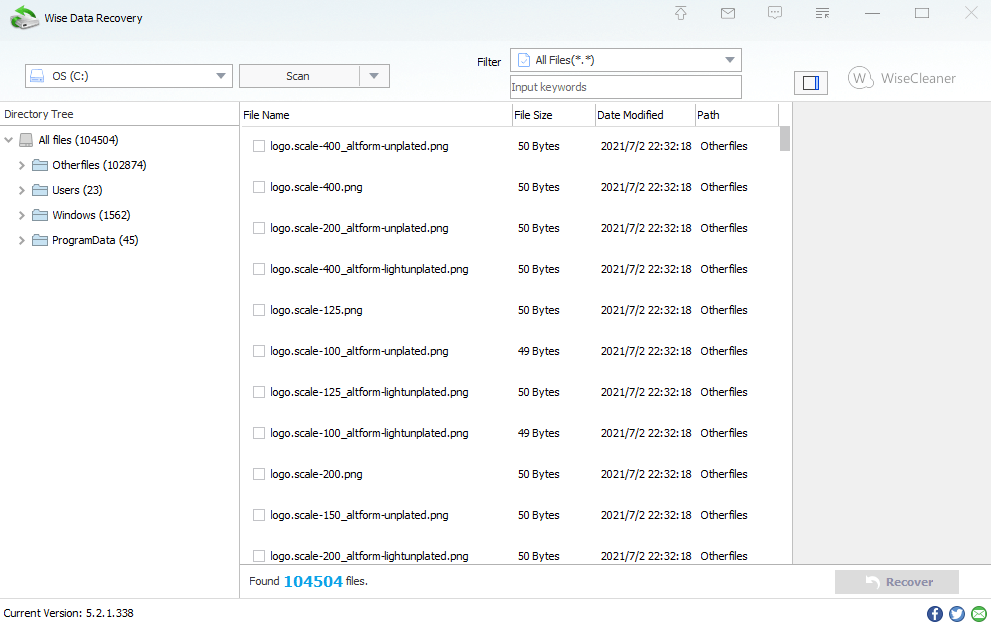 Scan Result:
Quick Scan: 9s
Deep Scan: 2min50s.
Total Files Found: Unknown GB (We weren't able to find out how large the file size was found because there was no file size indicator, only the number of files found was shown.)
What we like:
You can use the Filter to select the file format you'd like to scan for before the scan begins.
When you try to recover deleted data and restore them on their original drive, Wise will stop the recovery process and ask you to choose another drive to avoid data overwritten.
40+ language options
What Can Be Improved:
It doesn't have a very clear intuitive interface. It may take a little time for a newbie to figure out how to use the software.
Scan result won't show how large of the total file size it has found. Users cannot select a whole folders but rather single file to recover.
Wise surely acts quick and will complete the scanning in a rather short period of time. However, it's not a very straightforward way to present the users its scan result with just the number of files found. An important indicator of the performance of the best hard drive recovery software is how large the total file size (counted in gigabytes, GB) it's able to detect. It seems some improvements need to be done with Wise's user-experience.
4. Wondershare Recoverit – Beautiful User Interface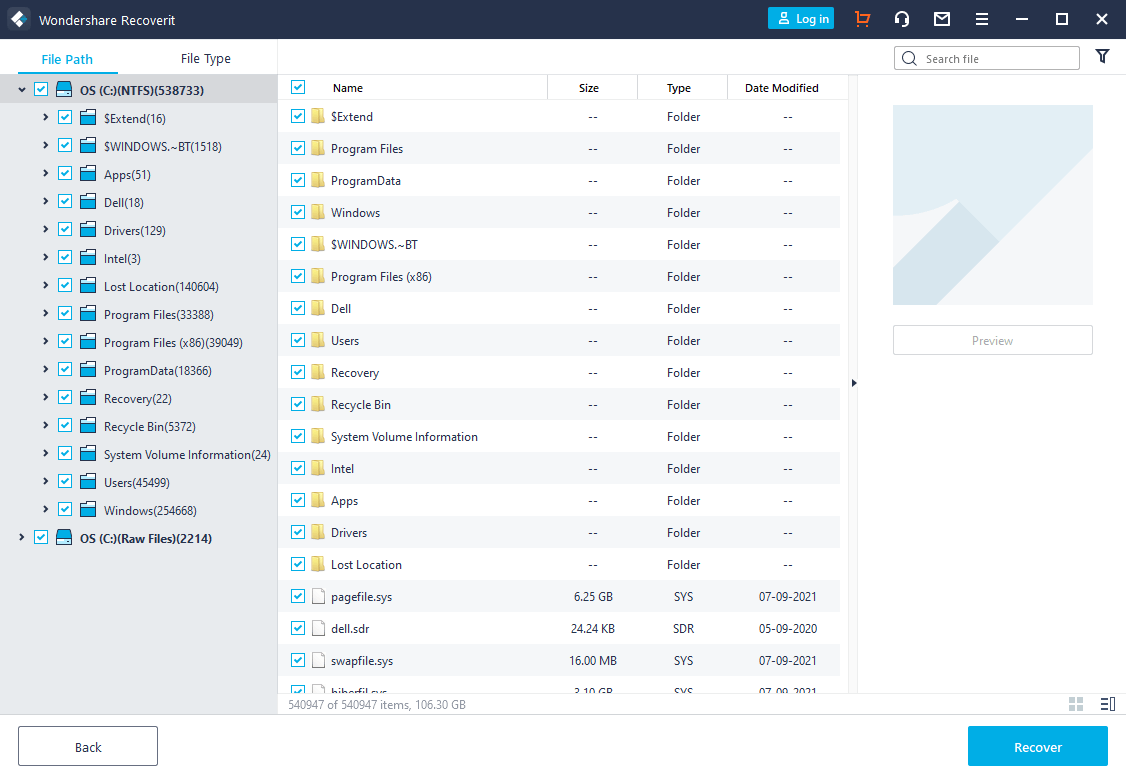 Scan Result:
Deep Scan: 4min37s
Total Files Found: 106.3GB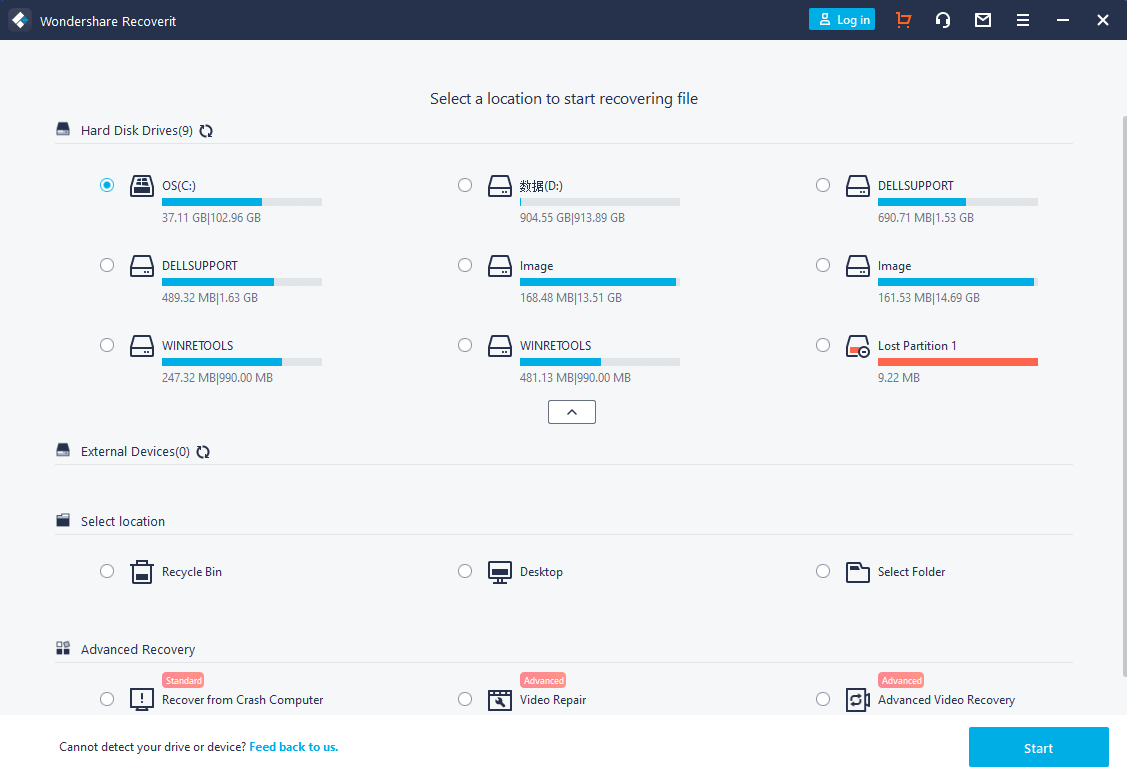 What We Like:
Design interface is pleasant to the eye. (Really like the color tone!)
=
24/7 Free tech support
What Can Be Improved:
You can only use Scan in the free trial. If you'd like to try recovering a file, you'd need to subscribe to their paid plan first.
| | Quick Scan Time | Deep Scan Time | Files Found | Yearly Pricing/PC |
| --- | --- | --- | --- | --- |
| ApowerRecover | 8s | 3min30s | 137.46 GB | $69.95 |
| iBoysoft | 56s | 8min40s | 174.99 GB | $69.95 |
| Wise | 9s | 2min50s | Unknown GB | $67.46 |
| Recoverit | / | 4min37s | 106.3 GB | $69.95 |
These 4 hard drive recovery software each has its own advantages. Apower could scan and find your data quick, but you won't know how good its recovery performance is until you pay for their subscription plan first. iBoysoft found the largest volume of files in the end, but it also took the longest time to complete. Wise can scan the drive pretty fast as well, but you can't find out how large of the overall files it has found, and its user interface is just not that user-friendly. Recoverit has a beautiful user interface, but required a slightly longer time to complete the scan and found fewer files than the others.

Note
You may be interested to know whether there will be a hard drive recovery software that has it all. Well, there is! Let us introduce you to the 5th software that has aced all the performance tests: the scan elapsed time is short, it'll dig through all the files deep in your drive and find as most files as possible; the interface is user-friendly and it offers reasonable pricing plans ($59.95 yearly/PC).
5. AnyRecover: Everything You'd Expect of a Hard Drive Recovery Software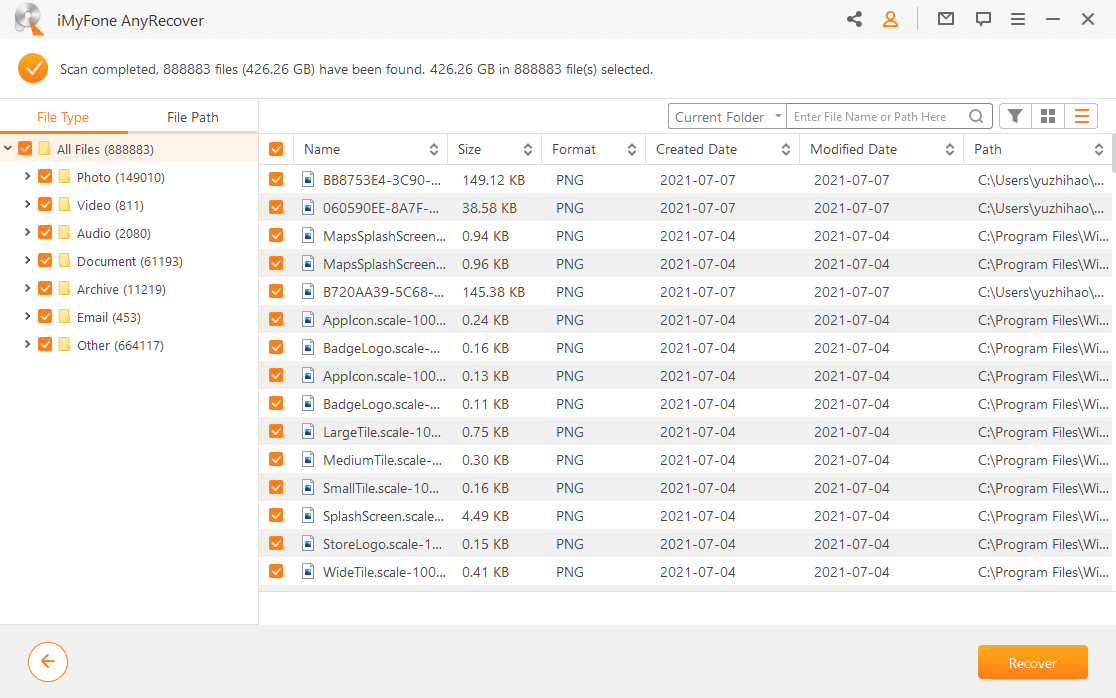 Scan Result:
Quick Scan: 6s
Deep Scan: 2min53s
Total files found: 426.26GB!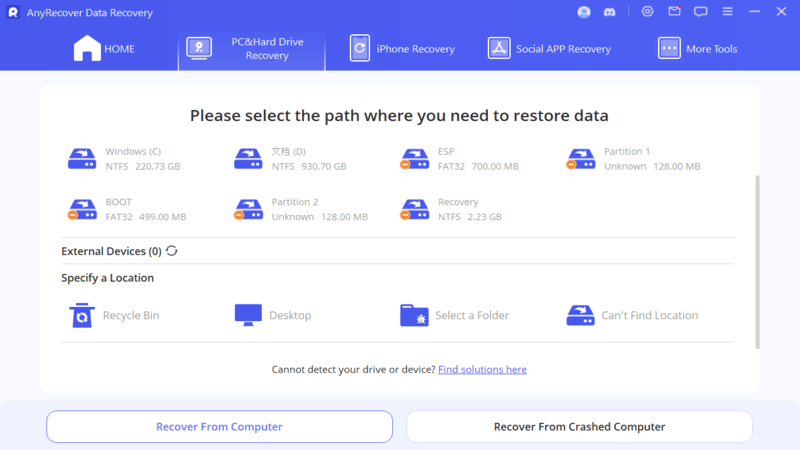 We Are Proud Of:
Fast and thorough scan performance
High recovery rate and user-friendly interface - easy to use, gets the job done!
100% secure and computer-friendly - won't overwrite your data or carry virus to hurt your computer
8 files without size limits in the free trial - can't hurt to give it a go, eh? ;)
A dedicated team of tech support and customer support at your service - got any questions? Just contact our support team!
It's compatible with Windows (works with Windows 11) and Mac computer.
What We Are Improving:
More powerful features are on the way to meet users' need
Conclusion
Above we discussed 5 of the best hard drive recovery software that had great performance and deserved more popularity and we hope you find it helpful. Users are advised to try out the free trial and see which product is best catered to your need before you spend the dime.