There are many horrible experiences in life but none of them can make you more hopeless than trying to rescue your important files from a failing Windows PC, flash drive, digital camera, memory card, SD cards, smartphone, or media storage device. 
Imagine going through your hard drive for all your wedding pictures and finding the drive empty. Whatever the case may be, in such a situation, you'll offer anything to recover your important files, documents, videos, audios, templates, photos, PDF files, etc. 
A data recovery solution is the best helper you can get in a data loss/rescue situation. However, we know that some of these tools offer less than what they promise online, and that made us use, analyze and review them here to guide your decision on the best hard drive recovery software to use.
The 5 Best Hard Drive Recovery Software
The following hard drive recovery software are the best for retrieving lost, formatted and deleted files from any computer hard drive both for SSD and removable hard drives. We've listed them according to their potency in file recovery.
#1. iMyFone AnyRecover
AnyRecover is an undeniable leader among hard drive that was developed by iMyFone Inc. to serve the need of those who would like to recover lost, corrupt, deleted, or formatted data from hard drive. It can be used to scan internal and external hard drives, and any other removable storage device such as camcorder, USB card, flash drives, memory card, digital camera, smartphones, and other media storage device.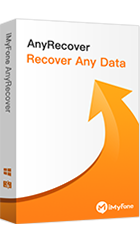 233,000+ Downloads
Pros of iMyFone AnyRecover:
iMyFone AnyRecover made it as our best hard drive recovery software because of the following four important functionalities.
AnyRecover offers a free license for data recovery; this makes it the best free hard drive recovery software.

Restore deleted, lost, formatted or corrupt files from any hard drive.

Recover up to 1000+ file types such as videos, audio, photos, documents, emails, archives, templates, notes, etc.

Easily recover all your hard drive files that are corrupt, deleted or formatted without needing the help of anyone.
Cons:
The developers are yet to develop a version of AnyRecover that supports macOS computers.
Price:
AnyRecover is free of charge, and offers a free license that allows you to use its entire feature free of charge.
Steps to recover hard drive using AnyRecover:
Step 1. Download AnyRecover from the official website and install it on your PC. Launch it on your PC, and connect your hard drive to your Windows computer using a USB cable.
Step 2. Select the location you want to recover data from and click the "Start" tab.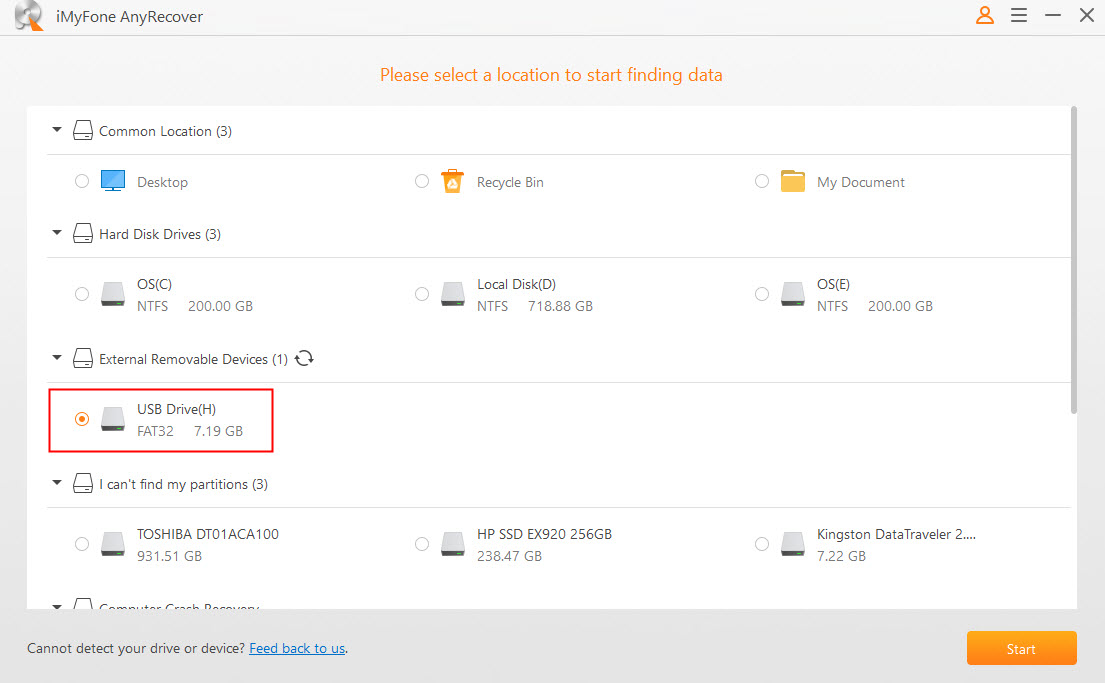 The program will start an all-round scan on your selected drive, patiently wait for a few minutes.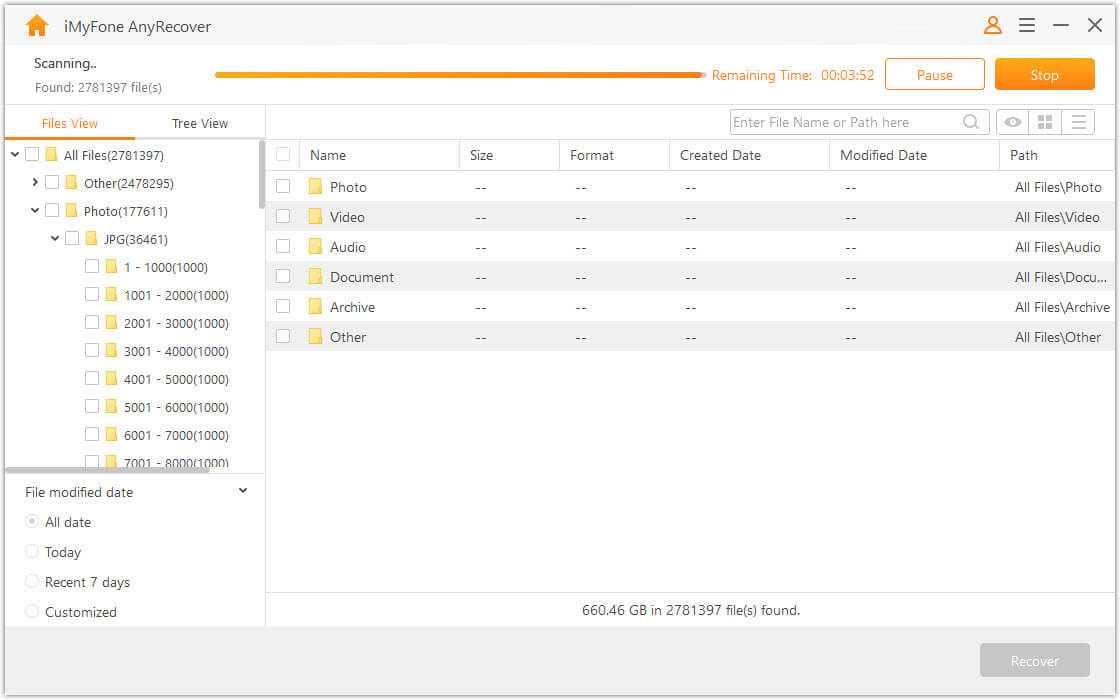 Step 3. Preview the formatted/lost files and select the ones. Then, click the "Recover" tab to retrieve them back to your system.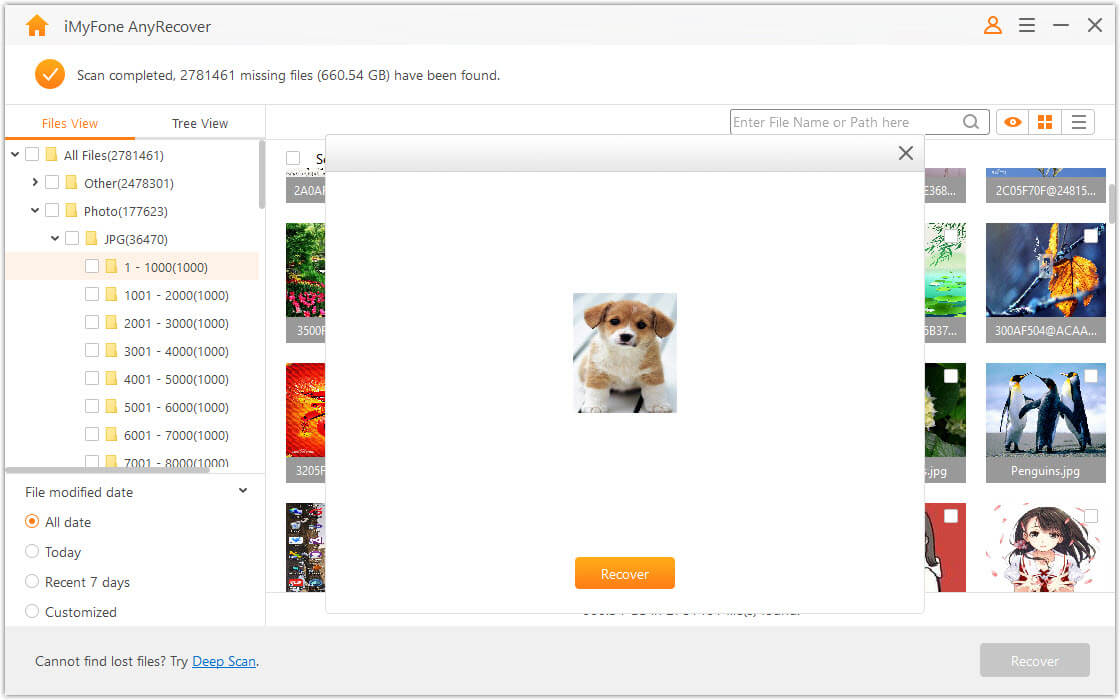 #2. Disk Drill
Disk Drill is our second best hard drive recovery tool because the software is reliable and easy to use. It allows you to recover data up to 500MB for its free version and offers an unlimited scan for lost files. You can also preview through the scanned files before recovery.
Pros:
It offers a limited free version that allows you to recover files up to 500 MB.
It offers multiple scan features and functionalities.
Cons:
The Pro version ($89) for personal users is very expensive, while the free version limits you to the maximum recovery of 500 MB
Price:
Disk Drill cost $89.
#3. DM Disk Recovery
DM Disk Editor is a popular software for recovering files and data loss in hard drives. It can recover most types of media files such as videos, audios, documents, photos, etc. It's known to provide good support for data recovery especially in complex situations.
Pros:
It has some advanced features and functionalities for advanced users.
It can recover lost partitions that are invisible to Windows.
Cons:
You'll find it uneasy to use if you're a novice or with no technical experience.
At the price of $95, it's very expensive when compared to other hard drive data recovery utilities.
Price:
The price of DM Disk Editor is $95.
#4. Stellar Phoenix Windows Data Recovery
Stellar Phoenix has been an old brand and name in the hard drive data-recovery industry. But since its invention until now, it still remains one of the easiest and user-friendly data recovery utility for tech novice and beginners.
Pros:
It's very easy to use and you can scan for specific files.
It offers quick and disk scan for drive data recoveries.
Cons:
It doesn't support advanced data recovery features.
Price:
It's sold at the price of $99.
#5. Undelete 360
Undelete 360 is powerful and user-friendly data recovery software. It's pretty cool to use in recovering lost, deleted, formatted, and corrupt hard drive data.
Pros:
It free and fast in recovery data.
It has an advanced search filter.
Cons:
The recovery rate is below 90%
Price:
It's free of charge.
Note: All the best hard drive recovery software we've discussed is exceptionally good, but the one that stands out among all is iMyFone AnyRecover. It's the best because it encompasses all the features offered by every other recovery software, and yet free of charge.