How many times have you hated yourself for unintentionally deleting a critical contact? When you're deep in your job, it's possible that you mistakenly hit the delete button. You may have accidentally deleted a contact from Google Contacts on one device only to discover that it has now been deleted from all your other devices. Now you are thinking how to recover deleted contacts from gmail?
All the Gmail contacts will appear in the Google Contacts, and all Google Contacts will be stored on the Google account that you've connected. Contacts are sometimes removed because of incorrect sync. Whatever the reason for deleting a contact, you don't have to worry because you can recover all of them. Let's dive in detail to know how to restore contacts from Google.
Part 1: Can I Restore Deleted Contacts from Google?
Yes, of course, you can. Google Contacts has a built-in feature that allows you to recover deleted contacts and all of the updates you made to your contacts in the previous 30 days can be undone at once.
The only thing you need to remember when trying to recover a lost contact is the date and time it was deleted. You must recall whether you deleted it yesterday, last week, or last month.
Read on to find out different ways on how to restore contacts from google.
Part 2: How to Recover Deleted Contacts from Google?
Here are 4 methods listed below helping to restore your lost contacts from your Google account.
Way 1: Restore Deleted Contacts from Trash
If you have recently deleted your Google contacts, then you could find them back in the trash. The related steps are shown below. Come and give it a try!
Go to the Google Contacts.

At left corner, scroll down to tap on Trash.

Choose an option from the list.

Single contact: tap on the box next to contact name that you like to recover.

Multiple contacts: tap on the boxes next to the contacts that you like to recover.

All contacts: tap on the box next to any contact option. At the top left corner, tap on Selection Actions and after that tap on All.

At the top corner, tap on Recover.
Note
This method allows you to recover all the contacts that have been deleted in the past 30 days.
Way 2: Undo Changes to Deleted Contacts
Follow the below listed steps to undo the changes that you have made in your contacts.
Tap Menu icon in the top left corner of the Google Contacts app to open it.

Select Settings from the menu.

You must scroll down and press Undo Changes on the "Settings" tab. Choose the account for which you want to restore the contacts if you do have multiple Google accounts on your devices.

Pick the time you want to undone the changes and then press Confirm.

After a few moments, you'll find that all your deleted contacts have been restored.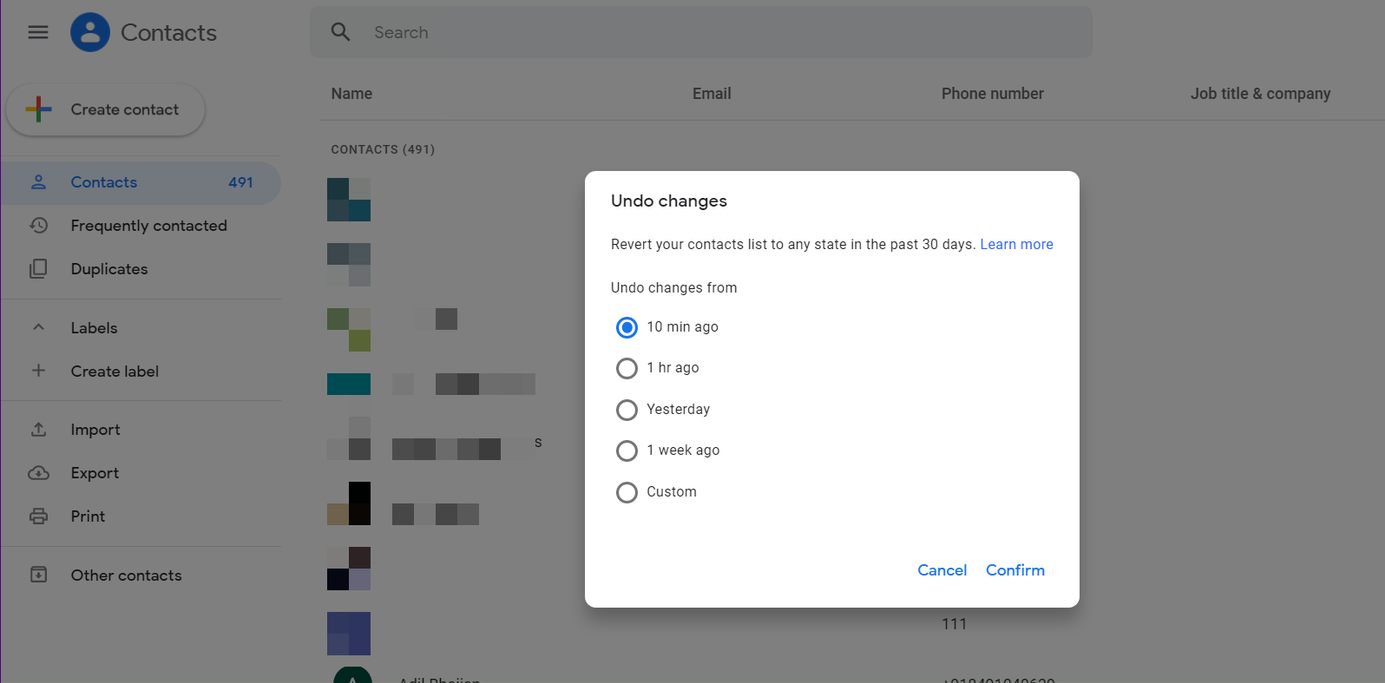 Note
Before attempting to restore the deleted contacts, make a backup of all your contacts, as you may lose any new contacts you added to Google Contacts within the specified time span.
Way 3: Restore Deleted Contacts from Google Account
Synching your contact with Google is always a good start as you can always bring deleted contacts to your device in a few simple steps.
Open Settings app on your phone.

Now tap on Google then tap on Set up & restore option.

Now tap on Restore contacts option.

Now tap on Restore option, wait for few minutes until "Contacts restored" pop up on your screen.
Note
In case you've several Google accounts, to select which account's contacts you want to restore, tap on From account. Now tap the phone that have the contacts to copy. In case you don't like to copy the contacts from phone storage or SIM card, turn off Device storage or SIM card option.
Way 4: Restore Deleted Contacts by Exporting a Backup
The last way to restore deleted contacts from Google is to export a backup. See how it is done below:
Launch Google Contacts and sign in your Google account.

In the left sidebar, click More menu.

Under the "More" menu, click Export.

Now you could choose to do the export settings including the file format.

Select Export and Save options. Then your backup contacts will be your selected location.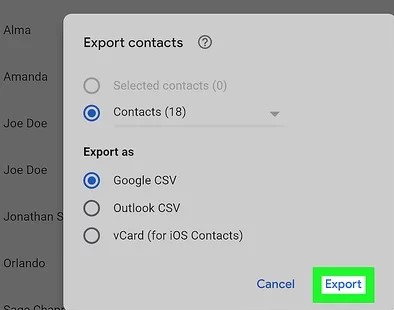 Note
This way does not support the contacts preview and this could be done in the old version of Goole Contacts.
Part 3: Bonus Tips to Google Contacts
Below we have listed few bonus tips for you on how to edit and delete contacts from Google if you need.
1. How to Edit a Contact ?
Step 1: On your device, open the Contacts app, choose a person you want to edit, and tap the Edit bubble in the bottom right.
Step 2: When you've finished making all your updates, tap Save in the top right corner.
2. How to Delete a Contact?
Open the Contacts app on your phone. Tap the contact name you want to delete from the list. Tap on Details.

Now, click the three spots in the top right corner of the contact page that appear.

Finally tap Delete option and then confirm. Now, you're done!
Conclusion
Google Contacts is best for storing your contacts because it helps you recover accidentally deleted contacts from any device. All the contacts are stored in the cloud as long as you sync Google Contacts with your Google account.
Since all your Gmail contacts are saved in the Google Contacts, you'll be able to restore deleted contacts easily. The most important thing you must remember is to keep your Google Contacts synced with the Google account, and the contacts will be secure. We hope now you know how to recover delete contacts from Google and you can recover them easily with the methods in this article.