"I have always had it difficult extracting multiple files from Outlook mailbox attachments and organizing files. Recently I learned that with an Outlook attachment extractor, I can extract multiples files from different clients at a go, which would help me invest time in other vital areas of my job. The only problem is that I don't know which outlook attachment extractor is ideal, I need to know the best available."
Outlook Attachment extractor is handy as it helps export email attachments on outlook. Sadly, Finding the best one can be confusing and exhausting at the same time because there are a whole lot of them. For example, go to Google search bar and type "Outlook Attachment Extractor tools". You will see About 1,030,000 search results. This makes one vulnerable to inadequate and ineffective tools and even malware.  In this post, we have compiled the top 4 you can find.
Top 4 Outlook Attachment Extractor You Need to Know
Below are the best and most reliable Outlook Attachment Extractor tools available:
1. iMyFone ScanOutlook
This Outlook Attachment Extractor tool made it to the top of the list because it is user-friendly, and its price is very competitive. Well, don't take our word for it. Just give it a trial. iMyFone ScanOutlook is more than just an extractor tool. It can be used to repair corrupted/damaged Outlook PST/OST file and restore your data in only a few minutes.
How to Extract Outlook Attachment with ScanOutlook?
Step 1. Launch ScanOutlook on your computer, then choose the file you want to repair/recover.
Step 2. After selecting the files, click on "Repair" to commence.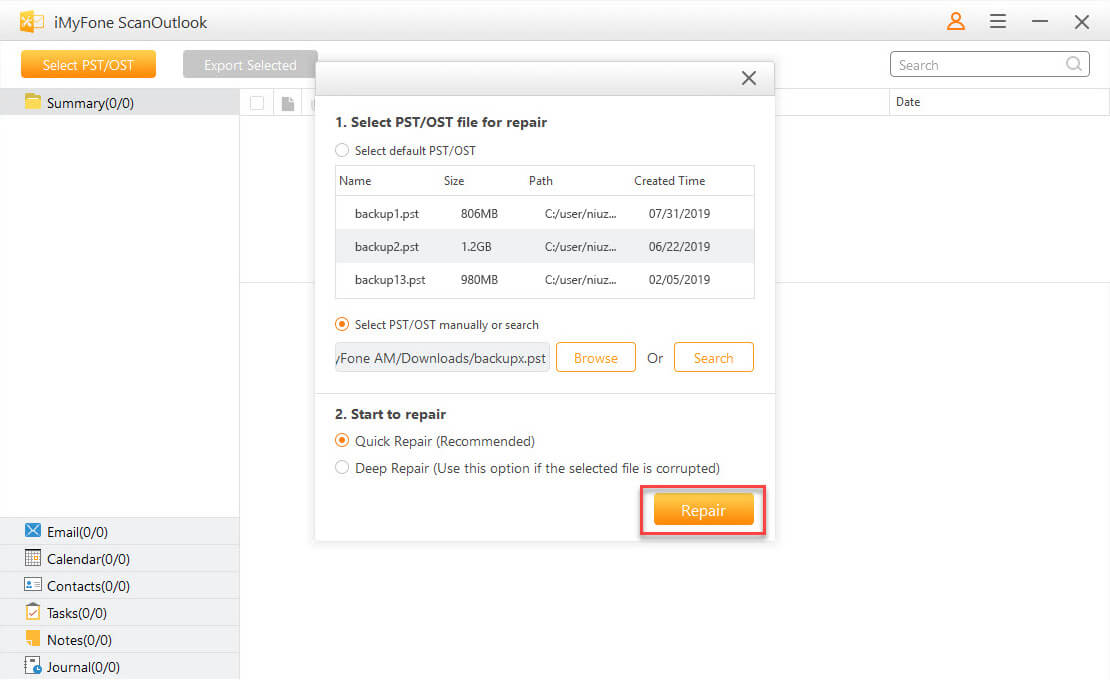 Step 3. When the repair is complete, you can click any specific folder to preview and check your files.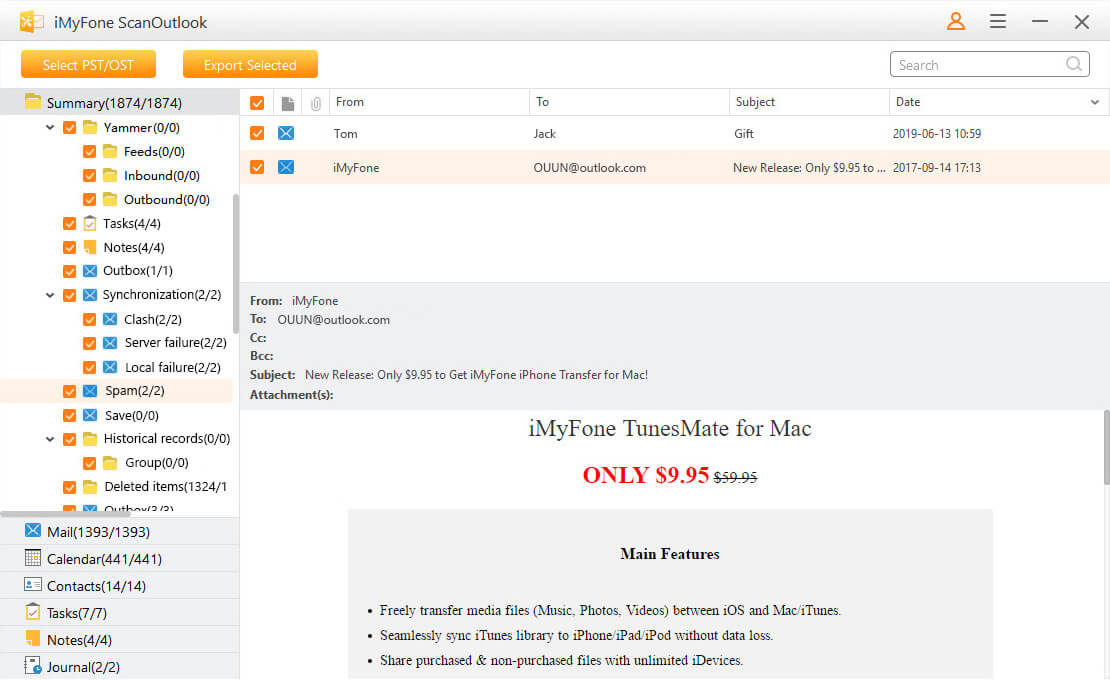 Step 4. To extract your file and place them in your desired location, select the folders/files and click on the "Export Selected" button at the top menu. You must make sure you choose the right file format before clicking "Export." You will have to wait a few minutes to complete the process.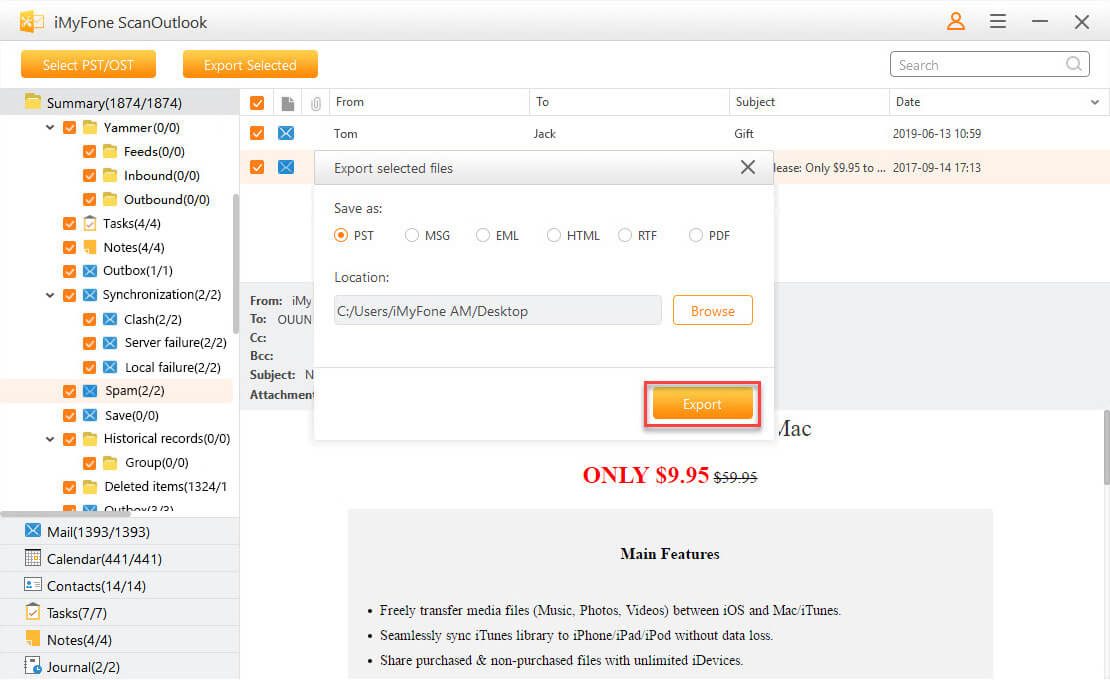 Once the process has been completed you can go to the destined location to view the files.
2. Gillmeister Outlook Attachment Extractor
Gillmeister is also one tool you may want to try. The tool supports the creation of an unlimited number of profiles to be able to make separate settings for different email accounts. It also includes the complete functionality of Outlook Attachment Extractor.
Features:
Automatically extract files from Microsoft Outlook.

Save email attachments to folders that are created dynamically from properties of the email.

Monitor an unlimited number of Outlook folders.

Customize profiles.

It helps to organize your files.

It converts deleted attachment files to links.
Pros

Cons

English and German languages are supported.

The interface is easy to navigate.

Multiple options to customize the folder content list.

You can export them as PDF, TXT, HTML, CSV, or XLS file. 

It allows you to print.

The trial version is limited.

It takes a long time to master because it has too many functions.
3. Systools Outlook Attachment Extractor
SysTools Outlook Attachment Extractor  allows you to extract Outlook attachments from both ANSI and UNICODE Outlook PST files even without changing the original folder structure.
Features:
Two different options to add PST: Add File(s) and Add Folder.

It helps to maintain the original folder structure.

It supports both ANSI & UNICODE file types.

SysTools is not limited by space.

Supports MS Outlook 2019/2016/2013/2010.

SysTools Outlook Attachment Extractor tool will work on Windows 11, 10, 8.1, 8, and 7.
Pros

Cons

Supports different file formats.

Easy to use.

Advanced filtering features.

Attractive price. 

Supports Office 365.
4. Kernel Outlook Attachment Extractor
Finally, on this list, we have Kernel Outlook Attachment Extractor. It's a good software just like others. Here are some of its features:
Automatically extract attachments from Outlook at a go.

All attachments can be placed in one ZIP folder.

It offers password protection for Zip folders.

It is user-friendly.
Pros

Cons

It supports all versions of outlook.

Its file size is not large.

You can try it for free.

It's limited in options and functions.

The interface cannot be customized.

Cannot extract and export separate elements from the PST file.
Final Words
We all know that finding an Outlook Attachment extractor is one thing, and using the right one is another. From this article, we have seen the four best tools. We can also see that when choosing an Outlook Attachment Extractor tool, you should also look at utility. iMyFone ScanOutlook tops all because of its utility and pricing.