"Please help me repair my OST file. I had an issue with my OST file and have even tried repairing it with a software (scanpst.exe). That failed, as I am still getting this issue. What other ways can I fix the file, please?"
OST and PST file formats are used by Microsoft Excel, and they are the file types that are least prone to viruses and bugs. However, they sometimes malfunction. These file types store Outlook data items, such as emails, calendars, and contacts, as well as their attachments for offline use.
If your OST or PST files get corrupted, then you start to experience several issues. Here, we will show you command to repair Outlook OST/PST data files and how to recover data from them easily. We also learn several Outlook command line switches, as well as ways to repair Outlook profile command line error.
How to Repair Outlook PST Files by Running Command?
The first method we will look at in this guide is repairing Outlook PST files by running an Outlook repair command. For email accounts using POP or IMAP, then you can repair PST files easily using these steps here:
Step 1: Press the Windows key and R. This opens the Run Command.
Step 2: Next, enter the following path in the dialog box and hit OK.
C:\Program Files (x86)\Microsoft Office\root\Office16
Note: Replace the "16" at the end of the path with the corresponding year of your Excel version. The path above is for Office 2016, 2019, and 365. For Outlook 2013, change the "16" to "15". For Outlook 2010, use "14," and lastly, use "13" for Outlook 2007.
Step 3: Double click on scanpst.exe. This will launch the Microsoft Outlook Inbox Repair experience wizard.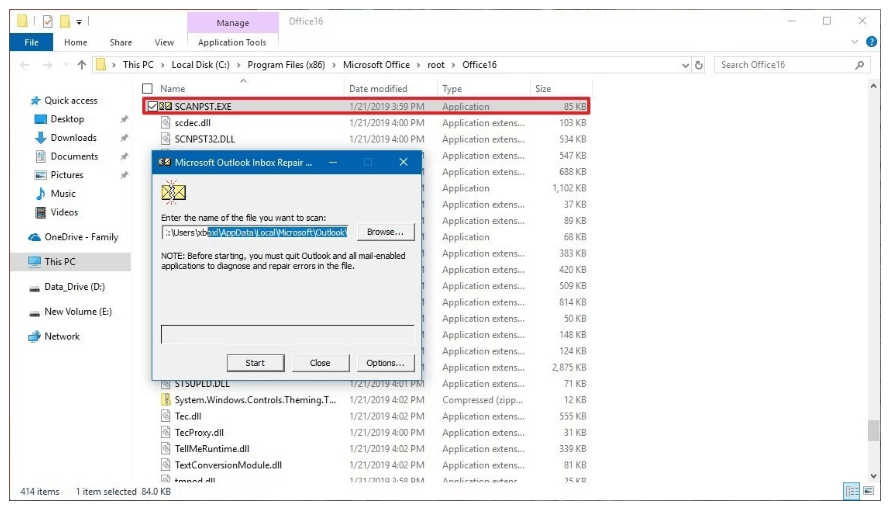 Step 4: Hit "Browse" to import the file.
Step 5: Locate the PST file, select it, and click "Start".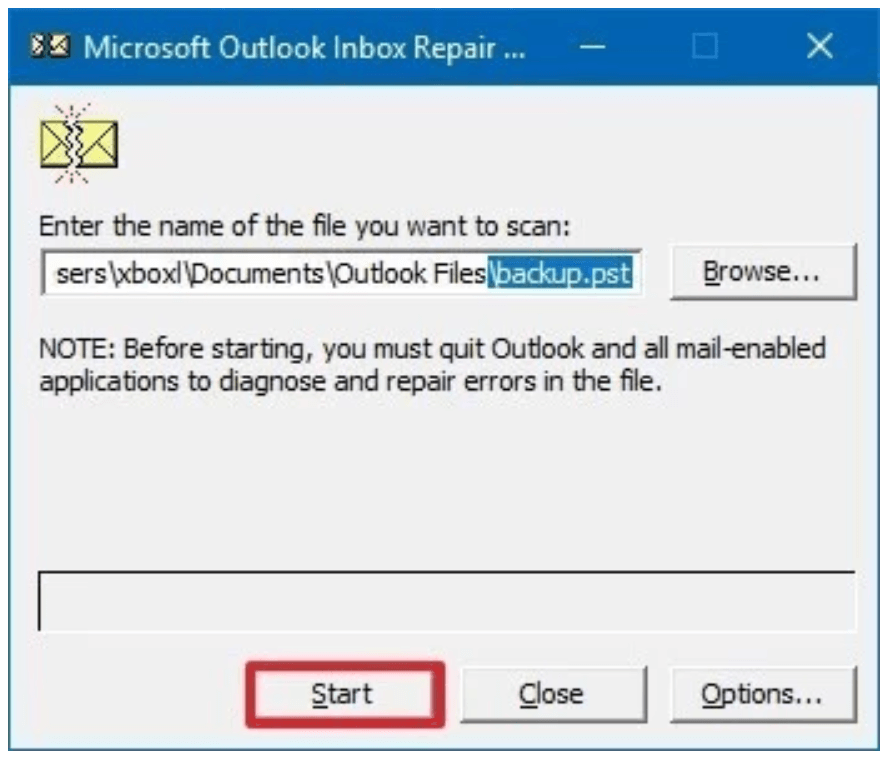 Just in case, you'd better check the "Make a backup of scanned file before repairing" option.
Step 6: Click the "Repair" button.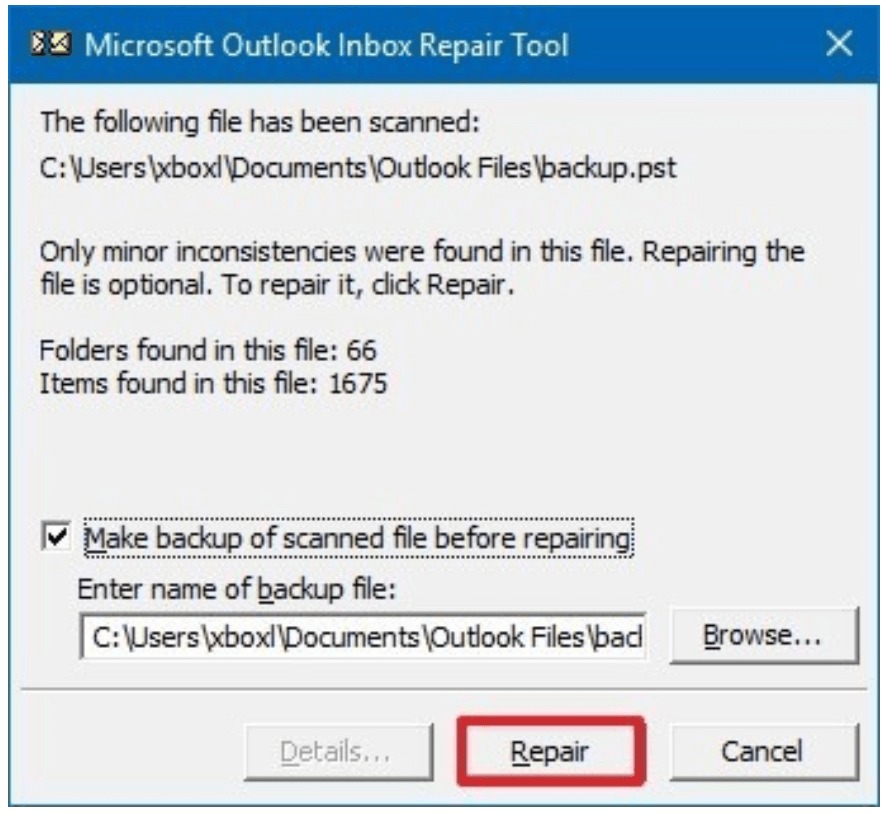 Pros: This method can only repair Outlook PST file issue.
Repairing the PST file by running the above Outlook 2010/2016 repair command is an efficient way and works great. However, the fact that it only repairs Outlook PST file format will leave much to be desired. Outlook OST files also face this issue as much as the PST files, and so, you may be better off using a software that works for both.
Alternative Method - Repair Outlook PST/OST File with ScanOutlook
No matter the way you damaged or lost the PST or OST file, iMyFone ScanOutlook can repair it easily. Without exaggerating, you get every part of your Outlook, including notes, calendars, emails, attachments, journals, etc.
ScanOutlook restores OST and PST formats without needing an Outlook 2010/2016 repair command and lets you preview their content before the recovery. Do not let these features scare you because ScanOutlook is very easy to use, even for a complete novice.
Steps to Repair Outlook PST/OST File with ScanOutlook
Step 1: Launch ScanOutlook and Select Affected Files
Download iMyFone ScanOutlook and launch the program on your computer. Next, import the OST and PST files from which you want to recover data or repair. At first, on opening ScanOutlook, the application attempts to load the Outlook data files automatically from the default directory.
To save time, you can click "browse" to import the file, if you know where it is located. Alternatively, using the "Search" button, you can search for the file.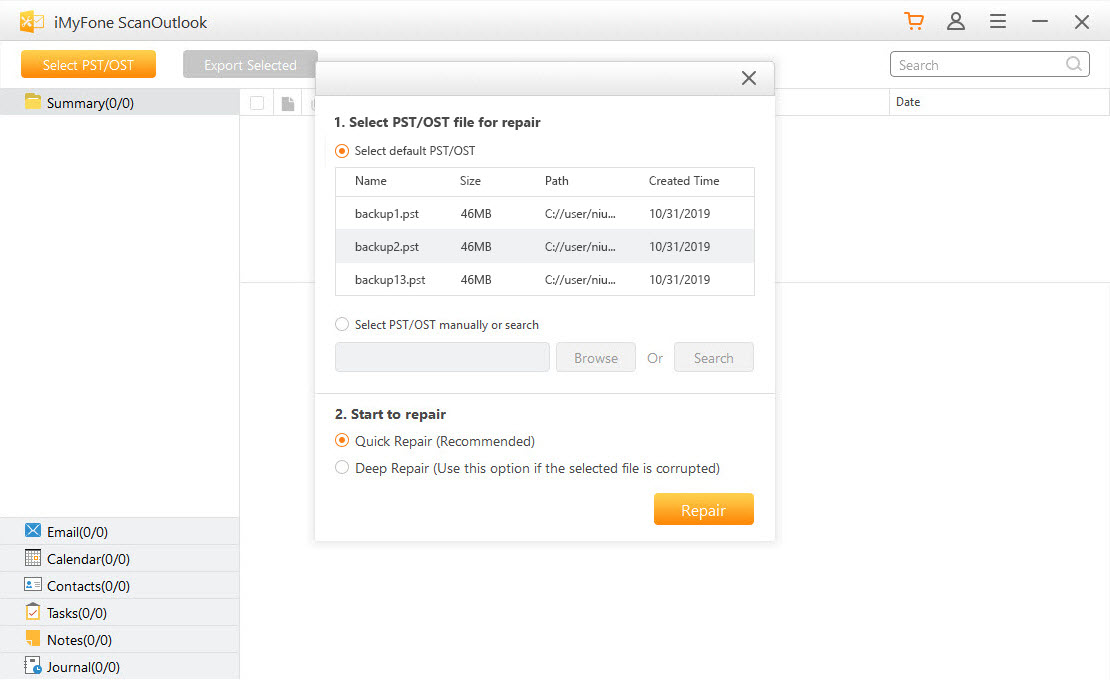 Step 2: Repair OST/PST Outlook Files
After importing the data files, hit "Repair" to begin the operation. This software can scan it using either the "Quick Repair" or "Deep Repair".
-Quick Repair: Use this mode for speedy data file repair.
-Deep Repair: Use this mode when you cannot locate the data files in the previous operating mode. It is also ideal when you are working with corrupted PST/OST files.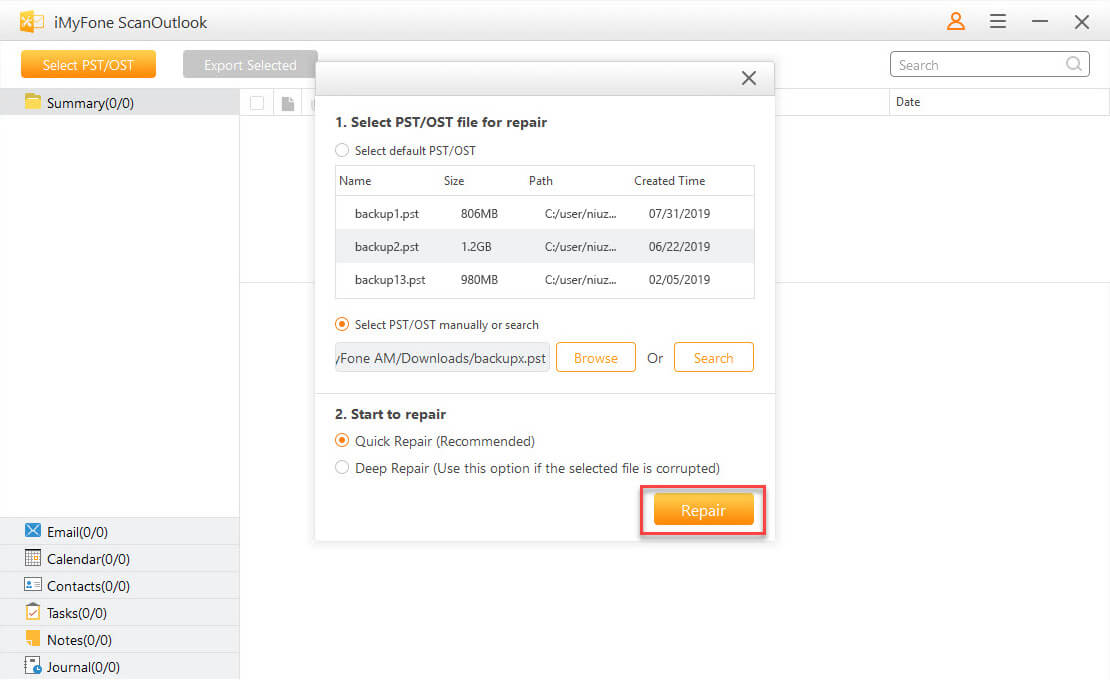 Step 3: Preview Repaired Data Files
The repair does not typically take a lot of time. Following the operation, ScanOutlook displays a list of all the recovered data files on the left-hand panel. To preview the content of the Outlook data files, simply click on the folder and files.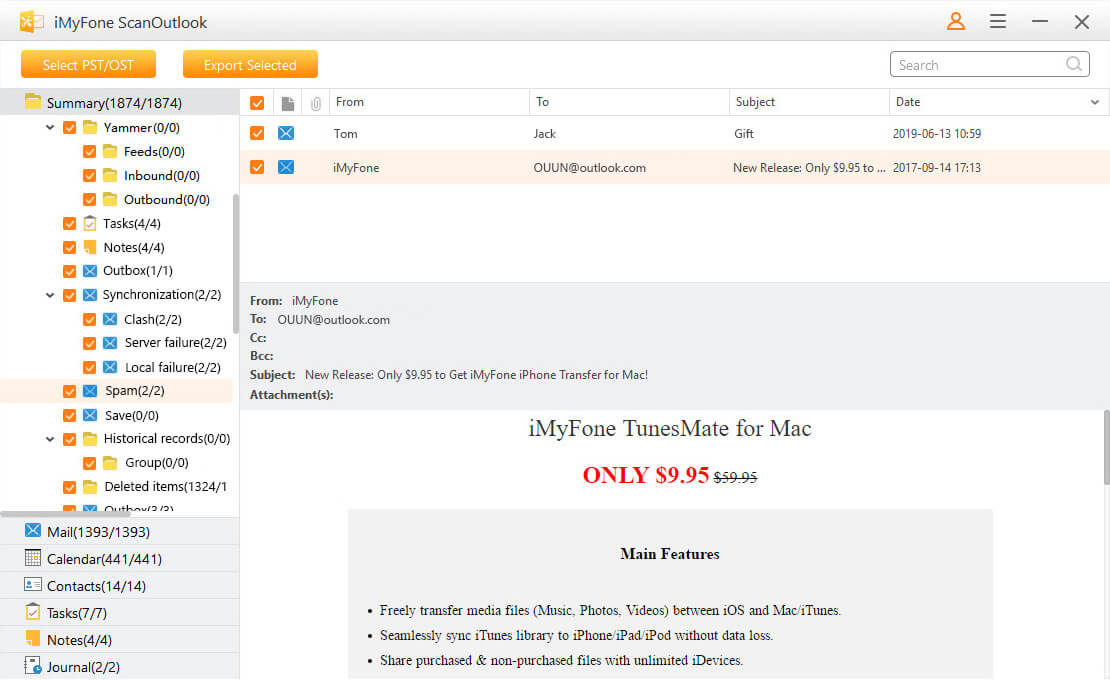 Further, from the recovered files, after previewing the data, if you wish, you can download attachments from the files.
Step 4: Export Repaired Files
You have successfully repaired the Outlook OST/PST files, and now it's time to export them. Select the files you want to export, select a format, and hit the "Export Selected" button from the top menu to do this. The available formats you can export the files to include PDF, FTP, PST, EML, MSG, and HTML. After that, now click "Export" to finalize the operation to the desired location.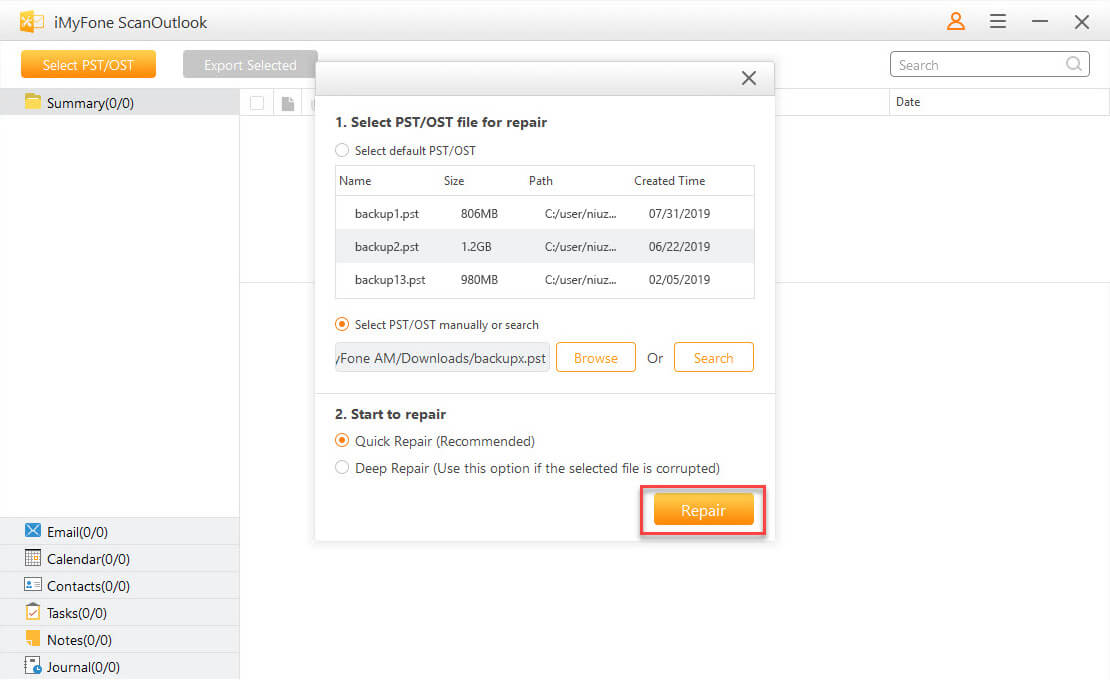 Microsoft Outlook comes with some Outlook repair command line switches, which are commands to repair Outlook OST and PST data files. These command line switches are also essential for troubleshooting Outlook problems.
10 Useful Outlook Command Line Switches
Arguments added to an executable (EXE) file are called Outlook repair command line switches. These are commands to repair Outlook that are called into action whenever the Outlook icon is clicked. Follow the steps below to use the command line switch:
Step 1: Locate Outlook.exe. By default, it should be in C:\Program Files\Microsoft Office\[your office version].
Step 2: Press the Windows key and R to open the Run dialog box.
Step 3: On the dialog box, type in the path to Outlook.exe enclosed in quotation marks, press the spacebar, enter the Outlook repair command line switch, and hit Enter. An example of the query is "C:\Program Files\Microsoft Office\Office11\Outlook.exe" \Cleanreminders.
Next, let's take a look at ten vital Outlook 2010/2016 repair command line switches.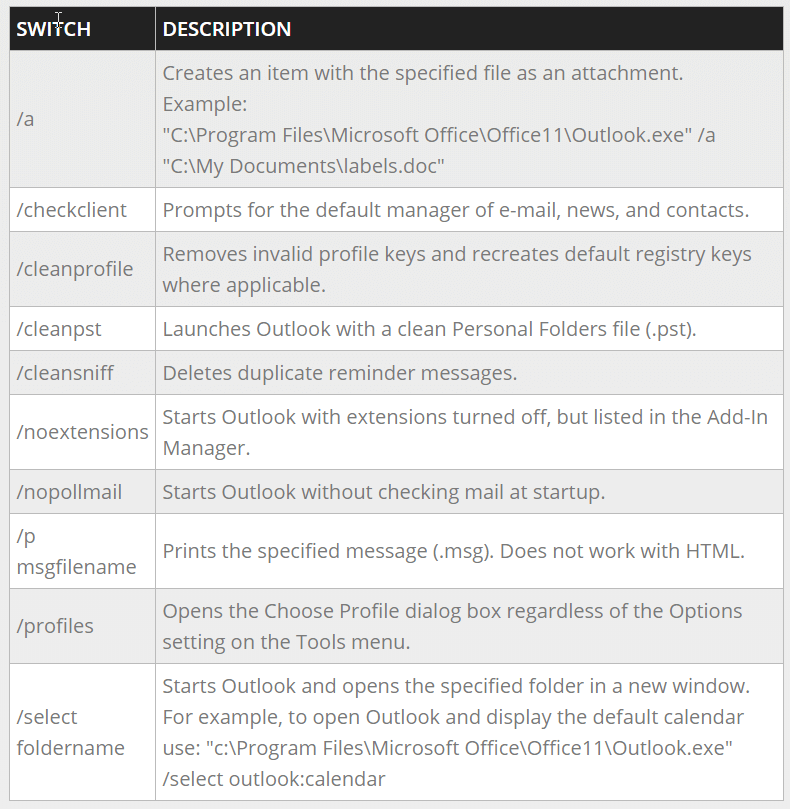 From the above content, it's easy to see why Outlook repair command line switches are so important. However, some times, these command line switches can throw an error but do not panic. The next section shows you what to do if this happens.
How to Repair Outlook Profile Command Line Error
A common issue with Outlook is the error message saying, "cannot start Microsoft Outlook. The Outlook repair command line argument is not valid." If you get this error, know that your Microsoft Outlook account may be experiencing an internal error from the database or an add-in you installed.
Solution 1: Open Outlook in Safe Mode and Disable Add-ins
The first technique for resolving the Outlook 2010/2016 repair command line error we will treat here is by using safe mode. Launching Outlook in safe mode is essential for troubleshooting issues. Here is how to open MS Outlook in safe mode and disable add-in.
Step 1: The first thing you do here is to press the Windows button and R.
Step 2: Enter "cmd" in the dialogue box and hit Enter. This opens the Command Prompt.
Step 3: In the Command Prompt window, enter Outlook.exe/safe.
Step 4: Finally, when Outlook opens in safe mode, select our profile and hit OK.
You have successfully started Outlook in safe mode. To disable the add-ins, go to the Settings option and then you can repair it.
Solution 2: Re-register Outlook Profile
Step 1: Press the Windows key and R simultaneously to open the Run dialog box.
Step 2: Enter "cmd" in the dialog box to open Command Prompt.
Step 3: In Command Prompt, enter the following Outlook 2010/2016repair commands:
Regsvr32 OLE32.DLL
Regsvr INETCOMM.DLL
Step 4: Finally, restart Outlook.
Solution 3: Reinstall Outlook
If you have launched Outlook in safe mode and disabled add-ins and re-registered the Outlook profile, but all fail at repairing the issue, then you can resort to reinstalling Outlook. Before uninstalling the program, back up your PST data file.
Step 1: Press the Windows key to open the Start menu.
Step 2: Search for "uninstall" in Control Panel and select Uninstall a program.
Step 3: On this new window, scroll down and locate Outlook.
Step 4: Uninstall it and restart your computer.
Step 5: Finally, install Outlook again.
Conclusion
In this post, we examined the best ways to repair Outlook OST and PST files. We began by looking at techniques for PST files by using Outlook repair commands, and then, we explored software that helps restore or fix both PST and OST files. We have also learned about command line switches(commands to repair Outlook), how they help troubleshoot Outlook, and how to clear errors in command line switches.
Of all the solutions treated, you are almost always guaranteed to fix your OST/PST file issues using iMyFone ScanOutlook. It's easy to use and safe for the data contained in these damaged files.