When you create an email account with Microsoft Outlook, all information stored in association with that account is stored on your computer in a local file called a PST file. These files will allow you to access important data like all of your email messages, yes even corrupt ones, and other things like your contacts and calendar information all without needing an internet connection! Want to know how to open .pst file? Read on to find how.
Part 1: What is a PST File Exactly?
Sometimes called a "personal folder", a PST file is a common email storage format that is used in all Microsoft email solutions. A PST file is created and used to store archived items (data) with offline availability (local copy on your computer). With Microsoft Outlook accounts, the PST file will have Outlook data items such as messages, contacts, calendar information, and tasks. These files are portable, can be transferred between one Outlook user to another, and must be secured properly to prevent data loss.
Part 2: How to Open PST Files in Outlook?
If you use Outlook as part of your daily routine and are familiar with both IMAP and POP accounts, you may want access to your Outlook Data Files (PST). Here is how you do that with Outlook 2007, 2010, and all new versions.
Open Outlook Data File in New Versions
1. While in Outlook, head to your menu and select File, Open & Export, and Open Outlook Data File.

2. Select the PST file that you want and click open.

3. Once opened, the file can be found in your folder pane. The name of your PST file will likely be the name of the account holder. If you click the down arrow on the name, you will be able to see information about deleted items, drafts, inbox, and so on.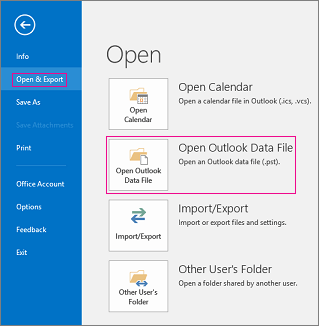 Open PST File in Outlook 2010
Generally, your Outlook Data Files (PST) will appear in your navigation pane. If they do not, follow these steps.
1. Click your File tab and click Account Settings.

2. Find the Data Files tab and click the add button.

3. Click on the PST file you want to open and click the okay button.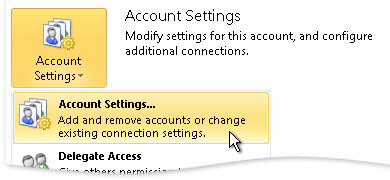 You can find your PST files either in your Local App Data on Windows 7 and Vista or in your documents and settings (local settings – App data) on Windows XP.
Open PST File in Outlook 2007
Generally, your Outlook Data Files (PST) will appear in your navigation pane. If it does not, follow the steps below.
1. Navigate to your file menu, click on the open button and then click Outlook Data File (PST).

2. Click on the PST file you would like to open and click the okay button.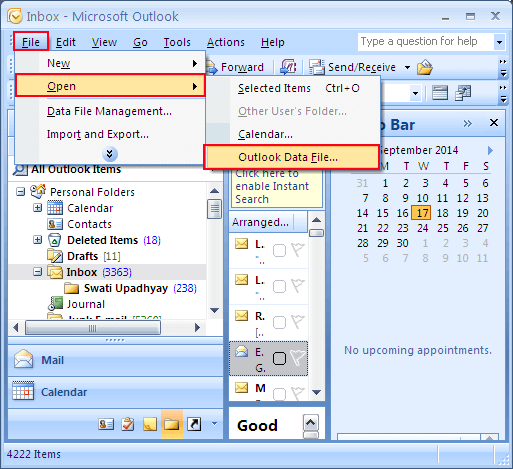 To find the PST file you want to open, head to your folder list and click on personal folders.
Part 3: How to Open a PST File Without Outlook?
If you are looking to open a PST file without using Outlook, iMyFone ScanOutlook is a free tool that allows you to select and search for PST files without Outlook and even open, view, and read corrupted files. Features include the following
Search or select PST files and view them without Outlook.
Can even repair corrupted PST file and recover lost/deleted items from it.
Preview all mail content including contacts, calendars, tasks, notes, and journals.
Save corrupt Outlook data files into multiple formats, including PST, HTML, PDF, EML, MSG, and RTF.
No limit on how many corrupt files you can access and save.
Supports Windows 11/10/8/7/XP.
Try It Free
Coming Soon