A voice memo is for many people a convenient way to keep notes as they don't need to type. If you have got into that habit, you know well enough how important your voice recordings feel. That's why it is essential that you know how to recover voice memos on your iOS device. No matter what happens, you will know what to do to restore your recordings.
Fortunately, you won't have to look any further to learn how to retrieve deleted voice memos. There are multiple ways to achieve this and get back all of your important files. We have selected the best ways to recover permanently deleted voice memos from iPhone.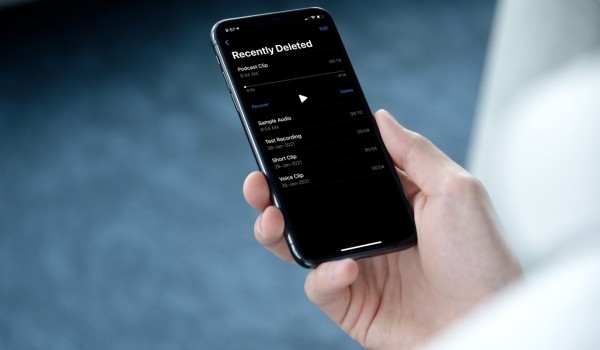 Part 1. FAQs About Deleted/Lost Voice Memos Recovery
1. Why Will Voice Memos Get Deleted/Lost
It is crucial to learn how to recover voice memos on iPhone because your files might get deleted for various reasons. First of all, you might accidentally delete them, a mistake that might cost you. Moreover, the files might get lost for various technical reasons. These include:
Files getting deleted by a system update.
Voice memos disappear because of a system crash.
Your device gets damaged and malfunctions.
To avoid these unfortunate situations, it's best to know how to deal with this issue before you encounter it.
2. Where Are Deleted Voice Memos on iPhone?
There are multiple locations, where you might be able to find your deleted memos. For instance, they might be stored in the "Recently deleted" folder. Moreover, they might be saved in a backup you have kept. That's why, if you learn how to recover voice memos from iCloud and iTunes might be effective. If none of these locations work, then a data recovery software might be able to retrieve them.
3. Can I Get a Deleted Voice Memo Back on iPhone?
The good news is that you can get a lost voice memo back, once you have figured out its location. Below, you will discover the best way to achieve this in a few simple steps.
Part 2. Recover Voice Memos from Recently Deleted Folder
As we have already mentioned, the first way with which you can recover deleted voice memos on your iOS device is to look in the "Recently deleted" folder. This is a very simple way that can be very reliable if you have recently deleted the files. However, you need to remember that the files are only stored in this folder for only 30 days.
Here are the steps that you must follow to find your voice memos in the "Recently deleted" folder:
Step 1. On your iPhone, load your Voice Memo app and tap the arrow at the top of the screen. This will show you the app's folders. Tap the Recently deleted folder to view the files stored there.
Step 2. Browse the files that you have deleted in the previous 30 days. If you see the memos you want to restore there, tap the Edit button.
Step 3. Select all the voice memos that you want to retrieve and tap Recover. The files will appear in your recordings once more.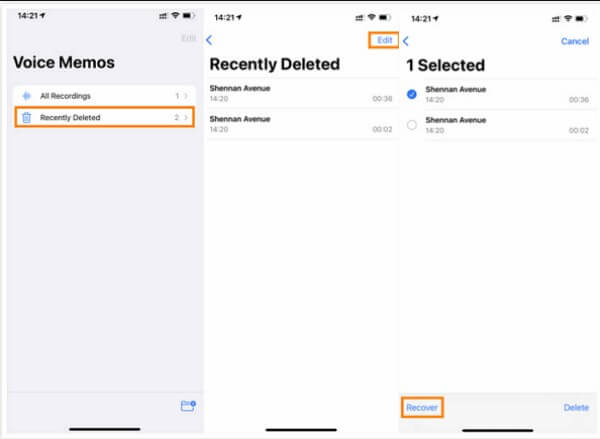 Part 3. Recover Voice Memos from iCloud
Another useful method is to recover voice memos from iCloud, which asks you to utilize the backup you have kept on the cloud. Of course, you can find the voice memos you have lost only if you had already created a backup before losing them.
In addition to this, you must remember that installing the backup will delete any files that aren't included in it.
This is how to retrieve deleted voice memos using your iCloud backup:
Step 1. First, you must erase all data from your iPhone. To do that, you must go to your device's settings. Under the General, you must tap Transfer or Reset iPhone and then the Erase All Content and Settings button.
Step 2. When you do that, your iOS device will restart and you must set it up to be able to use it. Follow the instructions that you will see. When prompted, tap the Restore from iCloud Backup option that you will find in the Apps & Data section.
Step 3. Finally, you will be required to log in to your iCloud account. Type your ID and password to view and select the backup you want to install. Make your choice and wait until the data has been downloaded.
Part 4.  Recover Voice Memos from iTunes Backup
Another method that is quite similar to the previous one is to recover voice memos on iPhone via an iTunes backup. This is another effective way if you had created the backup at a date before you lost your voice memo.
Moreover, installing the old backup will overwrite your newer files, and so, you must back them up.
There are the steps to get your recording back from an iTunes backup:
Step 1. Open iTunes on your computer and connect your iPhone via your USB cable. Wait until the device appears on the sidebar of iTunes and click on it.
Step 3. From the Summary tab, click the Restore Backup button.
Step 4. Select the backup that corresponds to the date, when your voice memo was available. Click Restore to get your files back.
Part 5.  Recover Permanently Deleted Voice Memos Without Backup
The last method to recover permanently deleted voice memos from iPhone is definitely the most effective and hassle-free of them all. In more detail, this method uses AnyRecover Data Recovery (iOS), which is a data recovery tool. The great thing about it is that it ensures a high success rate, meaning that you can your files back in no time.
One of the things that makes AnyRecovery Data Recovery (iOS) such an essential tool for iOS users is that it can retrieve numerous file types. Furthermore, this tool can retrieve files from your iPhone, iCloud, or iTunes as it has introduced all these three modes.

2,061,704 Downloads
Key Features of AnyRecover for iOS:
It intelligently recovers lost contacts directly from iPhone device storage without backup or jailbreak.

It provides a preview of deleted data after scanning.

It allows selective recovery of lost data.

It can also extract contacts and other data types from iCloud and iTunes backups.

It provides the highest data recovery success rate.

It provides 100% data security throughout the process.
Here is how to recover deleted voice memos via AnyRecovery Data Recovery (iOS):
Step 1.Launch AnyRecovery Data Recovery (iOS) on your PC and click on the Recover from iOS device option.  Connect your iPhone to your computer running the app. Click Next once the tool has detected it.
Step 2.Select all the file types that you want the app to locate and restore. When you have made your choice, click Scan to let AnyRecovery Data Recovery (iOS) search for the retrievable files.
Step 3.When the tool has scanned your device, you will see a list of all the files you can restore. Select only those you need and click Recover to Device/Recover to Computer. This will open a new pop-up window, where you must select the location to save them.
In Conclusion
Now, you can rest assured that you won't lose your voice memos ever again. All of these methods taught you how to recover deleted voice memos in a few steps.
However, AnyRecover Data Recovery (iOS) stands out because it works in every single case. Download and try it for free now.