BeReal makes you live an exciting moment. You are traveling all over the city while capturing amazing journey pictures. After receiving the notification from BeReal, you decided to post the picture to show your social media friends how much you're enjoying the journey. Unfortunately, what happens is that the picture you've uploaded doesn't look good, and you're looking to delete it.
Can you delete a BeReal post? Yes, you can, and we'll tell you how to delete a BeReal picture after uploading it.
Part 1.

How to delete a BeReal post/picture?
BeReal, despite being a brilliant way to express your feelings in the form of a post, still has some undeniable shortcomings. For instance, you can't preview the post before posting it, leaving you wondering whether the post you've uploaded is appropriate. Sometimes, you are unsatisfied with the post you upload on BeReal and would love to delete that post.
Here's how to delete a BeReal if you're not satisfied with the outcome of the post.
Step 1: Tap on the three dots icon to begin the proceedings.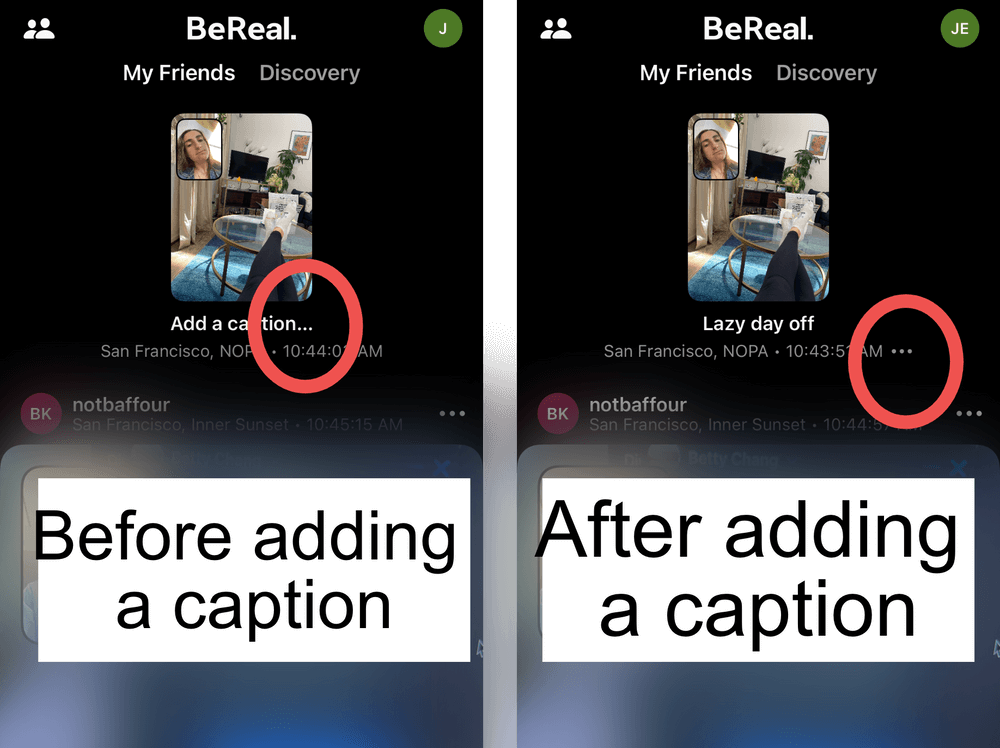 Step 2: Now, you'll be able to find yourself in a situation where the number of realmojis, comments, the location where you clicked the photos, and retakes will eventually appear. Navigate to the bottom right corner and tap on "Delete my BeReal''.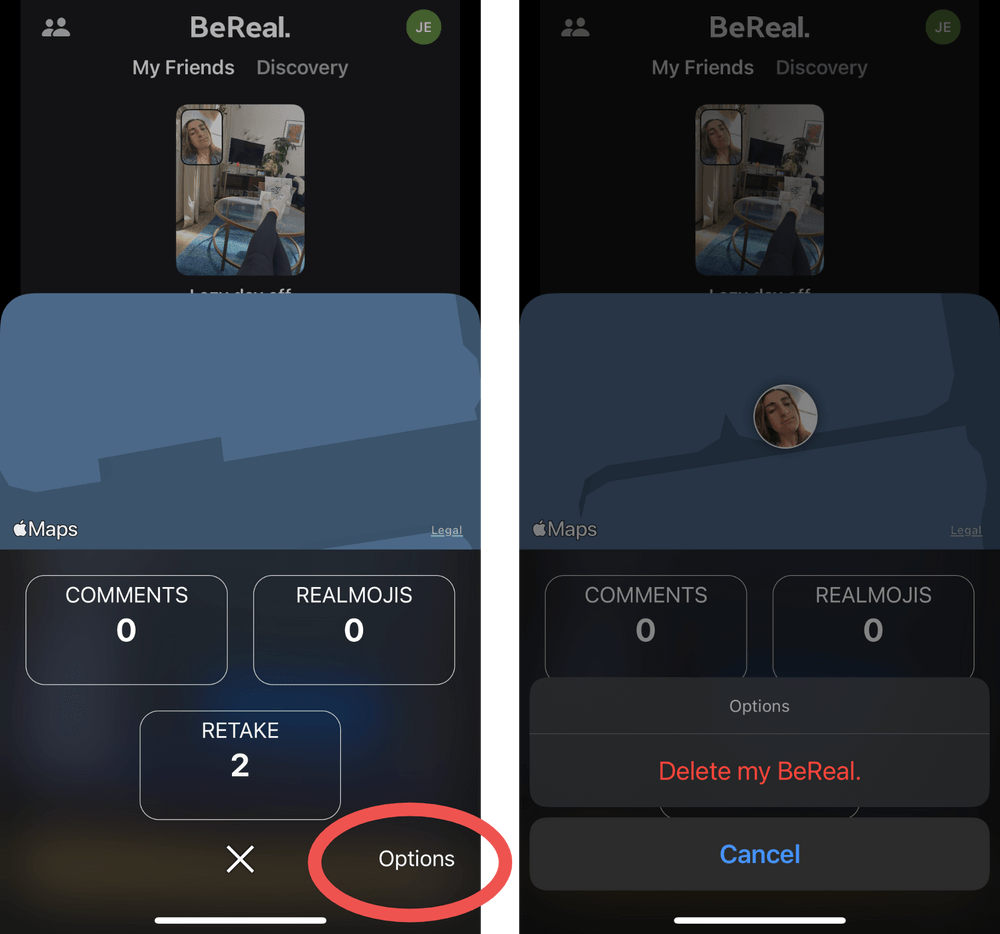 Step 3: Upon clicking the ''Delete my BeReal'', you'll be moved to a question asking the reason behind the BeReal post deletion. After selecting an appropriate reason, tap ''Yes, I'm sure'' to confirm the action.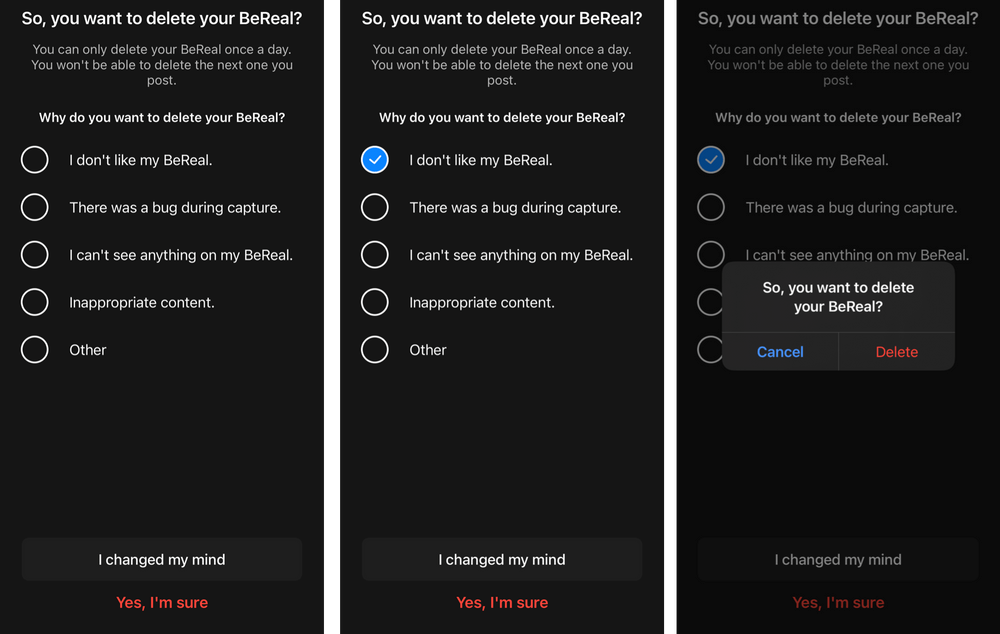 Step 4: Press on the Delete icon to remove the most recent post of BeReal. Once you return to the BeReal feed, you'll notice that your photo isn't visible to your friends or you. Now, BeReal will ask you to upload a late BeReal.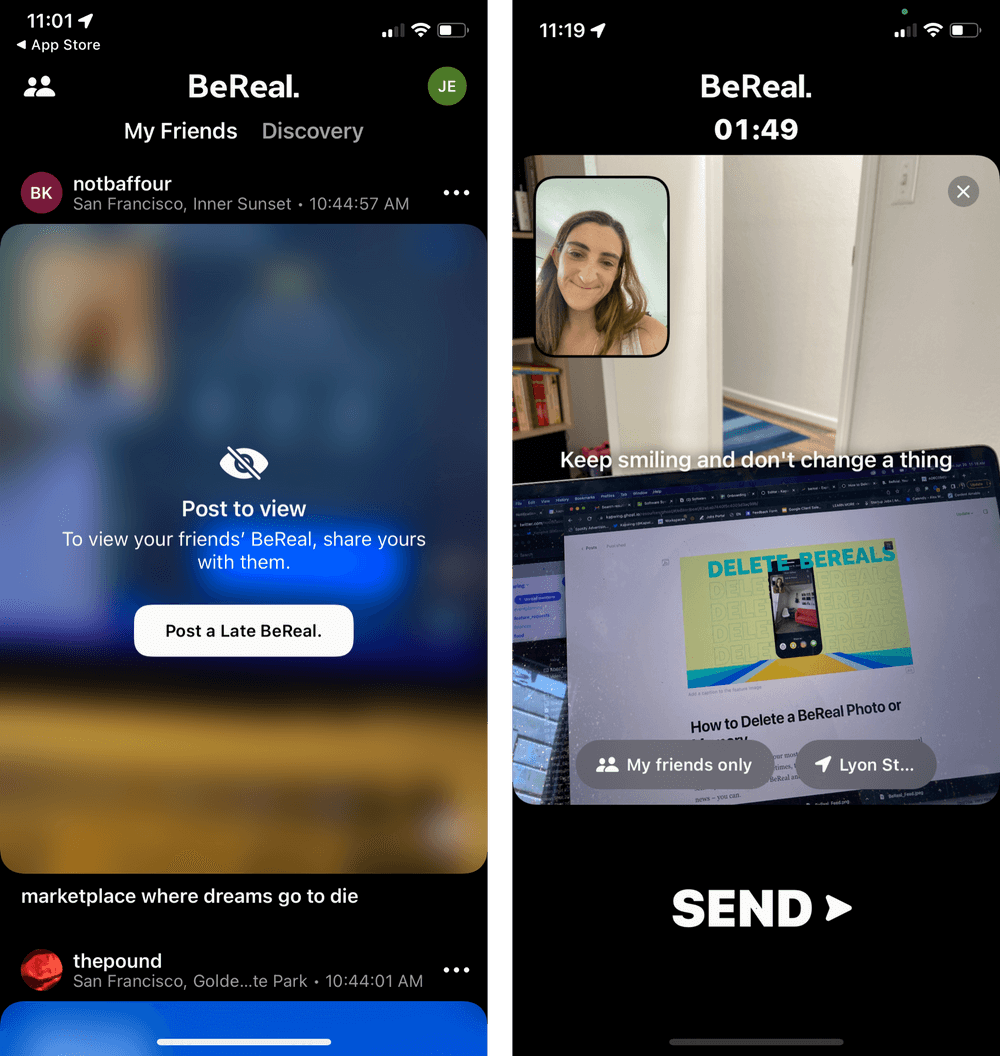 Step 5: Since BeReal only deletes one post per day, you'll need to be cautious while deleting the post, as you won't be able to delete another post on the same day, given it needs to be clicked appropriately.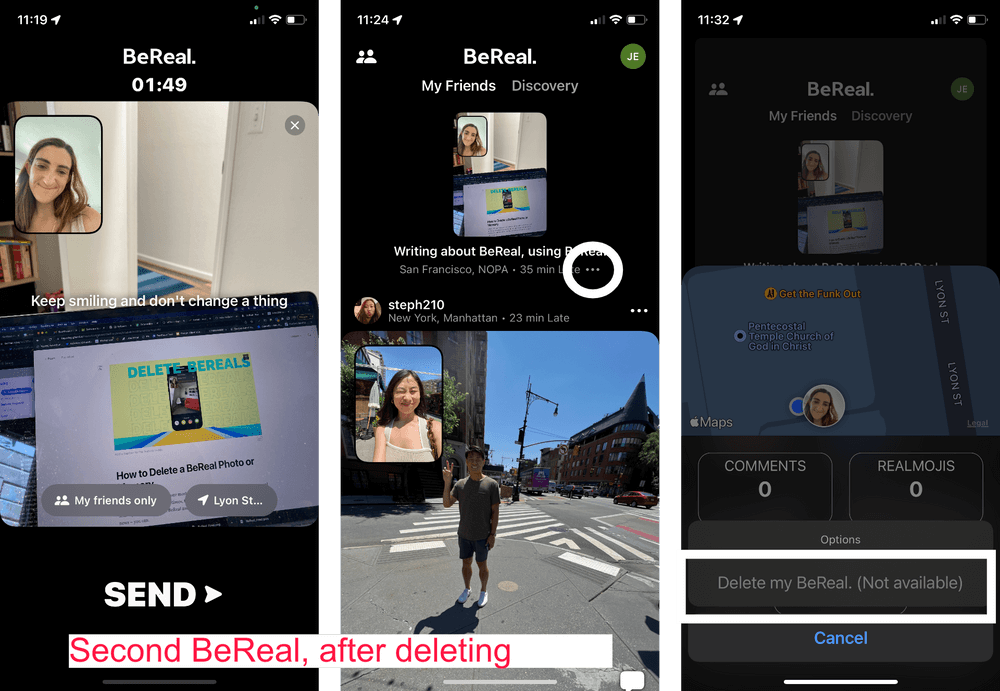 Part 2:

Why did my BeReal delete itself?
All the popularity of BeReal aside, many users have asked the same question '' why did my BeReal post delete itself''? Seeing the BeReal post getting deleted without any reason could be so frustrating. There are a couple of main reasons behind this issue. If you're having internet problems, it can be the reason behind the BeReal post deletion.
It would help if you looked at the current server status of BeReal, as when it gets down; the app starts deleting the BeReal pictures anonymously. Since BeReal is an online platform, getting a fast and stable internet connection and having the proper BeReal server up and running is most important to use BeReal appropriately.
Part 3:

If I delete BeReal, will I lose everything?
What happens if you delete BeReal app? Does deleting a post remove everything from your BeReal account? It is a type of question most people ask so often nowadays. Fortunately, nothing gets deleted upon deleting the BeReal app.
Moreover, if you decide to delete the account, BeReal provides you with a 15 days deadline before deleting all the saved BeReal posts permanently. Many people complained about struggling to access the recap 2022, so some active BeReal suggested that deleting the BeReal app and installing it again helped eliminate the issues.Thus, people ask whether BeReal will delete everything if they reinstall the BeReal app. So, there is no harm in deleting the BeReal app and then installing it again, as nothing will get deleted.
Bonus Tips:

How to recover a deleted BeReal
It might happen that you've deleted the BeReal post, but after deleting the post, you've realized that it was never meant to get deleted. The situation becomes even more frustrating when you know your deleted picture isn't available on your mobile device.
Can you recover a deleted BeReal post? Luckily, you can retrieve the BeReal post courtesy of AnyRecover.
Apart from offering the ability to retrieve 1000+ data types, AnyRecover is set to recover the data on various devices, including Windows, Mac, Android, and iPhone. AnyRecover comes up with an effortless user interface, and its ability to retrieve any data makes it one of the best data recovery tools.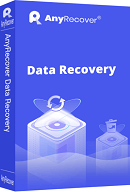 Key Features:
Help you retrieve the lost BeReal posts,pictures and other data
Allows you to recover 1000+ data types, including emails, videos, pictures, documents, etc
Supports data recovery from Mac, Windows, Android, and iOS devices
Allows you to preview the data before retrieving it
How to recover a deleted BeReal?
Step 1: Download and install the AnyRecover on your PC before launching it. Next, you must connect the Android or iPhone to the PC and select the data recovery mode.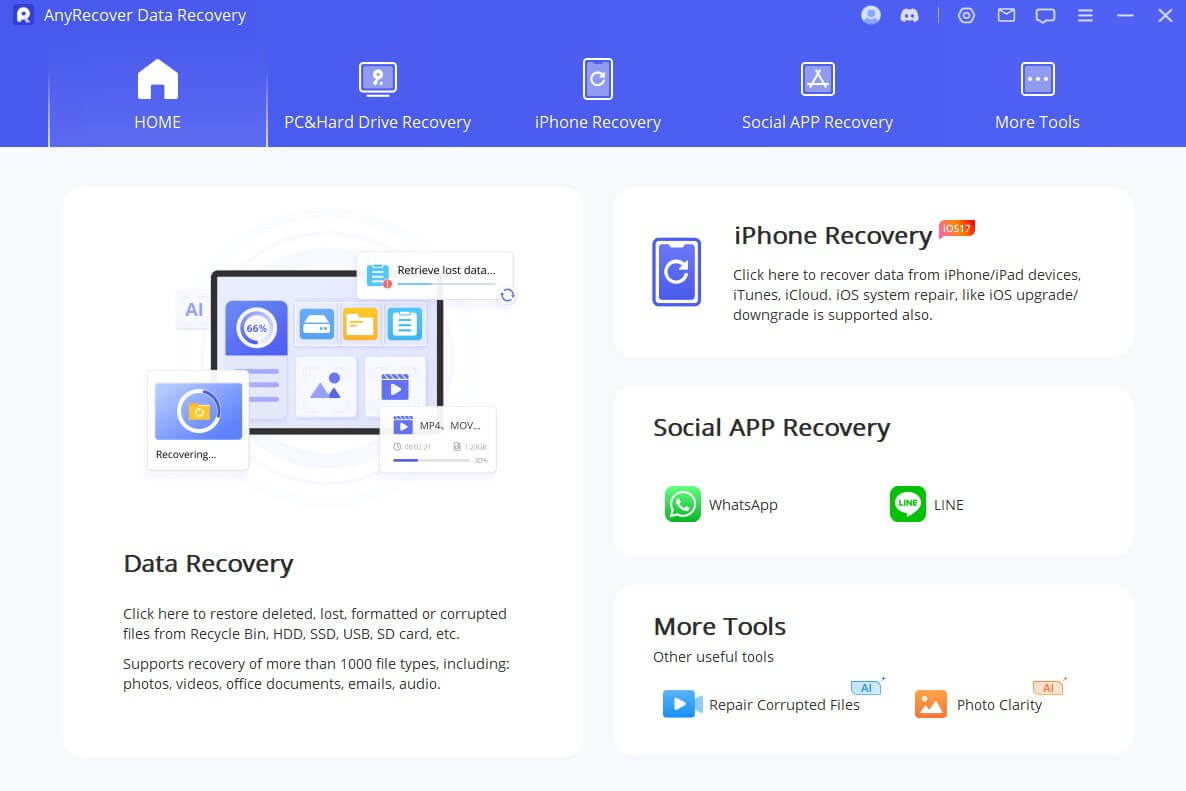 Step 2: Select the folder from which you've lost the BeReal post and tap on the Scan icon to initiate the scanning process.
Step 3:After scanning the data, preview the files you will get back. Next, tap the Recover icon to recover all the deleted BeReal posts on the PC.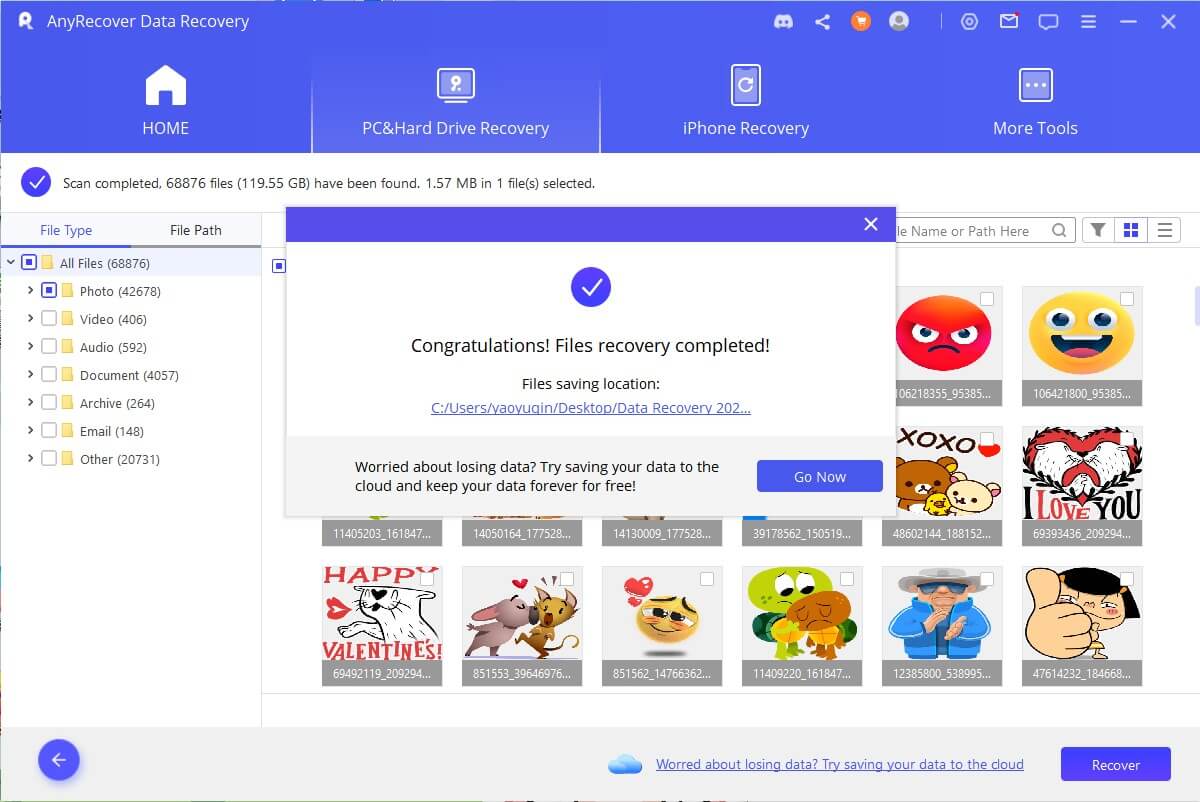 Conclusion
Struggling to post an appropriate BeReal post is one thing, but can you delete a BeReal post, and if yes, how to delete a BeReal post? This post has all the exciting information for you, helping you to delete the BeReal post in no time. If you've deleted the BeReal picture and that picture also doesn't exist on your mobile, you can take the services of AnyRecover to retrieve the lost BeReal post.
AnyRecover data recovery software is highly recommended to have all the credentials to retrieve the deleted data on Mac, Windows, Android, and iPhone.