The topic of formatting SD card is not a stranger to most of us. Maybe you are hesitating about formatting your SD card, or have just formatted your SD card by mistake - and that's exactly what brings you here. In fact, formatting SD card is neither a mystery hard to figure out nor a tough decision to make. Instead it's not a big deal as long as you know clearly about what happens when you format an SD card.
The major aim of this post is to introduce some basicfacts about formatting an SD card, and more importantly, the method to recover data from a formatted SD card. Now let's get started!
Part 1: What Happens When You Format an SD Card?
What Does It Mean to Format Your SD Card?
To format an SD card means wiping out the previously existing data stored on the card and creating a new file system. In this way, the SD card will become a fresh "new" one prepared to store data. After an SD card is formatted, all the original files will be erased and become inaccessible.
Specifically speaking, there are two options to choose while formatting an SD card in Windows. Selected by default, quick format will delete all the old data to make room for new data. But you can use a data recovery tool to get the lost data back as long as it hasn't been overwritten by new data generated. Full format, however, will erase the old data permanently and there will be no chance to get it back again.
Is It Bad to Format an SD Card?
No, it's not necessarily bad to format an SD card. On the contrary, it's quite beneficial sometimes. A great number of people feel panic when it comes to formatting an SD card, largely because of the data loss. But actually, lost data can be recovered as long as the right method is adopted, and the operation of formatting can help solve many issues.
For example, the basic advantage that formatting an SD card brings will be a thorough clean. Formatting will clear all the old data and quickly get an SD card prepared to store new data. Apart from that, when SD card gets infected with some virus, formatting it will be a good choice to get rid of the malware. Last but not least, when an SD card turns to RAW or cannot be recognized on computer, formatting it might contribute to the solution of the problem.
Part 2: How to Recover Data From a Formatted SD Card?
Talking about recovering lost data from your formatted SD card, there are plenty of data recovery tools in the market. However, not every one of them is indeed as effective as it claims to be. To ensure the safety of your lost valuable data, choosing a right tool is perhaps the top priority. Here we highly recommend AnyRecover.
AnyRecover is a professional data reocvery program which has managed to stand out over the years due to its powerful features. Having been tested by time as well as numerous customers, AnyRecover proves to be truly reliable. It is undeniably capable of recovering almost all lost data from any storage device with just a few simple clicks! Some of the key features are listed below:

2,061,704 Downloads
Recovers more than 1000 types of files, including photos, documents, videos, archives and emails.

Gets back lost data from a full range of devices: hard drives, USB flash drives, SD cards, SSDs, cameras, etc.

Addresses all data loss scenarios: formatted device, emptied trash, partition error, system crash, etc.

Only takes 3 simple steps to get the data recovery work done. No technical knowledge is required.

Extremely high success rate and quick speed enpowered by all-round and deep scan.
AnyRecover offersfree trial for every user to scan, preview and recover 3 files for free. Give it a shot right now to get back your lost data!
Steps to Recover Data from Formatted SD Card with AnyRecover
Step 1: Get your SD card connected to the computer via a card reader. Launch AnyRecover program. Then in the main interface, choose your SD card under "External Removal Devices" and click on the "Start" button.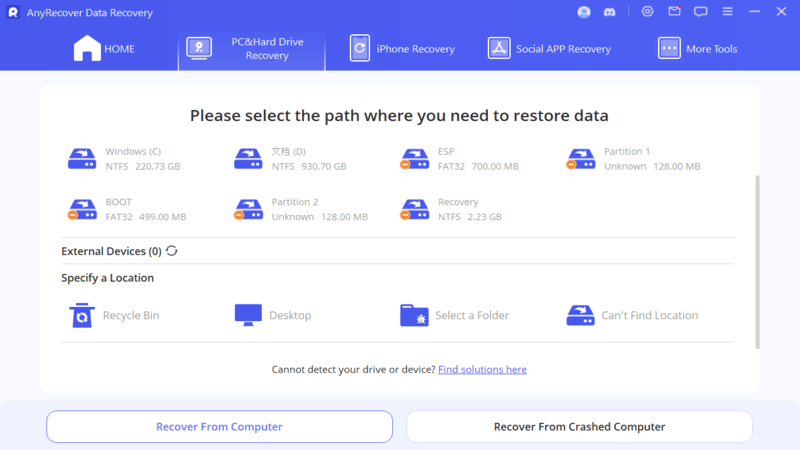 Step 2: AnyRecover will start an all-round and deepscan on the SD card. All scanned data will be displayed and categorized into different file types when the process is finished.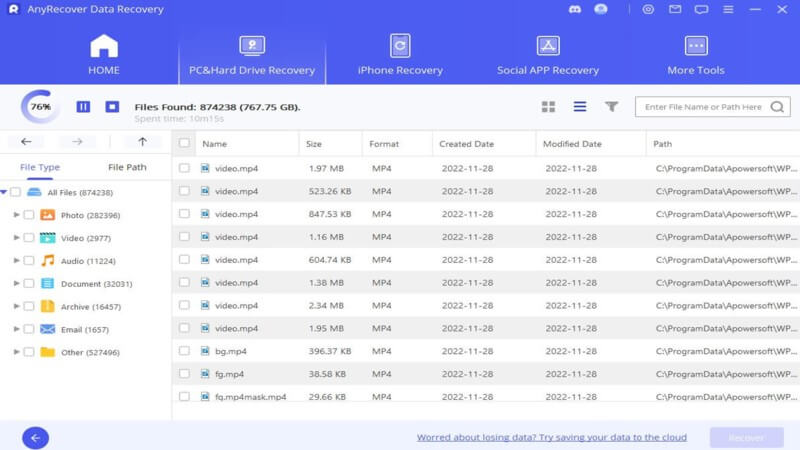 Step 3: Among the scanned files, preview first and then choose what you want to recover by clicking the "Recover" button.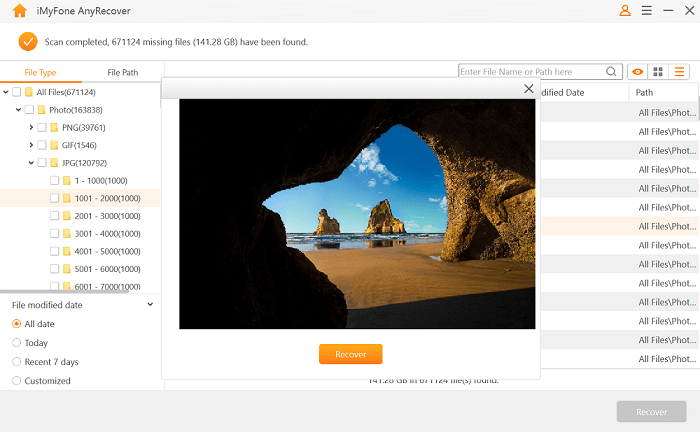 Bonus Tip on Formatting an SD Card
To better protect an SD card and prolong its service life, there are some tips to follow regarding formatting an SD card.
Tips to Follow
Always try to get your data backed up somewhere else before carrying out a format on your SD card, which will put you on a safe side in case anything goes wrong and the data can't be recovered for some reasons.

SD cards should be formatted when they are attacked by virus or malware.

SD cards should be formatted when you try to use them on other devices.

The use of a single SD card on various devices should be avoided as virus could be transferred from a device to the SD card. This will result in the necessity of formatting the SD card.
Conclusion
With this detailed guide on what happens when you format an SD card,you must have understood the fundamental knowledge about formatting an SD card. The action of formatting will delete all data stored in the SD card, which is why you have to treat it with the utmost caution.
Fortunately, it is possible to recover lost data from formatted SD card and AnyRecover is the best tool available. In fact, not only for formatted SD card, AnyRecover can work wonders in face of various data loss issues.
Stop waste time hesitating. Take actions to try AnyRecover and get back your data right now!