Formatting an SD card can come with lots of benefits. One of such happens to be ensuring that you have enough space to store more important data and files. However, there are times when you may not be able to format SD card on your system and there will be an error message.
This post will be revealing details about the best SD card formatter. There is no doubt that any of them will help you format your SD card the easiest way.
Top 3 SD Card Formatter for Windows
1

USB Disk Storage Format Tool

This is the first on the list that you can use in formatting your SD card, it is a handy tool which allows you to format any kind of SD card without error occurring.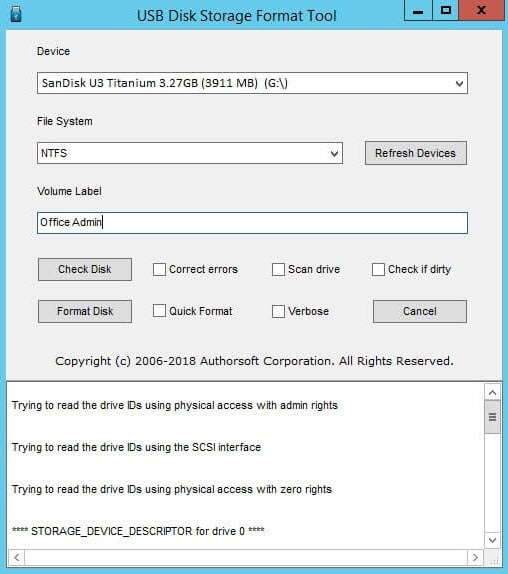 USB Disk Storage Format Tool has become very popular in recent times due to its outstanding features thereby making it one of the most effective when it comes to formatting SD cards. Some of them are:
It comes with a user-friendly interface.

Memory card can be completely formatted.

Every kind of memory card is supported like micro SD card, SD card and others.
Cons:
There is no partition feature.

Only 4 file formats are supported.
2

Windows Inbuilt Format Tool - Disk Management

This is also another top option that you can explore today to ensure that your memory card gets formatted. Regardless of your knowledge about IT, there is no doubt that this tool can be used.

Step 1: In order to get Windows Disk Management launched, you will need to run "diskmgmt.msc".

Step 2: Right click on the disk that you want to wipe and choose "Format".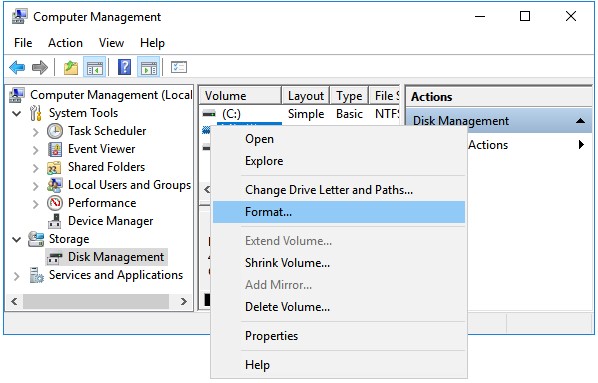 Step 3: Size of volume label, allocation unit, and file system should be customized. After that, click on "OK".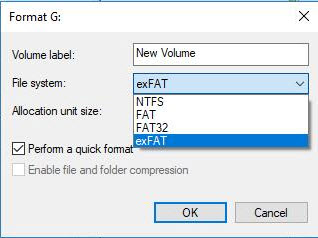 Step 4: You will be told by windows that such formatting will erase all of your data. "OK" should be clicked on to continue. It will then commence the process of getting your SD card formatted.
3

SD Card Formatter

This tool is simply one of the best when it comes to formatting an SD card in windows. It is very easy that anyone can make use of it today. Some of its main features are highlighted below:
MMC card, external disk, internal disk and SD card can be formatted.

Complete formatting SD card without leaving original data.

Operating systems such as Mac OS 10.12 sierra (and higher), Windows 7 and above are supported.

It is free to download and use.
SD card formatter is easy to make use of. Below are steps you can take to format your SD card:
Step 1: Get your SD card connected to your system. This can be done using a card reader or any other device. Note that administrative privileges will be required to run the program.
Step 2: Just choose the SD card that needs to be formatted. In case the program can't detect your SD card automatically, the refresh button should be pressed. If the card is connected successfully, you will see a logo (blue).
Step 3: Select a format option. You can either choose between "Quick format" or "Overwrite format".
Step 4: After that, you can click on format and the process will begin.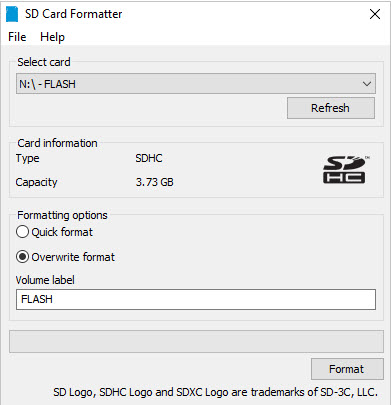 Cons:
Any memory card which has been encrypted by windows "BitLocker To Go" isn't supported.
Why Do You Need to Format SD Card in Windows?
Formatting an SD in windows is sometimes very necessary. This means that it is a process you may want to carry out in the nearest future due to some reasons. Some of them are:
Ensuring that there is full protection of your privacy.

It is an effective means through which any damaged drive can be repaired.

It can help in solving issues related to write-protected.

To create space for more files to be stored.

To remove virus that can harm your device.
How to Recover Data from Formatted SD Card?
When it comes to recovering data from SD that has been formatted, there are lots of tools that you can make use of. However, some of them may not meet your needs. This means you may end up damaging your drive or not recovering all of your data. This is why you need iMyFone AnyRecover which is a proven data recovery tool.
Top recovery tools are integrated with some of the best features to ensure that you don't have any problem recovering your data from a formatted SD card. AnyRecover has got all of such features and some of them are listed below.

1,000,000 + Downloads
Key Features of AnyRecover:
Data can be easily recovered from any type of device. These could be SD card, digital cameras, smartphones, external drives, USD flash drives, hard drives and more.
Apart from formatted data, any form of data loss can be recovered. These could be virus attack, damaged drive, mistakenly deleted data, lost partition and others.
Support recovering over 1000 types of files including audios, videos, emails, documents and so on.
100% safe data recovery and high recovery rate.
Compatible with all Windows and macOS versions, including the latest Windows 11.
AnyRecover is a easy-to-use tool without any tech skills required. To know how to use this program, you can refer to the complete guide here:
How to Recover Formatted SD Card Free: Complete Guide, Tips
Conclusion
Based on the above, it can be seen that the process of formatting SD card isn't difficult once you understand the most effective SD card formatter to make use of. Also, it is obvious that you can possibly recover files from an SD card which has been formatted with the right tool such as iMyFone AnyRecover.