SanDisk is one of the largest and most reliable manufacturers for flash memory products, including SD card, CF card, USB drive, etc. And all these products are widely used to store documents, photos, videos and many more kinds of data in a portable way, thus adding many conveniences to our everyday life.  Usually the data stored on SanDisk drive is secure, however, sometimes an error may occur and lead to data loss.
This post will help you solve SanDisk related problems and guide you to recover data from SanDisk on Mac easily.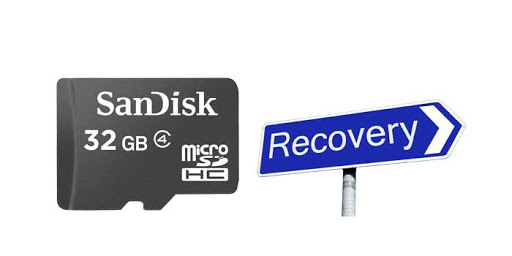 1
Frequent Occurring Scenarios for SanDisk Data Loss
Let's review some of the repeatedly occurring scenarios that cause SanDisk SD card/USB drive data loss, so you will learn to avoid these situations later.
Accidental Deletion: While trying to create a space over your SanDisk card, you may delete important files by mistake, which cannot be retrieved in the recycle bin.
Improper Ejection: Ejecting SanDisk drive while it is in the process of transferring data could lead to the corruption of all files on your drive.
File System Corruption: Files system allows users to save, edit, and delete files. However, when they get corrupted, the files saved on your SanDisk drive becomes inaccessible.
Virus Attack: Besides, malware attacks can also occur on an external storage device. This virus can affect all your files.
In situations like this, most Mac users are often worried and ask the question, can I recover data from SanDisk card on Mac? Yes, it is very much possible to get your data back. All you need is professional SanDisk recovery Mac software that helps you retrieve your lost data instantly. 
2
How to Perform SanDisk Data Recovery on Mac
To recover the deleted, formatted or lost files from SanDisk storage devices on Mac, you need a professional Mac SanDisk recovery software like AnyRecover, which helps you get back your deleted data quickly. iMyFone AnyRecover is a professional data recovery tool that allows you to recover over 1000 different types of files in minutes, and it provides a free scan and preview before recovery. AnyRecover for Mac supports from Mac OS X 10.9 to Mac OS X 10.15.

1,000,000 + Downloads
Key Features of AnyRecover SanDisk Data Recovery Tool
Recover All Types of Files: AnyRecover supports all types of data recovery that include email, videos, documents and photos among others.
Address Any Data Loss Scenario: This all-in-one data recovery software can be used in retrieving data lost due to different scenarios such as partition errors, system crash, corrupted devices, or emptied trash.
Recovers Data from All SanDisk Devices: AnyRecover works with Mac to recover data from all SanDisk devices like SD card, USB flash drive and others.
Quick and Easy to Use: Recovering your lost files from SanDisk storage devices in simple steps, and it won't take much time.
Detailed Step On How to Use this Mac SanDisk Recovery Software
1. Choose a SanDisk Device

Simply connect the SanDisk device you want to recover data from to your Mac. Then select it on the External Removable Devices tab, click Start.

2. Scan Your SanDisk Card

This step is very crucial, and that is why you must exercise a little patience when the scanning process commences, and ensure your device is adequately scanned before moving to the next step.

3. Preview and Recover

After scanning, locate the lost data from your scan result and preview. Then click Recover and choose a safe storage location on your Mac device.
3
Extra Info about SanDisk Storage Device
1

Common SanDisk Device Problems & Solutions

Although SanDisk is a reliable storage device, users sometimes encounter difficulties while using them. Some of these problems include. 

SanDisk card not recognized by the device

Sometimes, a Mac or camera might not recognize a SanDisk card installed into it due to the wrong file system format or a virus attack. To get through this, all you need is to simply format your SD card to FAT or use the built-in camera formatting program.

SanDisk card can't be formatted

After installing a SanDisk device into your device, it is possible to get a prompt like "The format did not complete successfully". In situations like this, you can use a disk detection program to find the reason and also fix this error.

Unable to write data into your SD card

Sometimes, when trying to write data into your SD card, you may find it's unable to do this. This could be due to write protection, and all files are read-only. To fix this, simply change the card state with a physical switch.
2

Tips to Prolong the Life of Your SanDisk Device

SanDisk plays an important role for all users. Therefore, it is vital to take all necessary steps at ensuring that they last for a long time. To prolong the life of your SanDisk device, here are some tips to follow.

To avoid shrinking your data recovery chances when a file gets missing, stop using the card, and try a recovery method.

Do not disconnect from the USB port while still in use and always eject before removing from your system.

Always use your computer to delete files from your SD card.

Once your card is full, avoid storing more files to avoid system errors.

Regularly backup your data and do not use two SanDisk card recovery software at the same time.

Ensure to unplug your drive from the computer or digital devices when not in use.

Never expose your SanDisk to harsh weather conditions and extreme temperatures.
Conclusion
Data loss on a Mac device occurs due to several reasons. However, the good news is that all Mac users can successfully recover their lost SanDisk data in real-time using a SanDisk recovery Mac software, and AnyRecover for Mac should be your go-to option among tools in the online market at the moment. This data recovery software has proven to be effective in helping Mac users recover all types of data quickly. In this article, you also learn tips to maintain your SanDisk devices well and solve the common problem related to SanDisk cards.