Western Digital hard drives have both high-performance and high-quality. Often abbreviated as WD HDD, the western hard drive is one of the most preferred backup drives.
Although the Western Digital hard drives have unquestionable quality, this does not mean that they are perfect. They are still susceptible to data loss. You have probably accessed this article when you are trying to find a method to recover Western Digital data. Let's take a look at the common causes of data loss on a Western Digital hard drive and the effective way to restore lost data on a WD external hard disk.
Part 1. Scenario You Need Western Digital Data Recovery
These are the common scenario for the data loss on a WD hard drive.
Human Error
One of the main reasons for hard disk data loss is a malfunction. We all make mistakes and it's inevitable. So when you accidentally delete files or power off your laptop, the first thing to do is not be panic.
Malware or Virus Attack
The web has too many shady people looking to infect your computer with viruses. If you use your Western Digital external hard drive on different computers, it may catch a virus from these computers. Viruses can corrupt your data or even delete it.
Power Outage
In the case of a power outage, your computer does not shut down properly. This can cause the loss of unsaved data and the corruption of the files you have already saved.
Formatted Drive
If you happen to format your Western Digital hard drive, you will lose the data you have on the drive.
Third-Party Applications Reasons
While using third-party applications, some of them are not rigorous enough, bugs or errors may affect your data as well.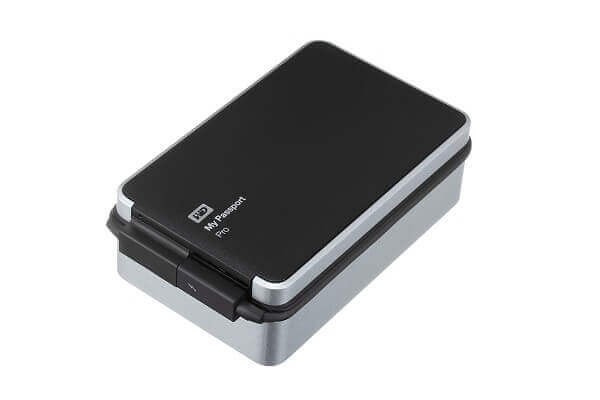 Part 2. How Do I Recover Lost/Deleted Data on a WD Passport External Hard Disk
Since restoring the lost data from a Western Digital hard drive is possible, you may think "how can I recover the lost data from a WD external hard drive". Actually, to perform a Western Digital data recovery and get all your data back, you need to use a high-quality data recovery tool. There are numerous data recovery tools that promise great results and even claim to be free. Most of them often end up disappointing their users. The best tool that won't disappoint you is AnyRecover. The features this tool offers include:

1,000,000 + Downloads
AnyRecover Can Easily Help You Recover Your Western Digital Data
It allows you to retrieve 8 files for free.

AnyRecover is extremely easy to use. You get to recover your lost data on WD passport external hard drive quickly within a few steps.

The tool provides over 1000 file formats of data recovery: documents, emails, photos, and more.

All storage media is supported: mobile phones, camcorders, memory cards, external hard drives, etc.

AnyRecover can help recover the data lost in different situations: accidental deletion, power outage, virus attack, device formatting, etc.

Works well on various Windows (including the latest Windows 11) and Mac OS.
We will show you the easy instructions to recover your WD passport external hard disk data:
Step  1: Connect your Western Digital hard drive to the computer. Launch AnyRecover on your computer, choose a proper location where your data was lost and then click "Start".
Step 2: Then a quick but deep scan will begin. You can pause, resume or stop the process anytime you want.
Step 3: All your deleted files will be showed on the program. If you want to preview the files, you can double click or click the eye icon. Then tap "Recover" to retrieve the selected files.
Note:  If the data on your hard drive has been overwritten, there is no guarantee the data can be recovered. The lost data can be overwritten if you continue using the storage device after losing the data. Please be aware that if you discover your data may have a chance to get lost, stop using your hard drive immediately so that you can retrieve the data with higher possibilities.
Part 3. Useful Tips to Protect Your Western Digital Externa Hard Drive
Do Not Add New Data
This tip is to raise the recovery rate of your lost data after you have lost it. Adding new data will overwrite the lost data and hence making it impossible to recover.
Use an Anti-Virus Software
Viruses do corrupt files on an external hard drive. Some will even delete the data. When you use an antivirus, you will make sure that the viruses have no chance of affecting your external hard drive. Be sure to keep your antivirus updated. People who create computer viruses will find and take advantage of loopholes in older antivirus programs to infect your computer.
Eject WD Hard Drive Using the "Safe Remove" Option
To keep your data safe, it is recommended you eject your external hard drive using the "safe remove" option. This will help you avoid corrupting the files on your drive.
Save the Files to Another Hard Disk or Storage Device After Recovery
When performing your Western Digital data recovery, avoid storing the data on the same drive you are recovering it from. This will help you avoid overwriting your currently available data.
Conclusion
Western Digital data recovery is easy when you have the right data recovery tool. The best tool to use is AnyRecover. The tool is not just easy to use, it is also quick. AnyRecover has the highest data recovery rate. It is capable to recover data irrespective of how you lost them. You can recover all the data you lost on your Western Digital hard drive. The tool is capable of supporting more than 1000 file types. AnyRecover does not overwrite the data on your Western Digital hard drive during the recovery process. This ensures that your data is 100% safe. Since you can try AnyRecover before paying for it, you only pay for the tool after confirming that it works.