If you found that you accidentally formatted your USB device and lost all your files, which is terrible, and now you want the deleted files back but how do you do this? Fortunately, you can recover data from a formatted USB device and there are simple ways to do this.
To recover data from a formatted USB device, you can use any of these three ways, using a data recovery software, CMD or backup file.
1
Is It Possible to Recover Data from Formatted USB Device?
Yes, you can recover deleted files from USB flash drive because once the drive is connected to a computer, you can write or read data on it. And when you write a file on a USB drive, your operating system stores the file in two parts. So when the file gets deleted, the operating system deletes just one part, the actual file in the File Allocation Table is deleted but the file content is still hidden somewhere and you can recover this file. But make sure you don't store any other file on the drive until you recover your deleted files.
2
Top 3 Solutions to Recover Data from Formatted USB Device
1. Using iMyFone AnyRecover Data Recovery Software
AnyRecover is a data recovery software built to recover lost data from a variety of storage devices. It's the easiest and smartest way to recover lost files from a formatted USB device. And in just a few simple steps you can get back your lost files using this software.

1,000,000 + Downloads
Key Features of AnyRecover
Recover all Scenarios: It can easily recover them just in a few minutes for a variety of data loss situations.

Recover all data types: It is easy to recover quickly all kinds of data formats e.g., documents, photos, videos, audios, etc.

Recover from all storage devices: AnyRecover can recover data from internal hard discs, external drives, memory cards, etc.

Recover corrupted or damaged partitions: This recovering tool will help recover the whole partition without causing harm or damage to the data or information.

Free trial before purchase: This trial version offers you the possibility to preview all lost files freely without paying any dime.

Compatible with both Windows and Mac computers: Even the newest Windows 11 is supported.
Steps to Recover Formatted USB Device:
Step 1: Start AnyRecover application, select the external USB device which you want to recover data from.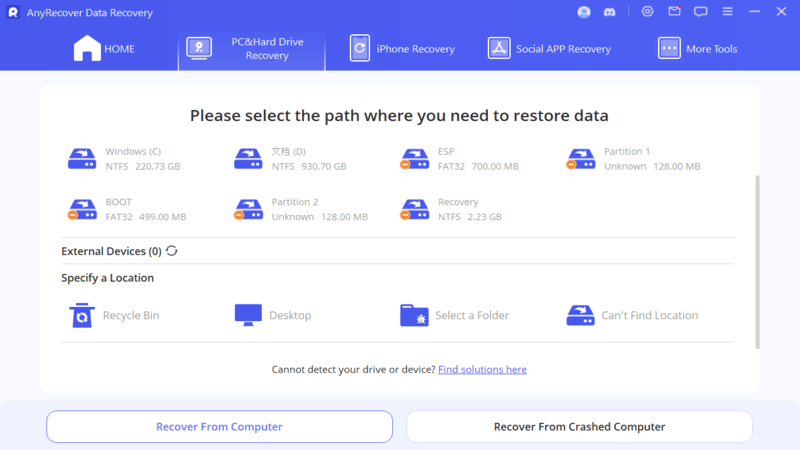 Step 2: After clicking the "Start" menu, the program will commence an all-round scan on the USB device.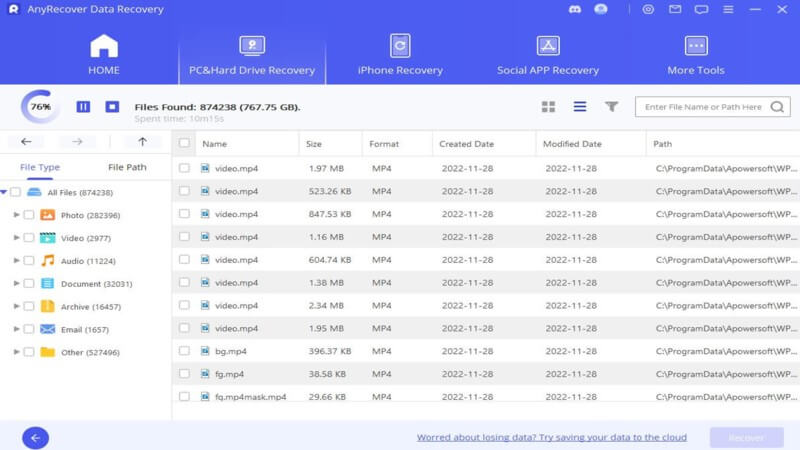 Step 3: You can preview the scanned files by double-clicking each and select the needed ones to recover, then hit "Recover" button to get back your lost data.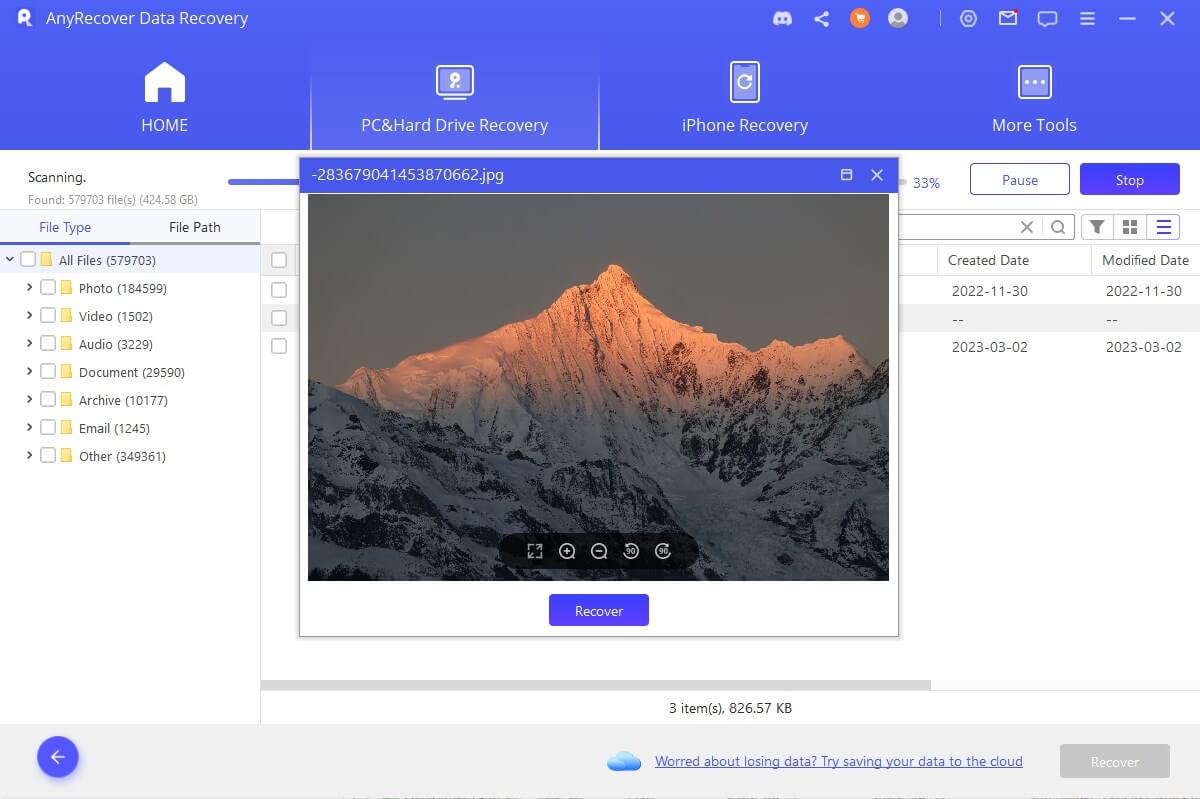 Note: Please do not save the data to the USB drive in order to avoid data overwritten.
2. Recover Backup Files
If the files stored on your USB device have backup then you can recover them using this method but if not then you should use the above method. Backing up files regularly is good practice and you can use a free backup software, online or cloud storage like Google Drive.
Cons:
This method of recovering deleted files is very reliable but it only works if you have previously backed up your files.
3. Recover Files from Formatted USB Device Using CMD
CMD is an integrated management application in Windows, and it can be used to issue various commands. You can also use CMD to recover lost data from a USB device, hard drive or SD Card.
To recover lost files with CMD, follow the few simple steps below:
Step 1. Connect the USB device to your computer.
Step 2. Right-click on the Windows icon and click the "Search" barType in: command prompt to find CMD.
Step 3. Right-click on Command Prompt, and select "Run as administrator".
Step 4. Click "Yes" to run Command Prompt as administrator.
Step 5. Type in: chkdsk F: /f in Command Prompt and click "Enter." (F should be the drive letter of the USB drive or storage device where you lost data files).
Step 6. Type in: Y and click "Enter".
Step 7. Type in: F and click "Enter" again.
Step 8. Finally type in : F:\>attrib -h -r -s /s /d *.* and click Enter (Remember that F is the drive letter of the storage device where you lost data files).
If you do this properly you will successfully recover all your lost files and you can save them in a new folder on your storage device.
Cons:
CMD is very complicated and you have to be very careful because any mistake can mean that your files will be permanently lost.
3
Tips and Notes to Remember for Formatted USB Devices Recovery
Save all the needed and recovered files in another drive, USB or different partition from the original USB device.
Do not write new data or transfer old data on information to the formatted USB device because it may overwrite other data.
Avoid formatting your USB device many times to avoid damage to your USB device or complete loss of data memory.
Always have a back up of your relevant data for ease of retrieval in the event of mistakenly formatted USB device that has been overwritten.
Conclusion:
Recovering lost files from a formatted USB drive is no impossible and with a data recovery software anyone can easily get back lost data.
AnyRecover
is your go-to software for recovering data lost in many different ways with just 3 simple steps. With this software you no longer have to panic when you accidentally delete a file or format a storage device.