PDF, short for Portable File Format, is developed by Adobe and soon becomes the most popular document format in the world. Adobe Reader family includes Adobe Acrobat Reader DC and Acrobat Pro DC,  which are all widely used to create and view PDF files. These programs are highly sophisticated as they are backed by the professionalism of Adobe. However, it does not mean that they don't encounter an issue.  
Due to file corruption or program malfunction, Adobe Reader not responding is a common issue faced by users. This article will deal with the solutions that can be applied to fix Acrobat Reader not responding error in Windows 11/10/8/7.
Part 1. How to Fix Adobe Acrobat Reader Not Responding
Before changing any system settings to resolve Acrobat Reader not responding error, first check if the PDF file is corrupted by opening it with another PDF application.  However, if the issue persists with all files, there might be something wrong with the Adobe program itself. This section will provide detailed instructions to get the problem resolved with ease.
1. Check for Updates
Normally Adobe Acrobat Reader will remind you when there is an available update or it will update automatically when connected to the Internet. But sometimes due to bad connectivity or auto-updates turned off, the program is not updated and you get Adobe Acrobat Reader not responding error. In such a case, you need to manually download the updates to get the program fixed. The steps are described below.
1. Launch the Adobe Reader program, head over to Help > Check for Updates to start the process.

2. If you get the dialogue box that says an update is available, click Download and Install to proceed with the process.

3. Close the Acrobat Reader once the download is completed, and click on the newly downloaded .exe file to install the latest version of Adobe Reader.

4. Once the latest update is installed successfully, test if the Adobe Reader works well now.
2. Run Adobe Program as Administrator
If the Adobe Reader not responding issue still exists after installing the latest update, the reason might be that you don't have full rights to the program. The easy way out is to run the program as an admin user, which can easily be achieved with the process below.
Follow the path "C:\Program Files (x86)\Adobe\Acrobat Reader DC\Reader" to access the .exe file of the program.
To resolve the Adobe Acrobat Reader DC not responding error, right-click the .exe file and select Run as Administrator.

Accept it if you are prompted to accept User Account Control.
3. Run Adobe Reader in Compatibility Mode
Normally the second method will help some users resolve the Acrobat not responding issue, but if that method doesn't work in your case, try to launch Adobe Reader in compatibility mode with following steps:
1. Head over to  C:\Program Files (x86)\Adobe\Acrobat Reader DC\Reader, where the exe file stays.

2. Right click the exe file to access the menu, and select Properties > Compatibility.

3. On the next window check "Run this program in Compatibility Mode for:", and select the version of Windows you are working on.
4. Disable Protected Mode
Protection mode is enabled to protect the PDF and all its contents so that there is no unauthorized copying or access to the data.
It is simple to follow the process and does not require any complex procedures. Head over to Edit > Preferences once the Adobe Reader has been launched. Just uncheck the option Enable Protected Mode at Startup box and you are good to go. You are very likely to resolve Adobe PDF not responding issue. By this method.
Note
Disabling Protected Mode is for problem-solving only, remember to turn on this feature later.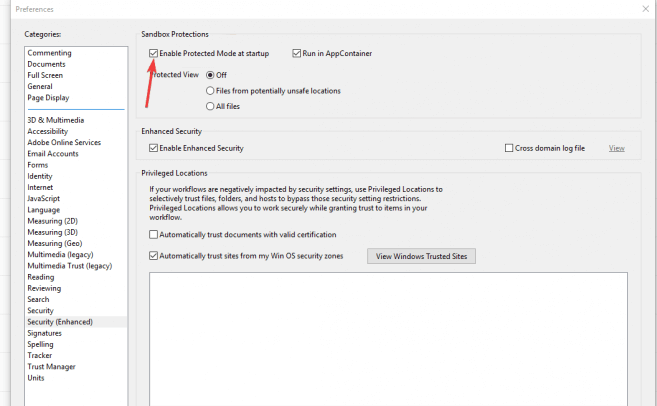 Part 2. FAQs to Learn More about Adobe Reader
1. What's the difference between Acrobat Reader and Acrobat Pro DC?
Put it simply, Acrobat Reader is free to use while Acrobat Pro DC is a paid version with more functionalities like PDF conversion to Word/Excel, password protection and more.
2. What is Protected Mode?
To save the document from malicious attacks, it is a sandboxing technology that has been added to the Adobe Reader DC. It helps to protect the document from sensitive info extraction.
3. What can I do with Adobe Acrobat Reader DC?
With this program, you can compare PDFs, convert scanned documents to PDF, edit PDF on a mobile phone, and fix your PDFs as per the ISO standards.
4. Can an organization distribute Acrobat Reader DC?
The Adobe Reader mobile application is free to use and also available for volume distribution. If an organization wants to distribute the Acrobat Reader DC over local network then it requires a distribution license agreement.
Bonus: How to Recover Deleted/Unsaved Adobe PDF Files on Windows 11
Due to Adobe Reader system error or accidental deletion, your PDF files containing important information may get lost/unsaved, when a smart data recovery tool like iMyFone AnyRecover will save you from trouble.
iMyFone AnyRecover is one of the best tools that you can get to recover deleted/unsaved PDF files with ease and perfection. It is a highly professional data recovery program that ensures a high recovery rate. The iMyFone AnyRecover software is reliable and intuitive to use regardless of the type of file you want to recover.

Features of iMyFone AnyRecover:
Recover over 1000 file types like PDF documents, photos, eBooks, audio, videos, and archives with this program.
Restore lost/deleted files from all types of storage such as internal hard drives, memory cards, USB flash drives, camcorders, digital cameras, and the list goes on.
No data is deleted or overwritten by this program, and your privacy is protected, so it is 100% safe to use.
Whatever the reason for data loss you can recover it with perfection. The most common reasons are accidental deletion, virus/malware attack, system crash, and OS reinstallation.
Conclusion
Adobe Reader not responding issue is not uncommon, but with the solutions above, there is a good chance to solve the issue. Besides, in case the PDF files are lost due to the Adobe software error, you can take advantage of iMyFone AnyRecover. The program can recover any document that has been deleted for any reason. From hard drive crash to malware attack it performs perfectly to recover your files.
Related Articles: