A common mistake most of us might make is that we often delete our downloads unintentionally. There are multiple scenarios that can result in this mistake. But it does not mean that the downloaded files are gone forever. In this digital era, every digital problem has a solution. There are multiple methods available that can quickly help you recover deleted downloads on Windows 11 or Mac computers.
In this article, we are going to discuss all the possible approaches with their steps that you can use to retrieve your deleted files in download folder on Chrome, Firefox, and IE browsers.
Recover Deleted Downloads Files Easily!
Anyrecover is highly recommended for recovering deleted downloads files. It works on both Windows and Mac, recovers various file types, offers a quick and deep scan option, and has a user-friendly interface with a preview feature.
Part 1. Is It Possible to Recover Deleted/Lost Downloads on Win11/MacOS?
Yes, you can absolutely recover deleted, lost, or removed downloaded files from your Windows or Mac computer.
When a downloaded file gets deleted, it is not actually erased from the computer even if you have removed it from the recycle bin. It continues to exist on the hard drive but keeps invisible. That's why there's a chance to recover it.
Recovering a deleted file depends on when the file was deleted. Because when you delete a file, it is actually waiting to be overwritten by else data. If you install any new file on the computer, it will overwrite the deleted file and you'll lose it permanently.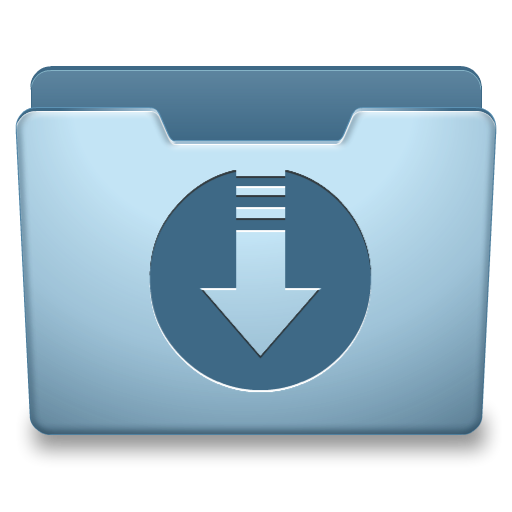 Part 2. How to Recover Deleted Downloads on Win11/MacOS with AnyRecover
There could be many reasons for the deletion of downloaded files on Windows or Mac computer, such as virus attacks, hard disk crashes, unexpected formats, etc. All these can result in the loss of important data that is of vital importance to you.If you have deleted some downloaded files by mistake, you need to act quickly. Because the sooner you try to recover the file, the more chances you have of recovering that file.
As soon as you find the downloads disappeared, the first method that comes into your mind is going to check your recycle bin on PC. But what if the downloaded files have been permanently erased? How can you get them back? In this case, you can use data recovery software to undelete files. No matter which browser the downloads get deleted from, AnyRecover is the best software for you. It makes the process of data recovery easier.

2,061,704 Downloads
AnyRecover will help you recover deleted downloads easily
You can recover 1000+ kinds of downloaded files like documents, images, audio, video, etc.

It supports recovering deleted downloads on PC in various situations.

Easy to operate, quickly get back the lost downloads no matter on Windows (Win 11 supported) or Mac computer.

Free to scan and preview, you can download to scan for your lost downloads first.
Steps to retrieve deleted downloads on computer using AnyRecover
Step 1: Open AnyRecover program and choose your required mode. To recover deleted files, choose the "Deleted Files Recovery" mode.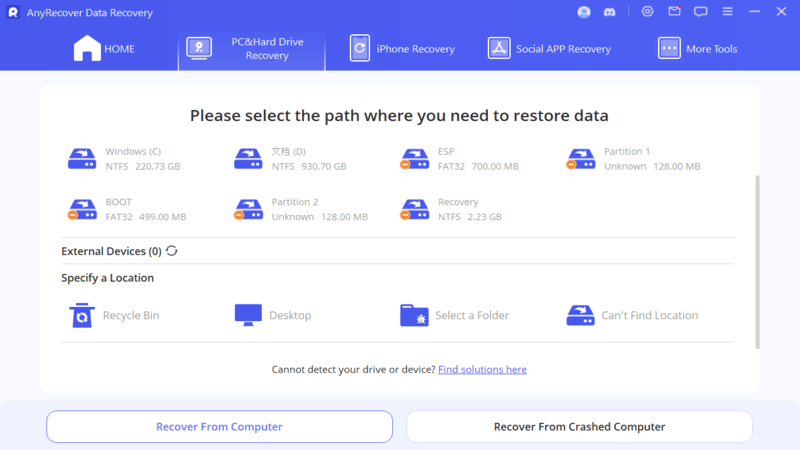 Step 2: Now you have to select the location from where you want to recover files.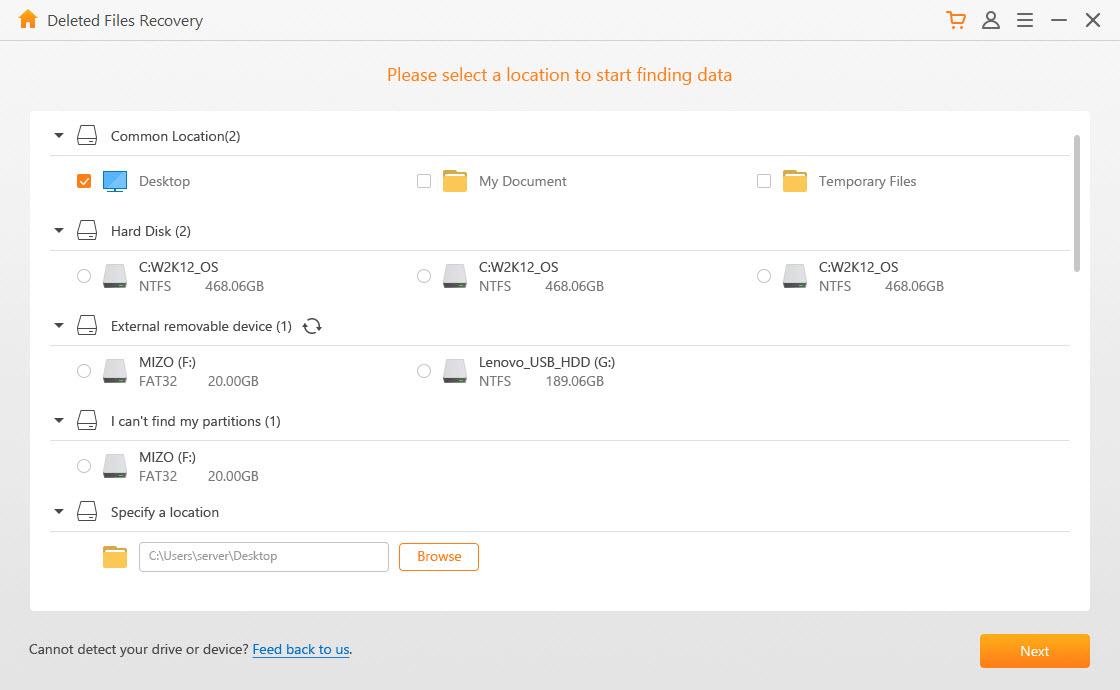 Step 3: After you have specified the path select the file type and format you want to recover, then click "Scan".When the files are found you can preview each file and then click "Recover".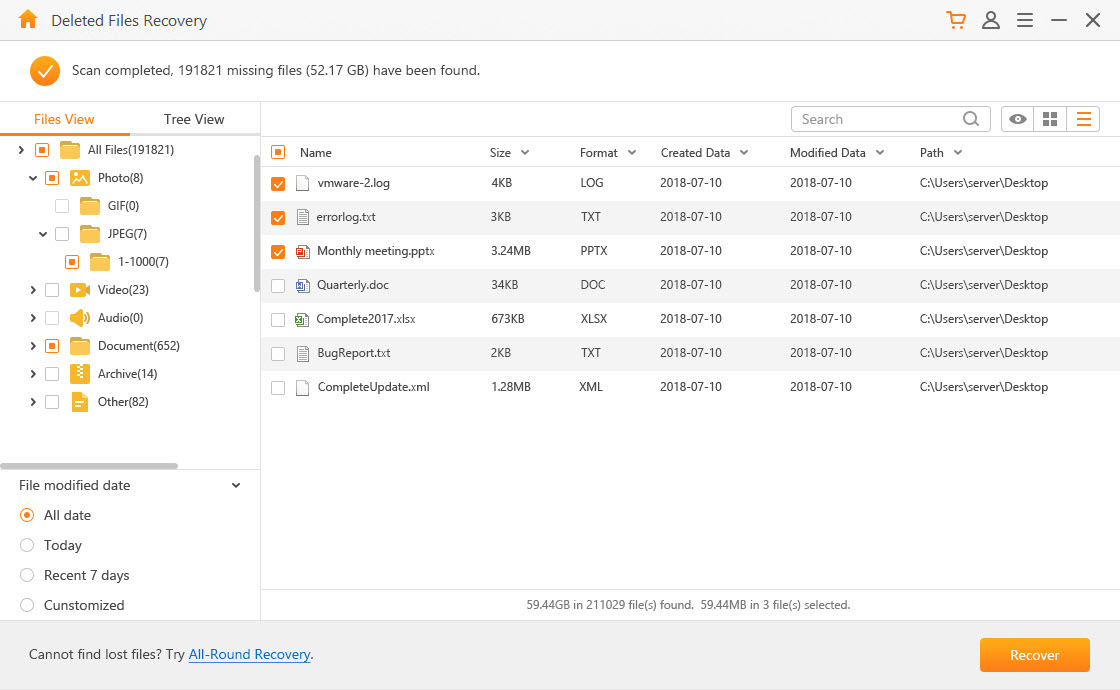 Part 3. How to Restore Deleted Downloads on Chrome
On the assumption that you have lost the downloads on the Chrome browser of PC and want to get them back for free, then you can try the three methods below. You can also resume the canceled downloads through method 2.
Method 1: Recover Deletetd Files from Recycle Bin
You can easily recover deleted downloads from Recycle Bin. All your chrome downloads are saved into a folder in any of the local disks. So, when any file is deleted it is gone into the Recycle Bin. You can recover deleted download from Recycle Bin by following these 3 simple steps:
First, open Recycle Bin.

Look for the deleted downloads you want to restore.

If the file you want to restore is there just right-click on it and then click "Restore".
Method 2: Restore Deleted Downloads Manually
If you have accidentally deleted your chrome downloads you can restore them manually. You just need to follow these 4 steps:
Open Google Chrome on your computer.

Type chrome://downloads on the address bar and press enter.

Once the download page is open you just have to scroll down and find the deleted or removed file you want to recover. It can be a document, video, image, etc. If there are too many files, you can also search for the required file.

Now, below the deleted or removed file name, there will be a link for that file, you can click the link to re-download the file again.

Method 3: CTRL+Z
Google Chrome allows you to undo any deletion of the file. This is a very simple and easy method to recover deleted chrome downloads. You just have to follow these 3 steps:
First, you need to open the download folder on your computer.

Press CTRL+Z to undo or recover deleted downloads.

If you have more than one file to recover, you need to continue pressing CTRL+Z until you have all the deleted files recovered.
Part 4. How to Retrieve Deleted Downloads on Firefox
Firefox has made it quite simple for its users to recover downloads by pressing just a few clicks. The magic happens in the Firefox download history section, where all the details of files downloaded through Firefox are shown. Following are the steps you have to follow to restore the deleted files using the Firefox download history section:
Step 1. Open the Firefox browser and click on the download icon from the right-side menu bar.

Step 2. Click "Show All Downloads".
Step 3. If you have a large download history that will take time to find the right file, then you should use the search bar to find the right file. Once you have found the file, you will see a message below it saying "File moved or missing".
Step 4. Right-click on that deleted file and click on the option "Go To Download Page".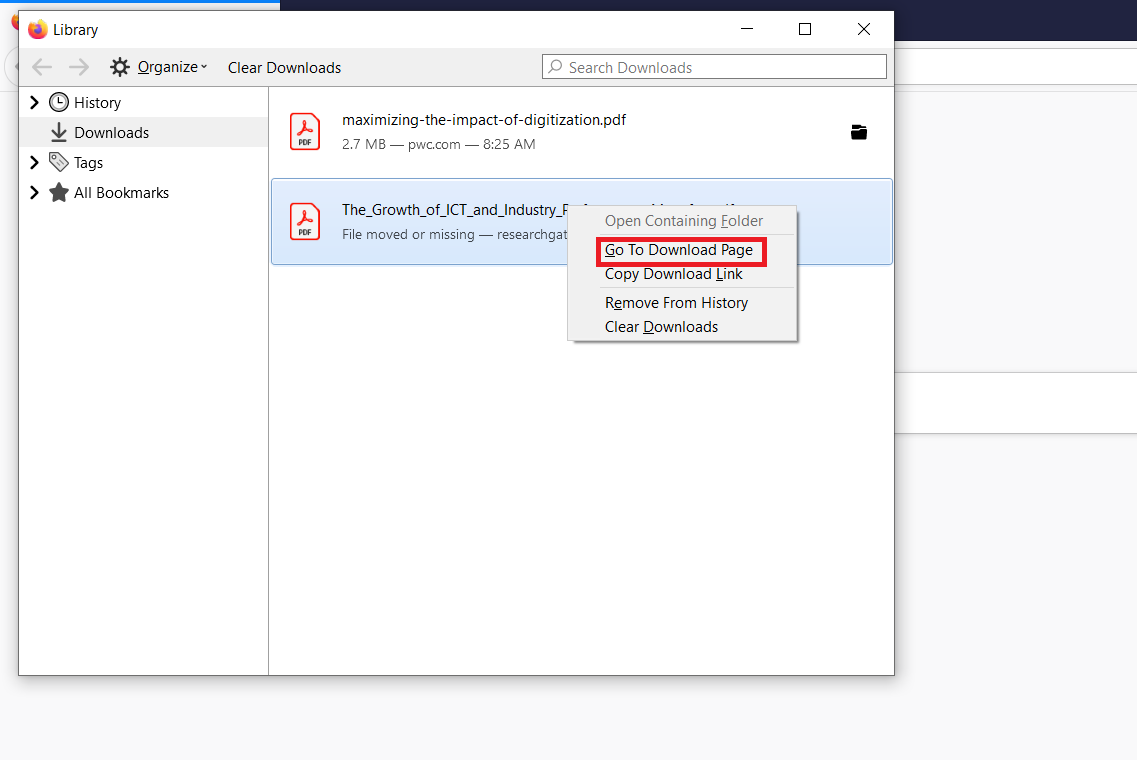 Step 5. It will take you back to exactly the same webpage from where you have downloaded the file. From there, you can download the file again.
Note
On the assumption that you don't find the deleted file in the download history of Firefox, then you can also get back your deleted file from the computer "Recycle Bin".
Part 5. How to Recover Deleted Downloads on Internet Explorer on Windows 11
If your computer operates on Windows 11/10 or earlier version, you may wonder if the recovery method applies to Internet Explorer as well. Luckily, yes! Like Chrome and Firefox, recovering deleted downloads from Internet Explorer is also simple. If you are sure that the deleted downloads were downloaded using Internet Explorer, then follow the below steps to recover Internet Explorer downloads:
Step 1. Open Internet Explorer and click on the three-dot icon on the top right corner to open the menu bar.
Step 2. From the vertical menu bar, click "Downloads". The downloads history section will pop up in front of you.
Step 3. You can filter the list by mentioning the type of file, such as document, picture, video, etc. If you still find it difficult to find the right one, you can enter the file name in the search bar.
Step 4. Once you find the deleted file, you will see that Internet Explorer has also declared it "Removed".
Step 5. Below the file name, you will see the weblink from where the file was downloaded. You just have to click that link and Internet Explorer will take you to the same download page. From there, you can simply download the file again.

Note
Again, the same as retrieving the downloads from Firefox and Google Chrome, you can do the same steps to get back the downloaded files of IE browser from Recycle Bin.
Conclusion:
The above-listed methods in Part 3 for the recovery of deleted downloads in Chrome, Firefox, and Internet Explorer are effective only if you have a download history containing that deleted download link. But if you don't have the previous download history and the file is also deleted from Recycle Bin, AnyRecover will come to the rescue.
Besides that, it offers a user-friendly interface and other noticeable features, so it is a wiser choice to consider AnyRecover as your first preference to recover deleted files from download folders on your Windows 11 or Mac computer.
Start a deep scan for free right now!