SD card is a great way to store additional files on your device. This is especially important when your system or mobile device is limited in terms of storage space. However, there are times you may not be able to access the files in your SD card. This can be a real nightmare most especially once you haven't experienced such a challenge in the past. The major aim of this post is to show you how to handle issues related to hidden files on SD card. You will learn how to unhide or recover these files.
Part 1: Causes for Loss of Hidden Files on SD Card
The problem of Hidden Files SD Card can be as a result of various factors. Some of these will be highlighted below.
When your SD card has been infected with virus/malware.
When the SD card is formatted accidentally.
When the files get deleted accidentally.
When the SD card starts malfunctioning due to abrupt removal from the system during the process of file sharing.
When the SD card is of low quality.
Part 2: How to Show Hidden Files on SD Card
After knowing why SD card doesn't show any files or folders, we will show you how to show hidden files on SD card. Changing File Explorer settings, using CMD and a third-party data recovery software are helpful for you to easily find and recover hidden files on your SD memory card.
1

Change Settings in File Explorer

Although there are various ways you can make your files show on SD card, changing File Explorer settings seems to be one of the most effective. Below are some of the steps to make it work.

Step 1: Get the memory card or SD card connected to your system.

Step 2: Open Windows Explorer, go to Tools > Folder options > View Tab.

Step 3: "Show hidden files, folders & drives" should be checked. If there is an option which says "Hide protected operating system", such should be unchecked.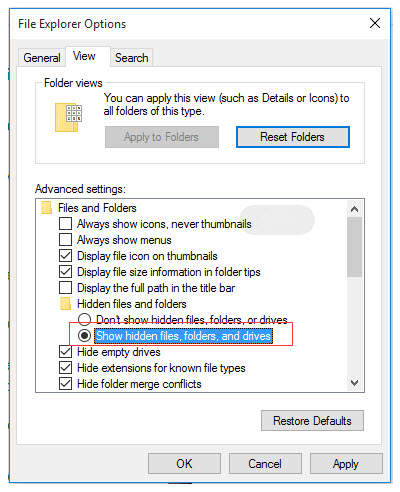 Step 4: OK should be clicked on for all changes to be saved.
2

Unhide Files from SD Card by Using CMD

Another method that you can use in showing files which are hidden in your SD card is CMD. Below are the steps you can follow:

Step 1: The memory card should be connected to your PC. This can be done through a card reader.

Step 2: The disk colon's name should be noted down. For instance, if your memory card happens to be Drive "F", ensure to get "F": typed into the command.

Step 3: Run command.

Step 4: In case you happen to be making use of Windows XP, Start > Run should be clicked on. cmd should be typed after which you will hit the Enter button on your keyboard.

For those using Windows Vista, 10, 8, or 7, Windows + R buttons should be pressed together. Get cmd typed in the run box and hit your Enter button.

Step 5: Get the following command typed in: attrib -h -s -r /s /d *.* or attrib -s -h /s /d *.*

Please note that there is space after every letter.

Step 6: Open such SD card and you will see all the hidden files can now be accessed.
3

Assign New Driver Letter

Another method that you can devise in order to get your hidden files accessed in an SD card is assigning of new drive letter. This may sound quite techie but it can still be easily done once you understand how to go about the process.

Below are some of the steps to get this done:

Step 1: RUN DIALOGUE BOX will need to be opened. This can be done through Win + R keys. After this, MSC should be pressed.

Step 2: Disk Management Window should be opened. This can be done by pressing OK.

Step 3: Get the memory card right clicked on.

Step 4: At this point locate the option which says Change Drive Letter and Paths. Ensure to apply the changes and click on OK.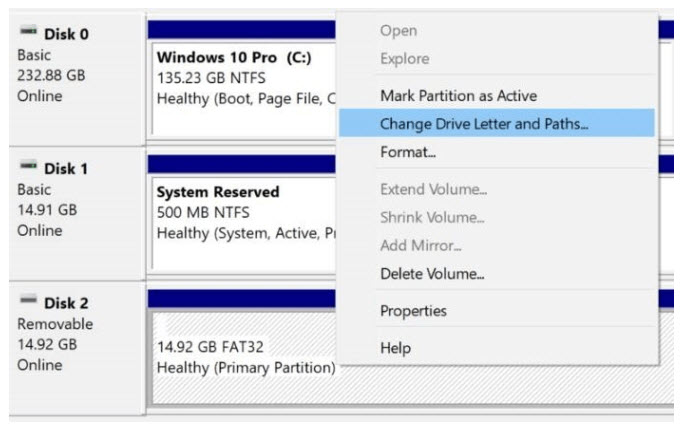 Step 5: Restart such system and get the card connected again.
Part 3: How to Recover Hidden Files on SD Card
Although the above methods work effectively, there are times when you may not find your hidden files even after following the instructions outlined. This is where you will need a more powerful tool like AnyRecover to help get back your files. This is one of the best tools around when it comes to recovering files and you will soon find out why.
iMyFone AnyRecover is simply one of the best file recovery tools that you can start making use of today. This is because of its features which are an upgrade of what most recovery tools have to offer. Some of them are: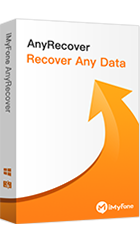 1,000,000 + Downloads
Features of iMyFone AnyRecover:        
Any kind of lost files can be recovered easily. These could be photos, videos, documents, songs, audio files and more.            
No matter they were deleted one time ago or hidden somewhere without a trace, it can be recovered.
It is compatible with various devices like SD card, memory card, camcorder, digital camera, smartphones, PC, and more.
Support various brands of SD cards, such as Sandisk, Lexar, Transcend, Sony, Toshiba, Kingston, etc.
Compatible with both Windows and Mac operating systems.
Follow the steps below to recover your hidden files from an SD card through AnyRecover:
Step 1. Download the tool and have it installed on your PC. After that, get it launched, connect the SD card to your computer. Select the SD card from which you want to recover the hidden files and click Start button to begin the scanning process.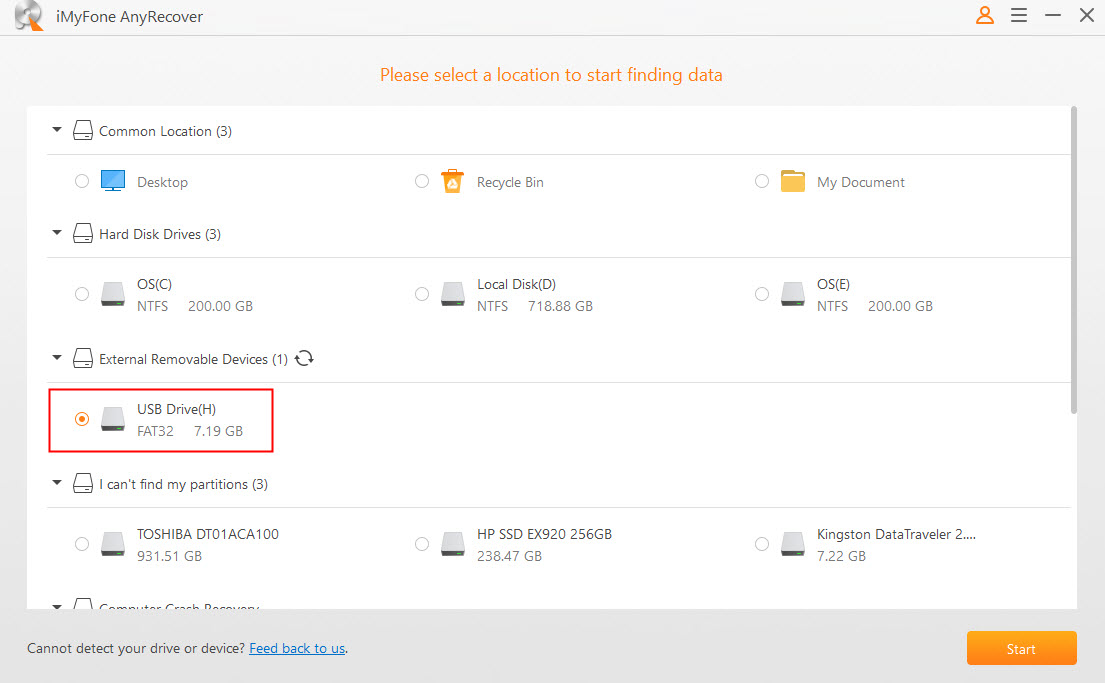 Step 2. AnyRecover will begin to scan your selected SD card. It will take some time.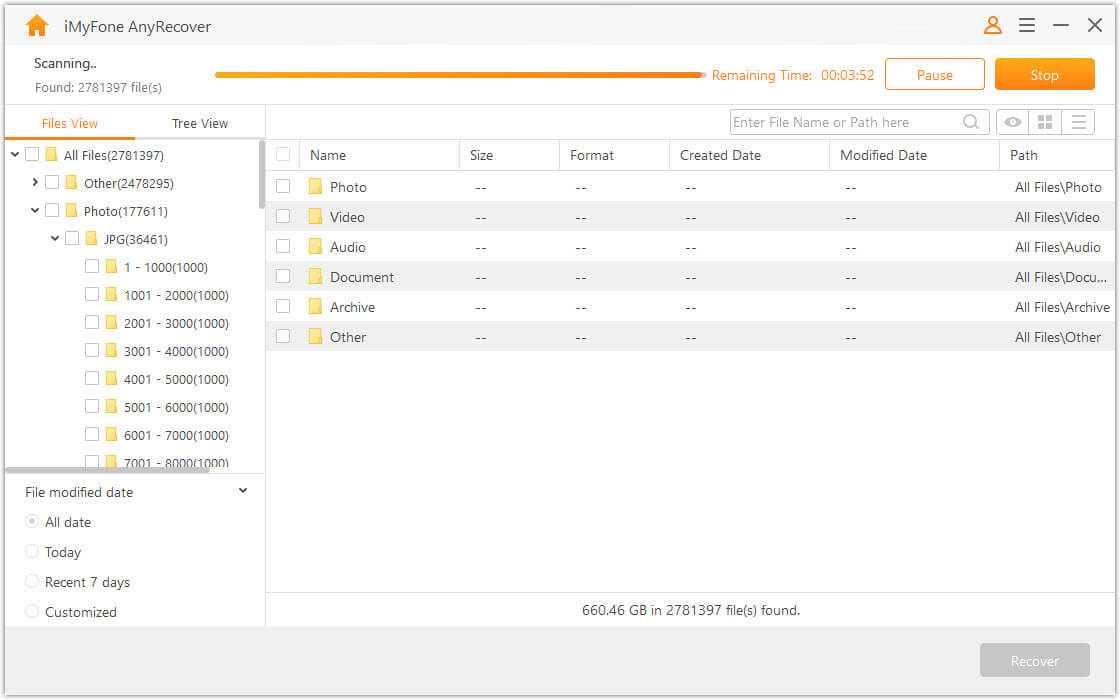 Step 3. When the scanning process is completed, various files will be displayed. You can double-click to preview the files before recovery. Select the hidden files you want to recover from the SD card and click the Recover button to start recovery.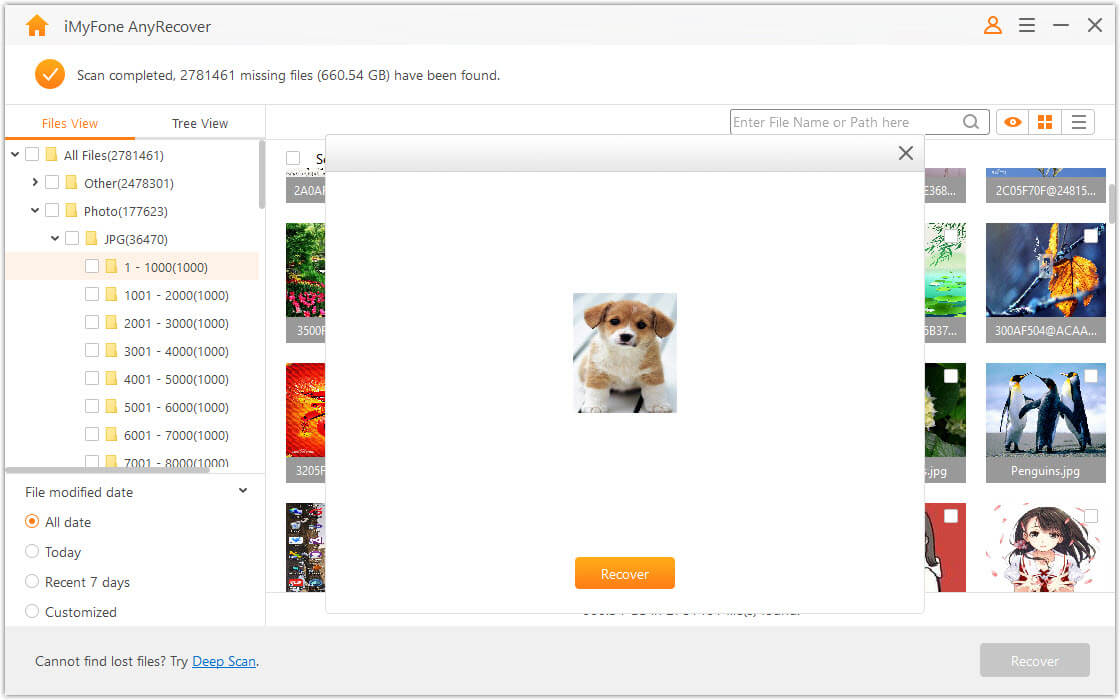 Conclusion
The problem of hidden files SD card can be easily resolved in lots of ways. It is all about choosing the method that you are comfortable with. However, the most effective is the use of iMyFone AnyRecover which can ensure that all your lost files are recovered without stress.