With hasleo BitLocker anywhere for mac, you will get the functionality of encrypting your storage devices and computer drives. In addition, this software allows you to decrypt BitLocker drives. You will be able to change the password of encrypted devices, mount or unmount encrypted drives, open, read-write, bit-locked devices in Mac OS.
Choosing a reliable BitLocker software can be a daunting task, especially if you are getting started. However, in this article, we are going to do a comparison and in-depth review to help easily choose BitLocker software.
1
Hasleo BitLocker Anywhere for Mac in-Depth Review
Hasleo BitLocker Anywhere for Mac is a multi-functionality software that offers a solution for both Mac OS and Windows OS drive and encryption. With this software, it is easy for you to encrypt drives for an added layer of security and privacy of your data.
Hasleo BitLocker Anywhere for Mac is a big name in the drive encryption industry. The following is an in-depth review of this software, starting with its pros and cons.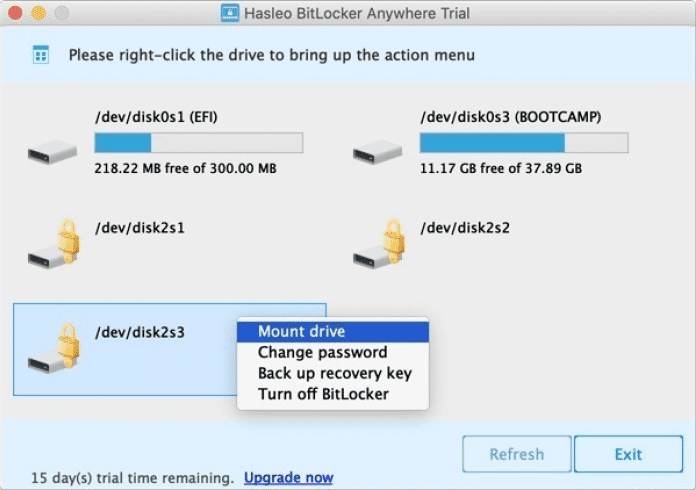 1

Pros and Cons of Hasleo BitLocker Anywhere For Mac
Pros

Cons

Hasleo BitLocker Anywhere for Mac is easy to use for both technicians and end-users. Everything from installing setting up and running the software is very simple. This allows seamless device encryption.

The software is efficient. The best thing about it is that it uses fewer computer resources and therefore reduces the chances of lagging of a computer during device encryption.

It is 100% effective. We can say that the device encryption using the software is 100% accurate, and this makes you protect your data from intrusion or breach.

Device encryption can take longer, especially if you have a large capacity drive.

You need to make sure that you don't lose the recovery key failure to which you may never be able to access and unlock your drives.

For computers with low specs, there might be performance issues; however, it outweighs the benefits of securing your data.
2

Hasleo BitLocker Anywhere For Mac Performance

Performance is one of the main considerations when choosing a drive encryption software. This software offers excellent performance in Mac OS. It provides great functionalities such as encrypting and decrypting BitLocker devices and allows change of password for encrypted devices.

The software has displayed excellent performance and is widely used by most technicians as well as computer users. The regular update of this BitLocker software gives it an incredible performance on Mac OS operating systems. This makes it to be one of the most preferred device encryption software.
3

Hasleo BitLocker Anywhere For Mac Licensing Price

Cost is an important factor to consider when choosing a device encryption software. With just $19.98, you can get a fulltime license for this software and enjoy all its features. The tool is lightweight and is just 15.77MB download size. This makes it to be affordable and easily accessible BitLocker software.
2
Better Alternative to Hasleo BitLocker Anywhere for Mac - iMyFone BitLockerGoMac
As technology advances, more and more advanced BitLocker technology and tools are being developed. One such software is iMyFone BitLockerGoMac, which offers a more advanced and speedy drive encryption functionality. The following are the features of BitLockerGoMac, the best alternative to Hasleo BitLocker Anywhere for Mac.
Features of iMyFone BitlockerGoMac:
Easy to use the BitLocker tool for Mac that allows users to read/write, encrypt, decrypt, and add a password in device encryption. It also works seamlessly when one is importing the recovery key file.
iMyFone BitLockerGoMac supports a variety of Mac OS versions. These include Catalina 10.15/10.14/10.13/10.12 and Mac OS X 10.11/10.10.
The most interesting thing about this software is that it is compatible with various Mac devices such as Mac, Mac Mini, MacBook, Mac Pro, iMac, iMac Pro, MacBook Air, and MacBook Pro.
The device is also compatible with any storage devices you might be having. It works perfectly with Flash Drive, USB Drive, External Hard Disk, SSDs, Memory Sticks, Thumb Drives, Pen Drives, and many more.
With the iMyFone BitLockerGoMac tool, after using the mount function, you can easily unmount it and will not appear in the file directory on Mac; this heightens the safety of your data.
How to Use the Better Alternative to Hasleo BitLocker Anywhere for Mac - iMyFone BitLockerGoMac:
Step 1: Download, install & launch BitLockerGoMac on Mac. Then connect a BitLocker encrypted drive to your Mac.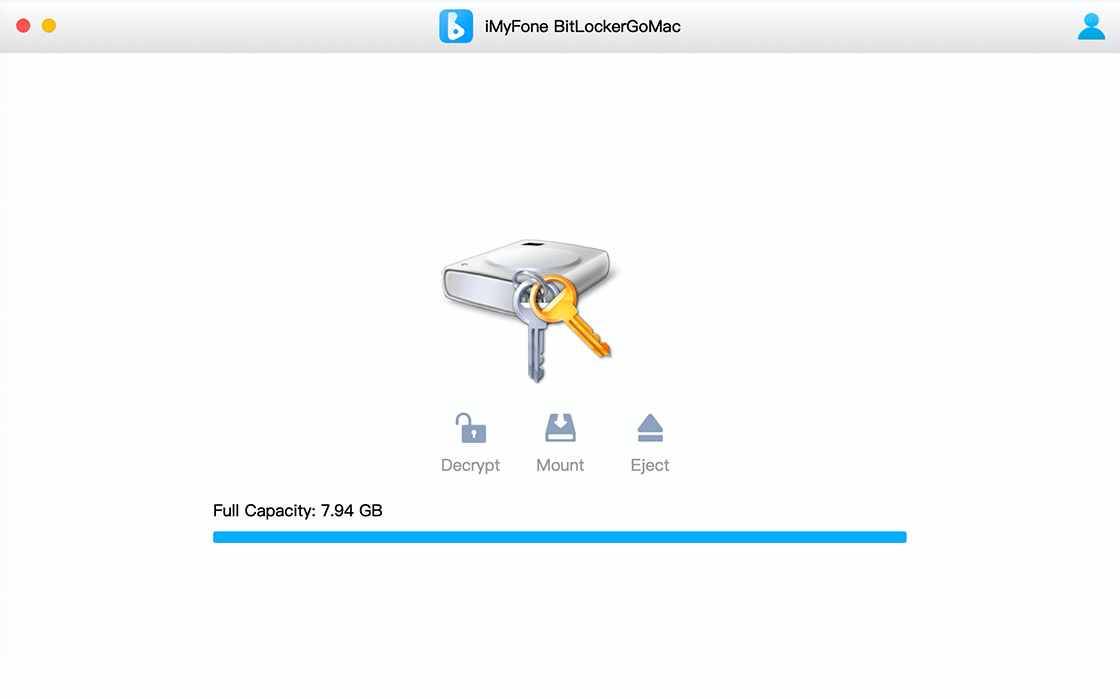 Step 2: Click the Mount button and enter the passcode or import the recovery key file to mount this drive.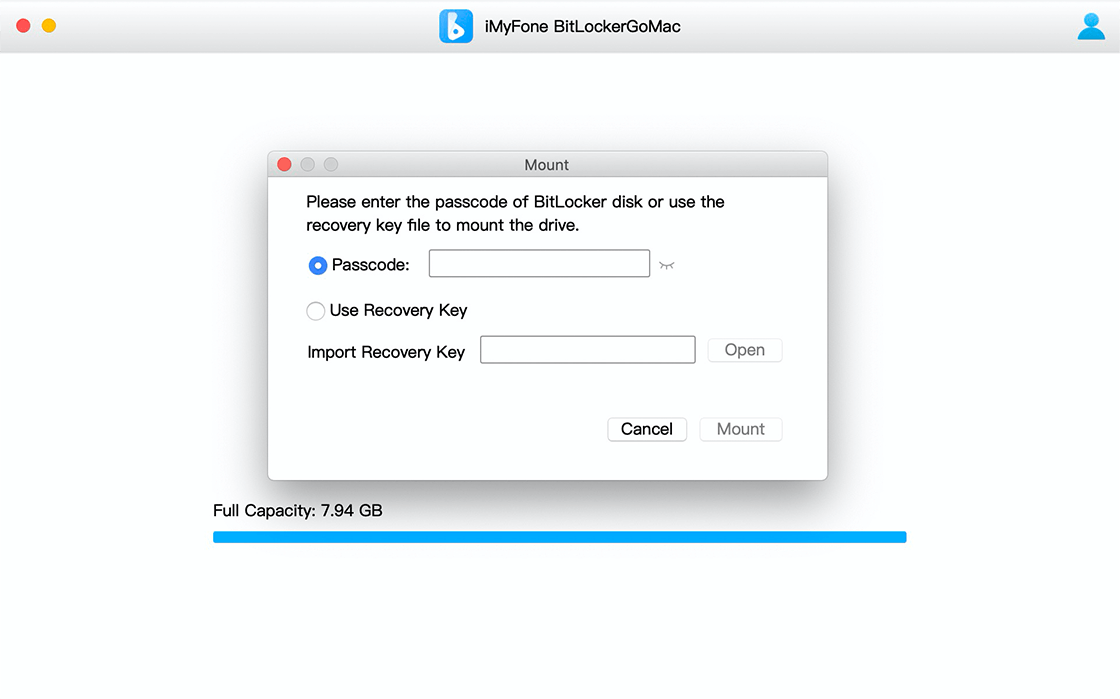 Step 3: After the drive is successfully mounted, you can access the files stored on it just like a Mac computer's native drive.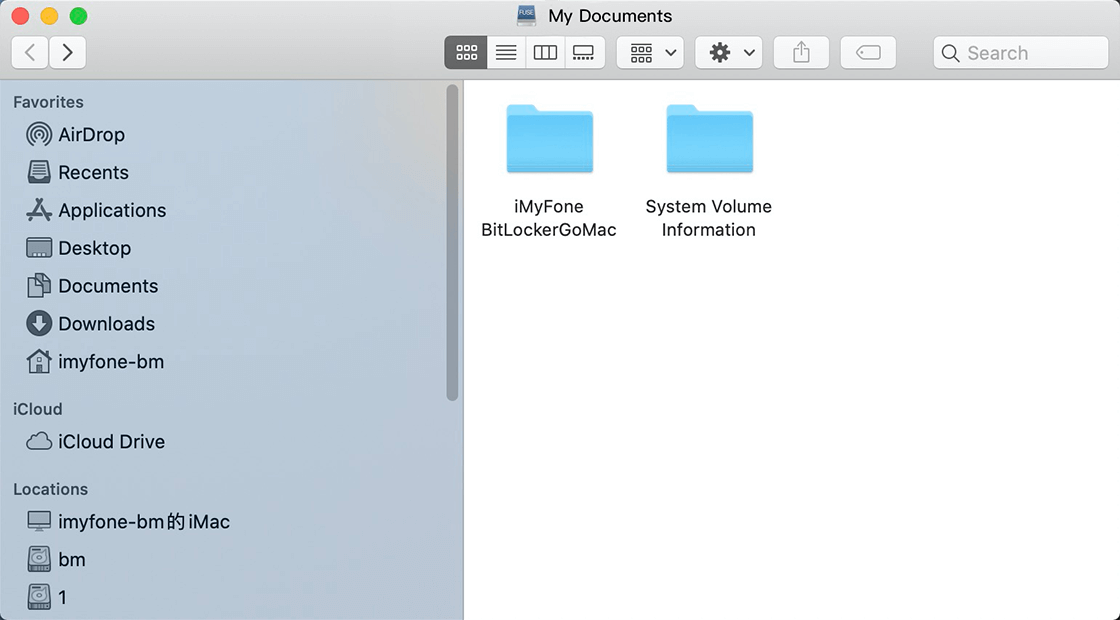 Comparison of BitLockerGoMac & Hasleo BitLocker Anywhere for Mac
| Features | iMyFone BitLockerGoMac | M3 Bitlocker Loader for Mac |
| --- | --- | --- |
| OS Versions | macOS 10.15/10.14/10.13/10.12 and Mac OS X 10.11/10.10/10.9 | macOS 10.14/10.13/10.12 and Mac OS X 10.11/10.10/10.9/10.8/10.7 |
| User-Interface | Simple and easy to use | Simple and easy to use |
| Supported Storage Devices | External hard drives, USB drives, flash drives, SD cards, memory cards, memory sticks, USB sticks, Pen drives, and thumb drives | External hard drives, USB drives, flash drives, SD Card, CF Card, memory card, memory stick, USB stick |
| Compatibility | Mac Minis, Macbook, Mac Pro, Macbook Pro, Macbook Air, iMac Pro | Mac, Macbook Pro, iMac |
| Mounting | Read/write-mode only and used in Finder, also can be unmounted. | Can be mounted in read/write-mode only and used in Finder. |
| Trial Version | Preview file directory & read BitLocker drive | Preview files |
Conclusion
For data privacy and security of your personal information in your storage device, it is important to use a device encryption software such as the BitLockerGoMac tool. This tool offers flexibility and the functionality you need for encryption your storage drives. The tool is simple to use and uses modern technology to encrypt and decrypt a storage device, whether internal or external.
For successful drive encryption, it is important to use the set steps and instructions. In addition, it is always advisable to safely store the BitLocker key in a safe place. If you lose the key, you might not be able to access your data and information in your encrypted device.
It is highly recommended that you store the key on an online syncing platform for safe and easy access from anywhere. Download the iMyFone BitLockerGoMac tool today to get started on storage drive encryption.