If you have come across this review for iSumsoft BitLocker Reader for Mac, it is likely that you have a BitLocker encrypted drive that you want to get into on your Macbook, Macbook Pro, or Macbook air.  While it is frustrating that the BitLocker encryption feature is designed only for Windows computers, this doesn't mean that you can't unlock your drive or use it, it just means that you have to use special software to mount it to your Mac.  In this review, we are going to take a look at iSumsoft BitLocker Reader, a utility program for Mac users who have BitLocker encrypted drives, and outline its pros, cons, and an alternative option for those who don't want to make a purchase just yet.
1
iSumsoft BitLocker Reader for Mac Review
The iSumsoft BitLocker Reader for Mac is a third-party software designed to help you unlock, open, and read BitLocker encrypted drives. Normally, these types of drives would be completely locked off to a Mac user, but with iSumsoft BitLocker Reader utility program, you can open up the drive, read the files inside, edit the files, copy the files, transfer the files, or even delete the files as needed. It takes away the need to install Windows on your Macbook, keeps data files secure, and automatically recognizes BitLocker drives on Mac.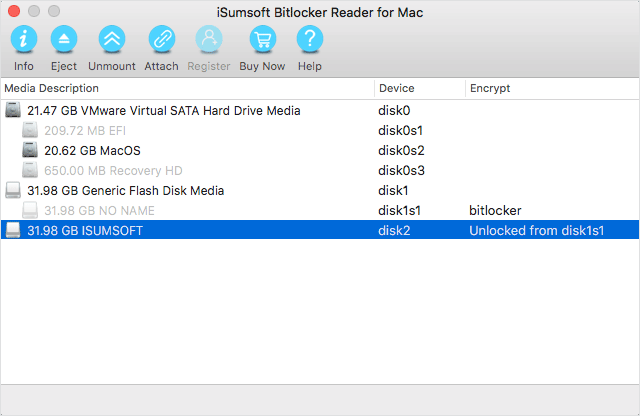 1

What Are the Pros & Cons of iSumsoft BitLocker Reader for Mac?

If you are planning on using iSumsoft, it is important to familiarize yourself with the software's upsides and downsides. To learn more about what iSunsoft Bitlocker Reader offers, check out the pros and con lists below.
Pros

Cons

You can mount and read .dmg files on your Mac with the Attach Feature.

It works on older versions of Mac OS X and the latest 3 versions of macOS.

It is inexpensive to purchase - no renewing licenses required.

The program download size is incredibly small at 9MB! So, even on slow internet speeds, it will download fairly quickly.

The user-interface is simple to use and requires no technical know-how.

Free life-time upgrades & fast technical support.

Requires a recovery key or password to unlock. Make sure you have this available to you! If you don't, you will need to retrieve it before using the software.

The full version of the program has a cost associated with it.

You will need to provide your email, first name, last name, country, and region when purchasing online through their website.

Can be quite a bit more expensive than the stated sale price due to local currency, so even when it is on sale it can be pricier than expected.
2

Is iSumsoft BitLocker Reader for Mac Safe to Use?

Yes, the program is safe to use on your Macbook computer. The download for the software comes away clean on all virus and malware scans. The iSumsoft website is also clean of unwanted spyware, viruses or malware, and does have a valid encryption certification. This means that any transactions you make through their website will go through encryption protocols and will be safe.
2
Best Alternative to iSumsoft BitLocker Reader for Mac - iMyFone BitLockerGoMac
While the iSumsoft BitLocker Reader for Mac does come with some major positives, it will work on older Mac models and come with free life-time upgrades with technical support. This is especially true if your local currency exchange rate is incredibly high compared to the U.S. dollar, which is what the program is initially sold in. For example, the sale price of $19.95 for iSumsoft still comes to $26.00 CAD approximately and that's before taxes are applied. Now imagine buying it at $29.95 when the program is not on sale. There is an alternative software you can use called iMyFone BitLockerGoMac.
<
How to Use the Best Alternative to iSumsoft BitLocker Reader for Mac - iMyFone BitLockerGoMac:
Step 1: Download, install & launch BitLockerGoMac on Mac. Then connect a BitLocker encrypted drive to your Mac.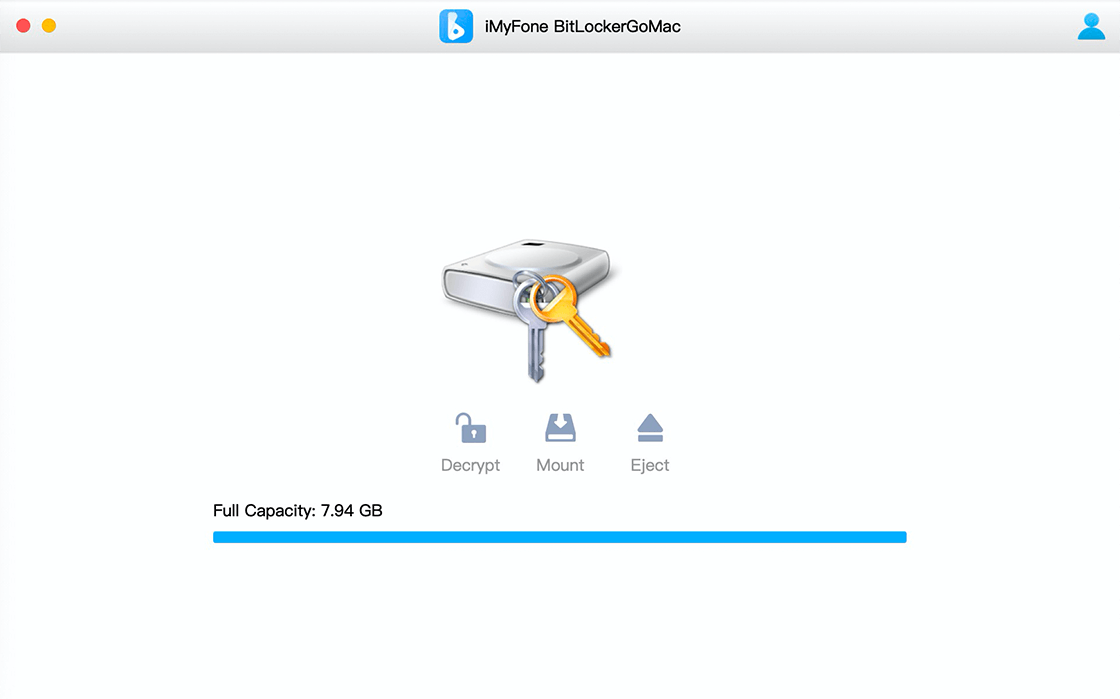 Step 2: Click the Mount button and enter the passcode or import the recovery key file to mount this drive.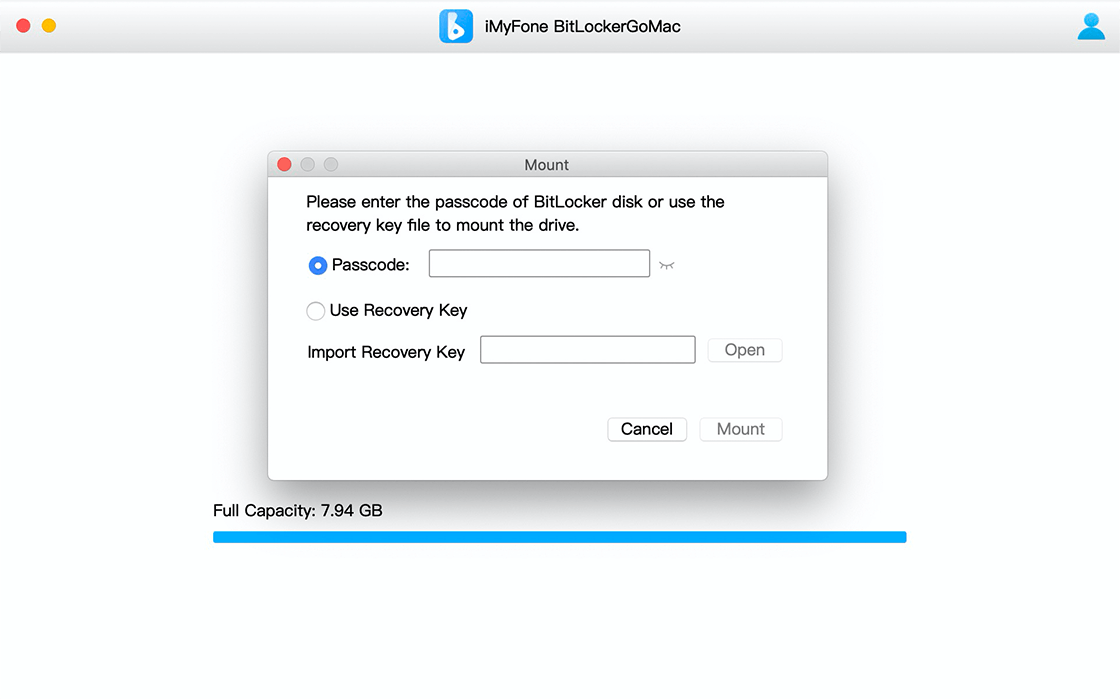 Step 3: After the drive is successfully mounted, you can access the files stored on it just like a Mac computer's native drive.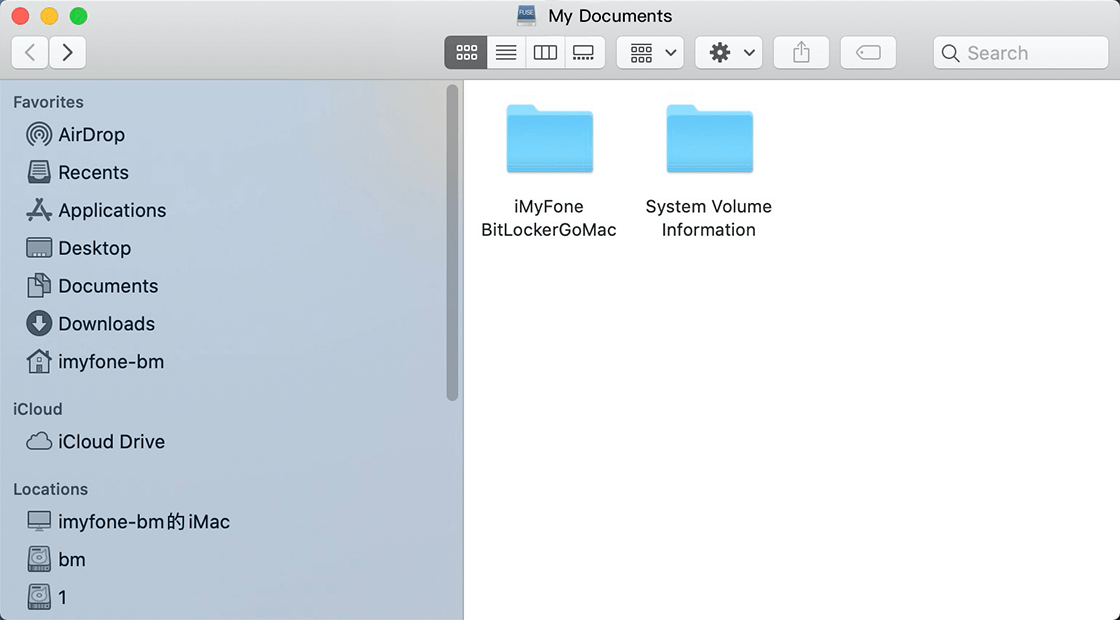 Comparison of iSumsoft BitLocker Reader for Mac & iMyFone BitLockerGoMac
Here is a brief overview of these two software options.
| Features | iSumsoft BitLocker Reader for Mac | iMyFone BitLockerGoMac |
| --- | --- | --- |
| OS Versions | macOS 10.14/10.13/10.12 and Mac OS X 10.11/10.10/10.9/10.8/10.7 | Catalina 10.15/10.14/10.13/10.12 and Mac OS X 10.11/10.10/10.9 |
| Compatibility | Any device running macOS or Mac OS X | Any device running macOS or Mac OS X |
| Supported Storage Devices | External Hard Drive, USB Flash Drive, Memory Card, Memory Stick, SD Card, CF Card, Other. | External hard drives, USB drives, flash drives, SD cards, memory cards, memory sticks, USB sticks, pen drives, thumb drives and other storage devices. |
| Mount | Able to unlock, mount in read-write mode, and unmount as well. | Can be mounted in read/write-mode only and used in Finder. |
| User-Interface Design | Easy to use with just a few clicks. | Simple user-interface. |
| Trial Version | Preview files. | Preview file directory & read BitLocker drive. |
| Software Guarantee | 30-day money back guarantee. | 30-day money back guarantee. |
Conclusion
The main thing you want to make sure of when downloading and using BitLocker decryption software like the ones mentioned above, is that your Mac Utility Disk can recognize your BitLocker drive and that the drive itself is healthy. If your Mac Utility Disk can't recognize the drive, any third-party program won't be able to either, making your drive inaccessible. If your drive is unhealthy, you need to clean it, before mounting it to your Mac - this avoids spreading corrupted, viruses, or damaged files.