It is common that you risk your drive security without performing drive encryption. Security experts often repeat this advice. For those on Windows, accessing BitLocker software is not a big challenge. What if you are on Mac? Should you just ignore experts' advice and continue handling your data without the required encryption? That is where a BitLocker to go reader for Mac comes in.
BitLocker To Go is designed to encrypt your drive using the BitLocker Drive Encryption technology on Windows. It can encrypt SD Cards, USB flash drives, external HDDs, and other drive formats. Keep reading this review to learn more about the program and the relevance of a BitLocker to go Mac software.
Part 1: BitLocker To Go for Windows
BitLocker To Go for Windows gives you access to all features that BitLocker Drive Encryption offers, such as encrypting BitLocker volumes, resetting passwords for BitLocker-encrypted volumes, exporting recovery key to these volumes, and decrypting BitLocker-encrypted volumes.
Pros and Cons - BitLocker to Go for Windows
Pros

Cons

Easy drive encryption – You do not require to have the technical knowledge to make use of the software. The user-friendly interface ensures that users are less intimidated by the prospect of encrypting or decrypting their drives.

Continuous software support - The continuous support that BitLocker To Go for Windows continuously receives is important because it ensures regular updates to make it more secure. Software updates are essential to keep hackers at bay.

0 virus flags on review platforms – A detailed exploration of BitLocker To Go for Windows on virus review platforms shows that it does not have any virus flags.

Time-consuming during encryption – Users need to exercise patience during encryption because it may take a lot of time.

No clear way to get back the recovery key – Some users who lost access to their recovery key report that they had a hard time unlocking their drives.

Straining to computer resources - BitLocker To Go for Windows is known to consume a sizeable chunk of your computer's RAM and processor.
Part 2: BitLocker to Go for Mac: iMyFone BitLockerGoMac
For those on Mac, sometimes getting the right software to handle your data encryption tasks can seem like a daunting thing to do. Luckily, you have access to iMyFone BitLockerGoMac, software that promises to change your encryption approach.
While creating iMyFone BitLockerGoMac, the main goal was to build software that is easy to use. Whether you have a technical background or are an average user, the BitLocker to go reader for Mac simplifies the process of opening BitLocker drive on Mac. You can also use the software to enable Read/Write on BitLocker-encrypted drives. All that would be required from you is a password. Alternatively, just import the recovery key file, and you are good to go.
Features of iMyFone BitlockerGoMac:
Easy to unlock encrypted drive - iMyFone BitLockerGoMac simplifies the process of decrypting BitLocker-encrypted drive. Make it possible to Read/Write your drive in Mac by supplying a password or importing the recovery key file.
Multi-drives support – The software allows you to decrypt your drives without worrying about what type they are.
Supports various MacOS versions – If you are worried about the possibility of being unable to install iMyFone BitLockerGoMac on your Mac, there is no need to do so. Its architecture supports macOS Catalina 10.15/10.14/10.13/10.12 and Mac OS X 10.11/10.10.
Accessible in Finder – Do not struggle to locate where your encrypted drive has gone to. You can operate it in Finder just as you would for Mac's native drive.
Trial version available – If you are not sure this is a tool you should invest in, iMyFone BitLockerGoMac gives you access to a trial version. Even in trial mode, you have access to premium features like previewing file directory and read BitLocker disk.
How to Use BitLocker To Go Reader for Mac to Access BitLocker Drive on Mac:
Step 1: Download, install & launch BitLockerGoMac on Mac. Then connect a BitLocker encrypted drive to your Mac.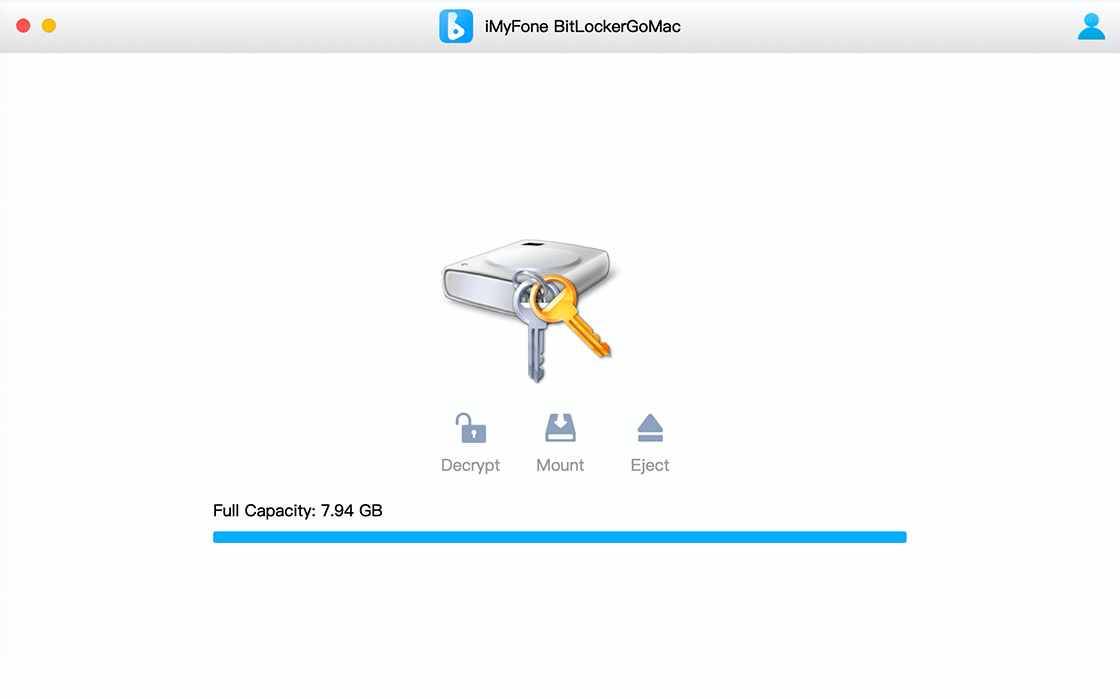 Step 2: Click the Mount button and enter the passcode or import the recovery key file to mount this drive.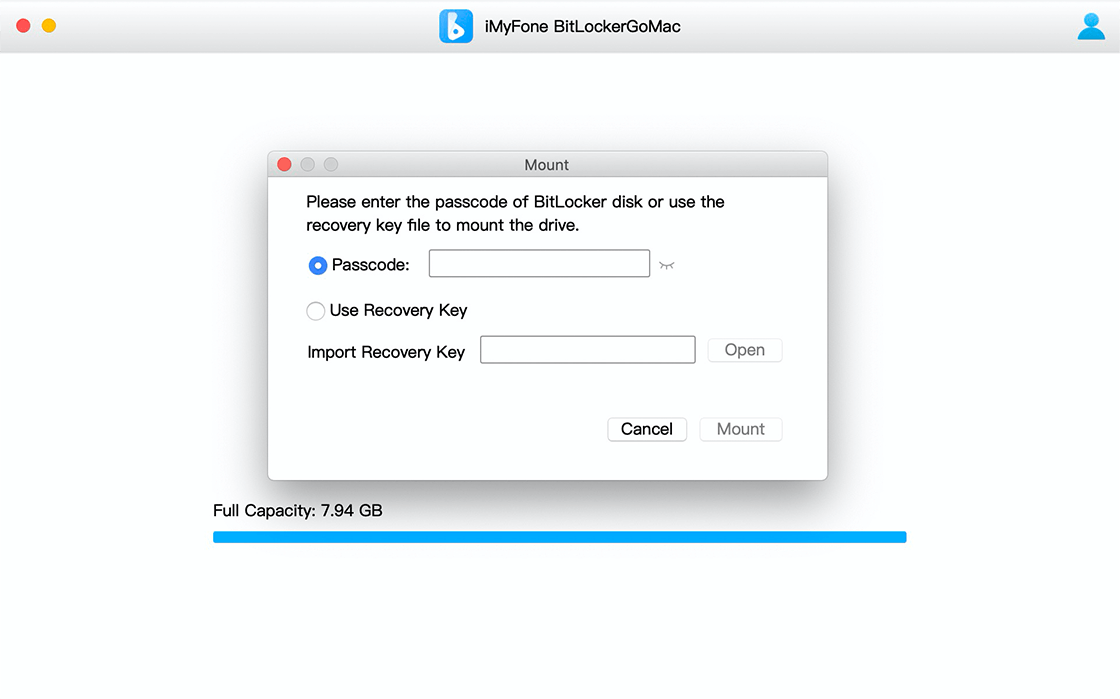 Step 3: With the drive mounted, you are able to perform usual operations like add, delete, rename, and import/export files. Mounting the BitLocker drive allows you to access the files just as you would for a native Mac drive.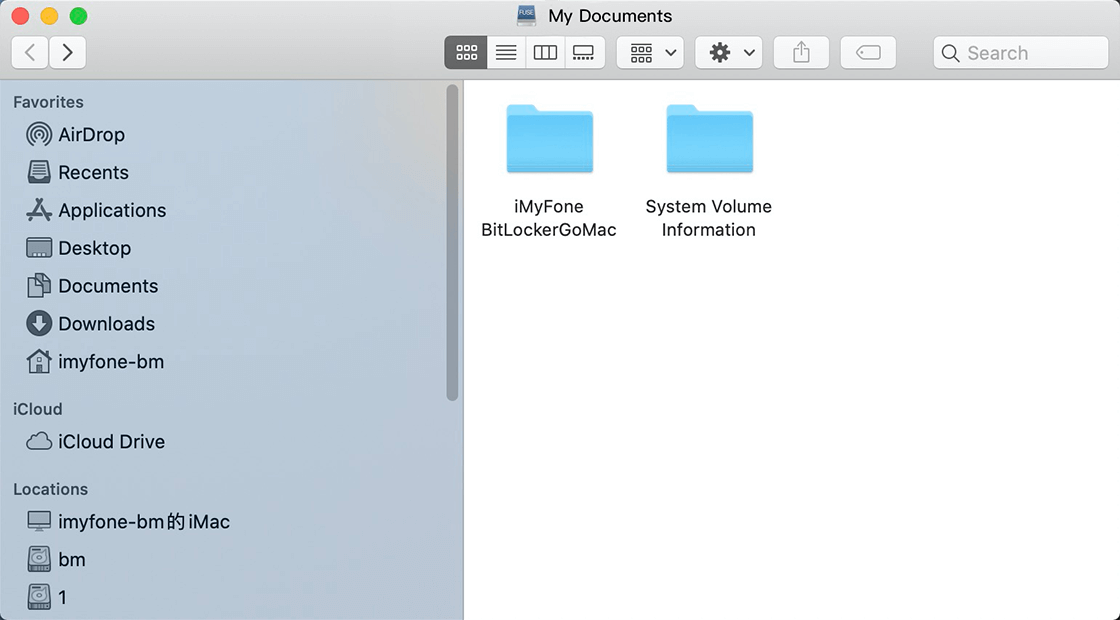 FAQ: What You Need to Know About BitLocker Encrypted Drives on Mac
Is there a way to Open the BitLocker-encrypted drive on Mac?
Yes, it's possible to open BitLocker-encrypted drive on Mac using a reliable tool such as iMyFone BitLockerGoMac.
Where can I get my BitLocker recovery key?
Where you get your recovery key depends on how you saved it during encryption. There are various ways to save a recovery key, including on a USB flash drive, Network drive, Microsoft account, or physically printing them.
How can I know if my drive is BitLocker encrypted in MacOS?
The simplest way to know this is to try encrypting the drive. If encryption wizard shows, then it means it is currently not encrypted. Try this by opening PGP Desktop. Select PGP Disk then click on Encrypt a Disk. Proceed only if you are ready to do so.
Conclusion
BitLocker Drive Encryption is an important part of data security and protection mechanism against disk crashes. In the event you have hundreds of disks to dispose of, if you had encrypted these earlier, you would not worry about erasing the data. The fact that it is encrypted means no one can access your data other than you.
Even as you embrace BitLocker Drive Encryption, accessing the drive on a Mac can be a bit challenging. Simply use iMyFone BitLockerGoMac to open the drive and access it in Finder as you would with a native Mac drive. Use this BitLocker to go Mac for a seamless drive encryption encounter.