Remote meetings, online classes, and birthday celebrations on a video call are the new normal with the rise of the Covid-19. Individuals and businesses globally are forced to work from home and spend more time in front of screens for various reasons. Thus, cloud-based video conferencing software such as Zoom is widely gaining popularity. However, working from home without any level of physical and personal connection among the individuals and employees would be boring more than ever.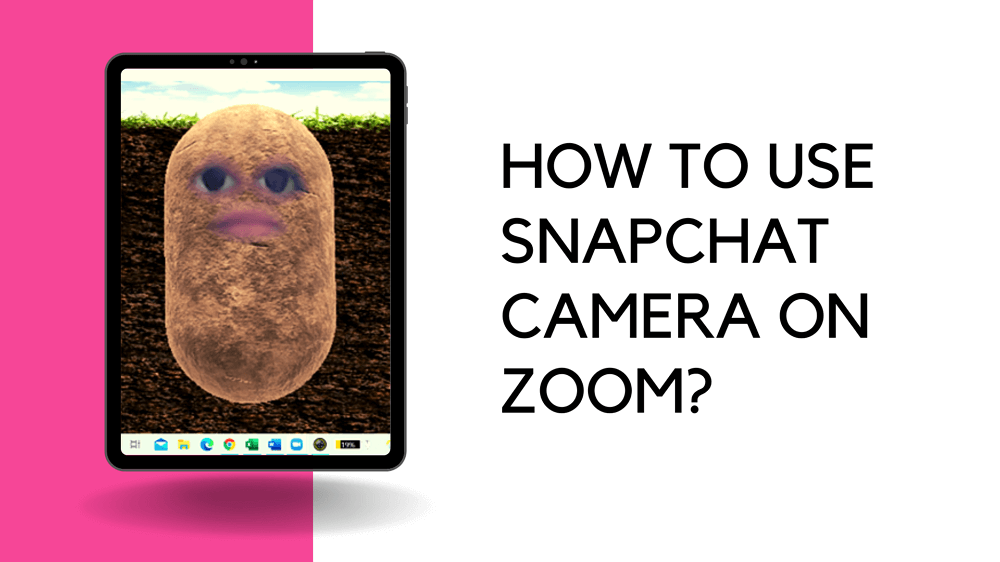 Why not beat this boredom with some fun? Yes, you heard it right. You can spice up those online meetings by simply installing and playing with Snapchat filters. Zoom offers the users an option to use fun filters from the Snapchat app. According to the data from Statista, Snapchat is one of the best camera apps available in the market with approximately 249 million active users daily as of October 2020. Well, are you curious to know how to use Snapchat camera on Zoom? We'll show you the simple steps!
How to Use Snapchat Camera on Zoom?
Snap Inc has developed the Snap Camera tools that can extend their interactive lens and filters to the desktop space, which can be used while on a Zoom video call using the inbuilt computer camera or a webcam. With the help of using the Snap Camera, the Zoom video call can be enhanced and turned into a fun and interactive session. To learn how to use Snapchat camera on Zoom, check the following:
1. System Requirements
Before installing the Snap Camera onto the system, we should make sure we fulfil the necessary system requirements based on Snap Inc's instructions.
For the operating system, the minimal requirement would be Windows 10 (64 bit) or newer; macOS 10.13 or newer.

Likewise, for the hardware, the minimum requirement would be Intel Core i3 2.5Ghz or AMD FX 4300 2.6Ghz with 4 GB RAM; Intel HD Graphics 4000 / Nvidia GeForce 710 / AMD Radeon HD 6450.

The screen resolution must be 1280x768 or higher.

Besides, the driver installed for their specific graphics card needs to be the latest.
Once you have made sure that your system meets this set of requirements, you can go ahead to download the Snap Camera.
2. Download the Snap Camera
To start using the Snap Camera on your desktop computer, first you'll need to go to their official website to download the Snap Camera. Once downloaded, the file will show as .exe for Windows and .pkg for MacOS. Click on them to install the Snap Camera.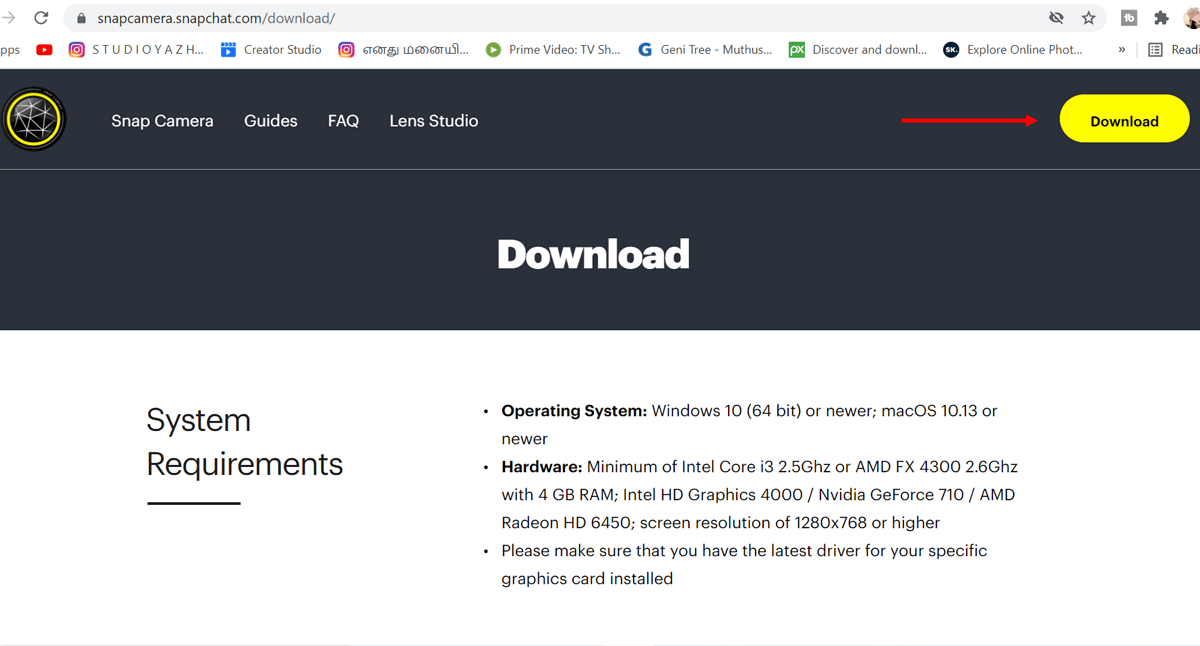 Now, all you have to do is to grant the necessary permissions and follow the steps as suggested by the software and the installation should be done in just a few seconds! Once the Snap Camera is installed it will automatically open on your computer and take you to its Home page where you can explore various lenses that are available.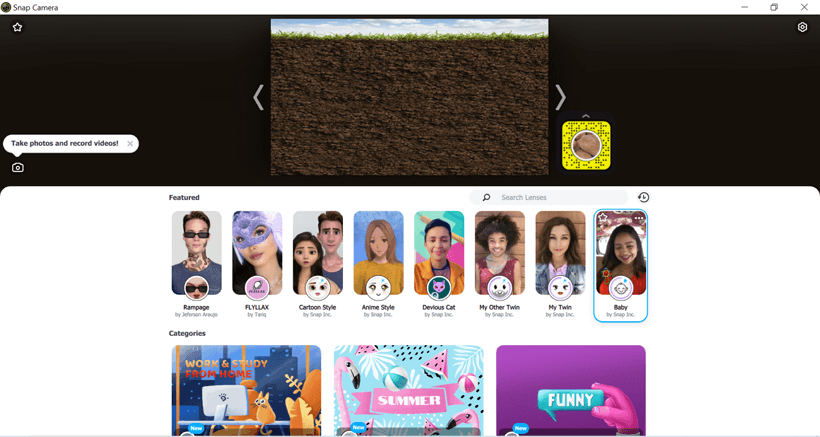 3. Modify the Zoom Video Settings
Following the installation of the Snap Camera, you'll need to open your Zoom app. Go to the Zoom settings on the upper right corner of the home page, and head on to video settings section on the left.
Now, to enable your Snap Camera for all your Zoom calls, look at the camera settings. Earlier, there will be a default selection and now you will see a drop-down menu with the Snap Camera option, which you should click on to select.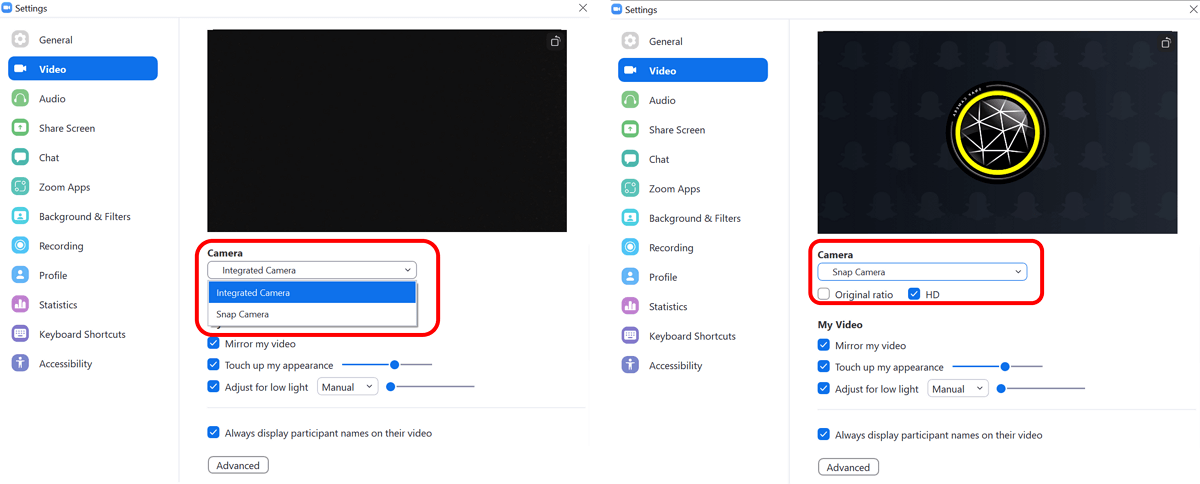 Tada! Now Zoom will start using the Snap Camera feeds by accessing its lenses on your video conferencing calls. And you can turn it off anytime by choosing back to the default Integrated Camera option.
4. Choose Your Snap Camera Filter
Finishing up all the above steps, now move on to having some fun with the lenses. First, open the Snap Camera for choosing the lens that you prefer to use in the Zoom video call. There are a great variety of different lenses from special occasions, to funny effects and simple beauty filters.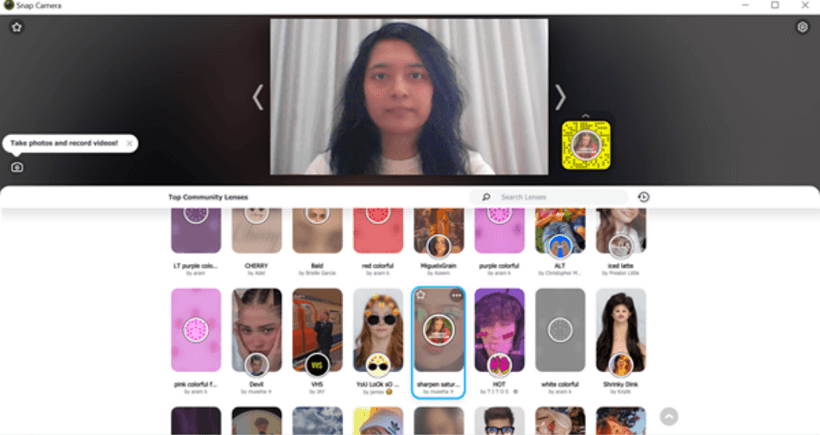 Browse through the lens es and decide on the final one, for example the potato lens. Then when you switch to the Zoom application, instead of you, you will find your image with the potato lens on. With this lens, you can still choose to interact and communicate normally with the other participants.


Pro tip
You can also choose the lenses that you are likely to use more and mark them as your Favorites, which will make the selection easier when you are switching to the Snap Camera mode later on. To mark it as a favorite, first select the lens and look for the star symbol on the top left corner, then click the star to add it to your Favorites list.
Snap Camera Not Working on Zoom: Why & How to Fix
Sometimes when you are joining a meeting on Zoom with Snap Camera, you get hit by the unexpected message No available camera-input. What a catastrophe it is! As a bonus tip, let us dissect why Snap Camera not working on Zoom and how to fix the problem.
1. Why Is Snap Camera Not Working on Zoom?
The reason why your Snap Camera not working on Zoom is, there might exist some errors with the software. Also, your system might need a reboot from installing the new software.
For this, try restarting your computer and the software programs first. If you are still unable to get connected, do not fret. Do the following steps to fix the problem instantaneously.
2. How to Fix Snap Camera Not Working on Zoom?
Clear the cache in Snap Camera software.

Make sure your system is meeting the Snap Camera software requirements as mentioned above.

Ensure that the Snap Camera has access to use your webcam in the Zoom privacy settings. Also, check for the video setting changes as we mentioned earlier.

In some cases, you might be using a VPN service on your desktop, which might not work well with apps like Snap Camera. You might have to switch off the VPN to access the Snap Camera.

Finally, try to uninstall the Snap Camera software and re-install them with an older or a newer version if possible.
Conclusion
Considering the long meetings on Zoom, it is necessary to have some fun to spice up those boring hours. Be it an official meeting or an online game night with your buddies, now you know how to use Snapchat camera on Zoom to make your appearance more interesting. And always remember, you can switch back to a clean professional look anytime you want just by tweaking those Zoom video settings. If Snap Camera not working on Zoom error occurs, try the fixes we've prepared for you and get Snap Camera back to normal easily.