Although it among the most popular social medial platforms, Instagram, like all other apps, is also prone to experiencing issues from time to time. When these issues happen, the application will display an error message and "sorry there was a problem with your request" is one of the most common error displays by Instagram. The "sorry there was a problem with your request" issue on Instagram denies you access to your account and can be caused by several reasons: a suspended account due to violation of Instagram policies, server connectivity problems, wrong username, password combination, etc.
In this guide, we take a look at 9 easy fixes you can use to resolve the Instagram "sorry there was a problem with your request" error.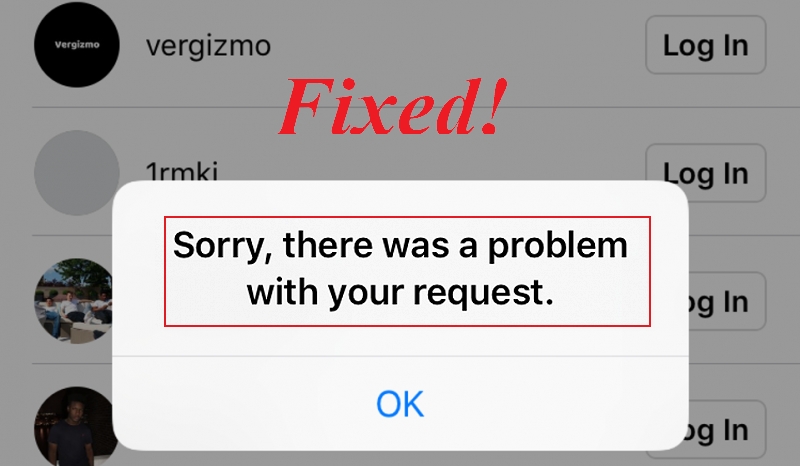 Part 1: What to Do if Instagram Keep Showing You the "Sorry There Was a Problem with Your Request" Error?
Fix 1: Check Your Internet Connection
Lack of or poor internet connectivity is one of the most common reasons why your Instagram is likely to display the "sorry there was a problem with your request" error. Check your device's data connection to ensure you've turned your internet connection on. If you are using Wi-Fi, ensure you are within range for a good connection. For data connection, confirm that you have not exhausted your data balance, or you may need to reload your data balance.
Fix 2: Restart Your Phone/Update the App
Restarting your device is one of the simplest, yet most effective solutions to most tech problems. To get your Instagram back and running, restart your phone by holding down on the Power button then clicking Restart. Restarting your device shuts off its network connection and allows it to make a fresh connection before attempting to connect to Instagram's servers.
If this doesn't work, consider updating your Instagram app and resting your phone. Like any other app, Instagram will require an up-to-date app version to work properly. Here's how to update your Instagram app:
Go to Play Store. Search for Instagram using the search bar.

Click on Update to get the latest version of the app.

Restart phone.
Fix 3: Login via Facebook Account
One of the easiest ways to resolve the "sorry we couldn't complete your request" error is by signing into your Instagram account using Facebook. For this fix to work, you need to have your Facebook connected to your Instagram account.
Here's how you can clear the error using Facebook:
Log in to your Instagram account using your preferred web browser.

Navigate to your Account Settings and delink your Facebook account if it's already connected.

Clear data of your Instagram phone application.

Use Facebook to log in to on Instagram.
Fix 4: Uninstall and Reinstall Instagram Application
Uninstalling and reinstalling the Instagram app on your device is another way through which you can clear the "sorry we couldn't complete your request" error. In this fix, you have to remove the existing version of the app on your phone before installing a new version.
Here are the instructions on how to uninstall and reinstall your Instagram app from your phone.
Navigate to Settings and go to installed applications.

Locate Instagram and tap Uninstall.

Open to Play Store and search Instagram.

Click on Install.
Fix 5: Temporarily Disable Instagram Account
To clear the error and regain access to your account, temporarily disable your account. To temporarily close your Instagram account, use these steps:
Log in to Instagram, navigate to your Profile and click on Edit Profile.

Select Temporary disable my account.

Provide a valid reason for disabling the account.

Wait for 6-12 hours without logging into your account.

Once the time has elapsed, login back to your Instagram account.
Fix 6: Clone Your Instagram Account
You can solve the "sorry there was a problem with your request" error by cloning your Instagram. To do this, use readily available cloning apps such as Parallel Space. It allows you to run another instance of Instagram on your phone at the same time.
Download and install the Parallel Space app from the Play Store.

Open the app and create an Instagram clone.

Send a shortcut of the clone to the home page.

Use the clone via the shortcut to sign in to your account.
Fix 7: Access Instagram on Web
You can try to access your Instagram account from a different device. If you are having trouble accessing Instagram from your phone app, try to access it from the website. Being able to access your account from a different device rules out Instagram server problems and indicates problems with your device.
Fix 8: Check Whether Instagram Servers Are Down
As one of the leading social media platforms, Instagram's servers are generally reliable. However, in rare times when they aren't working, trying to access your account can be a frustrating experience. You can check Instagram's known problems and bugs on Instagram's official Help Page.
Fix 9: Contact Instagram Help Center
If you've exhausted the options above and they haven't worked, consider contacting the Instagram Help Center to help you resolve the "sorry there was a problem with your request" error.
To contact Instagram support, follow these simple steps:
Go to your Instagram app and sign in to your account.

Navigate to your profile and click the three-line icon.

Go to Settings, click on Help and select Something is not working.

Explain your problem.
FAQ: Why Is There an Error Logging Into Instagram?
There are several reasons why you may experience an error logging into your Instagram. These reasons include:
You are using the wrong username and password combination.

Your Instagram account has been suspended or banned.

You've logged from an unrecognized new device that requires further Instagram verification.

Breakdown in the communication between Instagram servers and your device.

Incorrect device time and date.

You are using an old device that does not support Instagram.

Phone hardware or memory problems.
Conclusion
The methods discussed above will help you solve the "sorry there was a problem with your request" error on Instagram allowing you to enjoy a better Instagram experience. These fixes are easy to implement, effective, and will clear the error 99% of the time. If this guide has helped you regain access to your Instagram account, consider leaving a comment about your experience below and sharing this guide with friends and family.