The "Invalid value for registry" error usually shows up after you have updated your version of Windows to a newer one. The reason why this error occurs is that the file formats of the images have not been updated to match those of the photo viewing applications, which is why you might notice that the same files can be opened on other devices that run an older version of Windows. This issue can easily be fixed, and this article will show you how to fix it.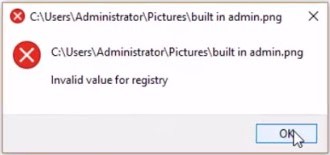 Before completing any of these steps, we suggest that you make a backup of your images on a different device to prevent any data loss.
Method 1: Reset Microsoft Photos Application
This is the easiest of the possible fixes and it involves you resetting the Microsoft Photos application to its default settings. It will also remove any cached data that could be interfering with your photos when you are attempting to open them.
To reset the application, you must:
Step 1 Go to Apps & Features in Windows by searching for it on the taskbar.
Step 2 Find the Photos application and click advanced options.
Step 3 Scroll down and click on reset.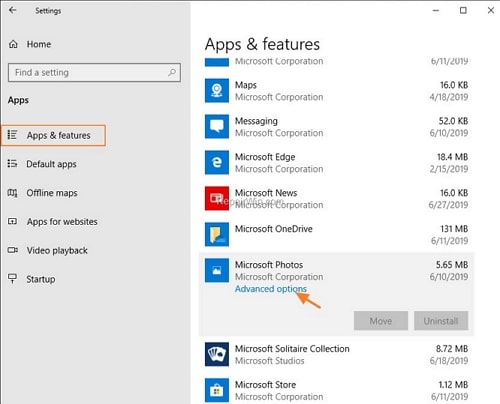 Now attempt to open your images using the MS photos app. If you are still facing the same issue, then move on to the next solution.
Method 2: Driver Updates
Drivers are programs that control a particular aspect of your device. After a new update, it is possible that some of the drivers on your PC have not been updated. You can automatically update your device drivers through the device manager.
Step 1 Open device manager and find display adapters.
Step 2 Right-click on the graphics driver and click on update drivers.
Step 3 Choose the option to search automatically for updates.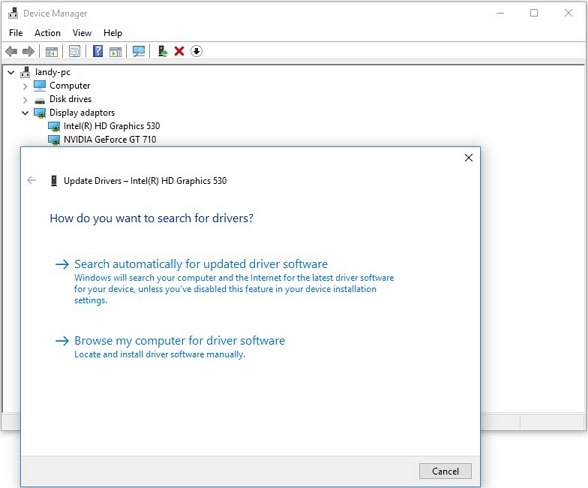 If you are prompted to install any updates, then make sure you do so.
Method 3: Use Alternative Software
If the Microsoft Photos application is still not working, you could try and use an alternative photo viewing software. For example, you could try and use 123 photo viewer or IrfanView, or a host of other applications that are available on the Windows Store.
Method 4: SFC Scan
Command Prompt can be used to use command lines that make changes to your system. This saves you from having to locate these settings individually, which can be time-consuming. Using a command terminal like CMD gives you greater control over your device.
One such command is the SFC command. This will scan all protected system files, and then replace them if they are corrupted with cached files from your PC. There may be some corrupt files that are causing you the "invalid value for registry" error.
Step 1 To use this command, start command prompt as admin by searching for it and then right-clicking it. Then, click on "run as administrator".
Step 2 Then, enter the following command: sfc /scannow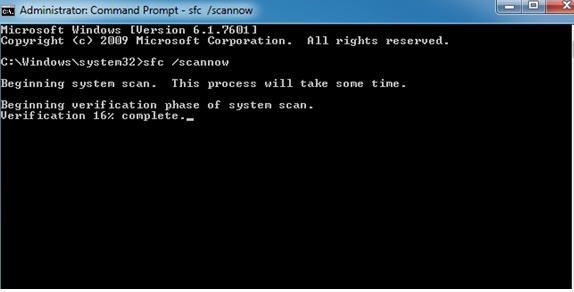 Once you have typed in this command, press enter and wait for the scan to complete (this can take a while).
Method 5: Change Registry Settings (Difficult)
This method involves you changing the actual registry of your machine and should only be used as a last resort. It is key to have strong technical awareness if you are to use this method since changing something incorrect accidentally could lead to huge errors across your machine. If you would still like to proceed with this method, then do the following:
Step 1 Restart your PC and log in to an administrator account.
Step 2 Press the Windows and R keys simultaneously, and then type in "Regedit" to the command box.
Step 3 You will see two panes, one on the left with folders and one on the right.
Step 4 Under the "HKEY_CURRENT_USER" folder, locate "Software" and then "Classes".
Step 5 Then, scroll down to "Local settings", "Software", "Microsoft" and then "Windows".
Step 6 Under "CurrentVersion", go to "AppModel", then "Repository", "Families" and then the "Microsoft.Windows.Photos_8wekyb3d8bbwe" directory.
Step 7 You will then see a list of entries in this directory. You need to delete all outdated versions (half of the entries) (for 12 entries, 6 would be outdated).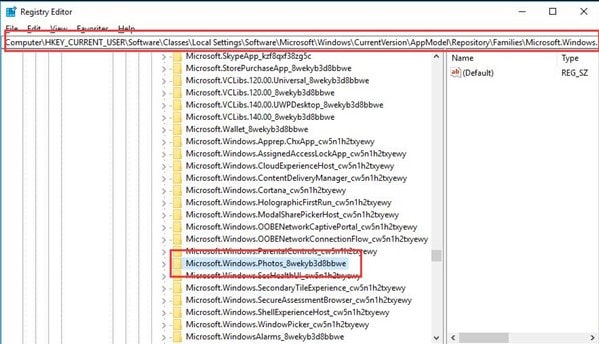 The outdated versions will all have a number lower than the current version.
To delete an entry, you must:
Step 1 Select the outdated registry and right-click on it to open properties.
Step 2 Click on security and then permissions.
Step 3 Click on "Advanced" near the bottom and then click on "find now".
Step 4 Select your username and click OK.
Step 5 Right-click that entry and delete it.
Step 6 Restart your PC.
As you can see, this is a method that requires a lot of manual work and will not be easy to do, especially if you do not have a strong understanding of Windows and registry editing.
Note
If you lose any images during any of these steps, then you can use the AnyRecover software to recover these images. Further details can be found on the AnyRecover website.
Method 6: Downgrade Windows Version
If it is necessary for you to open photos using the Microsoft Photos application, you can try to downgrade your version of windows. If the update was between two versions of Windows 10, then you should be able to return to a previous version through the update settings.
You could also try to install an entirely previous version of Windows, such as Windows 7, however, you risk losing your data this way. If this issue cannot be resolved, we suggest you use an alternative photo viewing application and set this application as your default.
Conclusion
We hope this article has helped you fix the "Invalid value for registry" error. We have many other guides for a plethora of issues, so if you are facing other problems with your PC, be sure to check out our other articles.