SATA hard drive, due to its cost-effective feature, plays an important role in storing data. But even with necessary precautions, data loss can happen sometimes as we deal with numerous data each day. The panic afterward is also quite understandable. Several incidents can lead to data loss, as shown below:
A human error like accidental deletion of files

You have formatted or reformatted the hard drive

Software malfunction or virus infection

Physical damage to the hard drive

Power failure
So, if you are wondering about the possibility of lost data recovery, be sure to check out this complete guide and learn to recover data from SATA hard drive easily.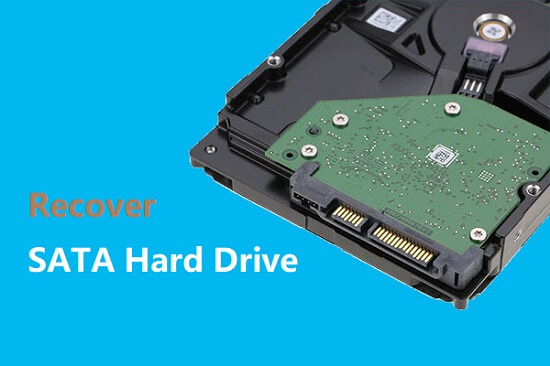 Part 1: Can Files Be Recovered from A Failed SATA Hard Drive?
Yes, it is possible to recover data from a SATA hard drive, even if it is formatted or failed.
According to the data recovery principles, no data ever gets removed completely unless it is overwritten. So, when a file gets deleted from the SATA hard drive, you may not be able to access it but the file hasn't disappeared; it is still in some remote sectors of the hard drive. With professional help, you can still restore the precious data inside.
The chances of data recovery also depend on time. It is suggested to stop using the hard drive immediately, or the files may be overwritten and gone forever. Try to perform data recovery using an efficient data recovery tool as soon as possible.
Part 2: Best Software to Recover Data from SATA Hard Drive
Whether your data is deleted, lost or formatted from the SATA hard drive, the most reliable solution is using a professional data recovery tool. It should support your device, be secure and simple to use, and most importantly, recover the lost files successfully.
To satisfy these needs, iMyFone AnyRecover hard drive recovery software is no doubt the best choice. This program is renowned as a top-class data recovery software that is equipped with advanced algorithms to perform a fast and thorough scan, thus ensuring a high recovery rate. With regular updates, AnyRecover strives to stay the best in the field.
The following aptitudes make AnyRecover a better data recovery solution compared to the other products on the market.

2,061,704 Downloads
AnyRecover's Key Features:
It supports various devices like SATA drives, SSDs, SD cards, USB drives, Cameras, etc.

Over 1000 data formats can be recovered, including photos, videos, Office documents, archives, audio files, and more.

This program supports recovery from a damaged hard drive, formatted devices, recycle bin, lost partition, Raw drive, and more.

Easy data recovery procedure to help even the most armature users; only three steps are needed.

Your data is protected during the whole recovery process, 100% secure.
Recover Data from SATA Hard Drive in Simple Steps
Let's check out AnyRecover's fast-paced data recovery process to recover data from SATA hard drive.
Before initiating the data recovery, you should download and install the AnyRecover hard drive recovery software on the targeted computer. It is available for both Windows and macOS, so you don't need to worry about its compatibility.
Step 1 Select your SATA hard drive
Launch AnyRecover on your computer, and you will be greeted by a user-friendly interface. Select your SATA hard drive to begin the procedure.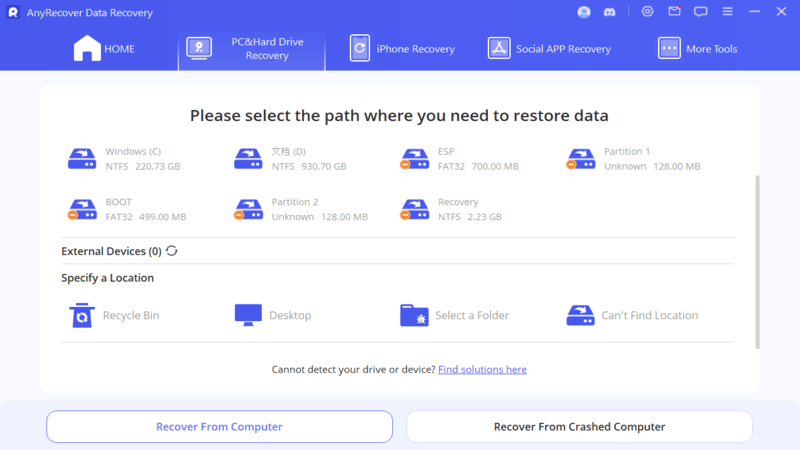 Step 2 Scan your SATA hard drive
After selecting the location, AnyRecover will initiate the Deep Scan. The progression of the scan can be monitored in real-time, as well as the scanning results.
There is also a Pause button beside the progress bar. You will be able to suspend the process by clicking on it and resume by clicking on Continue. For termination, you can click on the Stop button.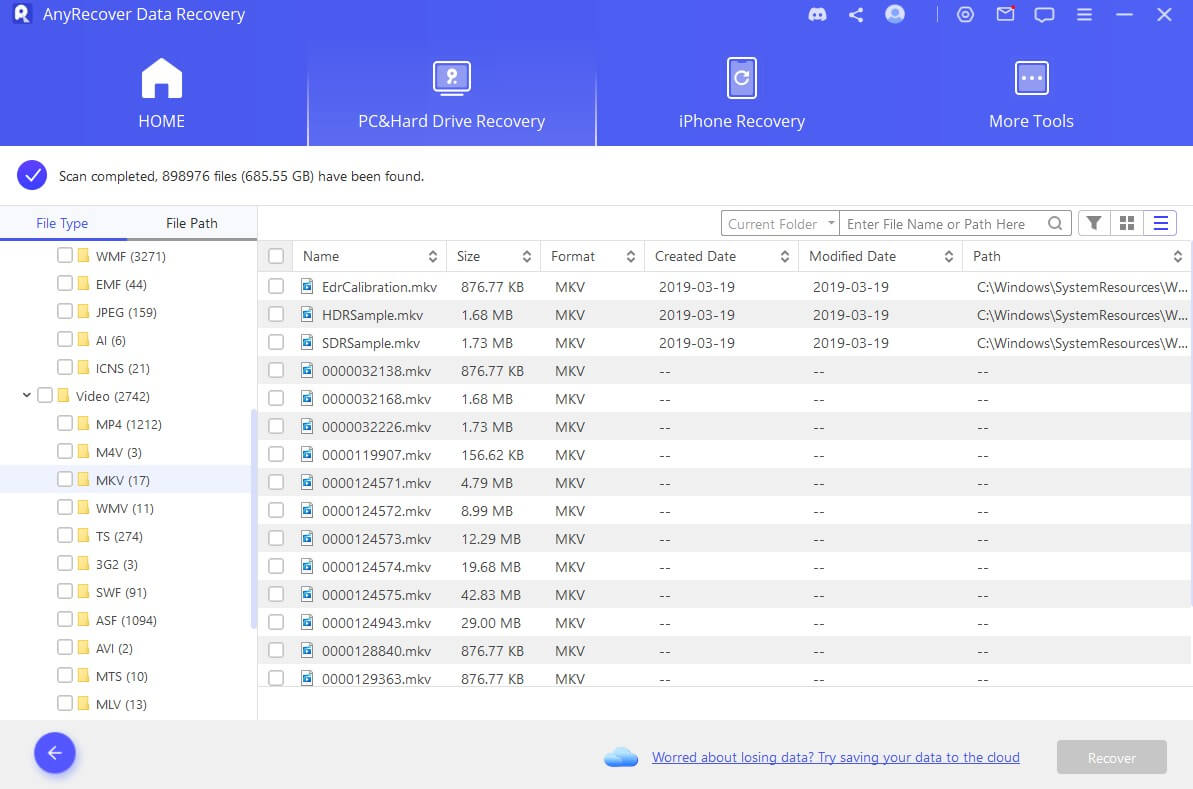 Step 3 Recover data from SATA hard drive
Once the scan is complete, all the files will be neatly categorized. Simply choose all the files you need and click on the Recover button. 
Now, you can also preview the recoverable files and restore them selectively. Pretty simple, right?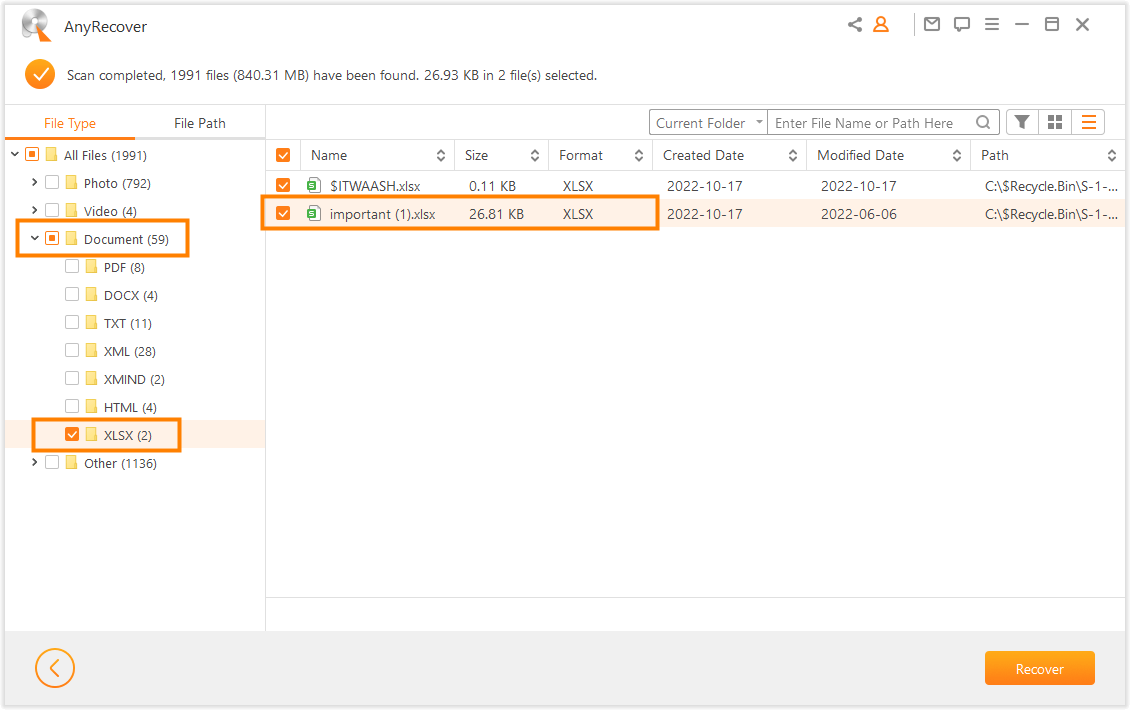 Part 3: Frequently Asked Questions on SATA Hard Drive
1. What is a SATA hard drive?
SATA hard drive is the successor of PATA hard drive. SATA stands for Serial Advanced Technology Attachment. It was introduced in the year 2003 as a better alternative to PATA and now it is the default medium of electronic data on PCs.
Compared to PATA drive, SATA drive is incredibly fast. It adopts a proprietary technology where a spinning platter is used along with a needle, thus achieving a faster read and write speed.
2. SATA vs. SSD Hard Drive
In simple terms, SSDs are far superior to SATA drives in every possible way. SSD stands for Solid State Drive; it is the latest addition to the arsenal of electronic data storage.
It has the smallest footprint ever recorded. Most of the SSDs available in the market are no more than 2.5 inches. Unlike SATA drivers, SSDs are not comprised of any mechanical parts, and the data stored inside are completely non-volatile.
Last but not least, there is a huge price difference. SATA hard drives are much cheaper compared to SSDs, that's why many users are still opting for budget-friendly SATA drives. Hopefully, the price of SSDs will get lower in the coming future.
Conclusion
To sum it up, it should be easy to recover data from SATA hard drive by using a proper data recovery solution. And few can match iMyFone AnyRecover in this regard. It is an efficient data recovery software that will always aid you when in need of data recovery. Enjoy its free trial and you'll be amazed at its functions!