Losing saved data on your computer is the most unpleasant thing that can happen to anyone due to multiple reasons. When you accidentally delete something important from your computer and empty the recycle bin afterward, you can't recover it using standard methods. However, free data recovery software for Windows 10 can easily restore deleted or corrupted data within seconds. If you are wondering how a data recovery tool recovers permanently deleted files, the answer is quite simple. Once you delete files on your computer, they often remain on the hard drive. Data recovery software scans for those files and restores them to their original location. Read this guide to find out which free data recovery software is best for you.
Part 1: Best Free Data Recovery Software for Windows 10
If you are looking for the best free data recovery software for Windows 10, AnyRecover should be at the top of your list. It is a user-friendly software that enables users to recover their lost or corrupted files on multiple devices and operating systems, including Windows 10. With AnyRecover, you can restore 1000+ file types within seconds. It has a simple UI to help users recover deleted files without tech. It also gives you a preview panel where you can filter all the deleted files and search for the one you want to restore.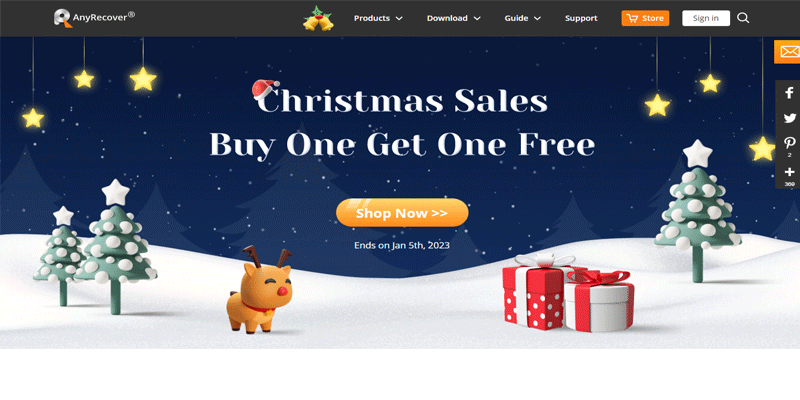 2,061,704 Downloads
Outstanding Features:
It scans your hard drive within seconds, allowing users to recover data with just three clicks.

You can use AnyRecover to restore corrupted videos and files.

You can recover eight files without a size limit using the free version.
How to Use AnyRecover:
Here are the steps to recover deleted files on Windows 10 with AnyRecover. Before you start, download and install the software on your computer for free.
Step 1: Launch AnyRecover on your PC and select a location from all the available locations displayed on the interface. If you permanently deleted the data on your PC, you should select the "Recycle Bin" option.
STEP 2: After you select a location, AnyRecover will automatically start scanning for deleted or lost files. It will only take a few seconds. You can pause and stop the search when you see the files you want to recover. You can also search for it by typing the file's name.
STEP 3: The scan result will show all the files found on the left panel. You can select any file and use double-clicks to preview it. Once you confirm all the files you want to restore, click on the "Restore" button and wait for the system to process your request.
Part 2: Alternative Data Recovery Software
Disk Drill:
Disk Drill is one of the fastest and easy-to-use free data recovery software for Windows 10, enabling users to recover any data type within a few clicks. Its deep scan system searches for lost and deleted files on your computer, providing optimal results and recovery tools that can restore anything you want. Its simple interface allows users to efficiently use the software and recover data, even if they are using it for the first time. It also provides data protection tools and a recovery vault for designated folders.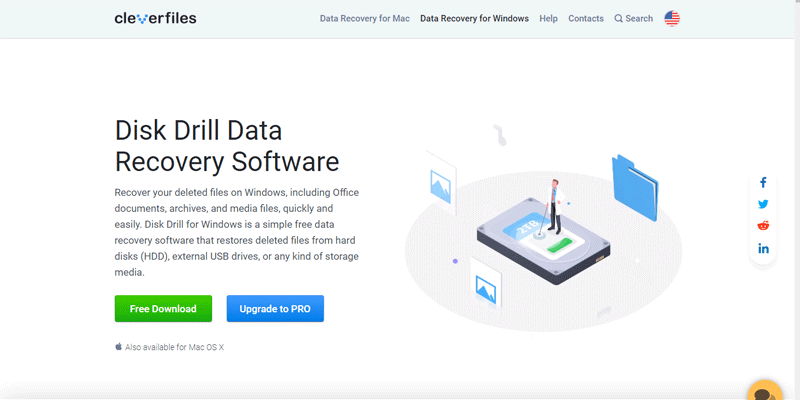 Pros:
It works for all devices with a disk-based storage system.
Offers data protection features and cross-platform saving.
It predicts the recovery chances for the files you want.
Cons:
You can only recover 500MB of data with the free version.
It doesn't offer phone technical support.
Recuva:
If you want lightweight and free data recovery software for Windows 10 to help you occasionally recover deleted files, Recuva is the ideal tool for you. Although it is freeware, the free version does not give you the optimized performance that you can get from other software. Recuva can recover all types of data and files and even extracts data from formatted or corrupted drives. You can use it to recover emails from various platforms and extract data from USBs, SD cards, and DVDs. Recuva supports multiple languages and offers automatic updates.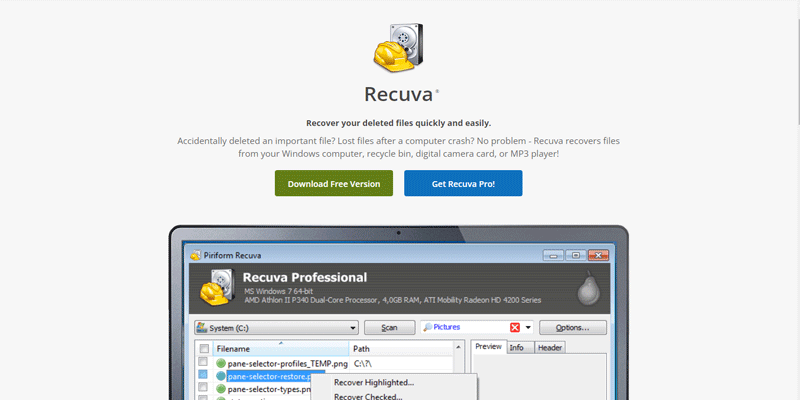 Pros:
Clean user interface and a file preview screen.
Free version and a cost-effective Pro version.
Deep scan and a secure file-deleting system.
Cons:
The free version offers poor performance, but the software works fine when you get the Pro version.
Puran File Recovery:
When it comes to data recovery software on Windows 10, Puran File Recovery is the best pick based on overall features. It is not the cheapest or fastest compared to the top software in this category, but it offers every feature that you might need while recovering data on your computer. The only thing that stands out in Puran File Recovery is its highest-performing file scanning system. It can recover the most number of deleted files on your computer. You can easily recover overwritten and lost partitions on your computer with this software.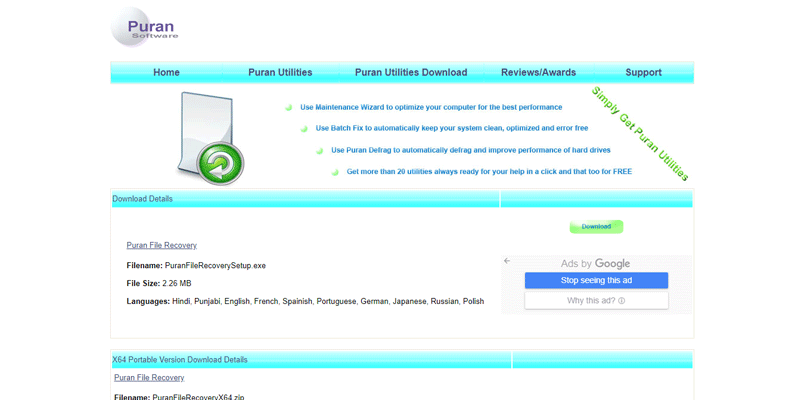 Pros:
Tells you if the files can be completely recovered.
You can use it as portable software.
Multiple ways to preview the deleted files.
Cons:
It is outdated software and hasn't seen updates since 2016.
The free version is only available for home use.
Stellar Data Recovery:
Stellar is one of the most user-friendly free data recovery software for Windows 10, as it provides you with a step wizard to walk you through the data recovery process. You can launch the software and start recovering your deleted files within seconds using Stellar. It provides real-time scanning results, so you can pause and stop the scan midway once you find the files you want to restore. You can also save the list of deleted files on Stellar to avoid scanning again if you want to recover something later. However, the free version is only good for one-time use as you can only recover 25MB without paying.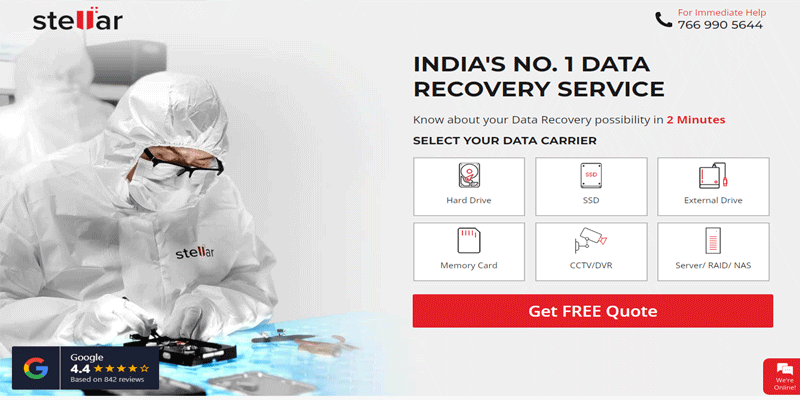 Pros:
Easily recovers data from crashed Windows systems.
You can choose where you want to restore data.
Easy to install, featuring a file preview interface.
Cons:
No the best storage scanning features.
The free version has many restrictions.
You don't get portable options.