In today's world, cameras are famous and commonplace items. We use it in our daily lives to make memories and keep track of important moments with friends and loved ones or use for professional purposes. And we do so by either making videos or taking pictures.
But sometimes, we lose our files due to certain wrong usage and it is a tear-jerking experience to lose files that mean a lot to us. If you have such an experience, you don't need to worry. Camera video recovery is now possible using professional data recovery tools. And this article will take you through the 5 best camera video recovery apps.
Can Deleted Videos and Photos Be Recovered?
Yes, they can! It is possible to recover deleted photos and videos through data recovery software. Ideally, data recovery software is designed to recover corrupted, inaccessible or even data that has been deleted from a storage device. It does that by identifying, scanning, extracting, and copying data from a specific location on the selected drive.
5 Best Camera Video Recovery Apps
If you want the perfect camera video recovery app that functions well, you can check out the apps listed here. They are several great camera recovery apps that will give you unsurpassed results. And you can choose any of them based on your needs.
1. AnyRecover
Let's begin with the best deleted camera video recovery app - AnyRecover. It helps you recover various lost files like videos, photos, documents, and audio. And it is by far the easiest way out when you need to recover your lost or deleted files from your camera.
Besides camera, it also helps you retrieve documents from various external devices like hard drives, SD cards, flash drives, SSDs, and HHDs. AnyRecover works well on both Mac computers and Windows PCs. Moreover, it offers a free trial for users to check compatibility. Let's give it a try!
Pros
Recover more than 1000 types of files (videos, audios, documents, photos, and so on).
Support different internal and external storage devices like cameras, hard drives, USB flash drives, SD cards, SSDs, etc.
Highest recovery rate compared to competitors.(Up to 99.7%)
It can be used to repair corrupted/broken video files.
User-friendly interface makes data recovery possible in 3 simple steps.
Cons
Require premium version if free recovery trials are exceeded.
You can recover lost files with these quick and easy steps:
Step 1. Download and install AnyRecover software on your PC, then connect your external storage unit(memory card of your camera in this case) to your computer. Launch the program and choose the location of the detected device to begin the scanning.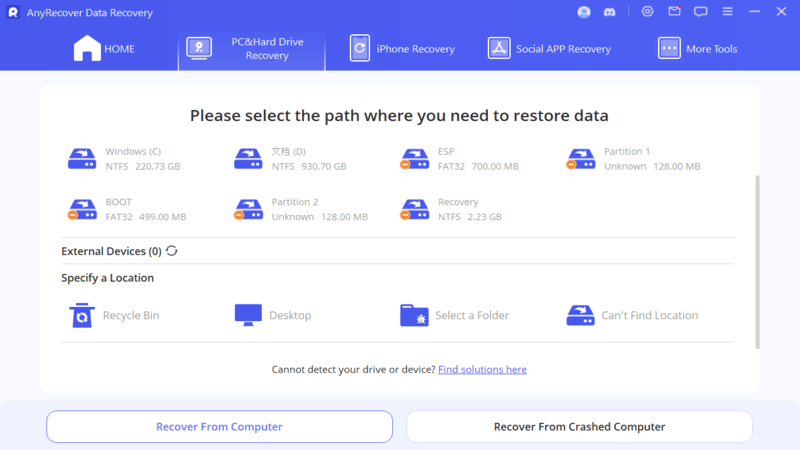 Step 2. The software will initiate a deep scan of the memory card to identify every lost or deleted data.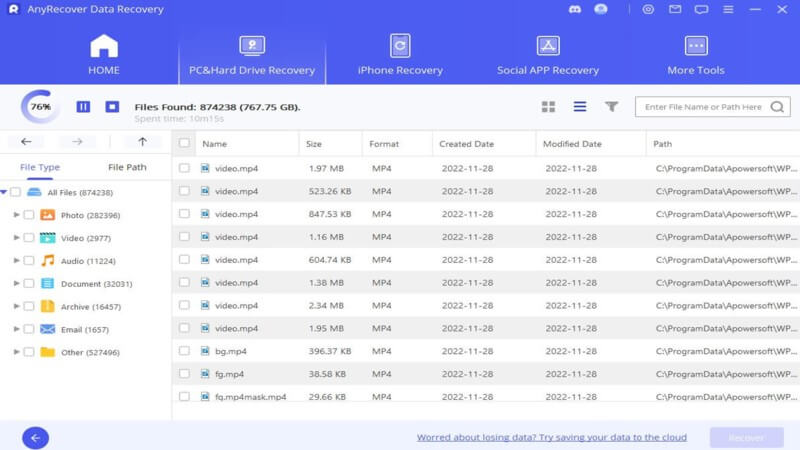 Step 3. Then it allows you to preview all your lost files and choose the data you want to recover. Once you find the target, select Recover to retrieve all lost data and save them in your preferred location.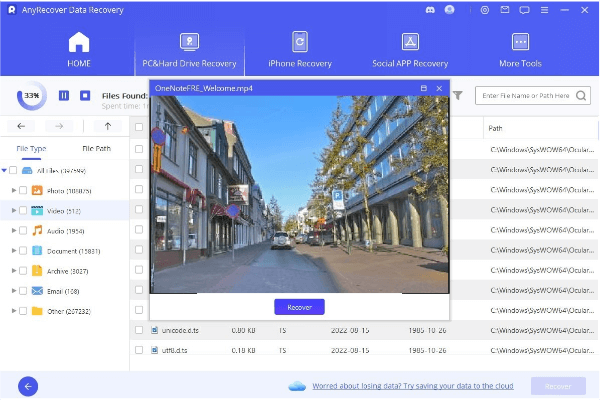 Step 4. After recovery, if the file is damaged or cannot be opened, click Detect Broken Video or go to the Video Repair module from the home page. Within a few minutes, the broken/corrupted files will be repaird.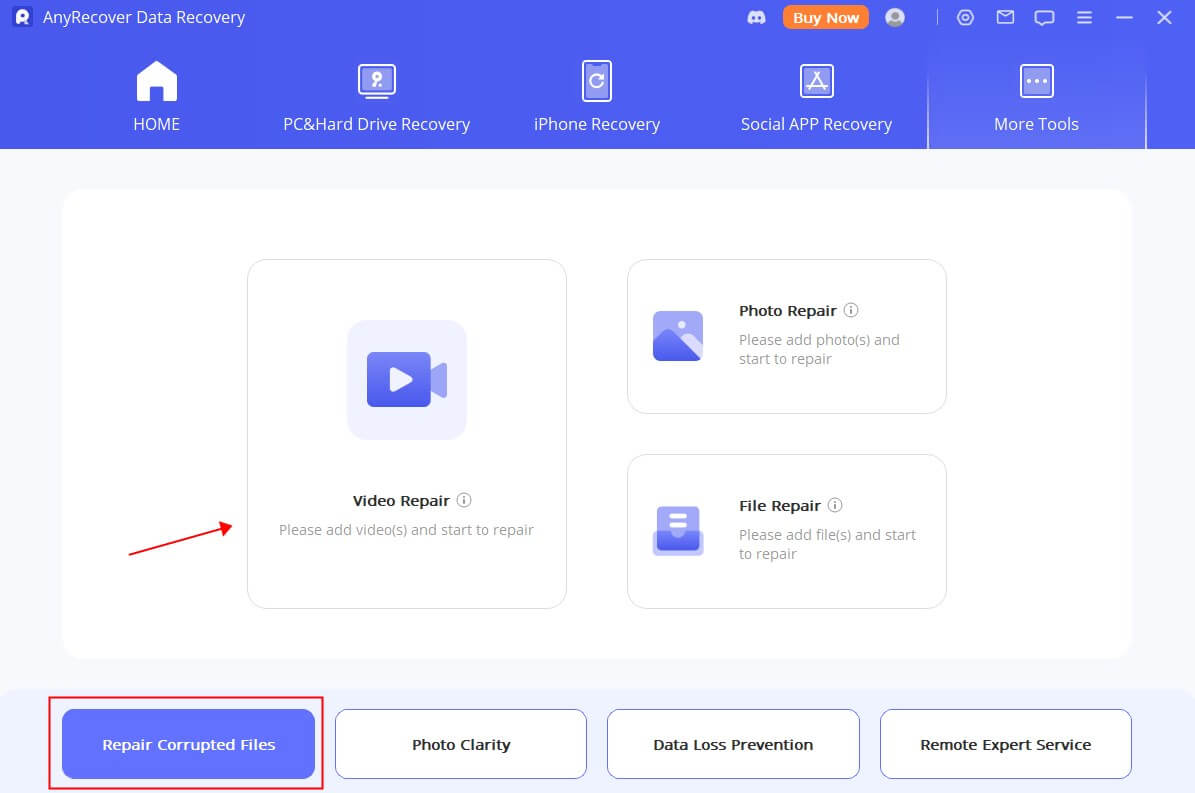 2. CardRecovery
CardRecovery, also known as Memory Card Recovery, is a software program used to recover photos from SD cards in cameras and mobile phones. It is a leading and affordable deleted camera video recovery app that allows users to retrieve lost, deleted, formatted or corrupted video or photo files. For camera video recovery, it is a good choice as it works well with various memory card types. However, for data recovery from other external devices, its performance fails to catch up with other competitors.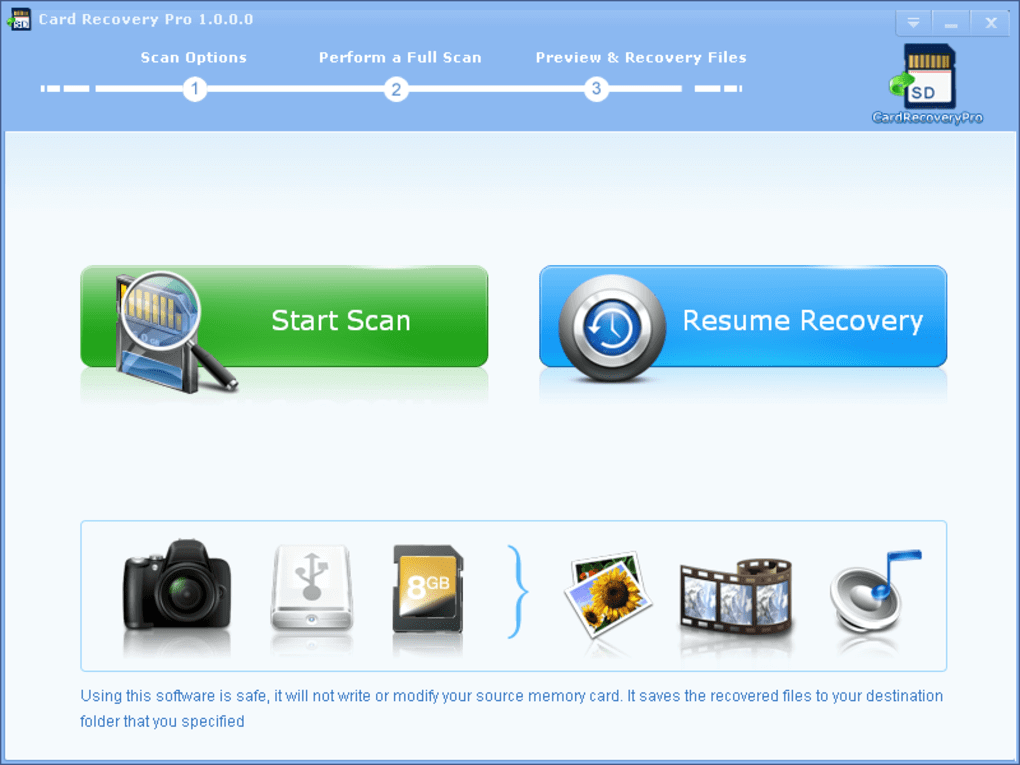 Pros
Supports various memory card types like SD cards, MicroSD, SDHC, CF (Compact Flash) Card and more.
The paid version only costs $39.95.
User-friendly, no special skills needed.
Cons
Only available for Windows computer.
Only good at photos and videos recovery.
The scanning speed is somewhat slow.
3. Stellar Photo Recovery
This is another top-notch deleted camera video recovery app that is popular among tech users. The success rate of its time-tested brand of data recovery is guaranteed. It comes in handy when you want to recover lost videos, photos, or music files in formats like AJP, F4V, 3GP, and so on. Also, it helps you recover all types of data from devices like SD cards, hard drives, CF cards, and more.
However, this software is specialized in recovering photos and videos. That's to say, if you want to recover other types of data, you need to buy its professional data recovery software, which costs as much as $89.99 to try the basic functionalities.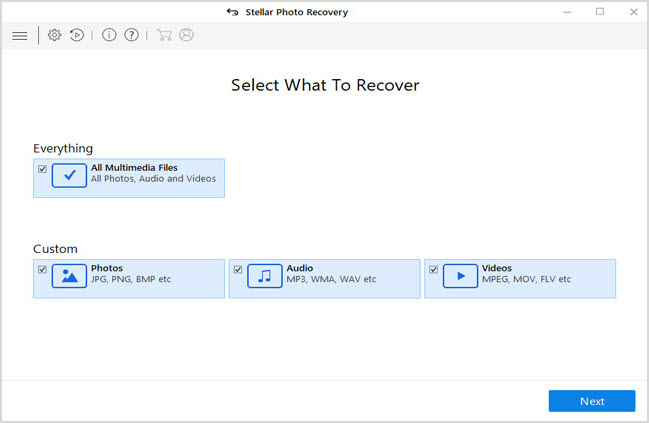 Pros
Restore various types of photos and videos from different external storage device.
Easy to use with user-friendly interface.
This one is affordable and only costs $39.99.
Preview before saving function is enabled.
Support Windows and Mac Computers.
Cons
Recovered files can not be saved while using the demo version.
Not capable for other types of data recovery.
4. MiniTool Power Data Recovery
If you're looking for a fast app to recover deleted camera video, then MiniTool power data recovery is the right app for you to try. It has unique features that help it carry out a deep scan of your hard drives, memory cards, SSDs as well as cameras. This software supports over 100 file types, including video, audio, documents, and photos.
What makes this software outstanding is that it supports CD/DVD recovery. However, its interface is not as professional as others. Sometimes, it even confuses Mac applications with Windows applications. Besides, some grammatical errors can be found everywhere.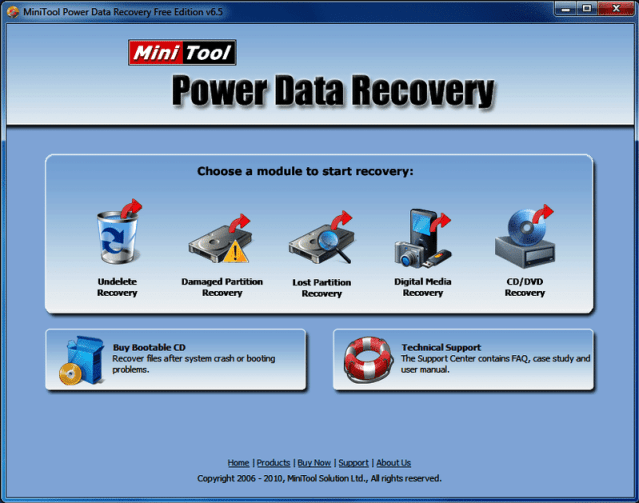 Pros
Support various files types and storage devices, as well as CD/DVD recovery.
The estimation of scanning time is accurate.
Users can preview before saving.
Compatible with both Windows and Mac computers.
Cons
The free trial allows only 1Mb data recovery on Mac computers.
Not professional interface makes people doubt its capabilities.
5. Recuva
Recuva may be the last on our list of the best deleted camera video recovery apps, but it's also versatile, useful and affordable. With Recuva, you can recover missing video files from your camera, SD card, computer, and so on.
It allows you to preview your recovered files, but you'll be unable to see the results while the scan is ongoing. Besides, although Recuva has a deep scan feature, it is considerably slow and its GUI is not so easy to navigate.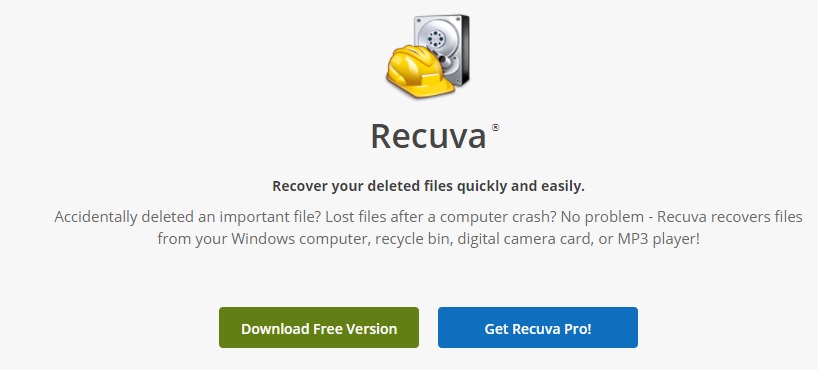 Pros
Recover different types of file from both internal and external storage devices.
Require only $19.95 for paid version, making it affordable.
Support preview before saving recovered files.
Cons
Deep scan can be very slow.
Support only Windows computers.
GUI is not so user-friendly compared to other competitors.
Conclusion
Losing your files, especially videos and pictures that are important to you, can leave you in total disarray. The good news is, you can quickly recover those files using deleted camera and video recovery apps. These apps make the recovery process easy, fast, and reliable. So that you can easily access your files. Just choose any app that suits you best and download it for a try!
Here we strongly recommend AnyRecover, which is by far the most powerful and cost-effective deleted camera and video recovery app on the market. It now offers a free trial to test its compatibility. Why not give it a try?