Have you ever gotten an error message "Either There is No Default Mail Client Outlook 2016"? Do you know that an issue like this can prevent you from exploring outlook 2016 to the fullest? This post will be revealing how to handle a problem like this today. You will definitely be amazed at how easy it can be resolved.
"Either There is No Default Mail Client in Outlook" Error
The first thing you need to understand about this error is the fact that it can be due to various reasons. This is very important most especially to ensure it is avoided as much as possible in the future.
Causes for Outlook is Not Recognized As Default Mail Client
Some of these causes will be highlighted below:
The 32-bit programs can't see Outlook 64-bit programs which you are making use of.
When Windows live is what internet explorer has been set to use.
When the Outlook application is installed after installation of Office, Office repair should be carried out.
Fix to "Either there is no default mail client in Outlook" Error
Method 1: Verify If Outlook is Set As Default Mail Client
One of the ways to deal with such an error is to verify whether Outlook has been set to default mail client. This isn't difficult to do once you understand the process as shown below:
For Windows 10
Step 1. Settings should be opened.
Step 2. "Default Apps" should be typed inside the Find a Setting field.
Step 3. At the page's top, you can verify whether Outlook has been set to Default Email Client.
For Older Versions
Step 1. Get Control Panel opened and look for Default Programs.
Step 2. Default Programs Link should be selected.
Step 3. Microsoft Outlook should be chosen from the various programs.
Step 4. Choose the option which says "select this program as default".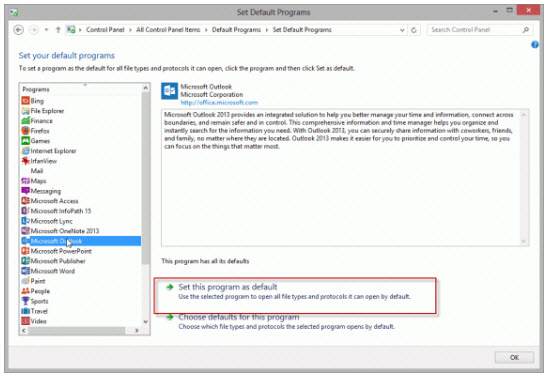 Method 2: Repair Office Installation
In a situation whereby you are seeing an error like "Either There is No Default Mail Client in Outlook", it is possible that such is caused by installation of the affected application after office must have been installed. Here is how it can be corrected through the repairing of office installation.
Step 1.Go to Control Panel > Programs & Features.
Step 2.Locate the Outlook or office installation.
Step 3.Click on Change.
Step 4.After getting Quick Repair selected, the Repair button should be clicked on.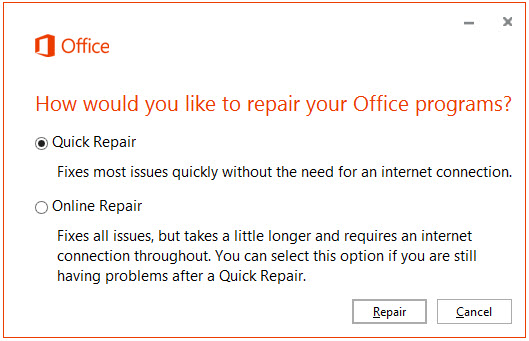 Method 3: Remove the Corrupted Outlook Registry Key
Removal of Outlook Registry Key that is corrupt or damaged can also help you get such an issue resolved in the best way. Follow the steps below to overcome such a challenge today:
1. After getting Start clicked on, Run should be clicked.
2. Regedit should be typed inside the open box. Now get Enter pressed.
3. Export the registry's backup.
4. "HKEY_LOCAL_MACHINE\Software\Clients\Mail\Microsoft Outlook" should be located in registry editor.
5. The Subkey should be selected and then get Delete pressed.
6. Yes should be clicked.
7. Quit Registry editor.
8. Outlook should be started.
If you are using outlook 2000 and 2002 versions, Help menu will enable you to locate repair.
For 2007 version, get Help menu clicked on and locate Office Diagnostics.
For 2010 edition, Start > Control Panel > Programs and Features > Microsoft office 2010 will have to be clicked on. Locate the Change button and get it clicked on. After that click on Repair and hit Continue.
How to Fix Registry in Outlook PST File?
One of the major problems of most users of Outlook is repairing their files. They usually struggle when it comes to finding a reliable way to repair and recover their damaged Outlook files. The good part is that with the help of ScanOutlook, such a challenge will be resolved with clicks of few buttons.
Steps to Repair Outlook PST Files with ScanOutlook
Step 1. Get ScanOutlook launched. This is usually after installation.
Step 2. Locate files to be repaired on Outlook. You can either allow ScanOutlook application to do this automatically or do it by yourself manually. To do it manually, choose either of Browse or Search option.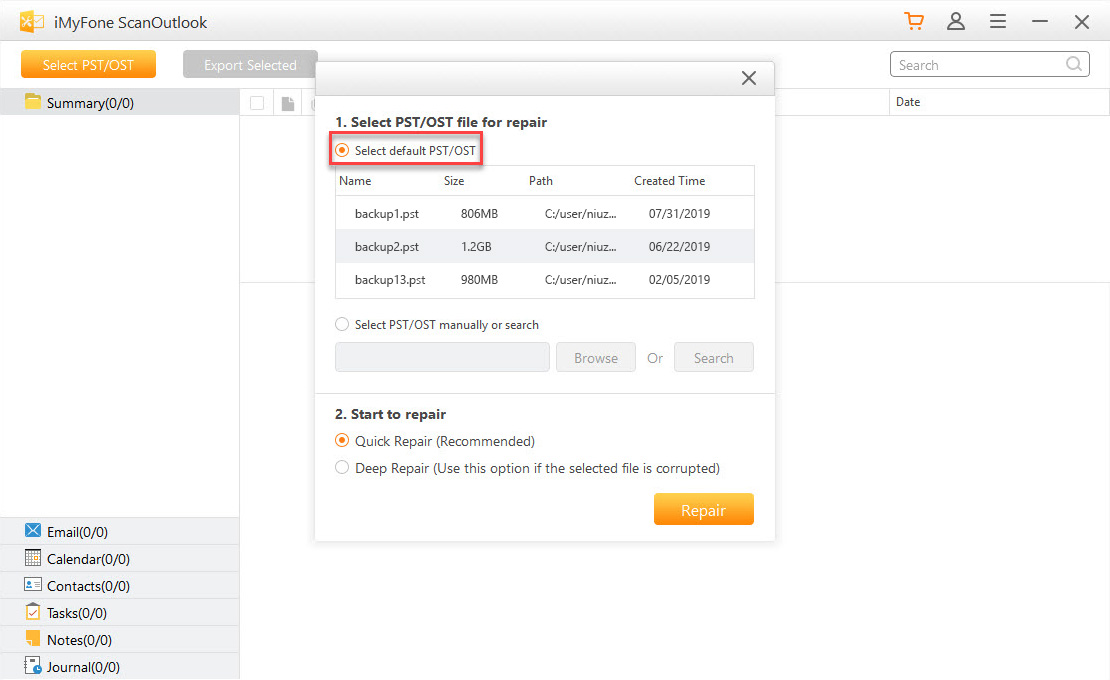 Step 3. After choosing the file, click on the Repair button to enable ScanOutlook to start fixing your files.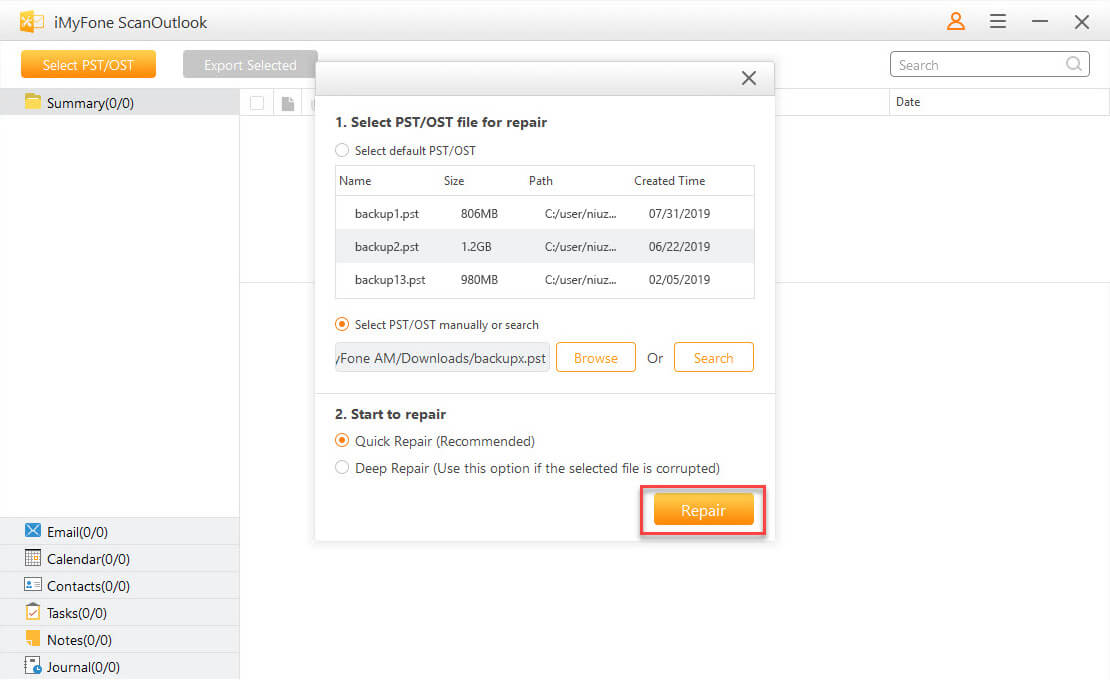 Step 4. Once the repair is completed, you will need to choose the Export Selected option above. This will ensure your repaired files are directed to a safe folder within your system.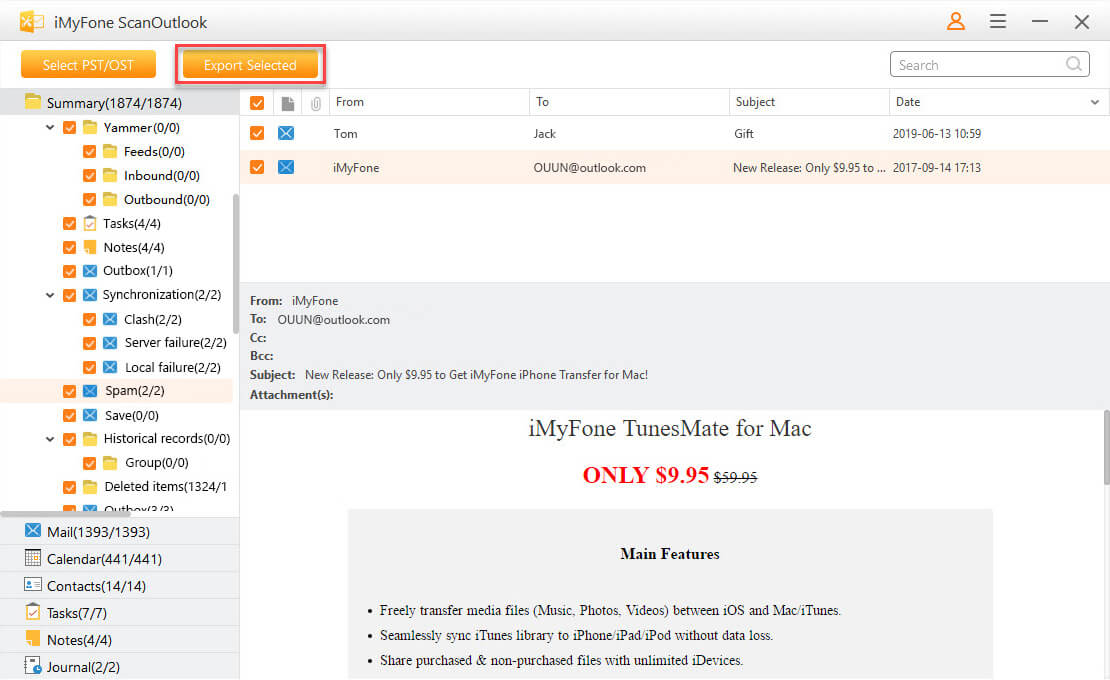 Conclusion
Based on the above, it can be seen that there are various possible causes for an error "Either There is No Default Mail Client Outlook 2016". The good part is that you can choose any of the above solutions to correct it today. Also, iMyFone ScanOutlook can help you recover damaged/corrupt Outlook files if there is any need.