A dead Mac happens occasionally, and hence the need for data recovery from Mac hard drive. This might seem like something that only experts can handle, but with the tools we have access to, nowadays it's actually an easy task to take on. Basically, there are two ways to recover data from a Mac hard drive: 1) Directly restore from Mac hard drive on a Windows computer; 2) First recover data from the hard drive, and then transfer files from Mac to PC.  Either way you take, in this guide we'll detail all the steps that need to be taken.
1. Recover Data from Undetected Mac Hard Drive on PC
The first part of this guide will focus on how to recover data from Mac hard drive on a Windows computer, meaning you'll have to connect the hard drive to a Windows PC for the recovery.
Note
This method is suitable for situations like the Mac hard drive isn't being detected but you want to recover data from it.
Step 1. Format HFS Hard Drive to NTFS or FAT
Because Mac and Windows run different file systems (Usually Mac uses the HFS file system, while Windows runs on NTFS system), this method involves the necessary step of formatting the Mac hard drive so that it can become compatible with a Windows PC.
Launch Disk Utility on Mac, select the hard drive you want to format from the list. Confirm that the right hard drive is selected because this can't be undone.
At the top of the window, click "Erase" and choose "ExFat" as the format since this is compatible with Windows' file system.
Give the drive a suitable name and adjust the other settings if needed, and click "Erase" to finalize the format.
Step 2. Connect the Formatted Mac Hard Drive to PC
With the hard drive now formatted appropriately, your next step is to connect it to a PC as an external storage device. Use a USB adapter to connect the hard drive and it'll be visible.
Step 3. Recover Data with Mac Hard Drive Recovery Tool
Lastly, you now need to recover data from Mac hard drive on Windows and the best way to do this is with third-party recovery software, and I would like to introduce the most-trusted tool - iMyFone AnyRecover, which has been recommended by Cult of Mac, Softpedia, and many other leading media. This impressive tool makes data recovery a seamless process that can be done by any computer user without a complicated process involved. Besides, it has an extremely high recovery rate.

AnyRecover's Key Features:
AnyRecover is specially designed to recover over 1000 different file formats of photos, videos, documents and emails, etc.
Advanced data scanning algorithms. Data scanning speed of AnyRecover is blazing fast, allowing you to scan and look for hidden files quickly.
User-friendly software interface which is suitable for beginners. Help you recover deleted data easily.
AnyRecover offers a FREE Trial with 8 files for free recovery with no size limit. You could also preview your data before recovering it. You could also preview your data before recovering it.
Supports MacOS and Windows 11/10/8/7/XP.
Recover Data from Mac Hard Drive with AnyRecover:
Step #1 – Confirm that the Mac hard drive is connected to your Windows PC. Launch AnyRecover, select the Mac hard drive from the option of External Removable Devices, and click "Start" to begin the scan.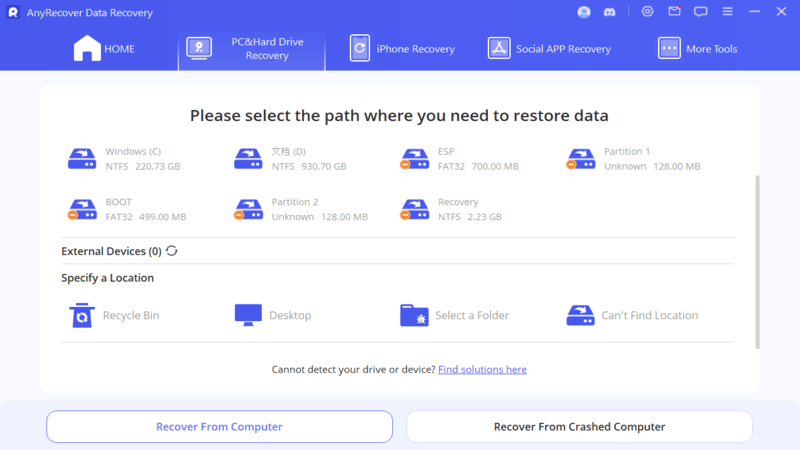 Step #2 – Wait patiently as the software runs a thorough scan of all the data stored on the Mac hard drive that can be recovered.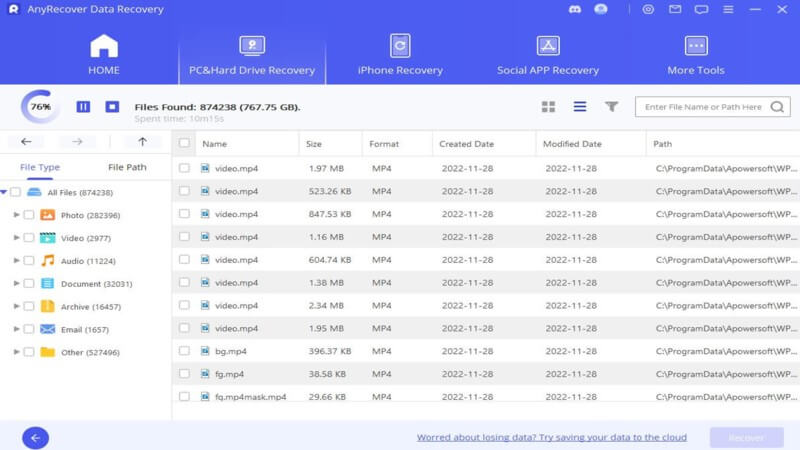 Step #3 – After the scan has been completed, preview and browse through the Mac files and select anything you want to recover. Click "Recover" and save the files to your Windows PC.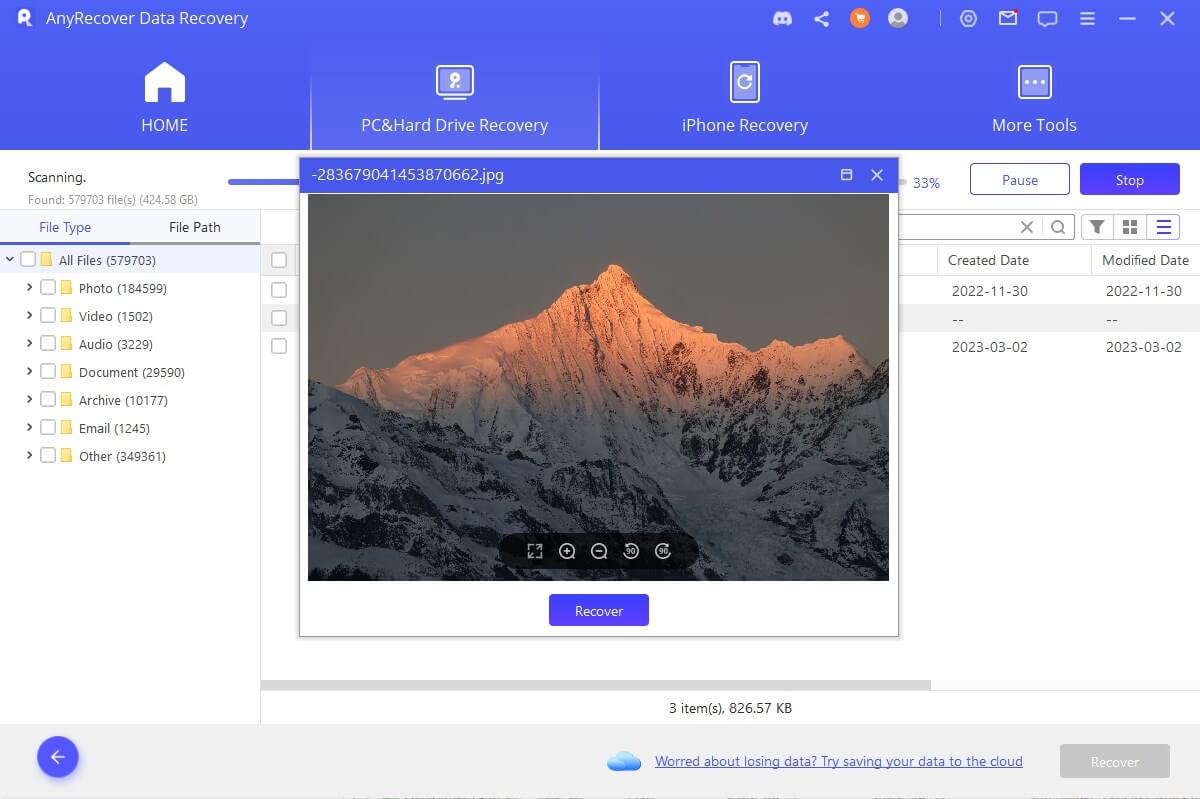 This entire process takes only a matter of minutes and AnyRecover gives you the best chance of recovering data from an inaccessible Mac hard drive.
2. Recover Data from Detected Mac Hard Drive & Transfer Files from Mac to PC
Alternatively, you can recover the data from a Mac hard drive on Mac and then do a data transfer from Mac to PC afterward. This is very similar to the methods above and is just as hassle-free too!
Note
This method is suitable if your hard drive can be detected and accessible on the Mac, but some data become deleted accidentally or lost due to other reasons.
Step 1. Recover Files from Mac Hard Drive with AnyRecover Software
Again, we'd recommend using iMyFone AnyRecover to recover data from Mac hard drive to PC because it is the easiest solution out there that doesn't make data recovery a difficult process. As a reminder, it recovers lots of data types, has a high success rate, and you're able to preview data before you go ahead and recover it.
The process is similar to the "Step 3" above, just launch AnyRecover on your Mac and then follow the instructions to recover data from your Mac hard drive.
Step 2. Transfer the Recovered Mac Hard Drive Data to PC
The next step in this process is to transfer your recovered data from the Mac computer over to your Windows PC. To do this you'll require some sort of storage devices, such as an external hard drive or a flash drive, it will also work with a cloud storage solution.
Connect your external storage device to the Mac computer.
Copy all of your recovered data on the Mac computer to your external storage device.
Properly disconnect the external storage device.
Connect the external storage device to your Windows PC.
Copy the data from the storage device to a safe folder on your Windows PC.
A simple file transfer and you'll find all of your recovered Mac data safely available on your Windows PC and readily accessible. If you don't have a storage device to use, upload the files to Google Drive and download them on your Windows computer instead.
Conclusion
Hard drive data recovery is possible and it doesn't have to be an over-complicated process either, this guide is proof that there are working solutions. Hopefully, with the help of iMyFone AnyRecover, you'll be able to recover data from Mac hard drive to PC very quickly and it'll be almost as if you never lose the data. Furthermore, if you face any situation where you have lost data for any reason, we'd recommend you use AnyRecover to ensure that you have the highest chance of recovering it.