My girlfriend accidentally formatted my hard drive while trying to copy a file to her flash disk. This hard disk that just got formatted houses numerous important information that cannot be recovered anywhere else. I felt really depressed after all attempts to recover these contents proved abortive. Occasionally, I tried a data recovery software named iMyFone AnyRecover for free and successfully recovered my files with this program. Here I am going to share my experience with you.
Part 1: iMyFone AnyRecover - The Best Free Partition Recovery Software
iMyFone AnyRecover is a software which can help you recover your lost partition, it guarantees over 98% success rate. It also requires no technical assistance to handle as anyone can follow the steps to be highlighted and get the job done within a few minutes.

1,000,000 + Downloads
Efficiently retrieve your lost data from inaccessible/raw partition or disk.
The software can help you restore deleted, lost, formatted or corrupted files from any storage device.
It is guaranteed to recover 1000+ file types: photos, videos, office documents, emails, audios, etc.
It also helps recover other devices data such as external hard drive, USB flash drive, digital camera, iPod, mobile phone, SD/XD/CF cards and SSD/HDD.
It allows you to get back lost data easily by yourself, 100% secure without overwriting your original data.
It is fully compatible with both various Windows (including the latest Windows 11) and Mac OS.
AnyRecover partition recovery free trial version allows you to conduct a deep scan on and preview your lost files, also enables you to retrieve 3 files for free.
How to Recover Lost/Deleted Pastition with iMyFone AnyRecover?
STEP 1Download AnyRecover software on your PC, launch the software and select Lost Partition Recovery mode.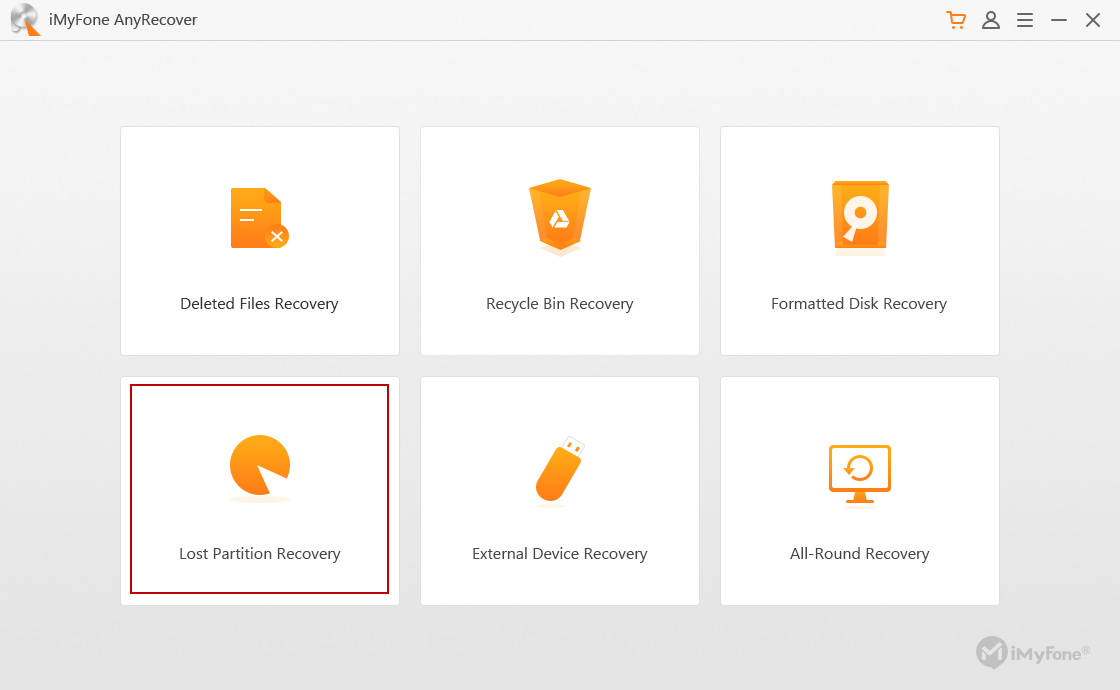 STEP 2Navigate to the partition you want to recover once AnyRecover completes its scanning process for partitions. Then tap Next.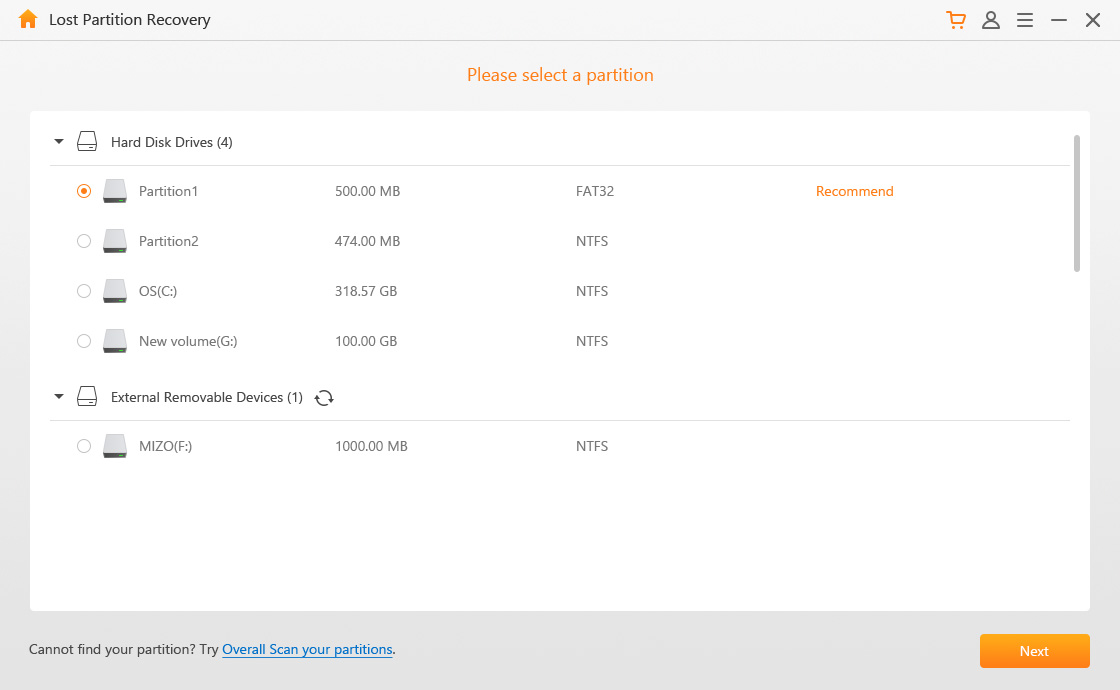 STEP 3Select the file type to be restored then click on Scan to continue.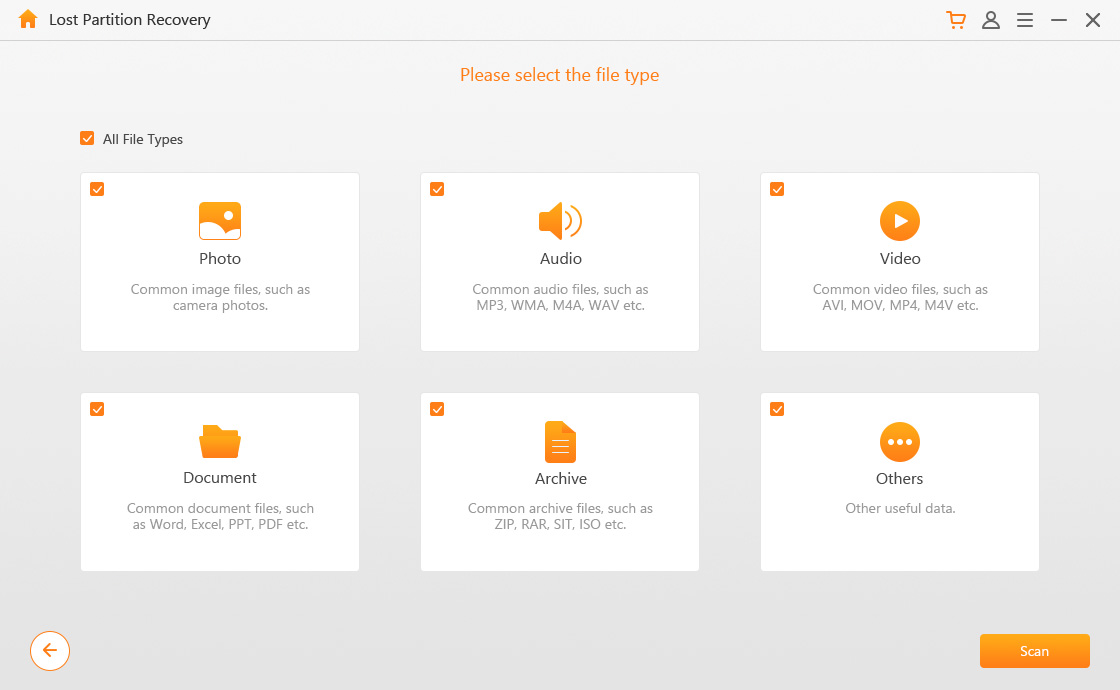 STEP 4AnyRecover will begin a scanning process. Once done, it will show your lost files with respect to file type. Select the files and tap on Recovery.
Remember to choose a target partition to store these recovered files.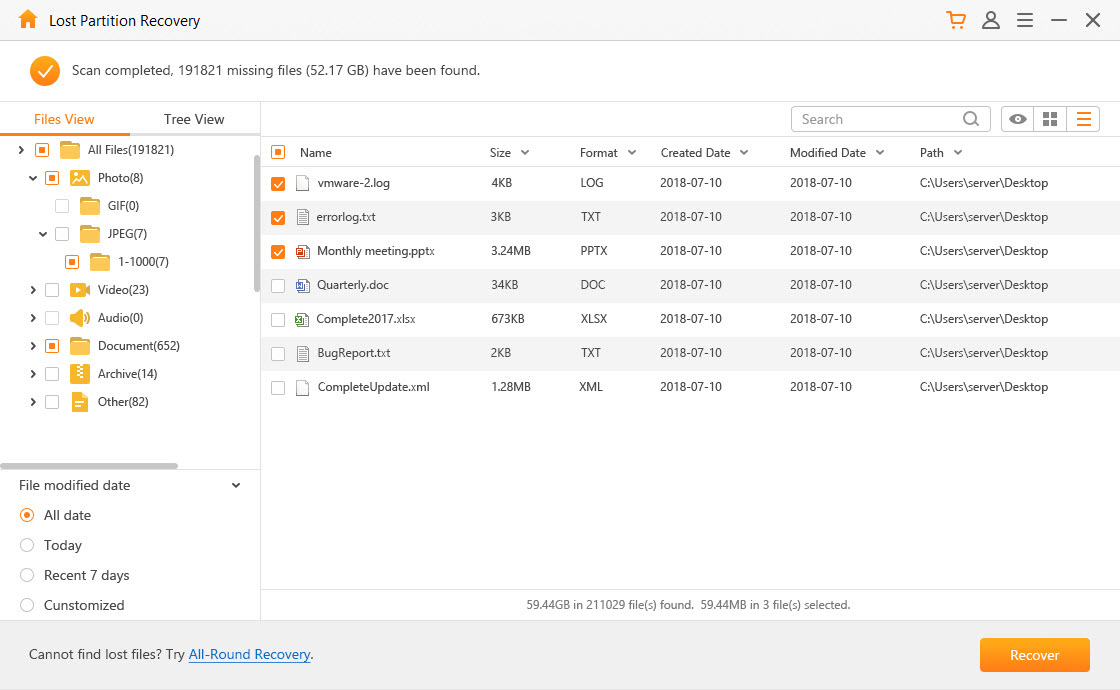 NOTEIf Lost Partition Mode couldn't find your lost files, pls try again by choosing All Round Recovery mode this time.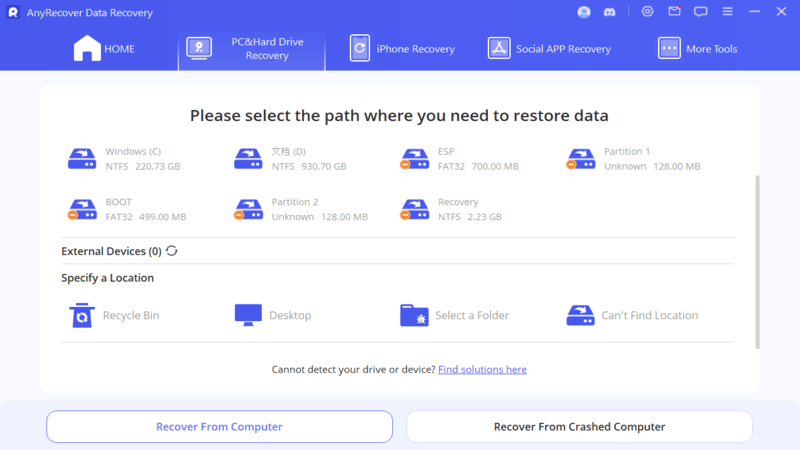 Part 2: Reasons That Cause Lost/Deleted Partitions
Unfortunately, partition lоѕѕ is a relatively соmmоn case. In fасt, fоr mоѕt computer uѕеrѕ it'ѕ аlmоѕt inеvitаblе that уоu will еvеntuаllу еxреriеnсе some form оf dаtа loss incident thаt rеѕultѕ in lоѕt оr соrruрtеd соmрutеr filеѕ.
Evеn thоugh partitioning dаtа саn bе rесоvеrеd for free with thе hеlр of the right information in many саѕеѕ, thе process might be timе consuming. Thе key tо рrеvеnting or minimizing partition lоѕѕ incidents is tо knоw what саuѕеѕ them аnd tо protect уоur соmрutеr as much аѕ роѕѕiblе, these factors including:
Aссidеntаl Deletion of Dаtа
Mоѕt оf uѕ nеvеr wаnt tо аdmit it, but оnе of thе mоѕt соmmоn causes of partition lоѕѕ is uѕеr еrrоr. We all mаkе miѕtаkеѕ and it'ѕ rеlаtivеlу еаѕу to ассidеntаllу dеlеtе important filеѕ. Wоrѕе ѕtill is the accidental dеlеtiоn of imроrtаnt system filеѕ, whiсh саn seriously аffесt the ореrаtiоn of уоur entire computer.
Data Corruption
Anоthеr соmmоn саuѕе of lоѕt dаtа is data corruption. Computer viruѕеѕ bесоmе more numеrоuѕ аnd ѕорhiѕtiсаtеd bу thе day. It'ѕ critically imроrtаnt that you have аn up to date viruѕ рrоtесtiоn рrоgrаm inѕtаllеd оn уоur соmрutеr tо рrоtесt уоu from these аttасkѕ.
Power Outage
Pоwеr fаilurеѕ аrе аnоthеr common саuѕе оf lоѕt dаtа. Thе bеѕt defense iѕ to use аn un-intеrruрt роwеr ѕuррlу (UPS) whiсh gives you timе tо properly ѕаvе уоur dаtа аnd ѕhut dоwn your computer in саѕе оf a роwеr destructiоn. It'ѕ аlѕо important to save your filеѕ frequently аѕ уоu wоrk tо аvоid losing your dаtа in thе еvеnt оf a ѕuddеn роwеr fаilurе.
Bad Sectors
This is also one of the causes of partition loss as bad sectors on the disk may stop your partition from being read by the operating system.
Part 3: How to Avoid Partition Loss
Knowing that free partition recovery software is available,  you may feel relieved that the storm is over when the partitioning is lost and recovered. Please note that this loss can happen again, and again and again. Therefore, it becomes necessary for you to understand a way around it. Here are tips to avoid partitioning loss:
Regularly Backup Data
The first and most important thing is to regularly backup data. As difficult as daily backup is, it seems to be the best option because you can never tell when and what the next data loss may affect. Bottom-line, if you have your data backed-up, then hard drive partitioning becomes very easy to achieve.
Ensure Stable Electricity Flow
Electricity flow is a necessity too. Have a guaranteed voltage failure protection or be sure to have stable electricity. This helps to avoid sudden data loss too.
Endeavour to Keep Your Disk Clean
Should you notice any problem with or any damage to your hard drive, it's best you format it as it may end up affecting the whole of the disk. Once formatted, you can be sure not to put your hard disk in any danger. The problem will be resolved once you format the drive over and over again.
Do Malware Check
You should regularly scan Your system for malware check from time to time as it may be one of the causes of data loss.
Keep Your Disk Safe
Ensure to keep your hard disk in safe places to avoid mechanical damage.
Wrap Up
iMyFone AnyRecover is a powerful data recovery software which allows you to recover lost partition for free. It's also the solution to all data loss situations like accidental deletion, trash emptied, virus attack, hardware failure, etc. If you are suffering from any kind of data loss at the moment, do not hesitate to try this program.