We often face a situation when we lose access to our voice recorder files due to accidental deletion, unintentional formatting, sudden power loss, or any other reason. In all such scenarios, you might think that you have lost the files permanently, but in reality, it's not the case. Although you don't have access to the files right now, still you can recover all those files easily. This is where voice recorder recovery software comes into play.
In this article, we are going to discuss the best voice recorder recovery software that are ideal for you to recover your voice recorder files quickly.
Part 1. Top 3 Voice Recorder Recovery Software
There are a number of voice recorder recovery software available on the internet, but not all of them are efficient enough to deliver the desired output. The following are the top 3 software that you can choose from:
1.1 AnyRecover
AnyRecover is an award-winning advanced data recovery software that can recover data with an extremely high recovery rate. No matter how difficult it is to get back the deleted voice recorder files, AnyRecover is designed to efficiently rescue the lost files in any scenario.
Here are more features about AnyRecover:

1,000,000 + Downloads
Deep but Super-fast Scanning: It'll thoroughly scan your voice recorder and provide you with all the recoverable voice recorder files in a super-fast and efficient way.
File Filter: It lets you filter the scanned files based on date, type, and name.
Simple Process: It's easy to use with a user-friendly interface. Takes 3 or 4 steps to recover your voice recorder files.
Data Security: With AnyRecover, you are not sending your voice recorder files to any data recovery service, so your files are always secure and only accessible to you.
Multiple Devices Support: Supports to recover voice recorder files from all kinds of storage devices, such as digital voice recorder, other external devices, computer, etc.
Steps to use AnyRecover to recover lost digital voice recorder files:
Step 1. Download and launch AnyRecover. Choose the location where your voice recorder files get lost or deleted. Then click Start.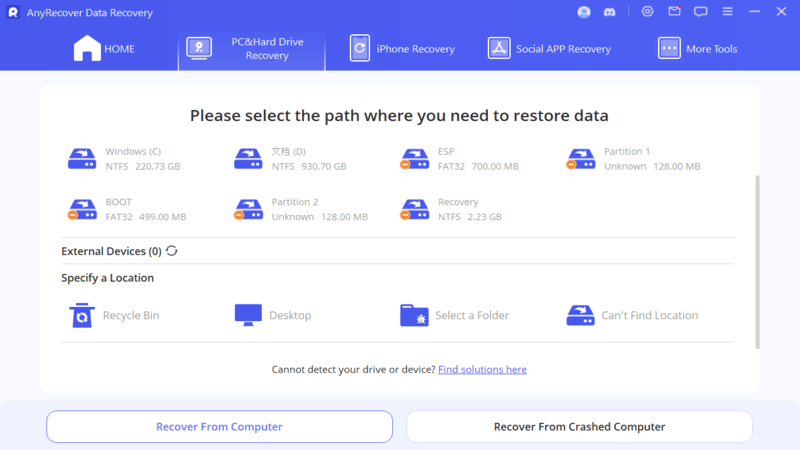 Step 2. All all-around scan will be in process.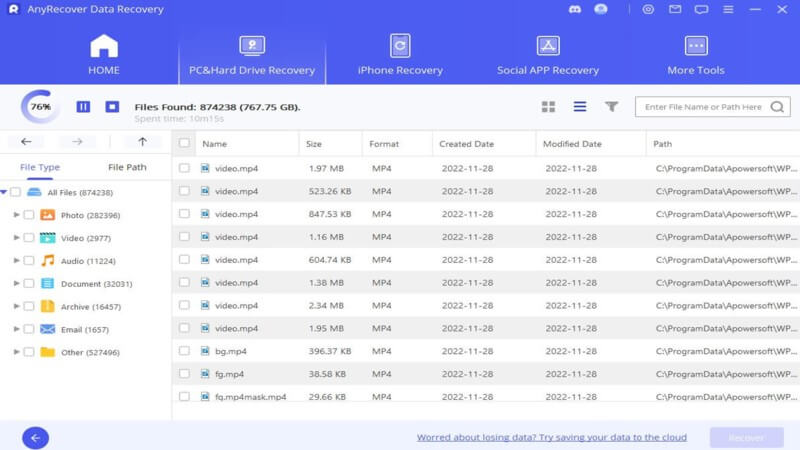 Step 3. All the recoverable voice recorder files will be displayed orderly after the scan completes. Choose the one you want to recover and click on the Recover button.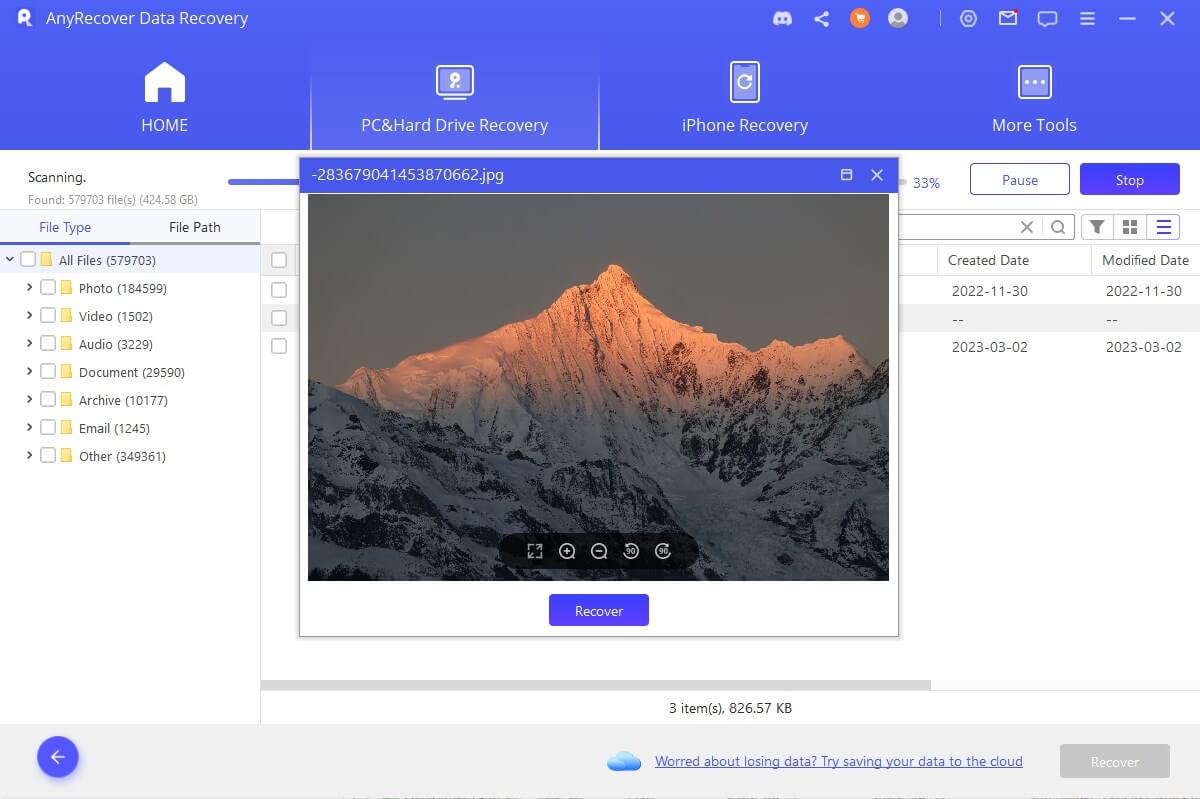 Note
AnyRecover offers free trial which enables everyone to scan and preview unlimitedly so users can make sure the lost files are recovable. Additonally, are allowed to recover files up to 200Mb for free!
1.2 iBoysoft
iBoysoft is an all-in-one data recovery software that can recover data from a wide range of scenarios. Whether your drive or data is unreadable or corrupted, iBoysoft can still recover all of your lost voice recorder files. Besides that, it comes with a user-friendly interface, a search bar, selective file recovery, and works perfectly on Windows and Mac.
However during our test, it was stuck on the scanning for almost 2 hours. And many files it founded were corrupted and could not be recovered.

Asoftech is data recovery tool that can recover lost data from a variety of storage devices, such as hard drive, USB drive, SD card, etc. It is such a sony voice recorder recovery software that can recover deleted files. Besides that, it can get back files after a partitioning error.
It was pretty fast to scan my hard drive. However, it was hard to choose the photos that I wanted to recover as the preview window was disordered and the pictures were too small to recognize.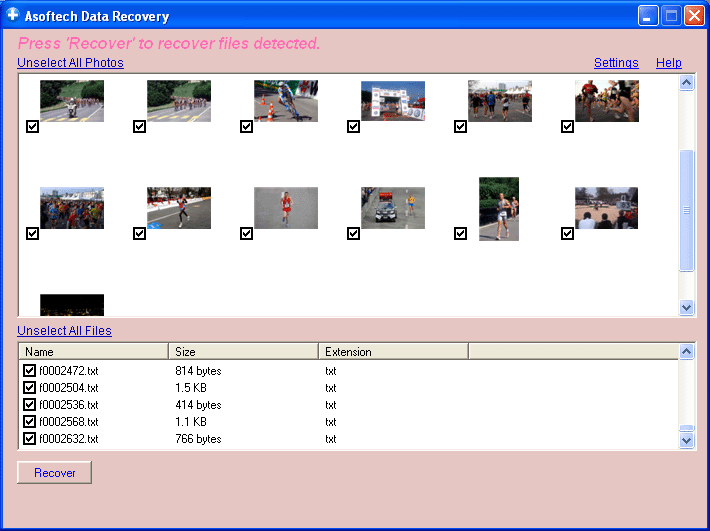 Part 2. Comparison of the Above Software
Software

Advantages

Disadvantages

AnyRecover

It supports recovering from various storage devices, including digital voice recorder.

Fast scanning speed and high recovery rate.

Easy to operate.

Allows customizable filter.

Won't affect or overwrite the existing data.

iBoysoft

It takes more time to scan based on our test.

Not all the deleted files are recovered even after a complete scan.

Its paid version is quite expensive.

Asoftech Data Recovery

The limited trial version can be only used to find the recoverable files.

Unfriendly user interface.

Fail to find the voice recorder files after a few attempts.
Wrapping Up
The deletion or loss of voice recorder files becomes a big problem for people who don't have much tech knowledge. But the above-listed voice recorder recovery software makes it quite easy for anyone to recover the files hassle-free. But if we have to choose the single best voice recorder recovery app from the three of them, then AnyRecover is undoubtedly the winner because its feature-list, deep scanning, high recovery rate, and cost-effective nature has no comparison with others.
Free download AnyRecover now and see if it works perfectly for you!