There have been situations where a crime took place in a neighborhood or shop, but even when witnesses stepped forward to report these, the cases were discarded because they lacked hard evidence. This is why CCTV cameras are installed almost everywhere.
Closed-circuit television (CCTV) or digital video recorders (DVR) are perfect solutions for monitoring your home surroundings and business premises. These cameras record the daily happenings and provide law enforcement with video evidence. However, in some unfortunate instances, you can lose CCTV footage.
If you've deleted crucial footage, read this guide to the end to learn how to recover deleted CCT/DVR footage from the hard drive or SD card.
Can I Recover Deleted Videos from DVR Hard Drive or SD Card?
The recordings of CCTV and DVR cameras are saved on a hard drive or SD card, which could get corrupt or formatted and cause video loss on security cameras; or you may accidentally delete the videos from the camera.
When the videos are missing from the storage, they are still stored in the hard drive, although the system sees their allotted space as empty. So before the deleted videos are overwritten by new files, you'll be glad to know that all hope isn't lost.
You still have a chance to recover deleted video recordings with professional CCTV footage recovery software or a previously created backup.
Method 1: Use AnyRecover to Recover Deleted CCTV Footage
If you don't have a backup or prefer fast and reliable recovery, the best way to recover lost CCTV/DVR videos or images is with powerful data recovery software.
Several tools can recover those surveillance videos, but you don't have to try them all out. We've done that for you, and for CCTV/DVR data recovery, we recommend AnyRecover video recovery software. It has a unique algorithm that retrieves your lost data expertly and quickly. Besides, AnyRecover works well with Windows 11/10/8.1/8/7/XP and Mac OS X 13-10.1, you don't have to worry about compatibility.

Features of AnyRecover:
Recovers not only videos but also documents, emails, music, pictures, zip archives, etc.
Retrieves lost data from hard drives, SD cards, USB flash drives, external hard drives, etc.
Handle various data loss scenarios: permanent deletion, formatted drives, virus attack, crashed hard drives, etc.
100% secure to use and promises a high success rate of data recovery.
How to Perform DVR/CCTV Data Recovery with AnyRecover
Select the CCTV or DVR hard drive/SD card
To recover lost videos from CCTV/DVR hard drive/SD card, connect the drive to your computer, and launch AnyRecover. From the home interface, select the drive and click on "Start."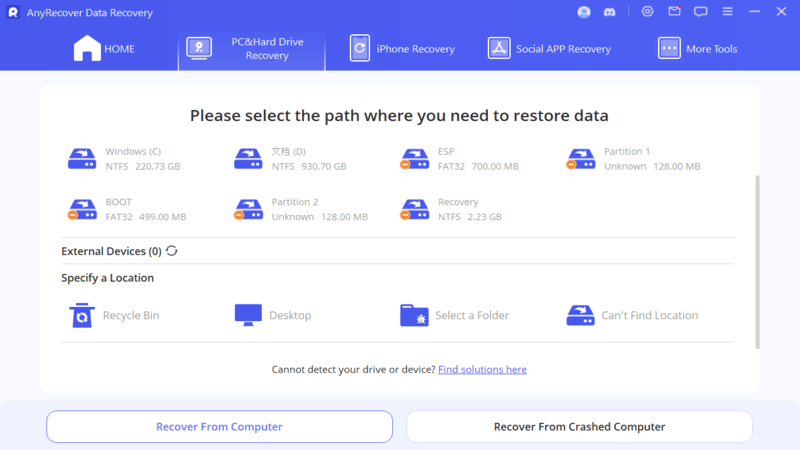 Scan the Selected Location
The software will start to scan the drive to dig out all deleted video recordings. The time it takes to scan depends on the amount of data on the disk. You can pause the scanning at any time or stop it entirely.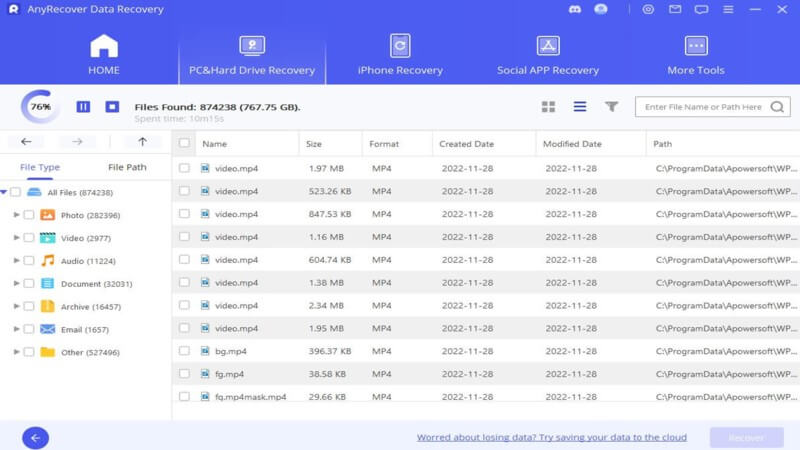 Recover the Videos You Need
Following the scan, AnyRecover lists out all the files it finds in the hard drive. On the left pane, you can click "Video" to quickly locate video files. Then, choose the wanted files and click on the "Recover" button to begin the CCTV/DVR data recovery.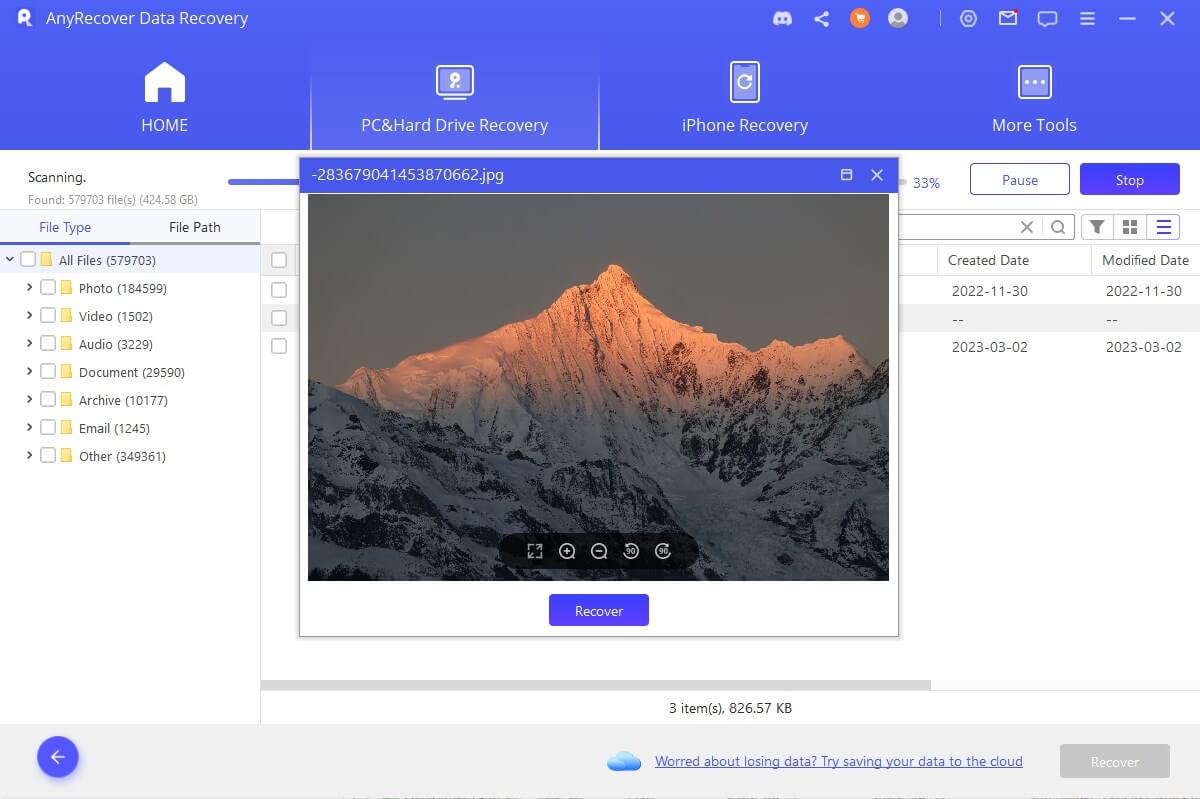 You can see that it is very easy to use AnyRecover to retrieve CCTV/DVR recordings. If you have 3 or fewer files to recover, AnyRecover Free Data Recovery Software is a cost-free choice.
Method 2: Recover Deleted CCTV Footage from Backup
The above method is your best choice when you have no backup of the deleted surveillance videos. But if you have backed up the CCTV/DVR footage to the cloud storage, you can easily retrieve lost recordings from the backup.
On the other hand, if you backed up to a physical storage device, all you have to do is connect the drive to your computer. When your PC recognizes the device, navigate to the backup, and then copy/paste it to your desired output location.
Tips to Prevent Video Loss from CCTV/DVR Hard Drive
You've now learned how to carry out proper CCTV/DVR data recovery, which is a hassle-free process by AnyRecover video recovery software. However, you're better off not losing the videos in the first place. Here are some tips to follow to avoid video loss on a security camera or DVR hard drive:
Conduct a thorough examination of your network and power connections frequently: Check the BNC connector and cable, Ethernet cable, power adapter, power cord, etc.

Ensure to make use of a UPS and lightning/power surge protector: Safeguard data on your hard drive from getting lost due to power outages and sudden spikes in voltages.

Only use reliable CCTV systems and hard drives: Do thorough research before acquiring your CCTV system as well as the storage volumes. Some brands are more prone to hard drive failure than others.
Conclusion
You can lose your CCTV or DVR footage in many scenarios, and these videos go away with credible evidence of theft, burglary, and other crimes. This post explored methods of recovering deleted CCT/DVR footage. CCTV footage recovery is possible using a previously created backup or with the help of a data recovery application known as AnyRecover.
Give Anyrecover a try and see if it is right for you!