New to Reddit. So I sent my Seagate external hard drive to Fields Data Recovery, the heads are broken and need to be replaced before they can recover the data. Has anyone had a successful recovery or a positive experience with them? They want to charge $900 total with $800 upfront.
The above case is not unique to this person; in fact, there are reportedly over 500 complaints against field data recovery and thousands of negative reviews from their clients. As the day goes by, there's been an increased number of people who have been left unsatisfied by their shameful service. On this page, we'll help explain why Fields Data Recovery is a big scam and also introduce an alternative.
1
Fields Data Recovery Review: Is It Worth Trying
Field data Recovery claims to offer data recovery service that also includes a no-obligation fixed-price data recovery quote that helps recover lost data on a storage device. They also claim to have a 92.5 % recovery rate.
How It Works
So basically, you'll have to send your media to them and ask for data recovery on it. Then, upon receiving it, they'll send you a list of recoverable files in your drive, accompanied by a fixed price quotation. They then transfer all recovered files to a new media, and when they can't recover your data, they'll return your drive to you (All this of course, after you have forked out some cash).
Is Fields Data Recovery Worth Trying?
Except you are an extremely headstrong person, you probably should not try using their services. If the thousands of negative reviews on the internet about Fields Data Recovery by real people who have been conned is anything to go by, then it's not a good idea to use their services as you'll almost likely be just as disappointed as their many other unfortunate clients. Not only will you have to part with a good deal of cash without any recovered files, but you may also have your drive even damaged, just like the case mentioned above.
2
An Alternative to Fields Data Recovery - iMyFone AnyRecover
iMyFone AnyRecover is a very sophisticated and reliable data recovery software that helps you restore deleted, lost, formatted or corrupted files from any storage device. It's tried and trusted, works really great. You will most definitely recover all your lost data on your external hard drive using this tool.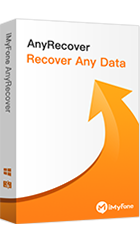 1,000,000 + Downloads
Features of iMyFone AnyRecover:        
Recovers from all kinds of storage device ranging from your external hard drive or your internal disk to even your mobile phone.
Retrieves your lost data no matter how it got lost.
Recovers over 1000 file types including photos, videos, office documents and more.
It is very secure, does not overwrite original data.
Steps to Recover Lost Data with AnyRecover
STEP 1Download AnyRecover. Then double-click the installation document and follow the guideline to complete the installation.
STEP 2If you are recovering from an external hard drive, just connect the device to your computer. Depending on the device, you can either attach the device to a computer directly or connect using a USB cable.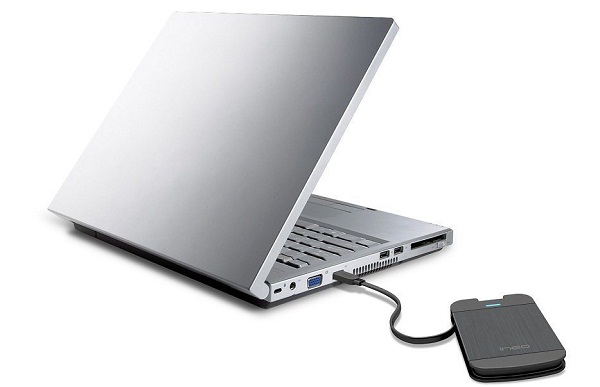 STEP 3Once you have installed AnyRecover and connected your device, you can choose a location to start scanning for your lost files.
STEP 4When the scanning process is complete, you can preview the data you want to recover and then click "Recover" to successfully recover your lost data.
Please Note: You can only recover 3 files with the free trial version. To retrieve more data back, you need to register the program. Get the registration code here: for Win or for Mac.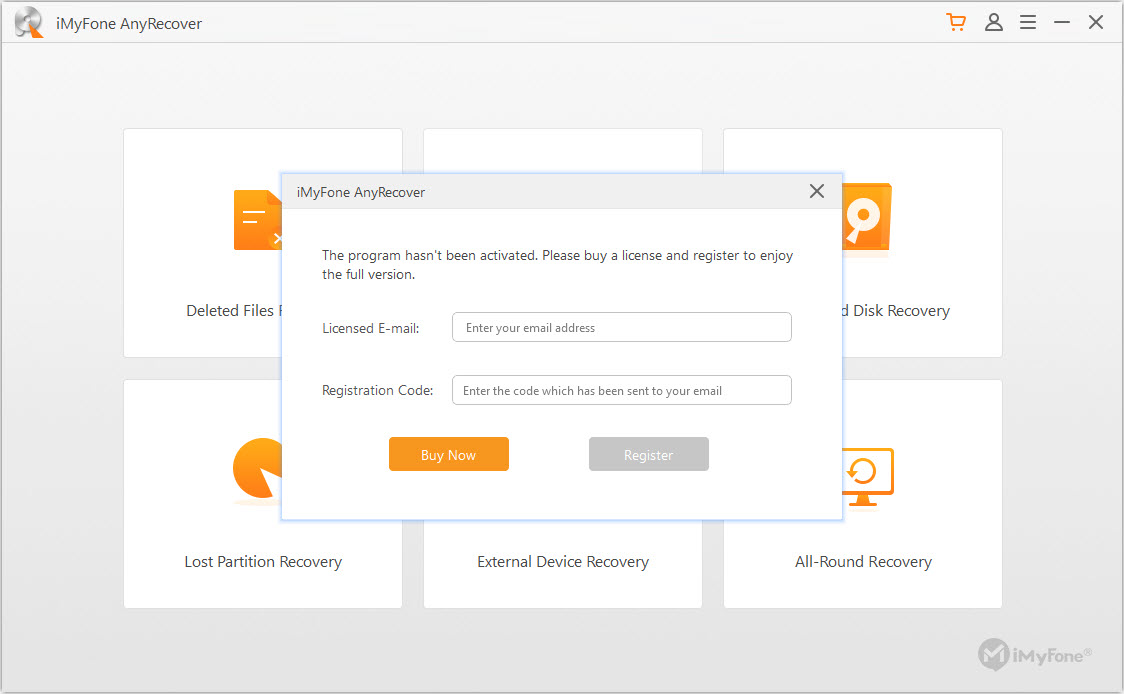 3
Reasons for Choosing iMyFone AnyRecover
If you've lost relevant data on your storage device and you need to get your data back, why shell out the huge buck when you can get something more effective and reliable without straining your pocket? If that's not enough, here's a list of other reasons why you should choose AnyRecover to Recover your data.
Free Trial Before Purchase
AnyRecover offers a free trial version that allows you to recover three files, so you are sure it works before paying for the complete version.
User-Friendly
It's very easy to use, requires no special tech knowledge and you don't have to send your drive to anyone to help recover your data. Once installed on your PC, all you need do is connect the hard drive, follow the easy steps, and AnyRecover gets the job done for you.
All-Inclusive Data Recovery
AnyRecover restores almost all types of files from any kind of storage device, not just your external hard drive.
Optional Licenses
AnyRecover is available in 3 different kinds of licenses - 1 Month License, 1 Year License and Lifetime License. You can choose according to your needs.
100% Security
You don't run the risk of third-party access to your files as it restores your files safely without overwriting original data. So your data is 100% secure, and only you can access it.
20% Discount
A 20% off coupon code is available in AnyRecover all series licenses, grab it to get this recovery program at the lowest price on the market.
AnyRecover 20% Off Coupon Code:
ANY-ART-D20
To know more details about the special offer and how to use the coupon code, do not miss [Official] AnyRecover 20% Off Coupon Code
Conclusion
So that's it guys, if you ever need to recover your files on any storage device, you don't have to employ the services of the rigorous and highly ineffective Fields Data Recovery; this is a no-brainer -  iMyFone AnyRecover software should be your obvious choice.