System Restore is a great utility of Windows that automatically backs up system as well as registry files when new software is installed. When needed, you can restore the system back to a certain point when the software was not present. The problem is, sometimes Windows doesn't show the system restore points when you want to recover them to fix some issues. Fortunately, there are solutions to recover system restore points.
How to Recover Deleted Restore Points on Windows 7/10/11
1

Recover Lost Files When Restore Points Are Missing

Since system restore points are the collection of significant files, then when you find that they are missing, you will need to recover them. AnyRecover is one of such tools as it is developed to recover various files with reliable and advanced algorithms. And when you try to use system restore to recover lost files, this software is definitely what you want.

AnyRecover key features include:
The easiest and fast way to recover files after deleting the system restore points.
Performing data recovery under numerous scenarios like mistaken/unknown deletion, system crash and virus attack.
The highest successful data recovery rate and 100% safe rate without overwriting the original files.
With a user-friendly interface, it recovers missing system restore points files with 3 easy-to-operate steps.
Restore Lost/Missing Files Now!
First, you could download and install the AnyRecover on your computer to perform a deep scan, preview and recover for free.
Step 1 Launch AnyRecover and select the possible location where your deleted restore points were stored before scanning.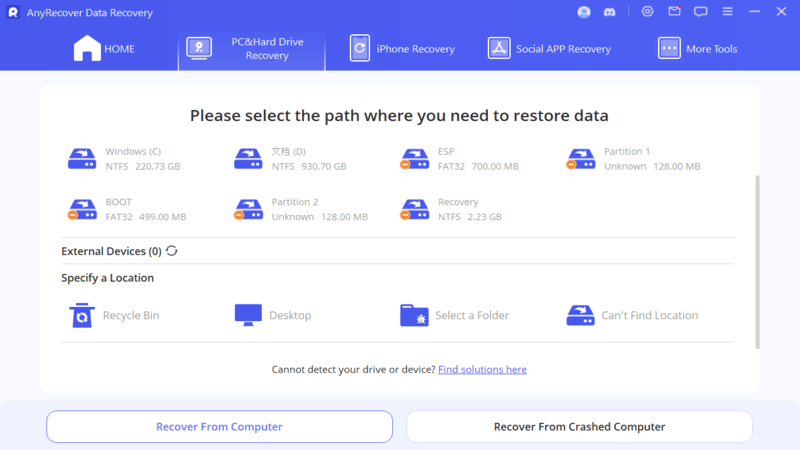 Step 2 After choosing the location, chick on Start button to proceed the scanning process. Anyrecover will start scanning the deleted restore points.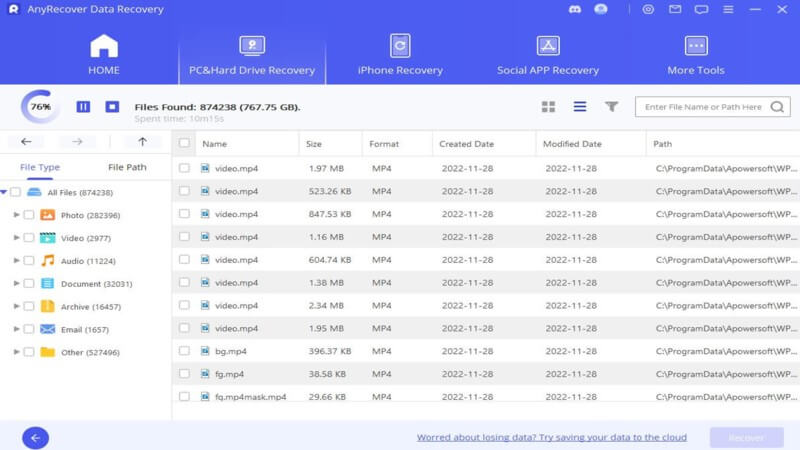 Step 3 After scanning, preview and select the files you want to restore, click on the Restore button to get them back.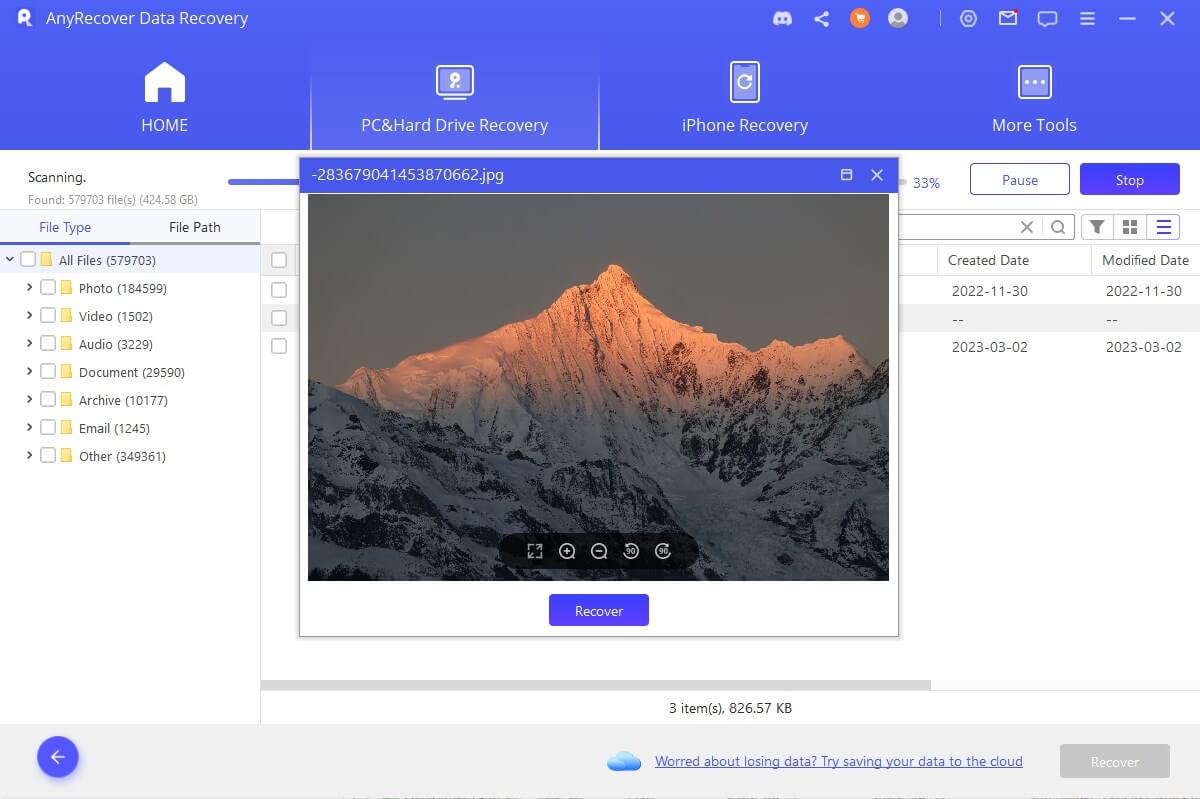 2

Check If System Restore is Enabled on Windows 7/10/11

If you cannot find any system restore points, then it may be because the system restore utility has been turned off on your computer. If the system restore is turned off manually, any previous restore points are deleted.

Follow these instructions to check system restore settings on Windows 7:

Step 1: Launch Control Panel from the Start menu. Then navigate to System > System Protection and then open the tab.

Step 2: Now select the drive for which you want to check the system restore settings and click Configure.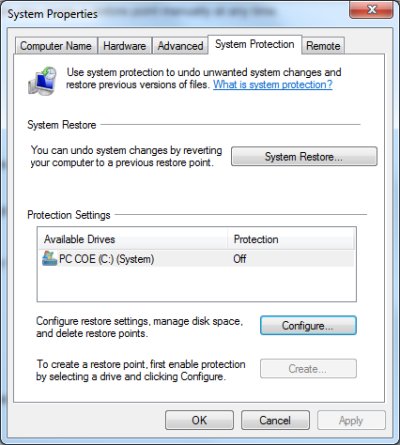 Step 3: On the next screen, make sure that "Restore system settings and previous versions of files" option is enabled.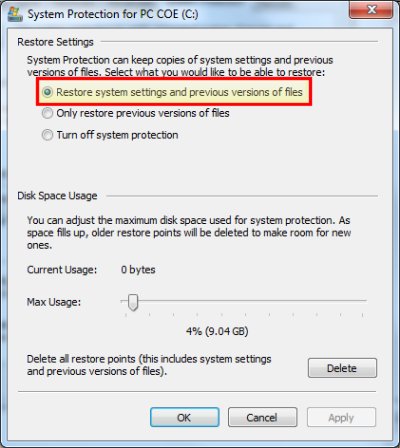 Follow these instructions to check system restore settings on Windows 10/11:
Step 1: Use the Search bar to find and launch Create a restore point, then click on System Protection.
Step 2: Choose the drive for which you want to check the system restore settings.
Step 3: Now make sure that the system protection option is turned on.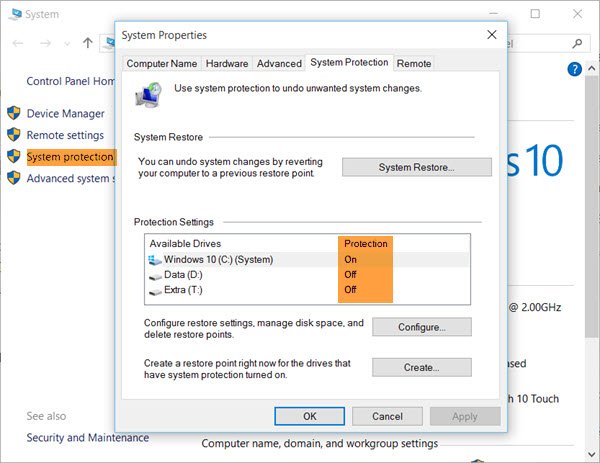 3

Start Volume Shadow Copy Service

Volume Shadow Copy is used to backup app data and files. If this service is disabled, chances are that system restore points are gone and missing. To recover them:
Launch Run box by pressing down Win + R and enter "services.msc".

The Service Utility window will be opened. Find the Volume Shadow Copy and right click it, choose Start option.
4

Run SFC

No restore points win 10/11 could also be the issue of the system disk where backups were created. To fix this: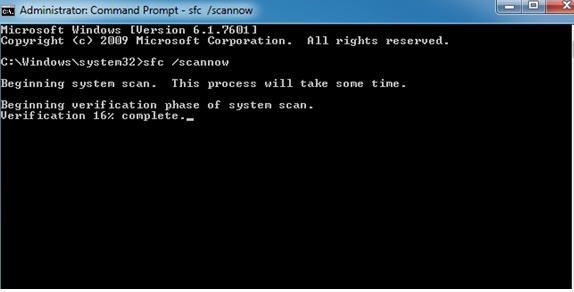 5

Adjust Disk Space Usage to Recover Deleted Restore Points Windows 7/10/11

If the size of the system restore points exceeds the set value, the restore points get deleted. You can recover deleted restore points on your windows computer by configuring the "disk usage" section of System Protection. By adjusting disk space usage, you can make sure that the system restore points are created without issues.

Basically, you can do this via this setting to make sure that there is enough allocated space for system restore points on your hard drive.
Use the Search bar of your Windows to find and launch System Restore.

Navigate to Create a restore point > System Protection.

Now click on Configure > Disk Space Usage.

Under this section in Max Usage, drag the movable bar and increase the size to about 5% of your backup drive capacity. You can allocate as much space as you want in this section.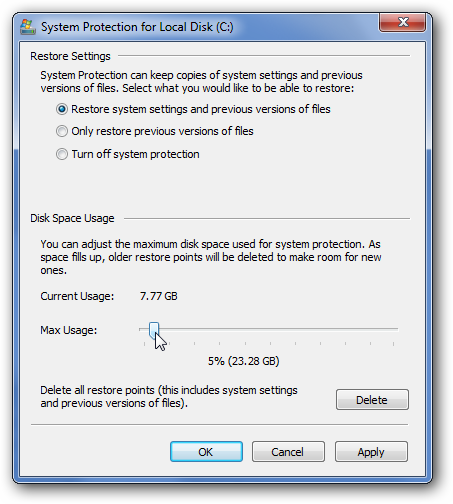 6

Restore System Points in Safe Mode to Recover Deleted Restore Points Windows 7/10/11

If system restore points are created on your computer and you can see them but cannot restore them for some reason, then restoring them in Safe Mode is a good choice. It is possible that you will be able to restore them in Safe Mode.

There is also a possibility that the restore points that are not being displayed in the operating system may appear in Safe Mode. So, it is worth a try. Follow these instructions to restore system points in Safe Mode:
Restart your computer and when it is restarting, press and hold F8 until the computer starts into Advanced Boot Options.

Now choose Safe Mode with Command Prompt in Advanced Boot Options and press Enter to boot the computer in Safe Mode.

Once the computer boots up and you see a Command Prompt window, input "rstrui.exe" and press Enter.

Now follow the on-screen system restore instructions to restore your system to a restore point of your choice.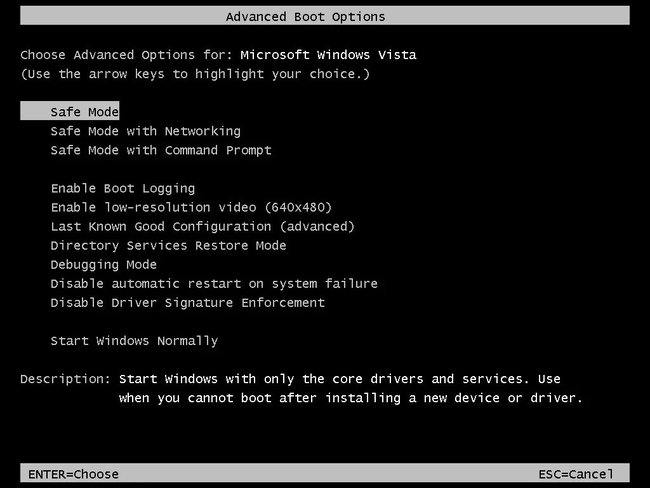 FAQs About System Restore Point in Windows
1. How Does It Work and What Types of Files It Can Recover?
As stated above, system restore automatically backs up system and registry files from time to time and allows you to restore the system at an earlier point in time when needed. System restore uses a feature called System Protection that creates and saves restore points on your computer on regular basis.
You can use system restore to recover Windows registry settings, programs, and system files installed on your system. Apart from this, System restore also makes changes to scripts, batch files, and various other types of executable files that are created on your system. System Restore cannot help you restore/recover your personal files such as photos, videos, documents, emails, etc.
2. Reasons for No or Missing System Restore Points in Windows 7/10/11
Each problem comes with various situations. The most common reasons behind system restore points missing in Windows include:
The system restore is disabled in Windows.
The Windows system has been upgraded or reinstalled.
The max usage for restore points is low, which cleans up the older ones.
There are corrupt files in the system restore or the page file is defragmented, which needs to be recreated.
The time for Windows system restore is less than 3 months.
Conclusion
System restore points missing in Winndows 7/10/11 has multiple causes, just use the above ways to fix and recover them quickly. In the end, to recover deleted/missing system restore points and files in a safer way, AnyRecover is of course worth being tried.
Start a deep scan for free right now!