This post will be exploring the different factors that might cause your Safari to crash and some easy fixes.
Part 1: Why Does My Safari Keeps Crashing?
Apple has always been known for developing their own hardware and software. Their built-in web browser Safari is slated as a worthy rival to Google's Chrome. Although the former is still lacking in some ways compared to the latter, Safari is still iOS users' number 1.
A lot of users have complained and witness their Safari crashing all of a sudden and ask themselves what might've been the cause. A lot of things might cause your Safari to stop working abruptly; it might be as a result of a corrupted tab or extension, your Safari might have saved too many data in its cache or your Safari and OS isn't up to date.
Part 2: How Do I Stop Safari from Crashing?
Like we said in the introduction, a lot of things can cause your Safari to crash. Since you are not the system and you can't communicate with it, there is no way to know what exactly is wrong. So try out these methods one after the other and see how your Safari performs afterwards.
Tip 1: Close Tabs
There is a very obvious reason for your Safari to keep crashing. Tabs take a little bit of data to load sites that is currently opened and take some memory space to keep them up. So obviously the more tabs you are keeping, the more memory your system expends to keep them up. There are three ways to clear tabs on Safari.
You can either click on the 'x' mark that appear at the edge of the tab box when you place your cursor on it. Use this to close the current tab.
If you have a lot of tabs opened and you can't waste time closing each one by the method above, then just click on 'File' and locate 'Close All Tabs'.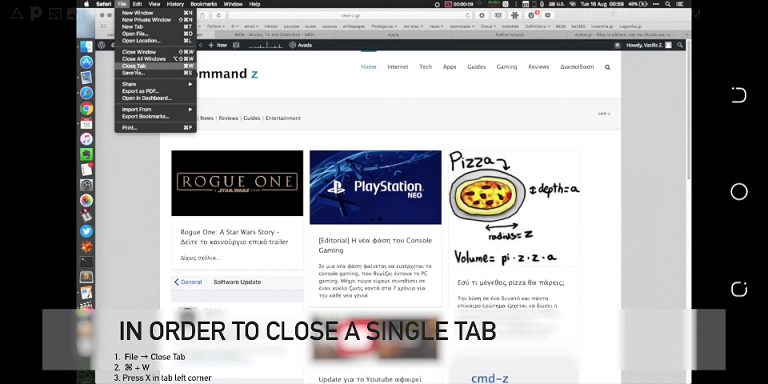 If you need the tab you are currently on to remain, when you click on 'File' holding the options key and watch the 'Close This Tab' section turn to 'Close Other Tab'.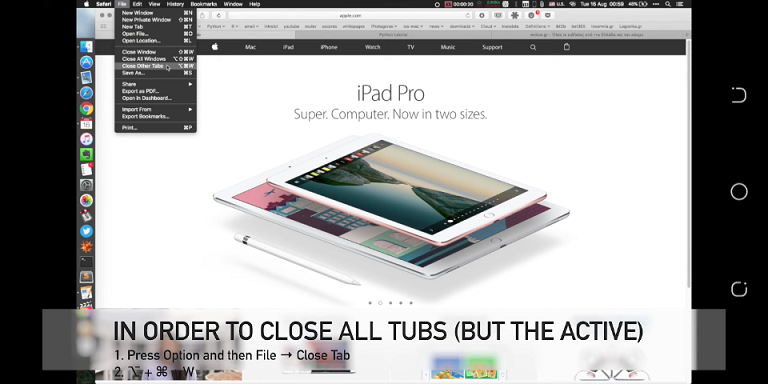 Tip 2: Check What is Responsible
This option implies that you probably have a lot of applications opened in the background or probably one of the apps that have access to run in the background is interfering with Safari. Open the Activity Monitor to check and see which app this is. Apps taking a lot of RAM and ones running lots of processes are likely to cause your RAM to cluster up which in turn affects the performance of others. Using an Activity Monitor, you can easily check this with the option to sort them by; which one is using the most CPU power, memory, energy, disk and network.
To bring up the Activity Monitor:
Click on the search icon on the top right corner of your Mac home screen.
Type in 'Activity Monitor' and open it. Here you can close apps that are draining way too much CPU power, memory, energy, network and disk.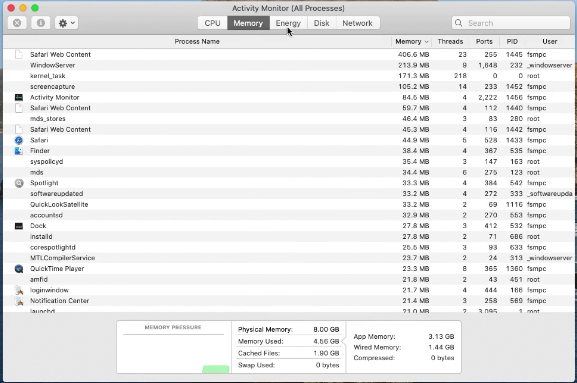 Tip 3: Turn off Search Suggestions
From the name, we can already deduct what this one is all about. Search Suggestions definitely tasks your system to suggest words with just the little keywords you put in. Sometimes we don't know what we are searching for, we just have a hint, we input the hint and let the browser do the rest but most of time we already know what we are searching for and suggestions just come as an annoyance or distraction.
To turn of Search Suggestions:
Launch Safari and click on the Safari on the menu bar.
Select 'Preferences' and then the search option. It is easily noticeable with its usual magnifying glass icon.
Uncheck the box behind 'Include Search Engine Suggestions'.
Tip 4: Remove Flash
Flash is a web browser plug-in that allows you to play multimedia files on the internet and also capable of streaming audios and videos. Plug-ins are different from extensions in the sense that after downloading and adding them to your or web browser, they completely integrate themselves into the system, you won't even know they are still around. Flash plug-in updates however is an avenue for malwares to find its way into your system, so if your Safari is crashing, consider removing the flash plug-in.
Tip 5: Turn off Virus Scanner
Virus scanners always run in the background, ensuring the safety of your system. Try turning them off to boost your system RAM.
Tip 6: Turn off Extensions
Using website extensions can be easy and cool, but they do drain your RAM. Extensions are also one of the main causes of your Safari crashing and you can choose to temporarily disable them. There is also a chance that an extension has been corrupted, you have to disable all of them, enable them one after the other to see which one is corrupted and uninstall it for good.
To do this
Open your Safari browser and click on Safari on the menu bar.
Select 'Preference' and choose the 'Extensions' tab from the list of other options.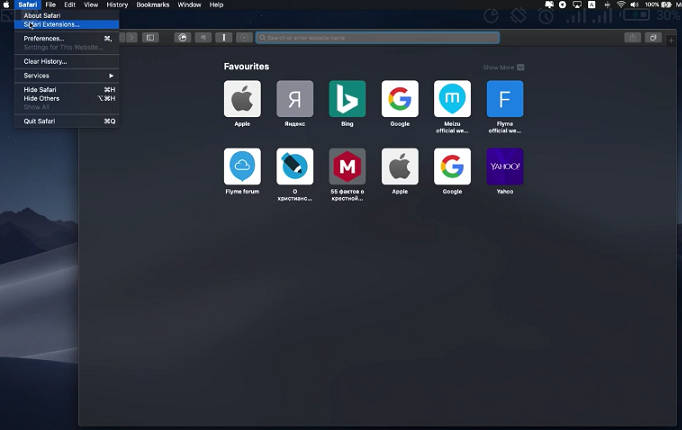 This will list all extensions you have installed in your browser.
Deselect the 'Enable Extension' checkbox to turn off all extensions.
Now close and open Safari again.
If there are extensions you really need, then you can start turning them on one-by-one to see if there is a corrupted extension and you can proceed to uninstall it.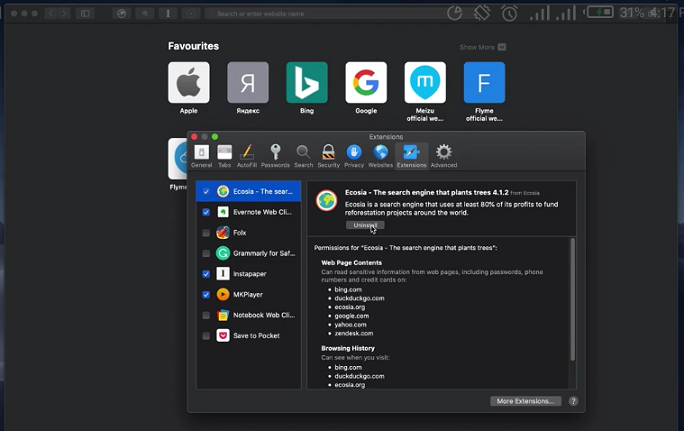 Tip 7: Clear Website Data and Cache
All browsers store cache, and this is not a Safari problem, not that it is really a problem. Caches are data that is stored when you visit a site or you are asked to input a password to log in or you added a good to a cart on a shopping app. Clearing you cache means that the site that requires a password will ask for it again as deleting your cache is equal to telling your browser 'forget about it', but imagining the number of sites you surf through every single day and each of them has a cached file on your Mac, this will definitely cause your system to lag not to talk of a simple browser.
To clear your browser data and cache:
Launch Safari and click on Safari on the menu bar.
Click on 'Privacy and Manage Website Data'.
This will list a number of sites you've visited previously that are storing data.
You can select them one after the other to remove or you can remove all.
Remember, passwords you've previously entered on a site will be deleted and next time you access the sites, you will need to re-login.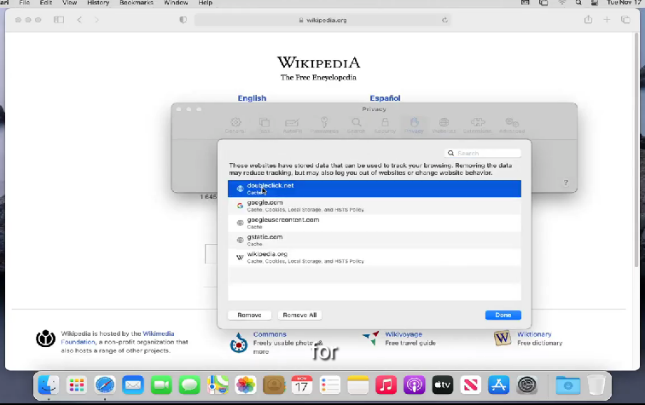 Tip 8: Reset Safari
To reset Safari:
you just have to do all the previous steps at once, e.g., uninstall all your extensions, clear cache and data, clear your history.
To clear history:
launch Safari.
Click on 'History' on the menu bar and locate 'Clear History'.
Done!
Tip 9: Update the Software
Updating your software is a necessity. Safari crashing might also be as a result of some bugs. Apple take pride in their security and as such, they don't take system bugs lightly. An update might have been created that fixes such bugs so it is highly recommended that you update your software immediately a new version comes out.
To check if there is an update to your Safari or any other applications on your Mac, click on 'System Preferences' and locate 'Software Update'.
This will list any available software updates for you and you can proceed with the installation and update.
Note: Your internet connection has to be turned on all through.
Conclusion
Like we said earlier, there is no way to be sure of the main reasons why your Safari keeps crashing occasionally. Safari is truly an application with lots of uses and advantages, so don't quit on it just because it keeps crashing. It is definitely frustrating to have any app suddenly shut down in your face but we are sure that one of the ways prescribes above will definitely be of help.