Did you get the error message Problem Ejecting USB Mass Storage Device: This device is currently in use when trying to eject your USB drive or external hard drive? Well, you are not alone.
A perfect machine or device does not exist and as such your devices can give way to errors at times. Amidst the errors external drives encounter on windows 11/10/7, this device is currently in use error is common when you try ejecting them.

This error can be frustrating, and if not expertly fixed, can lead to loss of data and even damage to your drive. With this being a problem for the majority, we have come up with 5 easy fixes that can help you solve this problem without any financial outlay or stress. Enjoy!
Part 1. What Causes "This device is currently in Use" Error
As the name implies, the major cause of "this device is currently in use cannot eject" error is the continued engagement of your external hard drive with your system when you are trying to eject it. You might have initiated this process or it might just be your system is still using your device's resources.
This error can persist even after you have seemingly closed all programs related to your device. Below are the common reasons why this error occurs:
Failure to appropriately close all applications and processes initiated on the device.
The seemingly closed applications and processes are still running in the background.
Presence of virus on your drive can also lead to problem ejecting a mass storage device.
Part 2. How to Fix "This device is Currently in Use" Error and Safely Eject your Device
As implied by the full error message, if we cannot eject device currently in use, the first thing to do is closing any programs or windows that might be using the device, and this leads to our first solution.
Method 1: End Any Process Used by the Device in Task Manager
The easiest and fastest way to solve this device is currently in use error is to close any programs running on the device in the Task Manager. It is a pretty straightforward method provided you follow the steps below:
Step 1: Press Window + X keys or just right-click on the empty space on the Taskbar to access the Task Manager option.
Step 2: Click on the Processes tab. It will show the status of all processes running on your system and their usage of your resources.
Step 3: Try locating all processes and programs related to your device. Right-click on those programs and select the End task option.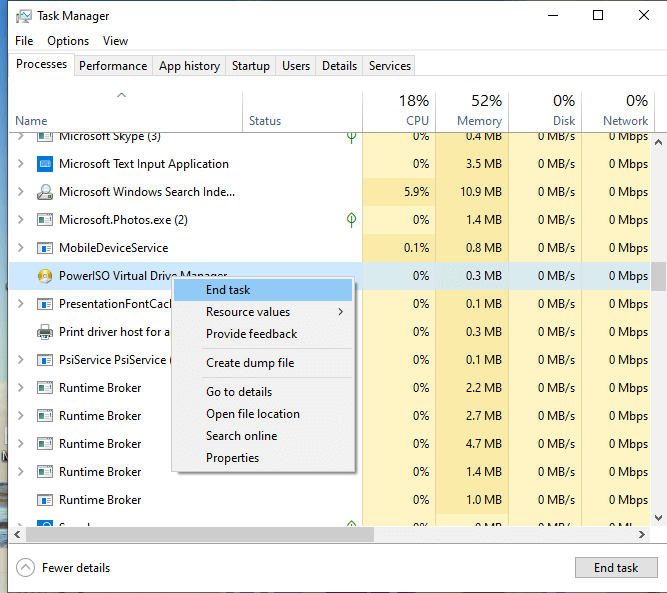 Method 2: Re-eject the Device with Disk Management
Sometimes the common way we use to safely remove hardware and eject media might not be enough to eject your device. In this case, you will need to re-eject the device in Disk Management. Below are the simple steps involved:
Step 1: Right-click on the Start button and select Disk Management.
Step 2: From the lower-left stack of Disks, look for the USB drive or external hard drive that cannot be ejected safely, then right-click on it and choose the Eject option (use the Offline option if you're using an external hard drive). Hopefully, this will help eject the device safely.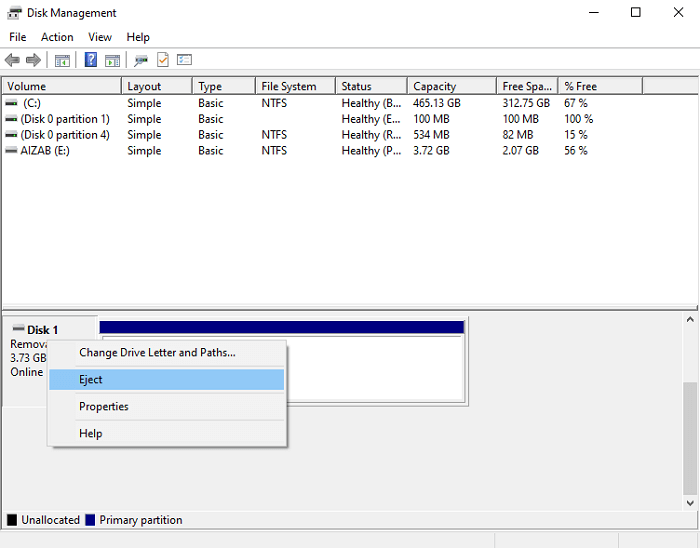 Note
Once you eject the external hard drive in this way, the next time you connect it to your system, you will need to go back to the Disk Management to set the device back Online with the same steps.
Method 3: Uninstall Driver via Device Manager 
This method requires you to uninstall the driver of the device on your system, which prompts the system to terminate all operations related to the hard drive and therefore eject it.
You can do this by following the steps below:
Step 1: Press Window + X and select the Device Manager option. This will display all the storage devices connected to your system.
Step 2: Expand the Disk drives option, find the device that cannot eject due to this device is currently in use error.
Step 3: Right-click on the device and select Uninstall device. This will remove the driver and all the settings from your system and eject the device.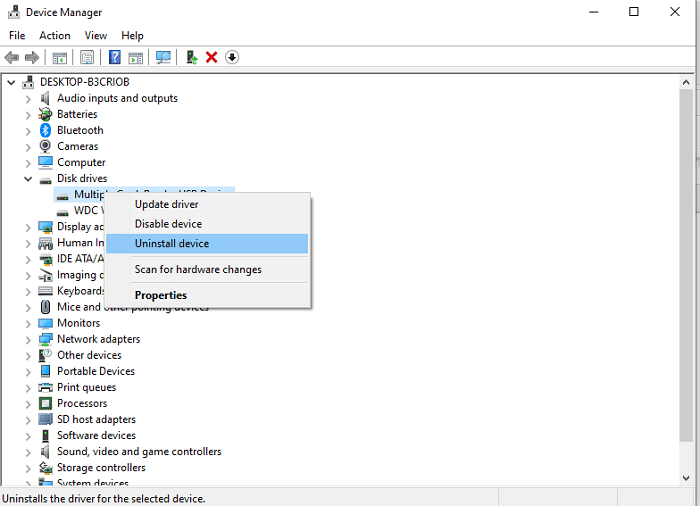 The biggest advantage of this method is that the driver will be installed automatically the next time you connect the device with your system.
Method 4: Use the Diskpart Utility
The Diskpart utility is a more complicated method to fix the device currently in use issue, as it is a command-line tool and requires you to follow instructions to the last letter. Carefully follow the steps and you will be able to eject the USB drive:
Step 1: Press Window + R to open the Run box. Type diskpart and click Ok, you will be taken to the command prompt window.
Step 2: Type list volume to show all the storage devices currently on your system.
Step 3: Type select volume # to select the disk with the error. Note that you will replace symbol "#" with the corresponding number of the disk as displayed.
Step 4: Type offline volume to deactivate the disk.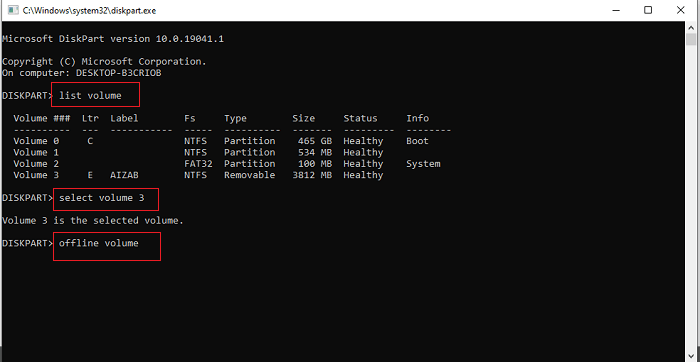 A disk that is marked offline will be automatically ejected. Just like other methods, this method solves the this device is currently in use error in Windows 11/10/7 without any risk of losing data.
Remember to set the hard drive online when you connect it to your computer later. All you need to do is to repeat the steps above till step 3 and type online disk in step 4.
Method 5: Use the Process Explorer
If there are any files in the USB Mass Storage Device still in use by another program, you may encounter "this device is currently in use cannot eject" error. The question is you may not know which program has a particular file openning? To find out this, we bring in the last resort - using Process Explorer to solve the problem of failing to eject USB or other external drives on your system.
You may first download Process Explorer on the Microsoft website. The installation process is pretty easy as it only requires you to run the exe file.
After the installation, launch the app and follow these steps:
Step 1: Click on the Find option on the menu. This will display a dropdown menu.
Step 2: Select the Find Handle or DLL option. It will display a Process Explorer Search option.
Step 3: Search for your hard drive letter on the search option and you will be shown all the processes connected to that device.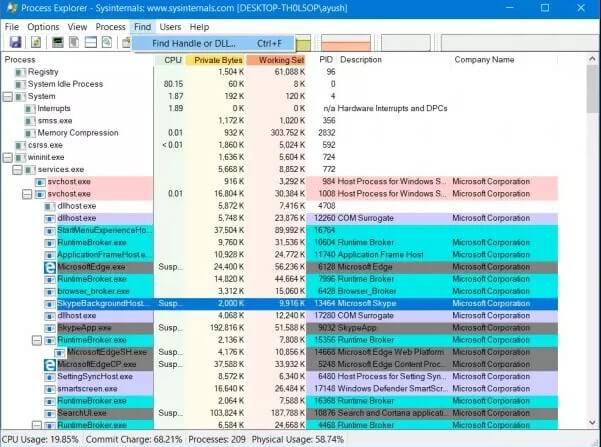 Step 4: Click on Kill all the processes to stop all activities on the devices and you can now safely eject your device.
Bonus Tip: Recover Lost Data from Your USB or External Drives
Sometimes the solution to the cannot eject device currently in use error in your external hard drive might require you to format the device. We have not brought up this option as there is always the fear of loss of valuable data, which is understandable.
But what if we tell you that we have a professional recovery software that can help you retrieve all your lost data?
Yes, you heard it right, if unfortunately your important data got lost due to accidental deletion, formatting or virus, you will still get every bit of your data on your external device be it a hard drive, SD card or USB drive.
This software is called iMyFone AnyRecover. It is a top-notch USB data recovery software that retrieves unlimited data in three easy steps. AnyRecover supports over 1000 file types including photos, videos, office documents, archives and lots more, so it doesn't matter what type of files you want to recover. What's more, it is recommended by world-renowned media such as Softpedia, Macworld, and Techradar. Your data is just never truly lost with the iMyFone AnyRecover software.
Retrieve Lost Data with iMyFone AnyRecover:
Step 1 Launch the AnyRecover software, and you will be greeted by an intuitive interface. Just select your drive from it.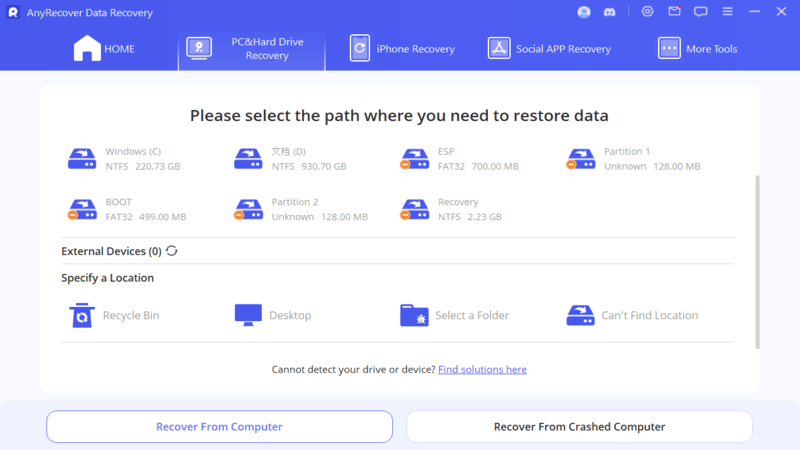 Step 2 The software will perform a thorough scan on your device, wait for it to complete.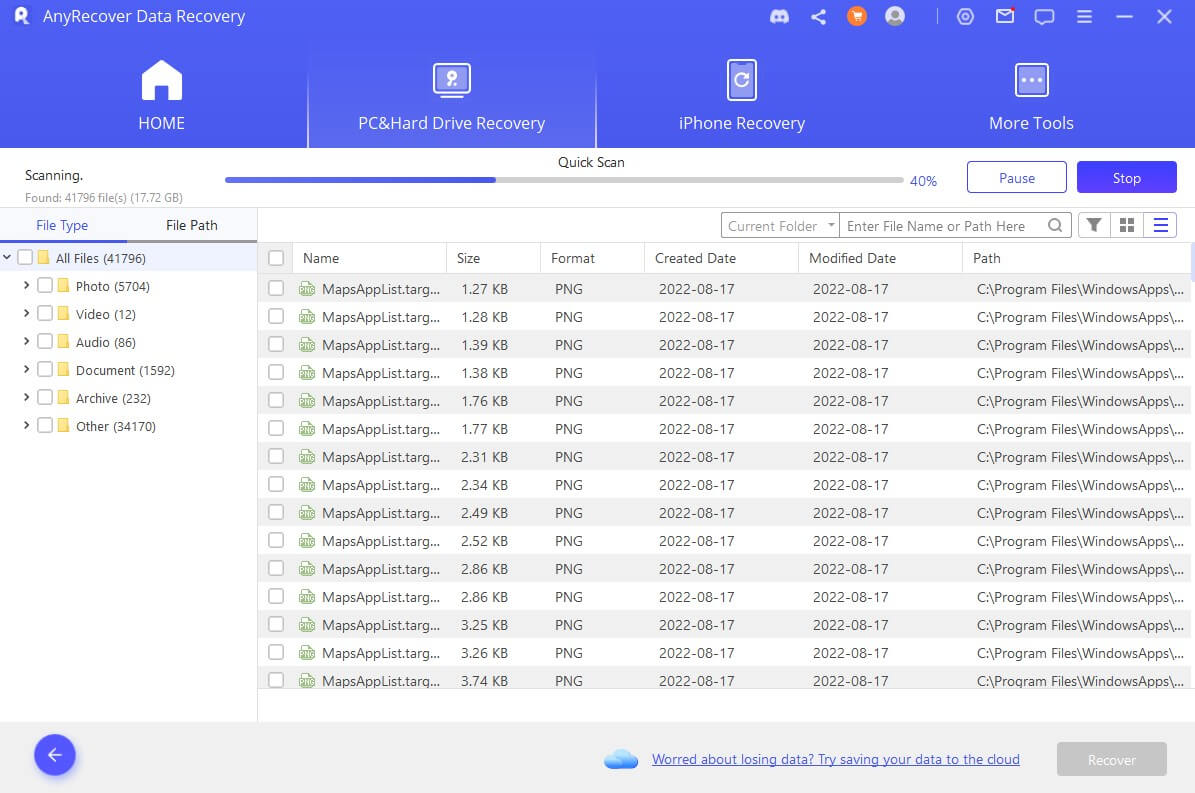 Step 3 Once the scanning process is completed, select all the needed files and click on Recover, and it's done!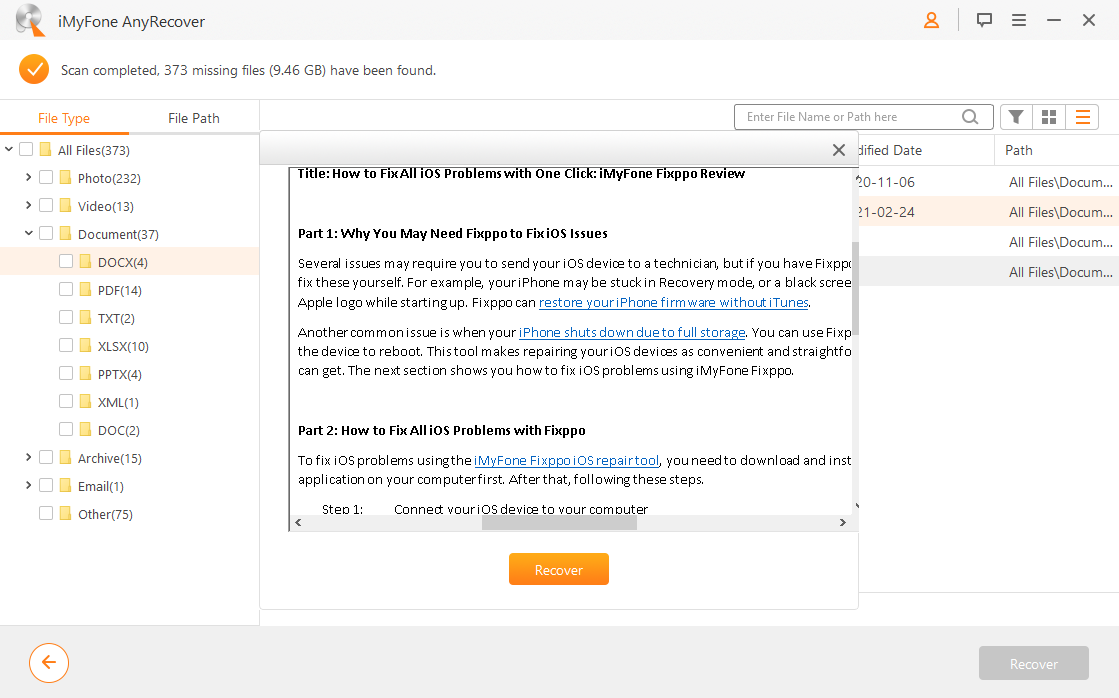 Conclusion
Trying to eject an external hard drive or USB drive troubled with this device is currently in use error can be frustrating. That's why we have gathered and explained the 5 easy fixes above to help you solve the problem without spending a dime or losing your data.
Also, in the case of accidental loss of data or unavoidable need to format the drive, then you always have the iMyFone AnyRecover software to help you recover all lost data as if they were never lost.