Zoom (meeting session) is a platform that has offered and generated great convenience for people who need to run meetings over the network. Recognized as one of the exclusive platforms used in the huddle, conference, training, and boardrooms; zoom offers communications software that features cloud video conferencing, chat, and remote collaboration.
No doubt, zoom is a business communication tool for businesses of all sizes. It also provides users with the option of recording meetings and sharing screens. However, despite delivering innovative communication, some users experience loss of recordings/meetings. Luckily, this article will show you how to recover deleted zoom meetings or recordings. So, keep reading.
Frequently Asked Question On Deleted Zoom Recordings Recovery
Can You Recover Deleted Zoom Recordings?
Yes, you can recover deleted zoom recordings. Zoom allows users to recover recordings/meetings irrespective of the cause(s) of deletion or disappearance error.
However, keep in mind that recordings within at most 30 days of deletion can be recovered. While recordings left in the trash for over 30 days or the one that was deleted from the trash will be permanently deleted and cannot be recovered through Zoom's recovery function. At this time, you may need to rely on the professional data recovery software that will be introduced in this post.
What Happens When You Delete a Zoom Meeting?
Here are some signs or indications you are likely to experience when you delete a zoom meeting.
Zoom meeting will stop showing up on your calendar.

Your meetings will disappear from the Meetings List.

Zoom meeting will stop showing in your application.

Zoom meeting will disappear from your screen.

Your meeting or recording will disappear.
How to Recover Deleted Zoom Recording/Meeting
1. Recover Deleted Zoom Meeting From the Cloud Trash
When a zoom recording or meeting gets deleted, it moves to the Zoom cloud trash, where it will be for the next 30 days before permanent deletion.
It's necessary to clarify that not everyone can retrieve deleted meetings or recordings from Cloud trash, as this feature is exclusive to licensed users. This means that with cloud recording feature enabled, if for any reason a piece of information that was recorded by a user is deleted, it's possible to restore the deleted data during 30 days before the recording is permanently deleted.
The steps below describe how to recover a deleted recording or meeting from the cloud trash within 30 days.
Sign in to your zoom account through the Web Portal.

On the left, click on the tab called Recordings/Meetings.

Tap on Cloud Recordings/Meetings, then select Trash. Then you can see all your deleted cloud recordings within the past 30 days here.

You can use the meeting number to search the one you want or just scroll down to locate the deleted zoom meetings or recordings.

Click on Recover on the right to recover recordings/meetings.

Click on Recover again to confirm.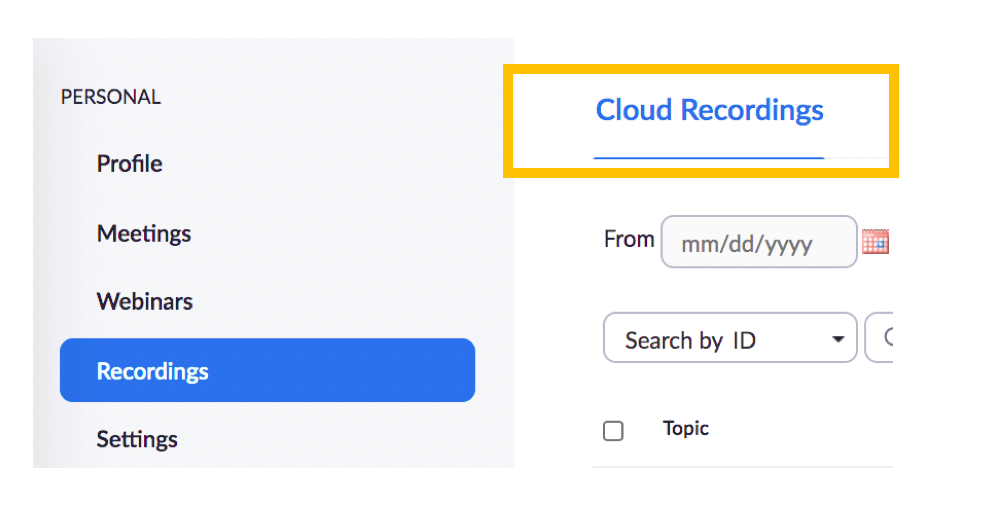 Now your deleted zoom meetings or recordings are back to where it was.
2. Recover Deleted Zoom Meeting From the App Trash
In a scenario where a non-licensed user or a user who didn't enable the cloud recording feature, deletes a zoom recording, they can still recover deleted recordings from the app trash.
Zoom app has its dedicated trash but it'll only store deleted recordings for 7 days before it deletes them permanently. Just like the cloud trash, to recover deleted zoom recording from the app trash, it can only be done before the recording is permanently deleted.
The steps below describe how to recover a deleted recording or meeting from the app trash during the 7 days grace period.
Log in to the Zoom.

In the navigation menu, select the tab called Meetings or Webinars.

On the top-right area, click on Recently Deleted.

Click on the tab with Recover to recover deleted zoom meetings or recordings.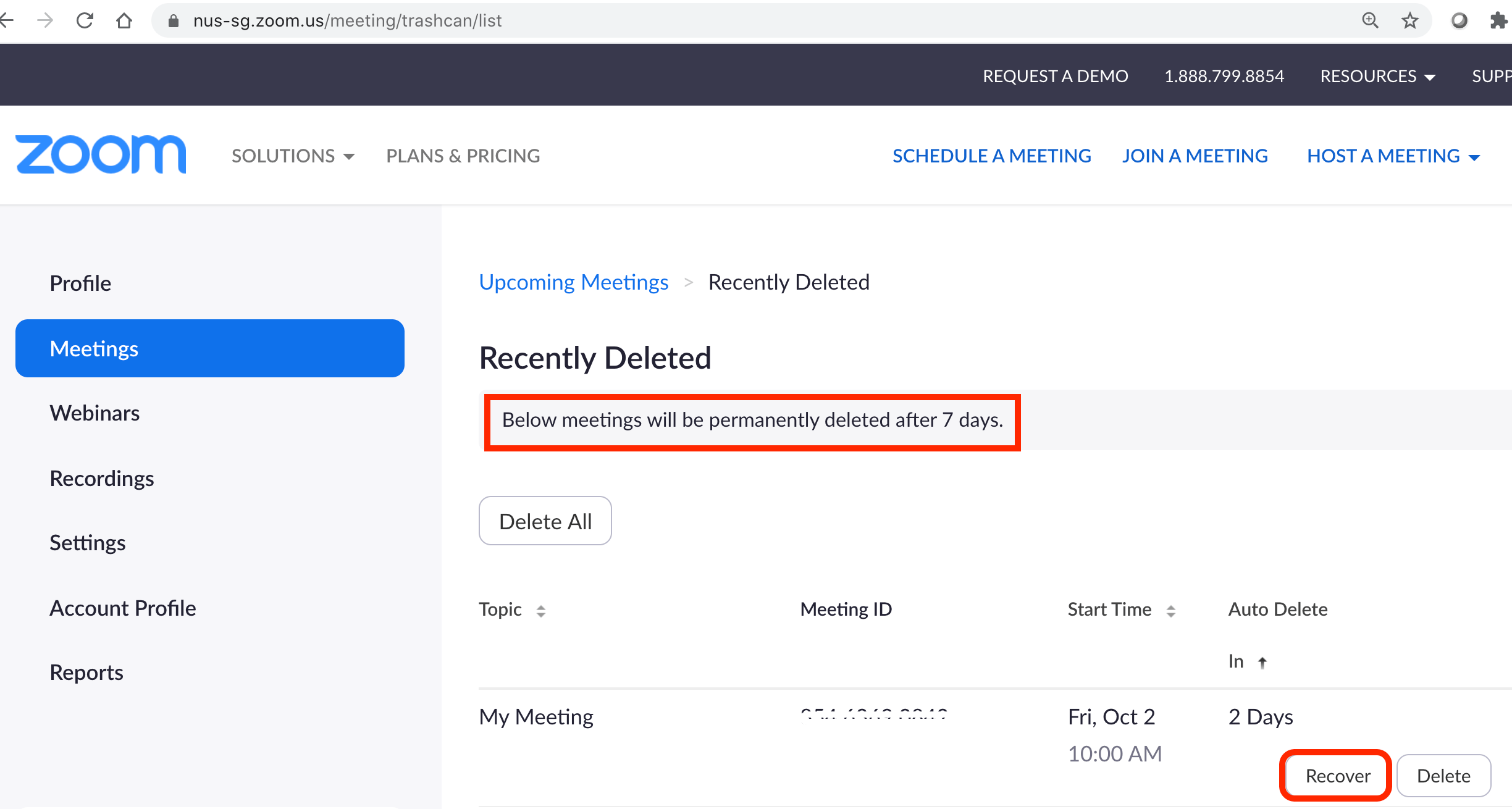 Note
If you do not see the option with Recently Deleted, it implies that recordings have been in the app trash for over 7 days, thus have been permanently deleted.
3. Recover Deleted Zoom Meetings Using the Professional Data Recovery Tool
Where you can not recover deleted zoom meeting or recording using any of the methods above, all hope is not lost. With a professional data recovery tool, you can have your recordings back in good condition. However, the data recovery tools can only recover data that has been stored on the PC or other external storage devices. Hence, users need to check whether they have saved the deleted meetings or recordings to their local drive(or external storage) before the deletion. (Keep in mind that permanently deleted meetings can also be recovered on a local disk).
You can go to the the default location listed below to check whether those deleted recordings or meetings have been stored on your PC. Or if you don't know whether those deleted recordings or meetings have been downloaded to local drive, you can still use the tool to scan the whole PC and seek every possibility.

C:\Users\PC\Documents\Zoom
C:\Users\PC\AppData\Roaming\Zoom\
As long as the deleted recordings or meetings have been saved to the local drive, the all-inclusive data recovery software AnyRecover can help you get your files back. As a powerful data recovery tool, AnyRecover is designed to recover more than 1000 types of files from both internal and external drives. Most importantly, it now has a trial version which allows user to recover up to 8 files for free, no size limit! So you can give it a try anyway.
Here is how to recover deleted recordings or meetings with AnyRecover:
Launch AnyRecover and select the location where you want to recover data. Likewise, if you're using an external drive or USB, ensure you connect it to the computer first before you start the process.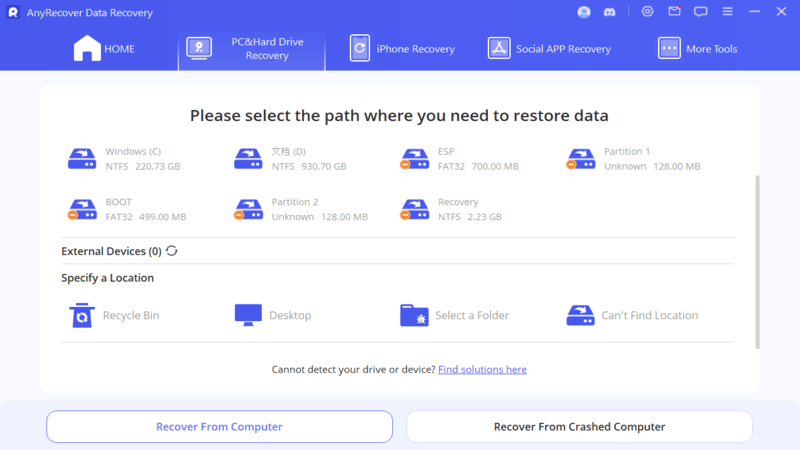 Once you select the location, the software will start an all-round and deep scan of the selected location immediately. At this stage, you can search for the file by its type and location. Meanwhile, you can stop or pause the process whenever you need.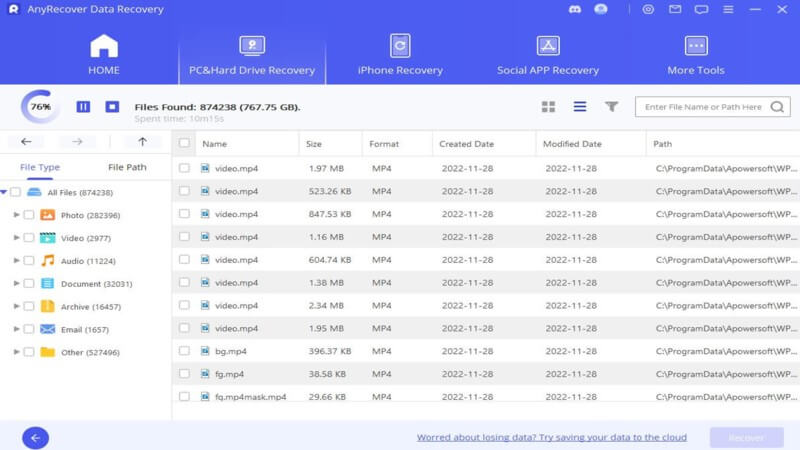 After the scanning finishes, you can double-click on a file to preview and then select the data you prefer to recover.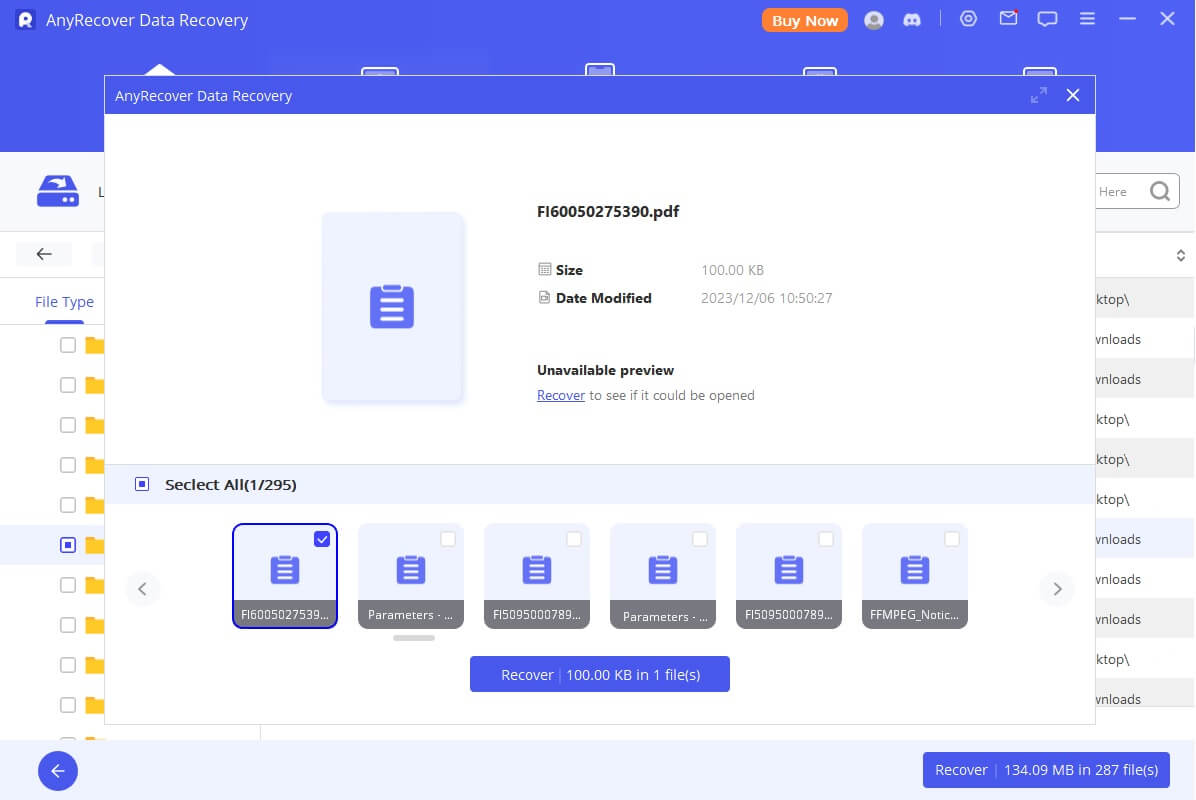 AnyRecover will automatically save the recovered file in another safe location where you'll be able to access it anytime you need to. Is it quick and easy to recover deleted zoom meetings and recordings?
Conclusion
To recover deleted zoom meetings, you can choose between any of the methods we outlined above based on your need. Again, we strongly recommend the AnyRecover recovery software, which also happens to be the most secure and easy way out. With it, you can recover any lost data from various device in 3 simple steps. Just download the free trial version and give it a try!