MKV, also known as Matroska Video File, is a multimedia container format that includes video, audio, images, and subtitles. However, it is not widely supported by devices and media players. If you're a Mac user, you may frequently need to convert MKV files to MOV format.

Converting MKV to MOV offers several advantages. MOV is an Apple-developed format supported by macOS devices, media players, and applications. By converting videos to MOV, you can easily play them in QuickTime Player on Mac or seamlessly edit and import them into software like Final Cut Pro or iMovie, which do not support MKV format.
This post provides a comprehensive list of methods to convert MKV to MOV using both free and advanced converter programs. Discover the best solutions for converting your MKV files to MOV effortlessly.
Part 1. Mkv to Mov Free Converter
Easily convert MKV videos to QuickTime MOV format using various online video file converter programs available on the internet. Unlike desktop or offline tools, online converters allow you to convert one or two files at a time.
Popular online free converter tools like Zamzar, CloudConvert, and AnyConvert are commonly used for converting MKV to MOV files. Enjoy the convenience of these online tools for seamless file conversion.
Pros:
No-cost MKV to MOV conversion tool

Converts MKV videos without the need for program installation on the computer
Cons:
Lack of batch repair functionality

Possible absence of options for customizing the output video

Inability to convert large-sized videos or movies

Lack of additional features
Part 2. Best MKV to MOV converter —iMyFone UltraRepair (Recommended)
iMyFone UltraRepair stands out as the top-notch software for effortlessly converting MKV files to the MOV format on both Windows and Mac systems. This program offers swift, user-friendly, and secure conversion of video to video, video to audio, and audio to audio files. With iMyFone UltraRepair, you can convert an unlimited number of MKV videos while having the flexibility to adjust various parameters such as resolution, frame rate, codecs, metadata, bit rate, and more, for each video.
Step 1. Open iMyFone UltraRepair, and select Video Format Conversion in Format Converter.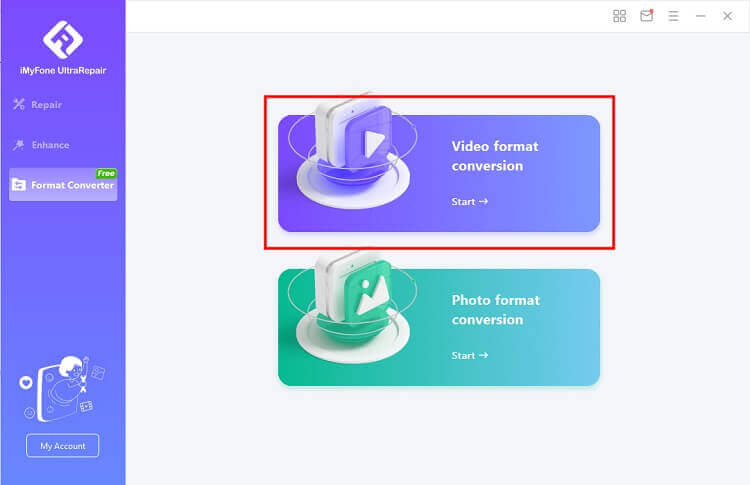 Step 2: Import the video and select the output format. Before the conversion, you can click the Settings to customize the output format with a special
Step 3: After that, you can get your converted videos after one click conversion. Then save the converted videos after that.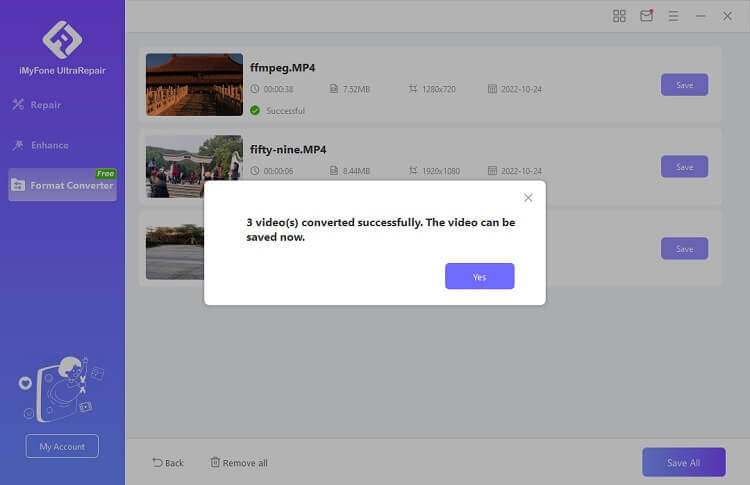 Conclusion
iMyFone UltraRepair is a straightforward and efficient software designed for converting MKV files to MOV video format. In contrast to free conversion tools, this software allows for swift conversion of unlimited MKV files, regardless of their size, to MOV format. Additionally, it provides a range of advantages, including the ability to customize output videos, insert metadata, perform video editing, and much more.