Are you an iPhone user who has accidentally deleted an important app and can't seem to find it on your device? Don't worry, you're not alone. Losing apps on an iPhone can be frustrating, but fortunately, there are ways to restore them. In this article, we'll show you how to restore apps on iPhone with step-by-step instructions. Whether you accidentally deleted an app or it disappeared after a software update, this guide will help you get it back. So, let's dive in and explore the process of restoring apps on iPhone!
Method 1. How to Find Deleted App on iPhone from App Library
Apple now enables users to store downloaded apps in its app library instead of the Home screen since iOS 14. If you have previously hidden your apps by changing the settings before deleting them, you can download the apps again from the App Store and then unhide them using these steps: Navigate to Settings > Home Screen > Add to Home Screen.
In case the aforementioned solution doesn't resolve the issue, you can try refreshing your iPhone's system by restarting it. Alternatively, updating your iPhone to the latest version is also a good idea as it often includes new bug fixes and important security patches for the users.
Method 2. How to Reinstall the App from App Store
Reinstalling the deleted apps from the App Store is another way to retrieve them. You can follow these steps to get the job done, regardless of whether you have purchased these apps or not.
To reinstall an app from the App Store, follow these steps:
Open the App Store on your device.
Tap on your profile picture or the "Account" icon at the top right corner of the screen.
Scroll down to the "Purchased" section and tap on it.
Find the app you want to reinstall and tap on it.
Tap on the "Download" or "Install" button to reinstall the app.
If prompted, enter your Apple ID password or use Touch ID or Face ID to authenticate the installation.
The app will start downloading and installing on your device. Once the installation is complete, you can open the app and use it as usual.
Method 3.How to Retrieve Deleted Apps on iPhone/iPad from iCloud backup
Restoring apps from iCloud is a straightforward process, provided you have previously backed up your iPhone, iPad, or iPod Touch to iCloud. Here are the steps to restore apps from iCloud:
Step 1. On your iPhone or iPad, go to "Settings" and tap on your name. Tap on "iCloud" and then "iCloud Backup."
Step 2. Make sure that "iCloud Backup" is turned on and then tap on "Back Up Now" to create a new backup. If you have already backed up your device, skip to step 4.
Step 3. Wait for the backup to complete. This may take several minutes, depending on the size of your backup and your internet connection speed.
Step 4. On your new or restored device, go through the initial setup process until you reach the "Apps & Data" screen.
Step 5. Tap on "Restore from iCloud Backup". Sign in to your iCloud account and select the backup you want to restore from.
Step 6. Wait for the restore process to complete. This may take some time, depending on the size of the backup and your internet connection speed.Once the restore process is complete, your apps will be restored from iCloud along with your other data, such as contacts, messages, and photos.
Note that if you only want to restore specific apps from iCloud, you can do so by going to the App Store and redownloading them individually.
Method 4. How to recover deleted apps on iphone with iMyFone AnyRecover
If you do not have a backup or wish to restore your iCloud backup without erasing data, we have a solution for you. AnyRecover is a tool that is specifically designed to help you easily recover data directly from iPhone without backup, or restore from iCloud backup without data loss. The following features make it an ideal choice for this purpose.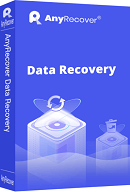 Key Features:
Best data recovery software with highest recovery success rate.
Supports to recover deleted/lost videos, photos, contacts, messages, WhatsApp/Kik/WeChat/Viber messages and more files from iDevice
Quickly recover data directly from iOS device, iTunes/ iCloud/ Third-party app Backup.
Extract data from iCloud backup with only an iCloud account access.
Step 1: Install the program to your computer. From the main window, select "iPhone Recovery".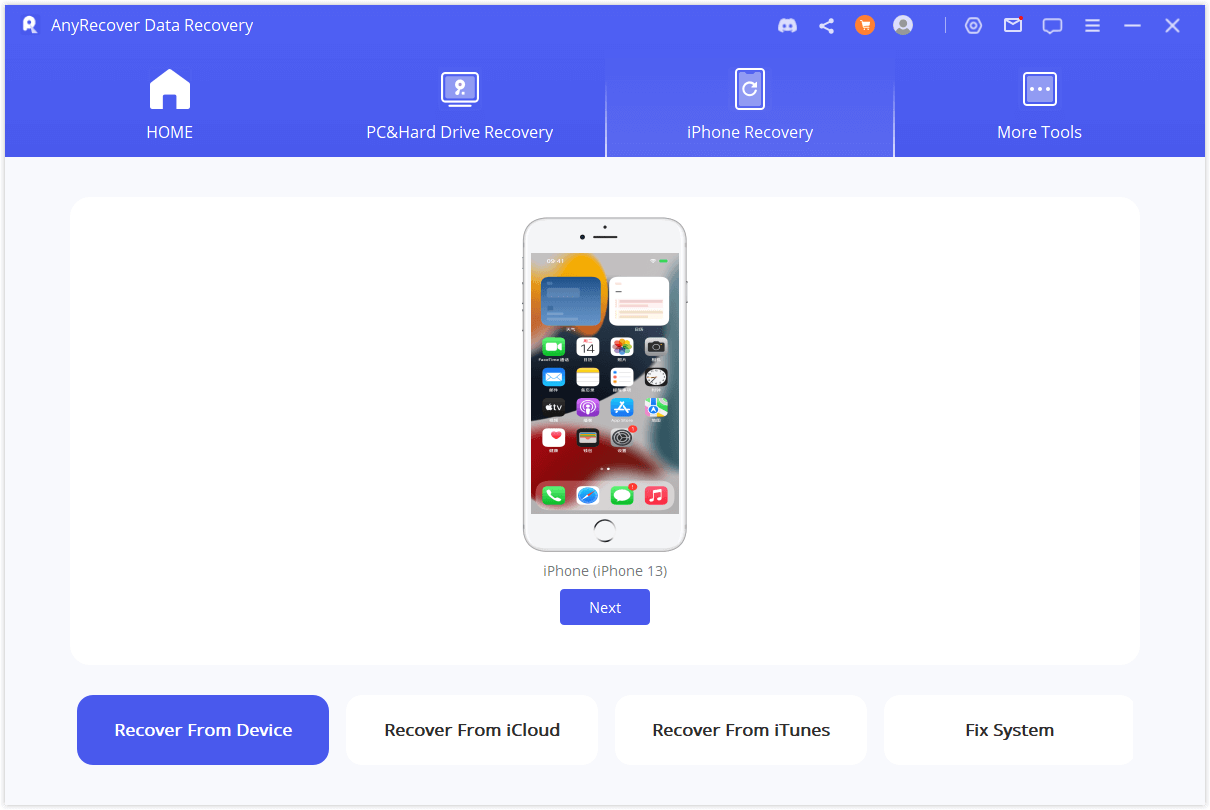 Step 2: Connect your device to your computer, and then you can choose " Recover From Device " or " Recover from iCloud " according your need.
Step 3: Now, select the types of files or the app that you would like recover. After that, click "Scan". The program will start to look for the deleted data from your device.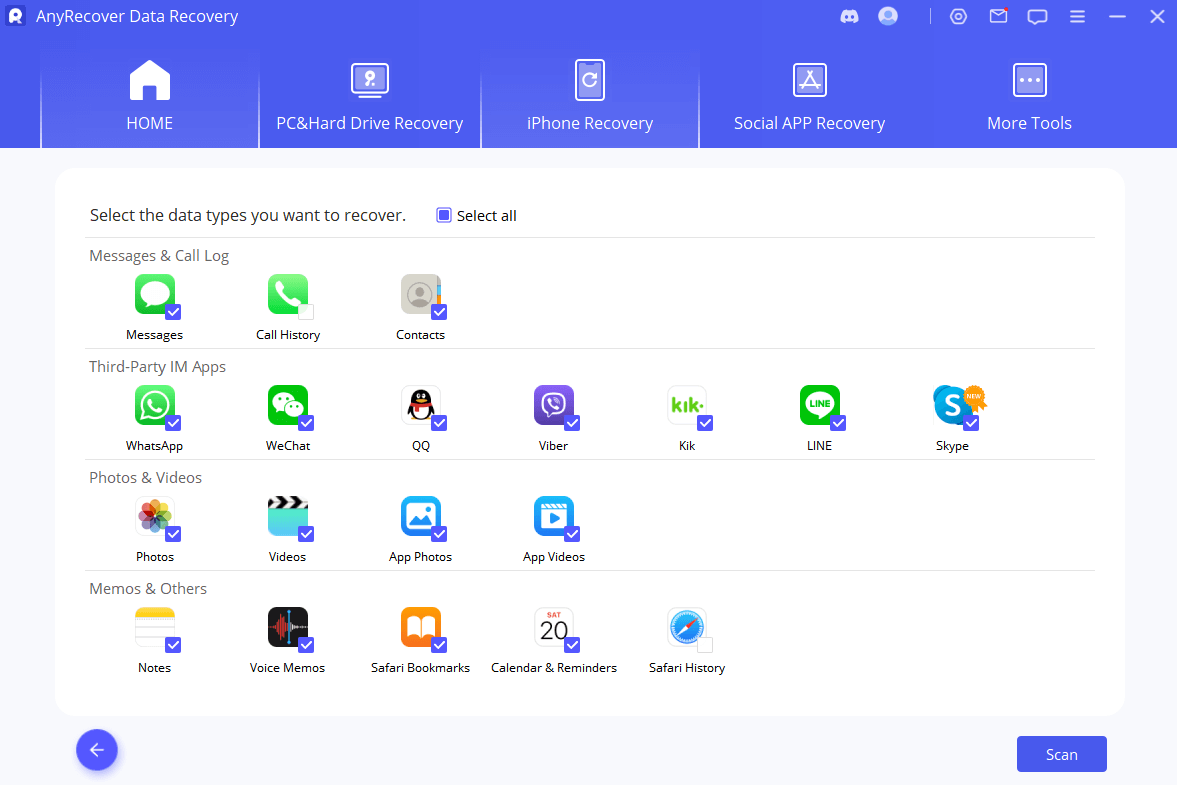 Step 4: After the scan is finished, you can click each tab to check all files.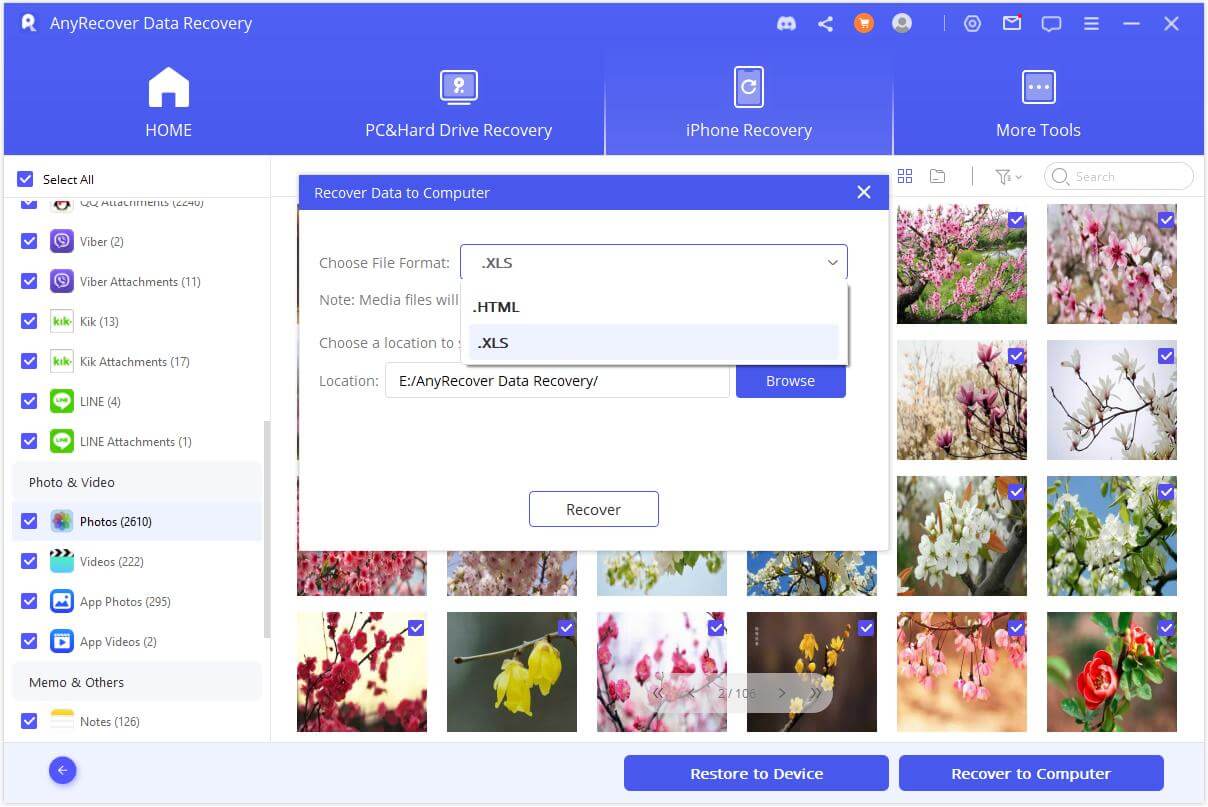 Conclusion
You no longer need to worry about purchasing apps that you have already paid for, as Apple keeps track of your purchases. Follow our guide to easily re-download them onto your iOS device. In the event that you need to recover lost files from iCloud without restoring your device, AnyRecover is available to help. You don't have to compromise any new or existing data to retrieve lost data. Also, you can recover deleted app data from iOS devices even without backup with the help of iMyFone AnyRecover . Just download it and have it a try today!